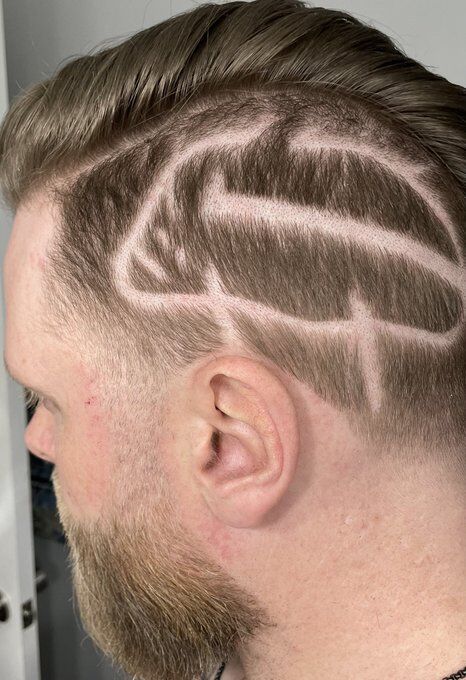 Matt Taylor headed in for his appointment at District Barbershop on Seneca Street, and when he arrived, owner Paul Laurie had an idea. 
Laurie had shaved the Buffalo Bills' logo into the heads of several customers last week in advance of the Bills' wild-card playoff victory against the Indianapolis Colts. He wanted to try a spin on the Bills' logo, and Taylor was a willing participant. 
Rather than the traditional Bills' logo, Laurie wanted to try the "Josh Allen version."
Go back to the NFL draft in 2018. The league asked first-round picks to try their hand at drawing the logo of the team that selected them. Allen's attempt at the Bills' logo wasn't perfect, but got people's attention. 
Taylor said he was a little hesitant, at first. 
"We both got a laugh out of it, but I initially didn't answer," Taylor said. "I thought, though, why not? Due to Covid, I am rarely in the office so I wasn't too concerned about looking a little silly in front of my wife and dog for a week until it grew back out. It will still be fresh for game time Saturday, though."
As for the logo choice, "Josh Allen's (Bills logo) was iconic, to say the least," Taylor said.
"As a tribute to QB1 before the divisional game, we agreed to go ahead and do it. Paul is a fantastic barber and I knew he would make it look as 'unique' as the original. Mission accomplished, if the polarizing reaction on Twitter is any indication. 
"This is the most fun season I have had with the Bills. I grew up more of a Sabres fan, but converting steadily since, well ... so why not have fun with it ourselves? I hope people get a laugh out of it, but more than that, I hope the Bills win on Saturday."