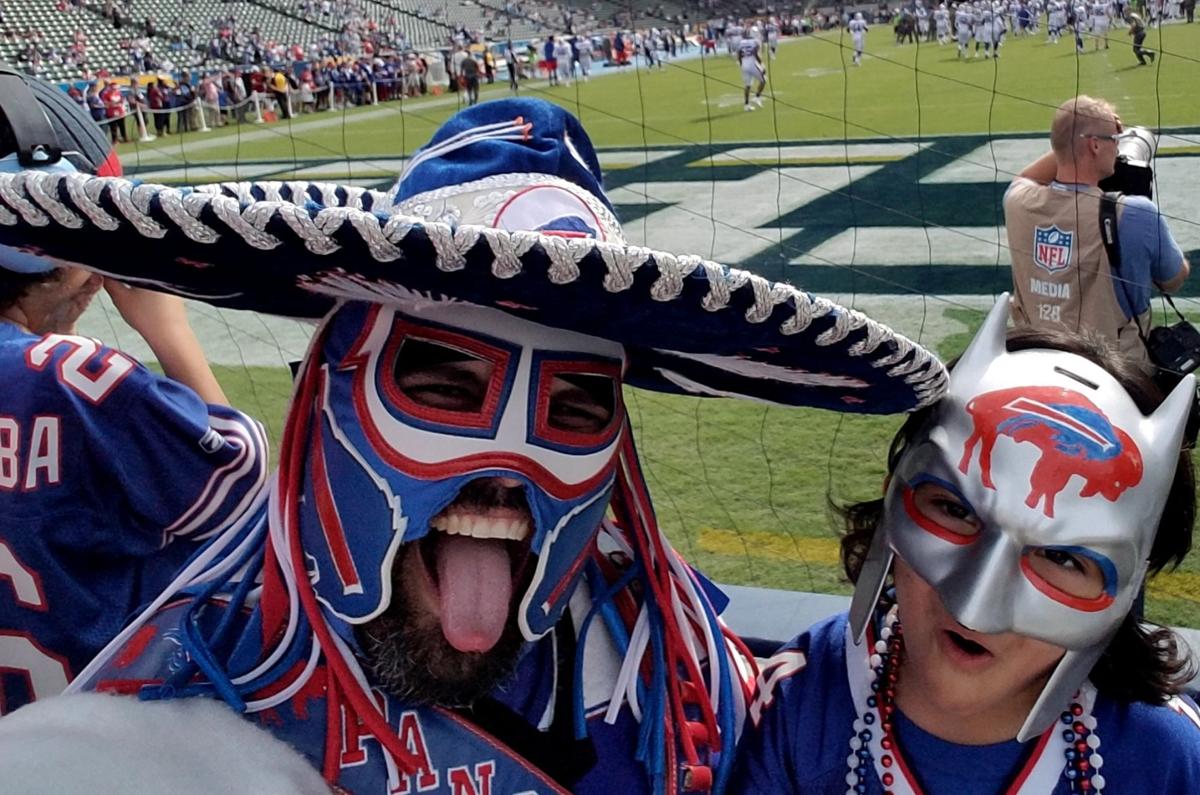 Ezra Castro, a Texas native whose lifetime passion for the Buffalo Bills led him to create a costumed superfan persona he called "Pancho Billa" and whose health battles in the past few months had team officials and fellow fans showering him with well-wishes, died Tuesday  in UT Southwestern Medical Center in Dallas after a long battle with cancer. He was 39.
His death was announced by his family on Twitter Tuesday morning.
"We have lost our dear brother ezra 'Pancho Billa' this morning," the family wrote. "We are thankful and forever grateful for all the love and support during this journey. Ezra was surrounded by family and loved ones."
Mr. Castro, a Dallas resident who was born in El Paso, often told the story that when he was a little boy, his father told him he should choose a favorite football team. Proud of his Mexican-American heritage, he looked for teams whose colors came closest to the red, white and green Mexican flag. The two choices were the Bills and the New England Patriots. Although his father and older brother, both named Jaime, are Dallas Cowboys fans, he picked the Bills.
He developed the character of Pancho Billa, a play on the name of Francisco "Pancho" Villa, a famous Mexican revolutionary general. His intricate costume eventually included a broad sombrero with leather luchador mask, a serape poncho, a bandolier and leather arm guards, all in red, white and blue and adorned with the Bills' buffalo and his catchphrase, "Viva Los Bills."
For years, he had traveled to several Bills games around the country, including the home opener in Buffalo.
In a tweet, Bills co-owner Kim Pegula said: "Pancho was a pillar of positive strength and energy for me and all of #BillsMafia. He's been a tremendous inspiration for our team. I was fortunate enough to spend time with him and get to know his story. My heart goes out to his children, friends and family. Viva Los Bills!"
A mortician and father of two who did not smoke or drink alcohol, he was also president of the Bills Backers groups in Dallas/Fort Worth, whose membership grew to about 700 under his watch. The team's supporters gather every week for the games either at the Hideaway Bar & Grill in Dallas or at Buff Bro's in Fort Worth.
In early November 2017, while touring New York City on a trip planned around the Thursday night Bills game against the Jets, Mr. Castro noticed that a his left arm had gone numb.
Our hearts broken as we have lost our dear brother ezra "Pancho Billa" this morning. We are thankful and forever grateful for all the love and support during this journey. Ezra was surrounded by family and loved ones. At this time we ask for privacy as we mourn our loss.

— Pancho Billa (@PanchoBilla1) May 14, 2019
In Texas, he went to a doctor, expecting a diagnosis of a pinched nerve or something else minor. Instead, Mr. Castro heard what he called "the worst news of my life."
He had a cancerous tumor wrapped around his spine that had spread to his liver, lungs and lymph nodes.
The doctors wanted to operate quickly, but Mr. Castro put off the surgery until after Nov. 19 so he could take his 5-year-old son Ginobili — named for Manu Ginobili, the longtime star of basketball's San Antonio Spurs — to the Bills-Chargers game in California.
Ginobili, called "Panchito" by his dad, wore a costume of his own with a mask and Batman-style ears.
He put off the surgery to enjoy the day with his son because "I don't know if that's the last Bills game I will ever see or not," said Mr. Castro. After the game, which the Bills lost 54-24, his son said, "Dad, I loved every minute of that game."
On Dec. 13, Mr. Castro had the surgery, which left a lengthy scar from the back of his neck to between his shoulder blades. The doctors removed the mass and used cadaver bones to replace two weakened portions of his spine, he said.
In April 2018, the Bills told Mr. Castro that he would be leading the Bills' delegation of 50 fans at the NFL Draft in Dallas.
But they surprised Mr. Castro, who was then undergoing chemotherapy, by having Bills legends Andre Reed and Fred Jackson call him on stage to make the Bills' third-round pick of defensive tackle Harrison Phillips from Stanford. "Yeah, baby, Viva Los Bills!" Mr. Castro shouted in a husky voice.
This year, Mr. Castro was hospitalized at draft time. Bills General Manager Brandon Beane called his hospital room so he could serve as a key conduit in the way the team announced its 2019 first round NFL Draft pick.
On April 25, he entered hospice care. From the University of Texas Southwestern Medical Center, he said, "I just want the Bills Mafia to keep praying and to know how thankful I am and that I love them to death, and how honored I am to be an honorary Buffalonian, for life."
In the hospital, he rested under a Buffalo Bills blanket and a Bills flag hung from his IV pole.
On Dec. 11, 2017, Katherine O'Brien, a Western New York native, neuropsychologist and a cancer survivor who is president of the Bills Backers of Houston, set up a Go Fund Me page for Mr. Castro and his family. It surpassed its goal of $30,000 and was still climbing.
Mr. Castro is survived by his longtime partner, Veronica Borjon; their son, Ginobili; a daughter, Lourdes; his mother, Aurora Martinez; his father, Jaime Castro; and three brothers Jaime, Zenoc and Eli.