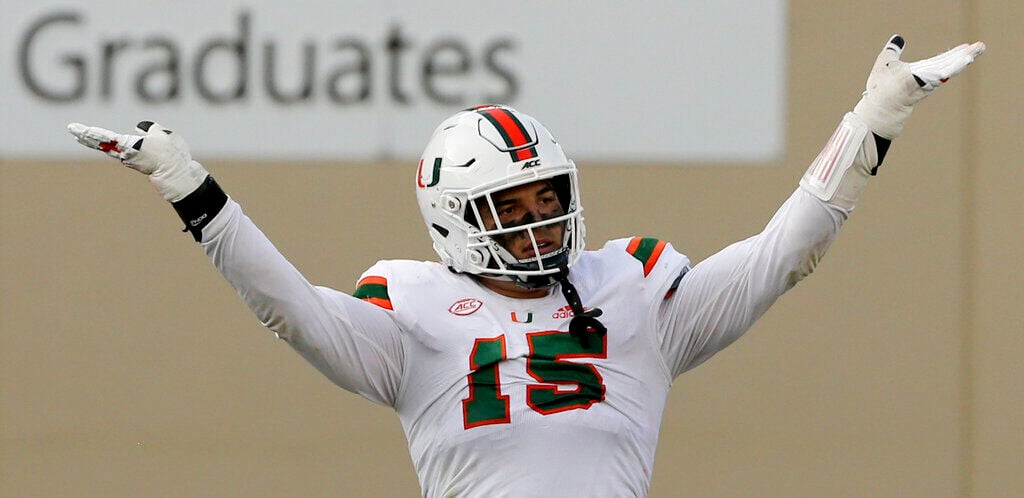 The Buffalo Bills might catch a break in the NFL draft if they want to grab a pass rusher late in the first round.
Good edge rushers typically fly off the board in the first half of Round 1.
ESPN analyst Todd McShay, however, thinks the better pass rush prospects probably will linger a little longer than normal this year.
This is the first in a series previewing each position in the April 29-May 1 NFL draft. Today's installment looks at quarterback.
"The tricky part is with five quarterbacks in the top 11 and then four pass catchers also going in the top 11, it kind of pushes back everyone on the defensive side," McShay said on a conference call with reporters Monday. "I have two corners going, then I went to offensive linemen – and then the pass rushers. Because of all the quarterbacks and pass catchers, there's a good chance that the edge rushers get pushed back a little bit."
"The top two running backs are off the board," McShay writes. "So why not inject some life into a middle-of-the-road pass rush instead – especially with Jerry Hughes turning 33 before the season. Phillips had 8.0 sacks and 15.5 tackles for loss in 2020."
Both McShay and his ESPN colleague Mel Kiper Jr. rank Michigan's Kwity Paye as the top edge rusher in the draft.
McShay projects Paye going at No. 21 to Indianapolis.
"Going into my fourth year in the league, I think that's something that I'll benefit from, going somewhere where they love to work. That's why I chose the Buffalo Bills," Powell said.
Might Paye last until No. 30? McShay chuckled.
"I don't think Paye lasts to 30," he said. "He's either going to be the first or second edge rusher off the board."
If Paye is the best edge rusher available, the next two are either Phillips or Gregory Rousseau, both from Miami.
Rousseau had 15.5 sacks in 2019 and opted out of the 2020 season.
Phillips started his college career at UCLA, had a slew of injury problems, then transferred to Miami. He sat out 2019 under transfer rules, assumed Rousseau's jersey number (15) and had a huge 2020 season.
"Rousseau is probably second best," McShay said. "Some teams think he's the best edge rusher in the class. The problem is we didn't see him this past year. But he had 15.5 sacks in 2019. You just see the athleticism and the ability to finish and get home as a pass rusher. There's not many guys who get home the way he does. He brings a lot of athleticism and a lot of pass rush skills."
Whether it's Rousseau/Phillips or Phillips/Rousseau on draft boards is far from certain. McShay has Rousseau going to Cleveland at No. 26.
Phillips is 6-foot-5 1/2 and 260 with long, 33 1/4-inch arms. Rousseau is 6-6 5/8, 266 with longer, 34 3/4-inch arms. At Miami's pro day, Phillips showed more explosiveness. Rousseau ran the 40-yard dash in 4.69 to 4.71 seconds, according to Senior Bowl director Jim Nagy. His vertical jump was 30 inches. Phillips ran 4.56 with a 36-inch vertical jump. Because of his height, Rousseau plays a little higher than Phillips and maybe with not quite as much power. But both have the speed to bend around the edge.
"Rosseau is athletic, he has some bend," McShay said. "He has that closing burst you look for in an edge rusher. ... With Rousseau, I see athleticism and bend and flexibility and closing burst. With Phillips, I see power. He's one of those guys who can turn speed to power, drive an offensive tackle back, push him out of the way and then go finish as a pass rusher. As an edge rusher, he's really good."
NFL teams will have more work to do investigating the medical report on Phillips.
Phillips suffered injuries to both ankles as a freshman at UCLA. He was hit by a car while riding a moped early in 2018, his sophomore year. Then, he suffered what was reported to be his third concussion in October of that season, which prompted him to retire. After five months, he changed his mind and enrolled at Miami.