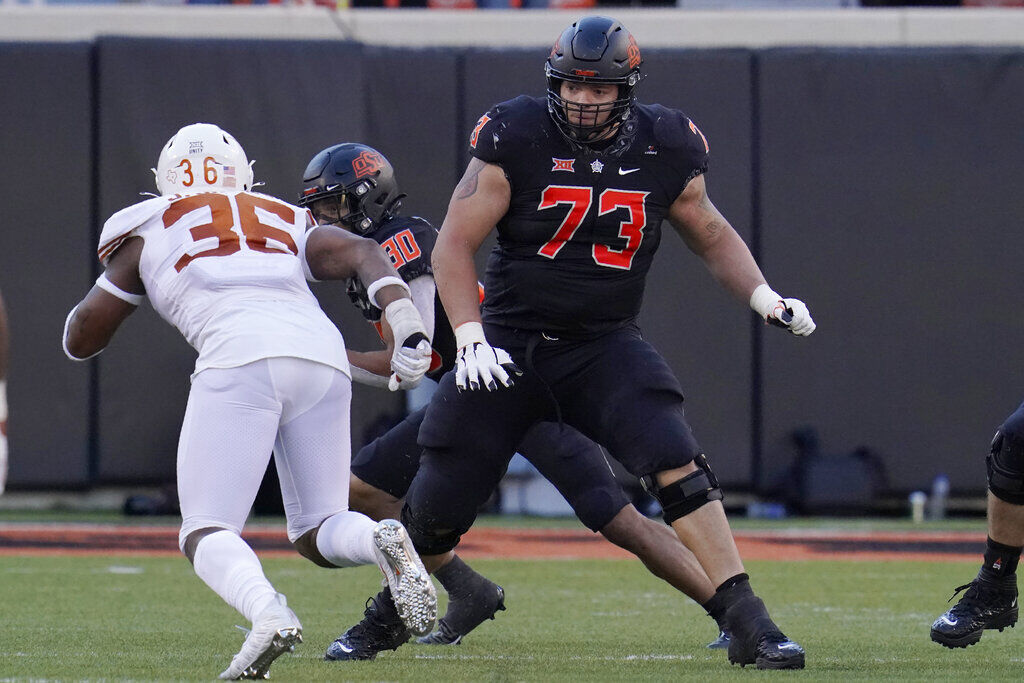 The Buffalo Bills have a franchise quarterback in Josh Allen.
It makes sense to protect him, ESPN NFL draft analyst Mel Kiper Jr. says. In his second mock draft of the 2021 season, Kiper selected Oklahoma State offensive tackle Teven Jenkins for the Bills with the No. 30 overall pick in the first round. 
Speaking on a conference call Monday, Kiper explained the rationale for that selection.
"It was going to be either Teven Jenkins, an offensive lineman like that, or Walker Little from Stanford, who could be a right tackle, as well, with Dion Dawkins at left tackle," he said.
The Bills face some uncertainty up front. Right guard Jon Feliciano and right tackle Daryl Williams are both scheduled to become unrestricted free agents later this month. That means offensive line very well could be a draft need come the end of April.
Keeping in mind that free agency will alter draft needs, here is The News' first mock draft of the 2021 offseason, taking on the first round, plus the Bills' two other top-100 selections.
"I just said, felt like, you know, Josh Allen, your franchise quarterback, the offensive line, some issues there with free agency," Kiper said. "You could get a versatile offensive tackle, might be the way to go."
Kiper said he also considered a tight end, referencing General Manager Brandon Beane's end-of-season news conference in which he talked about getting better play out of that position. Kiper, though, did not see a tight end who provided the right value near the end of the first round.
"Pass rusher as well. Thought about that," he said. "Thought about Najee Harris, running back, Alabama. So those are the needs. Offensive line, pass rusher, running back, tight end, if you have to say the four key need areas."
"The J.J. Watt sweepstakes came to an end Monday with the Buffalo Bills failing to be in possession of the winning ticket," writes Jay Skurski.
Kiper's first mock draft had the Bills selecting Harris. He switched gears in his second, though, to provide more protection for Allen, a quarterback he has long thought highly of. Earlier in his conference call Monday, Kiper praised Allen unprompted when answering a question about the New England Patriots potentially drafting a quarterback in the first round, calling the Bills' quarterback the best in the AFC East at his position.
"I still believe getting a quarterback, be it at the draft or somehow, some way," Kiper said of the Patriots' top priority this offseason. They "have to close that gap on Josh Allen and the Buffalo Bills."