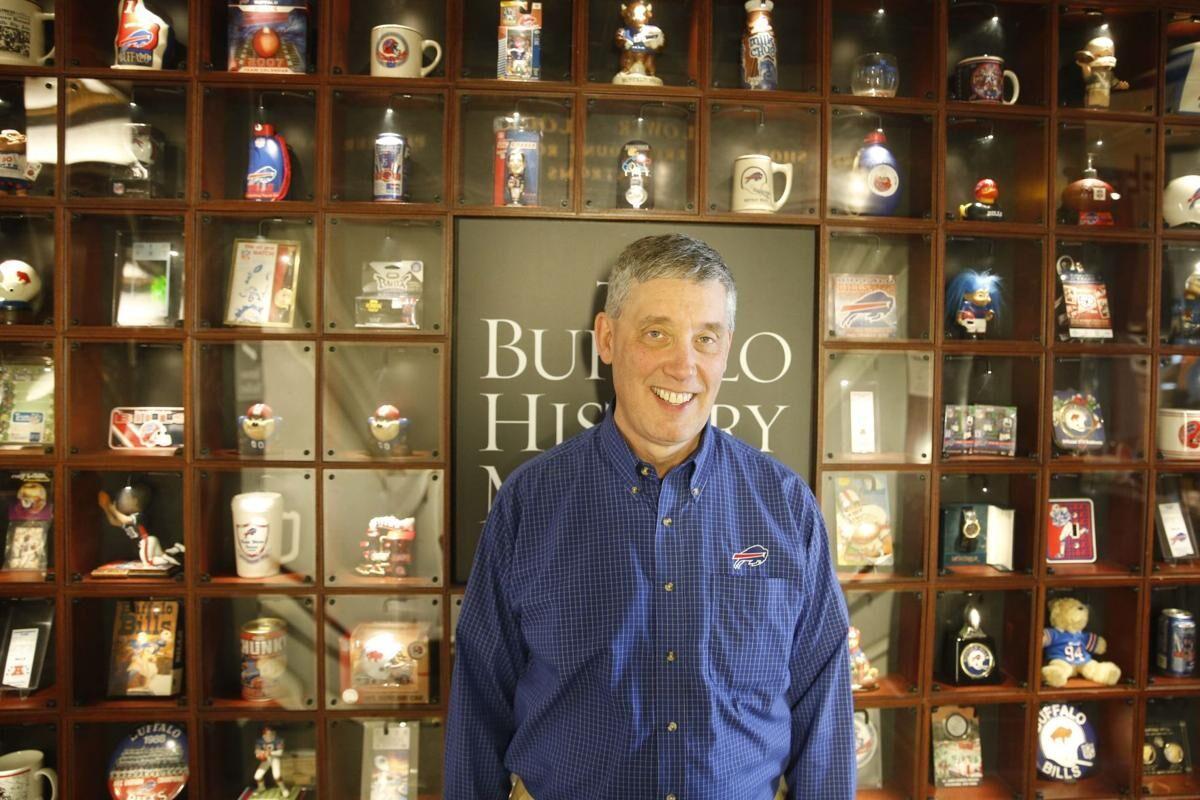 Relics, in the religious sense, are the physical remains or personal effects of the saints.
Relics, in the sporting sense, are — well, they can be personal effects, too, though not of the saints. (Unless, of course, they played football in New Orleans.)
This week comes a new book that is sure to be venerated by the football faithful hereabouts. It is called "Relics: The History of the Buffalo Bills in Objects and Memorabilia." And it has everything from Cookie Gilchrist's autograph to Jim Kelly's game check to O.J. Simpson's jersey to Ed Rutkowski's playbook to Scott Norwood's helmet to Doug Flutie's Flakes.
Think of it as Ralph Wilson's attic come to life.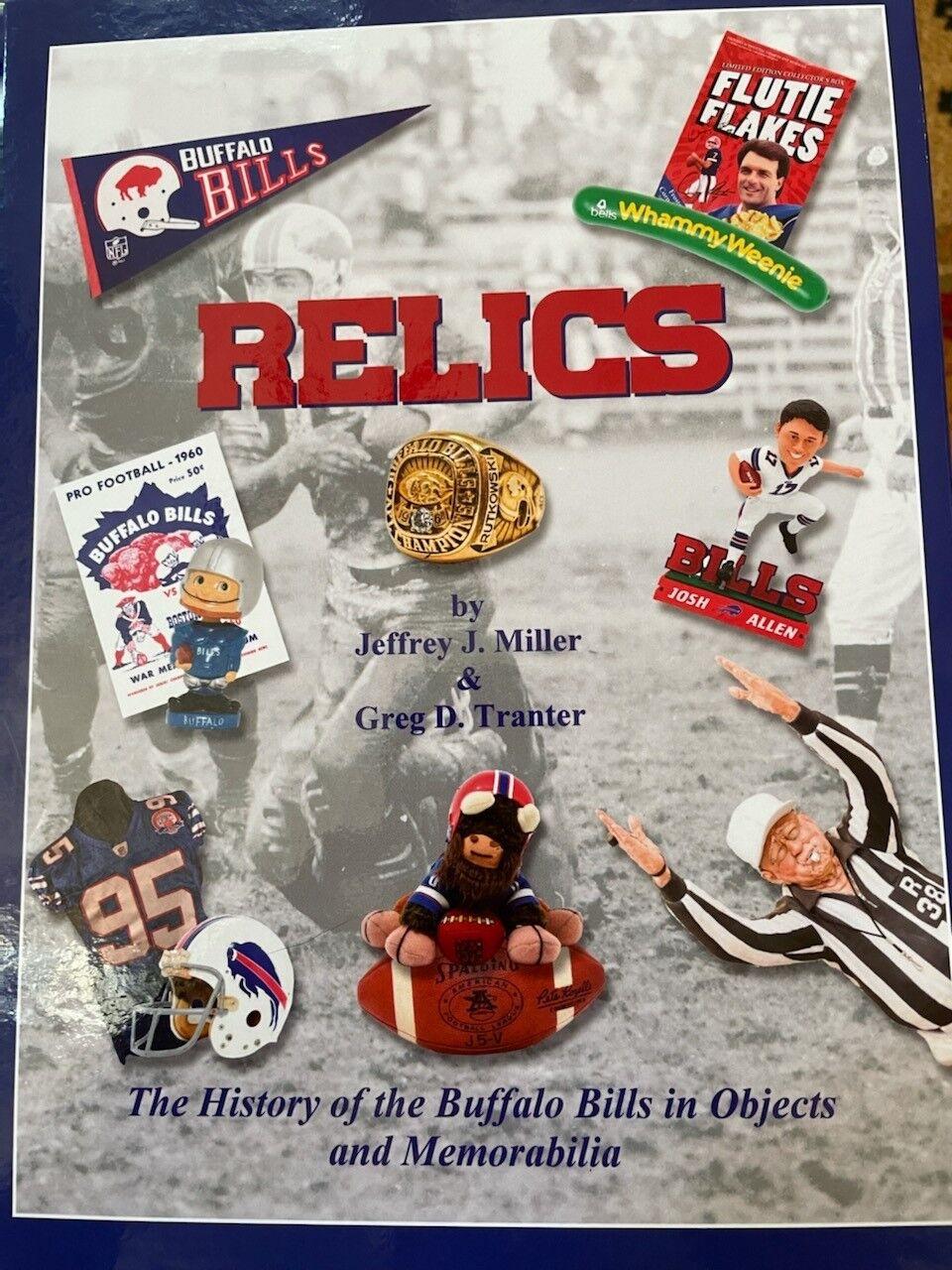 On Wednesday night, the authors, Greg Tranter and Jeffrey Miller, will be at the Buffalo History Museum for their book launch. They plan to appear with former Bills Booker Edgerson, Jeff Nixon, Lou Piccone and Rutkowski. The event begins at 6 p.m. and admission is pay what you wish, a deal you won't get at Highmark Stadium.
Tranter is the Bills memorabilia collector who gifted more than 100,000 Bills items to the Buffalo History Museum in 2016. Miller is the football historian who has written books about the Buffalo All Americans of the 1920s and the AFL Bills of the 1960s. And like peanut butter and jelly (or Josh Allen and Stefon Diggs), Tranter and Miller go well together.
"As a Bills historian, and having written books about them, you think of yourself as knowing a lot," Miller says. "Then you work with someone like Greg and you realize there is someone who knows more, or at least as much."
Their book will be available from Amazon for $42.50 starting on Sept. 30, but it is available now for $35 at the history museum or directly from St. Johann Press. And wouldn't the publisher for a book called "Relics" be named for a saint? Makes sense to Miller. "For some people," he says, "football really is a religion."
The book is 200-plus pages of Bills memorabilia and the stories behind them — from General Manager Dick Gallagher's season-ticket promotion letter in 1960 to a sweatshirt for the Tre White Goalie Academy in 2019. "Relics" will make a good companion on your library shelf next to John Boutet's "Buffalo's Got the Spirit: Growing Up a Crazy Buffalo Sports Collector."
Tranter's collector craze started early. He grew up in Elmira and his father took him to his first Bills game in 1965, when he was 8.
"I saw the Bills and the Broncos and he bought me a game program and a bobblehead, which I still have in my collection," he said. "I have the ticket, too. That year I also bought my first set of football cards."
Other kids in Elmira rooted for other teams, particularly the New York Giants and Jets. But Tranter chose the Bills — and not only because that season they won their second consecutive AFL championship.
"If you want to know the real reason I picked them," he says, "it was the helmet. I loved the standing buffalo."
Tranter lives in Central Massachusetts — yes, among fans of the New England Patriots — where he is retired from the insurance business. But his heart resides in Buffalo, a place where he has never lived. Such is the power of a grazing red bison.
Tranter says he approached the Buffalo History Museum in 2008 about putting on an exhibit based on his holdings the following year to celebrate the 50th season of the Bills. He worked as a docent at the museum on some of the days when the exhibit was up.
"Every person who came in saw some object that they had a personal story to tell about," Tranter says. "And that just really impacted me. I thought, 'Wait a minute. If everybody has a story, this collection doesn't belong in my house in Massachusetts. It belongs in Buffalo.' "
The museum wasn't ready to take on the collection at the time. Meanwhile, Tranter got his master's in museum education from Tufts University. "I wanted to know the industry," he says.
Tranter and Miller got to know one another when Miller used photos from Tranter's collection in some earlier books. Then, about four years ago, Tranter approached Miller about the idea of collaborating on this book.
"We gave St. Johann a list of 100 items and said, 'Here's what we're thinking,' " Tranter says. "We had a number of jerseys and helmets and game-worn stuff. And their advice to us was, 'We think you need to mix it up more, and have more pop-culture objects that fans can relate to,' " meaning stuff that fans might have owned themselves.
Enter the Whammy Weenie, which even gets an honored place on the book's cover, right next to Flutie Flakes. (And if you don't know what that green weenie was, Steve Cichon told the tale here in The Buffalo News a couple of years ago.)
"It was really good advice," Tranter says, "because now we have a really wide variety of different objects in the book."
This meant finding some game-worn stuff beyond the usual jerseys and helmets. So the book includes autographed thigh pads from Sam Gash and Chris Spielman. Blessedly, Tranter's collection draws the line at athletic supporters.
"We haven't gone there yet," Tranter says, laughing. "Socks, yes. Jocks, no."
Mirror, mirror, on the wall, what is Tranter's favorite piece of all? He thinks probably the blue jersey with silver numerals — No. 33 — worn by Bills fullback Art Baker in 1961.
"They only wore blue and silver for those first two seasons," Tranter says of the Bills in 1960 and 1961. "Those jerseys are almost impossible to find. I've never seen another blue one. And as a collector, I see a lot."
He paid $5,000 for it. The Norwood helmet cost about the same. They are the most Tranter ever paid for any Bills collectible, and he thinks both would cost more than $100,000 in today's market. He feels fortunate that he gathered most of his memorabilia in the 1980s and 1990s, before prices skyrocketed.
Nixon, a Bills safety from 1979 to 1984, offers this praise for the book: "The old saying 'a picture is worth a thousand words' could not be more appropriate for what you are about to see — and what you are about to read."
The book's pictures are worth the thousands of words that go with them, telling the backstories of weenies and flakes — and of a Marv Levy windbreaker. What else would you rather wear?
"Being the big collector, I didn't always know the stories behind the objects," Tranter says. "And we did the research and we tell those stories."
"When Greg reached out to me, that's what he said he wanted," Miller says. "We really wanted to tell the history of the Buffalo Bills in a new way through the history of these objects."
The trick was whittling down the objects from tens of thousands to dozens. Tranter thinks the most interesting objects in the book are lapel pins worn by Secret Service agents who protected Jack Kemp during the 1996 presidential campaign. The pins feature the Bills helmet with the standing buffalo.
As it happens, Kemp was the Buffalo quarterback, wearing one of those helmets, on the day Tranter saw his first game — and began his lifetime of collecting.
"The book has really been a dream of mine for 30 years," he says. "I wanted to do a book in the early '90s when my collection was really taking off. But life got in the way — work, kids, the whole nine yards."
Nine? He must be mistaken: That's not enough for a first down. And "Relics" is a touchdown.