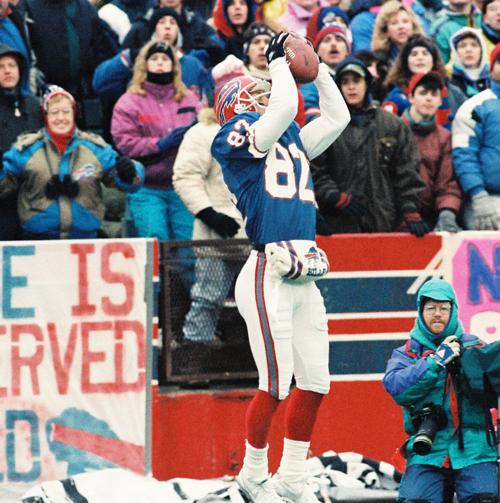 Don Beebe broke his leg in a game against the Miami Dolphins a couple of days before Christmas 1990. Weeks later, he watched the Buffalo Bills lose their first Super Bowl. He had a 14-inch rod in his left tibia.
"I thought maybe my career was over," he says.
It was not. And the next season – 30 years ago today – he proved it for all to see.
Beebe caught four touchdown passes as Buffalo beat the Pittsburgh Steelers 52-34 at Rich Stadium. It was the Bills' second game of the 1991 season; they beat the Dolphins in the season opener 35-31, also at Rich.
"I had a decent game against Miami," Beebe says. "And then the second game it was like, 'Boom! He's OK.' It was kind of a relief for me, and everyone in the organization."
Erik Brady tells the remarkable tale of how Goodwin received is new heart on Sept. 11, 2001.
Beebe caught touchdown passes of 34, 14, 11, and 4 yards. It is the team record, tied with Jerry Butler, who caught four against the New York Jets in 1979. (Only three players in NFL history have caught five touchdown passes in one game: Bob Shaw for the Chicago Cardinals in 1950, Kellen Winslow for the San Diego Chargers in 1981 and Jerry Rice for the San Francisco 49ers in 1990.)
Jim Kelly threw six touchdown passes for the Bills on that balmy day three decades ago.
"The Steelers were Jim's favorite team as a kid, so he always liked playing good against them," Beebe says. "It was one of those things where he just got hot with one receiver – and really he was just hot altogether. I think he had one to James and one to Andre as well."
Beebe's memory is correct: James Lofton's touchdown catch came from 54 yards. Andre Reed's came from 14.
Beebe remembers each of his four like it was, well, not yesterday, but maybe the day before yesterday.
"Relics: The History of the Buffalo Bills in Objects and Memorabilia" will be launched at an event at 6 tonight in the Buffalo History Museum.
"Two of them were slants in the red zone. One was a go route when Jim saw the corner pressed up on me. And here is what people don't know: Three of the four touchdowns were ad-libbed. Jim looked out at me, saw the coverage, called the play, and then gave me an individual route when he saw I could beat the corner."
Kelly called his own plays in the Bills' no-huddle offense and sometimes gave hand signals to a particular receiver to run a different route from the one that the receiver would normally run on the called play.
"He would yell out, or usually just give me a signal," Beebe says. "That's how good Jim was in that offense."
Beebe was pretty good in it, too. He thinks that's because defenses felt they had to key on Reed and Lofton and running back Thurman Thomas.
"Think about the guys I was blessed to play with: Two Hall of Fame wideouts. A Hall of Fame running back. A Hall of Fame quarterback." He pauses to laugh. "It was a fun offense to play in, that's for sure."
Washington's Herb Mul-Key made history on the opening kickoff at Rich Stadium, returning it 102 yards for a touchdown.
These days, Beebe is running his own no-huddle offense as head coach of Aurora University, in Illinois. The Spartans, in the NCAA's Division III, lost 39-33 in the final seconds of their season opener Saturday against sixth-ranked St. John's in Collegeville, Minn. And this Saturday they will face No. 3 North Central College in Naperville, Ill.
"My motto is always play teams that are better than you," Beebe says. "We get to face the No. 6 and No. 3 teams in the country before we even start conference play. I wouldn't have it any other way."
He led the Spartans to a 9-2 record in his first season, in 2019, and was named regional coach of the year. (Last season the team did not play, except for three games in the spring.)
How much of Beebe's coaching philosophy comes from Marv Levy, his Hall of Fame coach on the Bills?
"A lot. He's one of the greatest men I ever met, to be honest with you," Beebe said. "I think what makes him great is his humility. To be a great leader you have to be a humble guy, and that was Coach Levy through and through."
Lamonica feels a special bond with both.
When he got the job at Aurora, Beebe called Levy to ask for advice.
"I kind of knew what he was going to say, but I wanted to hear him say it anyway. He said, 'Surround yourself with character. Find players with character.' And, boy, was he right."
Beebe is known for the character he displayed in Super Bowl XXVII, when he ran down Leon Lett of the Dallas Cowboys, who was about to score a touchdown in a game that was already decided.
How many times a week does Beebe hear about that play, even now?
"Every day," he says. "That might sound strange, but it's the truth. It comes up every day. And I'm OK with that now. Initially, I wasn't, because we got killed and I was not happy. But as time has gone on, it has given me an opportunity to coach kids and speak at banquets and talk about never giving up.
This weekend's trio will be the sixth set of Hall of Fame triplets – meaning a quarterback, a running back and a wide receiver who played so surpassingly well together that they all made their way to Canton.
"We live in a world right now, with everything going on, where so many people give up. And I think people can relate to me and listen to me when I tell them, 'Hey, man, we can't ever give up.' "
The Bills of his era never did.
"When you go back to four Super Bowls," he says, "that's a team that never gives up."
The Bills lost all four, of course. Beebe played in two more for the Green Bay Packers. And when at last he won one, he thought of Buffalo.
"I'm looking at the clock and watching those last 10 seconds click off and I'm thinking to myself, 'Oh my God, I'm finally going to win this crazy thing.' And the thoughts just flooded me and I became emotional and I thought about all the guys I played with in Buffalo, and Marv and Ralph (Wilson) and Bill (Polian). And I know this is going to sound strange, but I felt guilty. I thought, 'Why me?'
"Phil Hansen remembers his NFL draft day as if it were yesterday, though it was really 30 years ago. What he remembers most is the waiting."
"And I wished all those people could have been right there with me. So my thoughts really truly did go back to all of the people and all of the fans in Buffalo."
Now he hopes the coming season is one that ends just that way for the Bills.
"Do you know why teams win? Why the Kansas City Chiefs are winning now?" he asked. "They have an owner who cares about the players. They have a head coach everyone loves to play for. They have a general manager who, same thing. They have a great quarterback. And that's what we had in Buffalo. And then you throw those fans in on top of that? I mean, come on, you can't find a better situation than what we had in Buffalo."
The Bills might have a similar situation percolating in Orchard Park today.
"Time will tell. I'm not saying they don't have that now, but that's a hard thing to replicate. I hope they do. That would mean glory days for all of us Bills fans. They certainly have the talent. But it takes more than talent.
The first NFL-AFL championship game – retroactively known as Super Bowl I – was born as a direct reflex of the New York Giants' signing Gogolak away from the Buffalo Bills.
"Now that I'm coaching, I understand that. When you're a player, you don't realize it. It takes great chemistry. And what we had in Buffalo, the chemistry and the love we had for each other, that's what made us great. And hopefully Buffalo has the same thing going right now."
Last week, the Minnesota Vikings waived Beebe's son, Chad, to injured reserve with a severe ankle injury.
"He had a great camp and was going to be their third or fourth receiver," Beebe says. "The poor kid, he tore all four ligaments on the inside of his ankle. I feel so sorry for him."
Chad is a slot receiver who will hit the open market when he's healthy. Beebe believes his son will play somewhere in the league again next season. Who knows? Maybe the Bills or Packers might sign him.
"Wouldn't that be something?" Beebe says.
"When I sign an autograph," Ferguson says, "I always add 'Buffalo Bills' to the bottom of it."
One thing is sure: The son need look no farther than his father for an example of an NFL receiver who came back from a terrible injury.