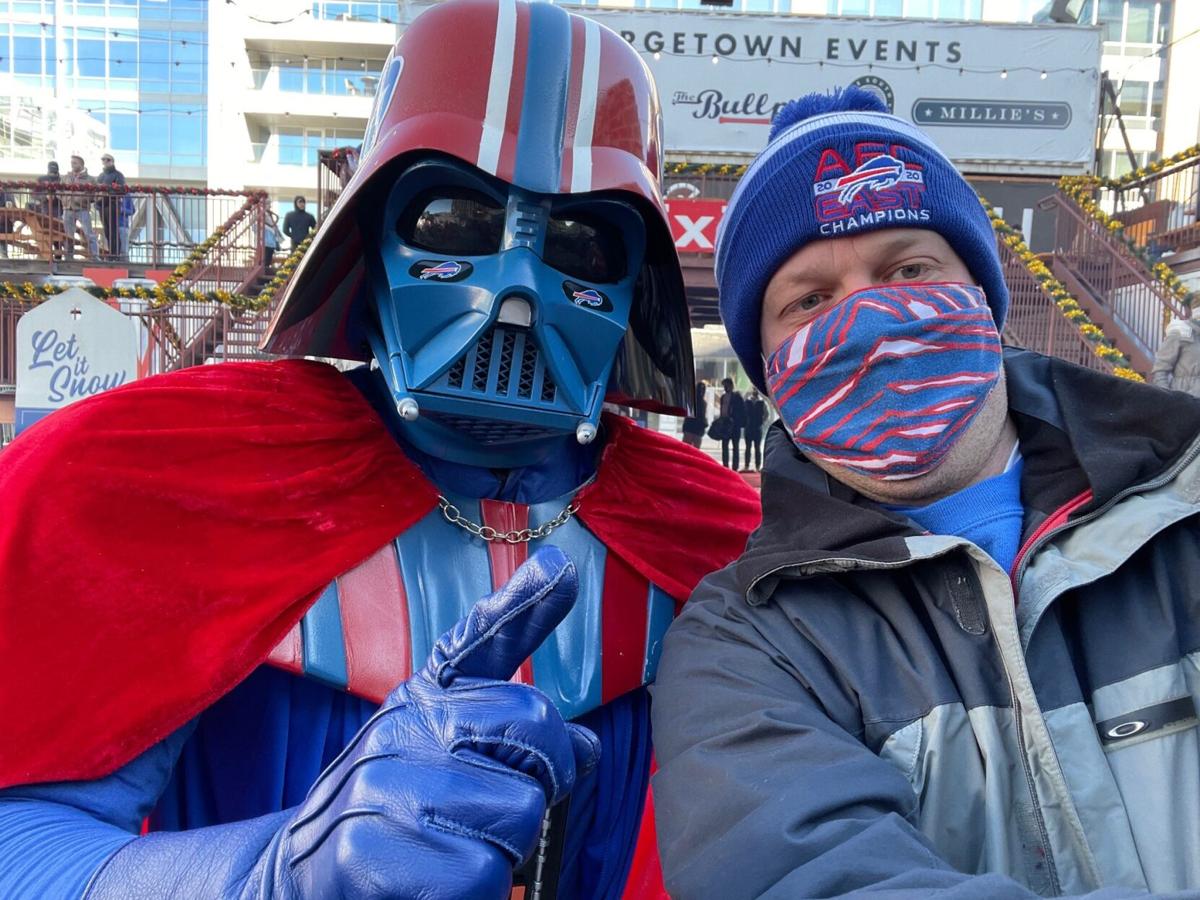 Rich Luchette will watch the Buffalo Bills on Saturday the same way he watched their wild-card victory over the Indianapolis Colts – with one eye on the game, and the other on his phone.
Normally, the Bills get his undivided attention. But these are not normal times. Luchette is communications director for David Cicilline, the Rhode Island Democrat who is the sponsor of the articles of impeachment that the House of Representatives will consider Wednesday.
Cicilline and Ted Lieu of California, one of the co-sponsors, began writing the articles in Cicilline's office while the Capitol was still under attack. This means Luchette has been working full time nearly every waking moment since the siege, with time off for the only thing Luchette simply could not miss: the Bills' first playoff victory since he was 9 years old. He viewed the Bills' win against the Indianapolis Colts at an outdoor watch party near Nationals Park, in Washington.
"It was the one place where I was able to pull myself away from work," he says. "But in the middle of the fourth quarter I had to talk to David for a few minutes before his CNN interview with Wolf Blitzer, another great Buffalonian."
The Bills built a 14-point lead early in the fourth quarter, but now Indy was eating into it. The daunting notion that Colts coach Frank Reich just might pull off another miracle comeback – this one at the expense of the Bills – hung heavy in the winter air. And Luchette had had to turn his attention elsewhere for several crucial minutes.
Steve Champlin was sure the Buffalo Bills would win Super Bowl I. They didn't. And he's spent much of his life since chasing Super Bowl dreams, writes Erik Brady.
"I was off the call by the end of the game," he says. "I got to see that Philip Rivers heave – and I was having flashbacks to 'Hail Murray.' "
This time, Bills safety Micah Hyde knocked down the desperation pass, preserving the Bills' 27-24 victory. And Luchette felt the sort of elation that is elusive these days for those who work on Capitol Hill.
On Wednesday last week, he says, "We watched on TV as this mob stormed the steps of the Capitol and then came into the actual complex. You work there and you sort of know that Capitol Hill is a target for violence, but this was the scariest and most chaotic thing. You get a call that says to stay in your office and lock the doors and don't make any noise. It was all really, really staggering."
It didn't even feel real at first. On Wednesday and Thursday, he says, he felt mostly shock and disbelief.
"It wasn't until Friday when I started to process it. It feels like the further we get away from it, the more apparent it becomes just how horrible this was."
Luchette was born at Mercy Hospital, in South Buffalo, and lived in East Aurora until he was 7. Then, a week before the Bills played in their fourth consecutive Super Bowl, the family moved to Cincinnati. The Luchettes would move again a few years later, to Chicago, but the boy never shifted his allegiance to the Bengals or the Bears. The Bills were imprinted on his psyche.
It helped that his maternal grandfather, a former foreman at Bethlehem Steel, would send him VHS tapes of Bills games every week so he could see them play. And every summer, when his family would go back to Orchard Park, his grandfather would take him to St. John Fisher College to see the Bills in training camp.
Luchette has no memory of the Bills' first Super Bowl loss, following the 1990 season, when he was 4. He does remember the other three Super Bowls, including watching the last one just days after his family had moved into their new home in Cincinnati. Sure, the Bills lost all those Super Bowls, but there was always next year.
"When you're a kid, you don't realize that's not how it's going to be forever," he says. "You take it for granted that the Bills are great and they're always going to be great. I think Patriots fans are going to go through something like that now."
"When I sign an autograph," Ferguson says, "I always add 'Buffalo Bills' to the bottom of it."
Ah, yes – the Patriots. Luchette works for a congressman who represents Rhode Island, in New England. Cicilline loves the Pats, and his constituents do, too.
"It's always been a bit awkward," Luchette says, "but David is very respectful of my Bills fandom, even if he doesn't agree with it."
Luchette doesn't hide from said fandom. His Twitter bio says: "Comms for @DavidCicilline, but mainly I'm just here to talk about the Buffalo Bills." And take a look at the picture at the top of this story, of him with Bills Vader. It's one that he posted on Twitter during the Colts game under these words: "Just made a new best friend."
Luchette attended St. Ignatius College Prep, in Chicago, and Georgetown University, in Washington, because, he says, his grandfather graduated from Canisius College, "and he always thought the world of the Jesuits."
Once, his mother pulled him out of class at Ignatius to go to a Chicago bookstore to see Tim Russert talk about "Big Russ and Me." The 2004 book includes passages about Sister Lucille Socciarelli, the Buffalo nun who taught Russert in elementary school. As it happens, Sister Lucille was later the principal at the school attended by Luchette's mother.
"When we met him, I was this nerdy political kid, and I said something like, 'I really liked how you did that interview with Colin Powell last week.' And he just looked at me like, 'OK, thanks.' And then my mother mentioned Sister Lucille and he just lit up and said, 'Oh, my God! I'll have to tell her.' Buffalo is very much a small town. The connections run deep."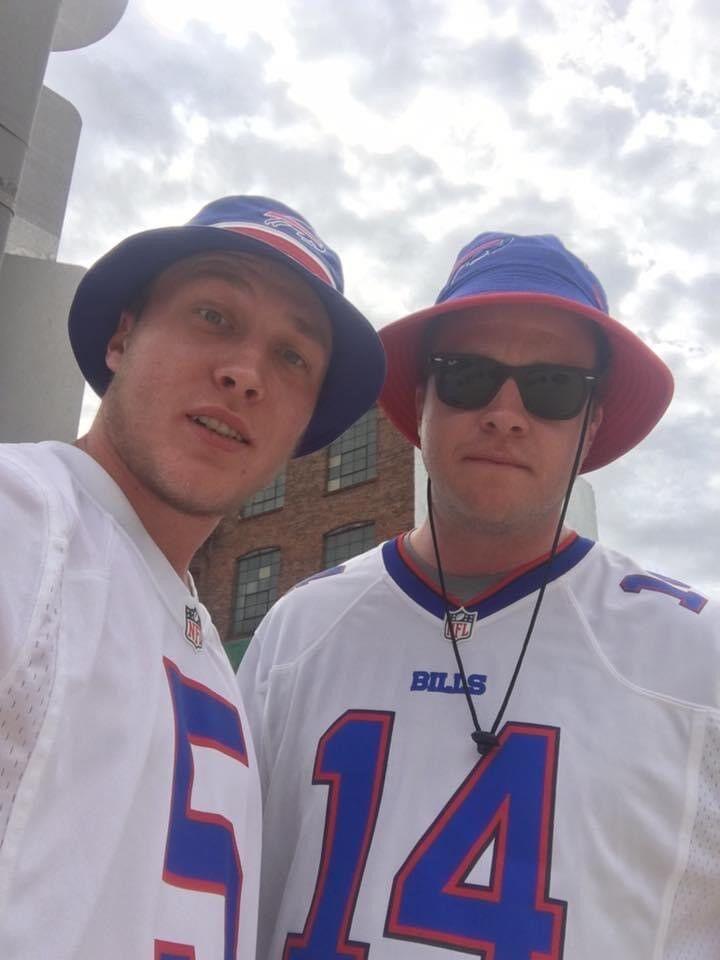 So much so that three years ago, when the Bills ended their playoff purgatory, Luchette got tickets to see them play in Jacksonville against the Jaguars. Shaun O'Brien, his cousin from Buffalo, drove to Washington and stayed overnight, and then they drove together to Jacksonville for the game.
"I remember when I got back to the office, David said, 'I wish I loved anything enough to drive 10 hours to see a football game.' But that's just that crazy Buffalo fandom," he says. "I feel like that's something you really only have with Bills fans – the relationship that that team has to that city and the people who live there, and even the expats who moved away."
That, of course, includes a certain expat who left at age 7 and has kept the Bills close ever since. He can hardly wait to watch them play the Baltimore Ravens on Saturday, knowing full well that professional duty trumps professional football, so he could be called away at any given moment.
His day job is life and liberty. This night game is the pursuit of happiness.