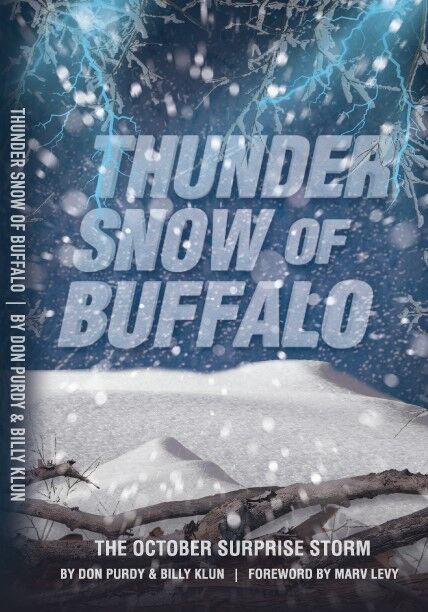 The October Surprise stormed in 15 years ago today. Everyone who was in Buffalo then has a story. And that includes the Buffalo Bills of 2006.
Don Purdy was the team's director of football administration. His new book, "Thunder Snow of Buffalo: The October Surprise Storm," tells the broad story, but much of it centers on the Bills of that era and how they fared when wet, heavy snow downed trees and power lines in the most destructive storm in Buffalo history.
Purdy wrote the book with Billy Klun, but likes to say he has more than 50 co-authors, because he and Klun gathered the stories of many others, including some of the players, coaches and staff members who toiled at One Bills Drive at the time.
That was Marv Levy's first season as general manager of the team he had once coached. In the foreword, he notes that when he was originally hired, owner Ralph Wilson told him the old vaudeville joke about how there are two seasons in Buffalo – winter and the Fourth of July.
"Over my coaching years there, I learned that at times it could be that way," Levy writes, "but I also jumped on the fact that we could adapt and that we could turn adverse weather to our team's advantage during those stormy January type days – inspired by our fantastic fans."
Mercer is a frequent football footnote for having scored the first points in Minnesota Vikings history, for booting that first field goal in a Super Bowl – and for going from the Bills to the Chiefs and back to the Bills in one of the oddest player-share arrangements in sports history.
This one, of course, came in mid-October, with trees still in full foliage. The heavy snow on all of those leaf-laden limbs is what caused so much of the damage.
"Rather than lending itself to a competitive home-field advantage, the weather instead posed extraordinary operational and logistical trials," Levy writes. "We, as an organization and a community, faced an unexpected, uninvited, and unconventional opponent. But not surprisingly, the special challenges presented by this massive storm did indeed reveal great things about the collective character of the Buffalo Bills organization and the proud citizens of Buffalo."
Chapter One of the book begins: "It was a dark and stormy night."
That's the opening line of Edward Bulwer-Lytton's 1830 novel "Paul Clifford," and it has come to be a laugh line of literature. (Snoopy, in his persona of World Famous Author in the comic strip "Peanuts," began all of his stories that way.) Purdy and Klun begin "Thunder Snow of Buffalo" with those turgid words, but then quickly (and comically) withdraw them.
"That tired cliché will not begin this story," they write. "Despite the epic weather event that began on Thursday, October 12, 2006 and continued through the dark morning hours of the imminently ominous Friday the 13th, this story began most innocently."
Time has a funny way of changing how we look at our childhood heroes, Erik Brady says.
When the snow started, on the night of the 12th, punter Brian Moorman was at Blockbuster with his wife renting a movie, which tells you in cultural terms just how long ago this was.
"We figured all we were going to get were the little snow pellets that were coming down in sheets as we ran to the car," Moorman recounts in the book. "They reminded me of the Dippin' Dots ice cream you can get at the mall – and they covered the ground pretty quickly. By the time we got home, however, they had already changed to snow. We spent most of the evening wondering if it was going to stop."
It did not stop. Then, the Moormans' power went out. And then the storm behaved in ways no one had ever seen before: Thunder roared, and the lightning – well, it was blue.
Linebacker Angelo Crowell called his mother in North Carolina near midnight. He tried to tell her "what was going on. I mean, it was snowing and thundering and the lightning was BLUE! I'd never seen anything like it."
Cory Plummer is a Bills fan unlike any other. He has no ties to our fair city other than this: He felt bad about Wide Right. And, against all odds, thus began his love affair with Buffalo.
The next morning, Deb Driscoll, personal assistant to coach Dick Jauron, began her drive from Grand Island to the stadium. At one point, on the 190 South, she drove "Evil Knievel-like over flaming, live electrical wires." The stadium had only as much power as backup generators could provide. Phone calls went out to players: practice would be delayed. Such a thing is almost unheard of in the NFL, where everything runs on rigid schedules.
"I'd never driven in the snow, didn't have a snow shovel, and almost was completely helpless," recounts rookie linebacker Keith Ellison, who grew up in California. "Luckily my neighbors were very nice and helped dig my car out and gave me a few tips on driving in the snow so I could get to practice later. But before I left I took some pictures on my phone and sent them to my friends back home. They couldn't believe it any more than I could."
Defensive end Ryan Neill got a call from Bill Kollar, his position coach, telling him practice had been pushed back to noon.
"I seriously didn't know why," Neill recounts. "Coach, in his typical boisterous style, barked, 'Hey, have you looked out the window, dumbass?' So, sure enough, I tried to open my front door. But there was too much snow."
Linebacker Josh Stamer grew up in Iowa and went to college in South Dakota. "I thought I knew about snow," he recounts. "Little did I know it would take moving to Buffalo to really know about snow. I've never seen that much snow fall in that short period of time, that early in the year."
We can get back to a day when the worldview of our seatmates is something of which we are blissfully unaware. 
Practice was set for the fieldhouse, which was without power. The team used a dozen diesel-powered lights. Stadium operations staff picked them up in Springville, where green lawns bore witness to the fact that areas not far south of the stadium had gone untouched by the storm.
"There is something very humorous about fighting for breath as you go through a tough NFL practice only to breathe in toxic fumes of diesel," guard Brad Butler recounts. "But we had a job to do – to play the Detroit Lions that weekend, and I had my complete focus on defeating them."
The Bills were scheduled to fly to Detroit on Saturday afternoon. But downed trees and power lines had left many roads impassable. Players and coaches used alternate routes to get to the airport, and by the appointed time, all of them had arrived – except for cornerback Jabari Greer. At last he showed up, too, 12 minutes late.
"Jabari rushed out of his car, sweating, while straightening up his tie and tucking his shirt into his dress pants," the book recounts. "He sprinted into the hangar. We told him he was fine as we all walked briskly to the plane and locked up the hangar behind him. It felt victorious to close the plane doors with everyone safely on board only twelve minutes behind schedule. But there was still a game to play."
The Bills entered that game 2-3; the Lions entered it 0-5. Jauron, the Bills coach, had ended the previous season as Detroit's interim coach. The toothless Lions had no sacks on the season, but on that day, they sacked Bills quarterback J.P. Losman five times: Detroit 20, Buffalo 17.
"Plane rides home after winning or losing are vastly different in terms of mood and atmosphere, as one can imagine," Purdy writes. "Personally, this loss hurt a little more than usual given the extraordinary efforts" that had been required to get the Bills through the storm and off to Detroit.
"Flying home on the silent plane, I saw something from my window seat that I'll never forget," he writes. "THERE IT IS.
"From about 30,000 feet, as we began the descent into Buffalo, the setting sun behind us from the west provided just enough light to see the exact path of the Storm. It was as if God had painted a solid, ten-mile stroke of snow through the region with a heavenly sized paint brush. There were lights to the north and south, but complete darkness throughout the glacier-like path."