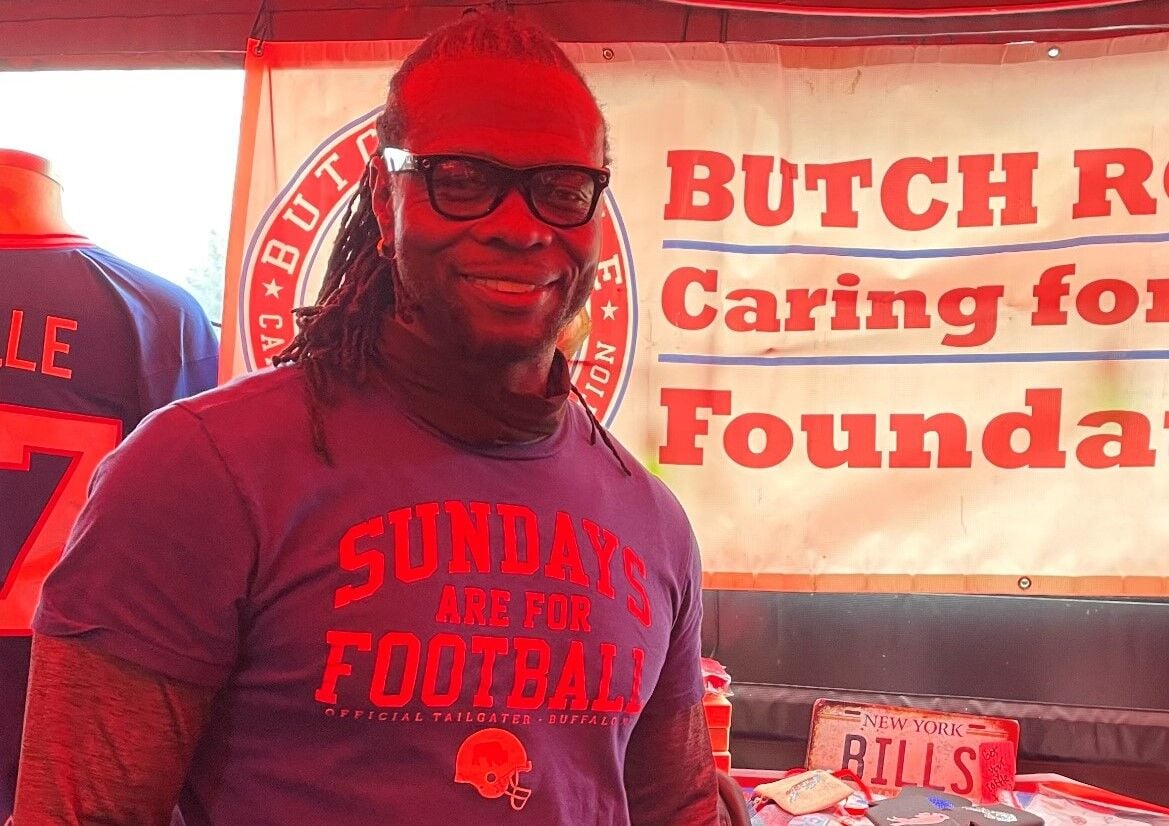 Butch Rolle was a role player on the roll of a lifetime back in the day. It wasn't just that he caught touchdown passes. He caught only touchdown passes.
Rolle caught 10 consecutive TD passes spread over five seasons for the Buffalo Bills in the late 1980s and early 1990s, according to ProFootballReference.com. Most of those came from Jim Kelly. Then, in the regular-season finale of the 1991 season, Rolle caught a five-yard slant from Frank Reich and was tackled in the field of play.
"I should have dropped it," Rolle says. Then he lets out a long, loud laugh.
He is sitting in the back room of Mooney's Sports Bar and Grill, on Military Road in Kenmore, as the Bills play the New York Jets on Sunday. The watch party is raising money for the Butch Rolle Foundation, which grants small scholarships to college-bound students in South Florida, where the charity is based and where he lives.
Now Rolle's foundation is awarding grants to students in Western New York. Sunday, he will be at the Big Tree Inn, the Bills bar by Highmark Stadium in Orchard Park. There the foundation will award grants of $500 each to two students from Sweet Home High School, as the Bills play Reich's Indianapolis Colts. At Mooney's, his foundation gave 10 hours of tutoring and a Samsung tablet to a student from South Park High School.
And here's the beauty part: Rolle's foundation raises funds primarily at watch parties at Bills bars in South Florida, right there in the heart of Miami Dolphins territory. The formula he uses there was on display at Mooney's: 50-50 raffles, silent auctions and straight-up donations.
"Bills fans are everywhere," Rolle says. "And they are very generous."
Maybe that's because they remember Rolle as "Mr. Touchdown." The Bills would line up in a running formation from the 1- or 2- or 3-yard line with Rolle at tight end. Kelly would fake a handoff to a running back as Rolle slipped out into the flat. Most times he would be wide open, though all he really needed was a step on the outside linebacker to make it work.
"We called it the Rolle Play," he says. "No one could stop it."
The Bills drafted Rolle out of Michigan State in 1986 and he developed into a special special-teams player. Bills coach Marv Levy always prized special teams, but he also found another specialty role for Rolle: goal-line pass catcher. He caught two passes in 1987, two in 1988, one in 1989, and three in 1990 – all for touchdowns. He had two more TD catches in 1991 before corralling the slant that ended his streak.
Rolle says ProFootballReference.com has it wrong. He insists he had 14 consecutive catches for touchdowns with the Bills.
"A player knows his stats," he says. "And a player is not going to short himself."
Rolle only wishes there was a stat for blocks: "Thurman [Thomas] always wanted to run to my side. That's my Hall of Fame running back, and he trusted me to make the block for him every time."
So how come defenses never figured out the Rolle Play?
"I say the same thing," he says. "But those linebackers would get so honed in on the running play. Jim would fake the handoff and the running backs would sell out, jumping over the top. The thing between Jim and me was great. He would say, 'If no one is there, just buttonhook and I'll hit you.' "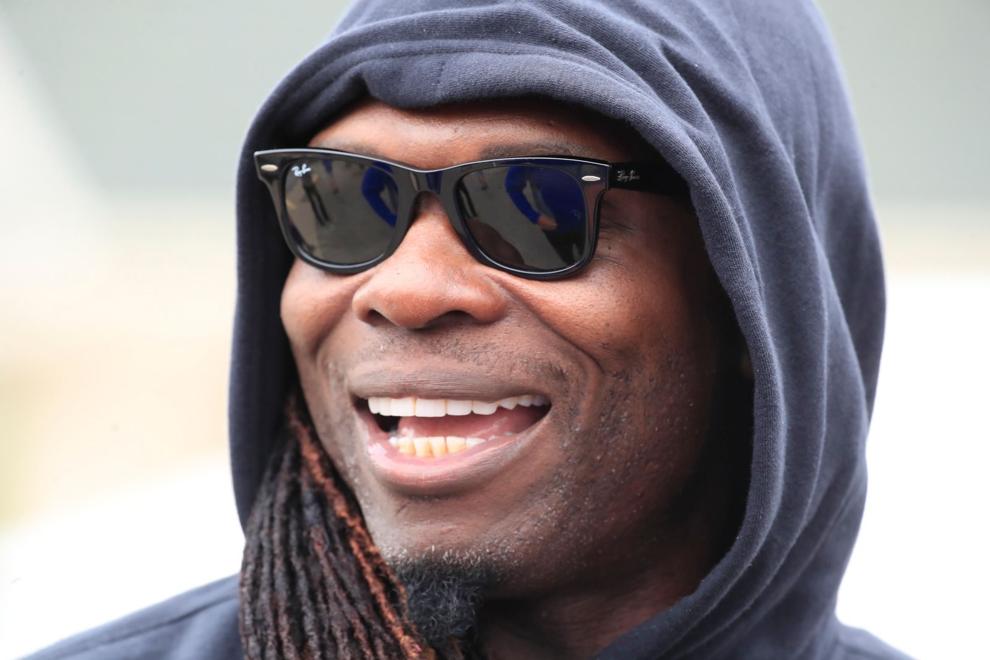 Kelly would throw darts on the buttonhook or feather it to Rolle if he were running wide open in the flat. Rolle remembers only one time when a defender was close to him as he scored. It was Phoenix Cardinals linebacker Anthony Bell, a former teammate at Michigan State.
"He knew about the play. He knew it was coming," Rolle said. "I got into my stance, rose up quick like I was blocking and then got around to the outside of him. And once I've got the outside, I'm going to score. You should have seen the look on his face. I said, 'Gotcha!' He was like, 'Damn, we practiced that play. I knew it was coming.' But they still couldn't stop us."
At Mooney's, Rolle gets up and plays blues funk on his guitar with the Pete Griffith Group. Music is always a part of Rolle's life. It's what got him into football.
"I played trombone in the high school band when I was a freshman. I was 6-3, 215, and at halftime the coach sees me and he says – these were his exact words – 'Why don't you have your big (butt) on the football field?' I'll never forget it. I told him my parents didn't want me to play. I said, 'If you want to go talk to them, and they say it's OK, I'll be out there.' Sure enough, he told my father I was a big kid and a lot of good things could happen. And the rest is history."
TD history, that is. Rolle caught 15 passes in six seasons in Buffalo, 10 for touchdowns, according to the reference site. Then he signed with Phoenix as a Plan B free agent after the 1991 season and caught 23 passes in two seasons there, one for a touchdown.
"I told the Bills, 'If you match this, I'll stay. I don't want to go anywhere else.' But football is a business," he said. "I had an opportunity to make more money and better my life."
Now his foundation betters the lives of others.
"I call us the 'X-factor,' " Rolle says. "We help kids who have a problem with a shortage of funds."
Mr. Touchdown was an X-factor back in the day, too.