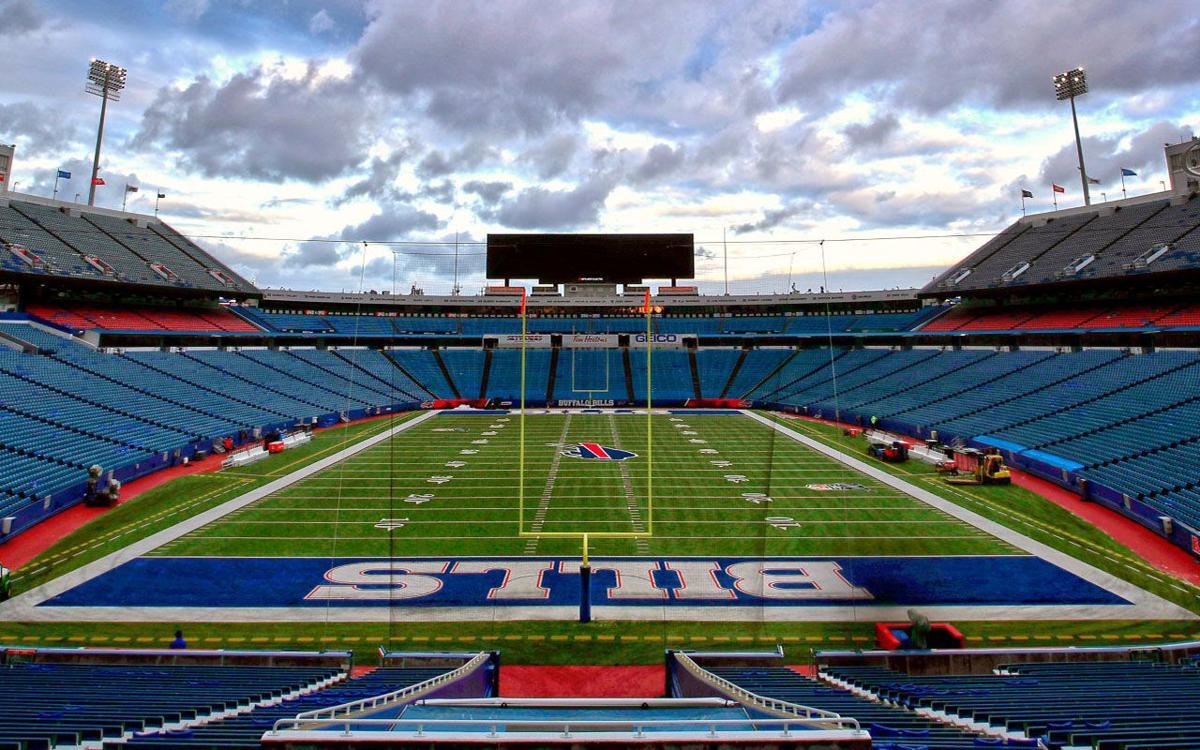 We've heard a lot lately about how the football stadium in Orchard Park is old and falling apart. (Some of us who were there the night it opened are starting to feel the same way.) As it happens, the first game there came 48 years ago today. And Herb Mul-Key made history on the opening kickoff.
He returned it 102 yards for a touchdown. And that's not nearly the best part of his story.
From Rich Stadium to the Ralph and beyond
The Buffalo Bills have enthralled and enraged fans on this playing field for more than 40 years, first when it was called Rich Stadium, then from 1998 to 2015 as Ralph Wilson Stadium, followed by New Era Field from 2016 to 2020. Since New Era lost the naming rights, it's been called Bills Stadium. 
His rise from semi-pro to semi-legend is among the most remarkable tales in NFL history. And it's all the better because it came in large part thanks to a coach who would make history of a more lasting kind at Rich Stadium.
That 1973 game was preseason, which usually means it's nothing memorable. But this was the first game played at Highmark Stadium, as it is now known. Mul-Key played for the Washington Football Team, as it is now known. And how he came to play for that team beggars belief.
A year before the opener in Orchard Park, Washington offered an open casting call. Anyone who wanted to try out for the team could show up at Georgetown University. More than 300 did. Mul-Key was 23 and had not played football since his freshman year at Alabama State University, which is not to be confused with the University of Alabama. Then he did a stint in the Navy and worked odd jobs, eventually playing football in a sandlot league in Atlanta, making $25 per game with the West Side Packers.
BN Chronicles looks back at the umpteen names that have graced Buffalo's three major sports facilities over the decades since they
That's when Washington linebacker Harold McLinton, an old high school teammate, called and told Mul-Key about the tryouts. So he borrowed money from his parents and bused to the nation's capital. What he didn't know was that these open tryouts were really more of a public relations stunt than an earnest effort to find hidden talent. Besides, Washington was a team already stocked with stars – and was coached by George Allen, who didn't much care for rookies.
But Mul-Key ran a 4.5-second 40-yard-dash on a wet field. And that caught the eye of the Washington special teams coach – a fellow by the name of Marv Levy.
Washington signed Mul-Key to the $12,000 rookie minimum and assigned him to the practice squad. Then, late in the 1972 season, running back Larry Brown got hurt. Mul-Key got called up and played against the Dallas Cowboys in the season's next-to-last game. He gained 60 yards on eight carries, caught two passes for 38 yards, and returned six kickoffs for 173 yards. His 271 total yards set a record for a Washington player in his first game.
The next week, in the regular-season finale against the Bills in Washington, he carried 25 times for 95 yards, nearly matching O.J. Simpson's 101 yards rushing. Mul-Key had an 8-yard touchdown run, but Simpson's 21-yard sweep tied the game at 17 in the fourth quarter. In the closing moments, a pass glanced off Mul-Key's hands at midfield, and the Bills intercepted and returned it 42 yards to the Washington 3-yard-line. From there, fullback Jim Braxton scored the winning TD: Buffalo 24, Washington 17.
"Losing a game like that is like a death in the family," Allen said afterward. "There's only one thing to do after a game like that, and that's hide."
Still, Allen was impressed enough to keep Mul-Key on the active roster for the playoffs. He had two kickoff returns for 60 yards in a win against the Green Bay Packers, then none in the NFC title-game win against the Cowboys. Super Bowl VII put Washington's Over the Hill Gang versus Miami's undefeated Dolphins. In the runup to the game, reporters lapped up the story of the return man who rose from sandlot to Super Bowl inside of a year. But Mul-Key had only one kickoff return, for 15 yards, as Miami won, 14-7.
Seven months later – on Aug. 17, 1973 – he returned the kickoff that christened Rich Stadium. Nearly 80,000 fans had come to see the spanking-new place. Most of them, mired in traffic, missed the kickoff; many didn't reach their seats until the second quarter. Washington won, 37-21, and the Bills would go 0-6 in the preseason. But that first season in the new stadium would turn out well for the Bills, as Simpson ran for a record of 2,003 yards.
The 1973 season turned out well for Mul-Key, too; he made the Pro Bowl as a kick returner. In 1974, though, he was slowed by a shoulder injury. And in 1975, he was traded to the Baltimore Colts. Their new coach, Ted Marchibroda, had been Washington's offensive coordinator – and, of course, would later be Buffalo's.
The Colts cut Mul-Key in training camp, and guess who signed him to play for the CFL's Montreal Alouettes? Levy used Mul-Key as a backup to running back Johnny Rodgers, a former Heisman Trophy winner. Montreal lost in the Grey Cup game that year. In the offseason, Mul-Key blew out a knee, and that was the end of an unlikely pro career.
His real name at birth was Herbert Felton Mulkey. He changed it to Mul-Key because, as he told The New York Times in 1972, people made fun of the Mulkey name: "They called me Mercury or Murky or Mushy or Musky."
So Mul-Key gave himself the hyphen. Now maybe it is time that we assign him another typographical symbol. Let's give him an asterisk in Buffalo Bills history – as the man who opened Rich Stadium with a bang.