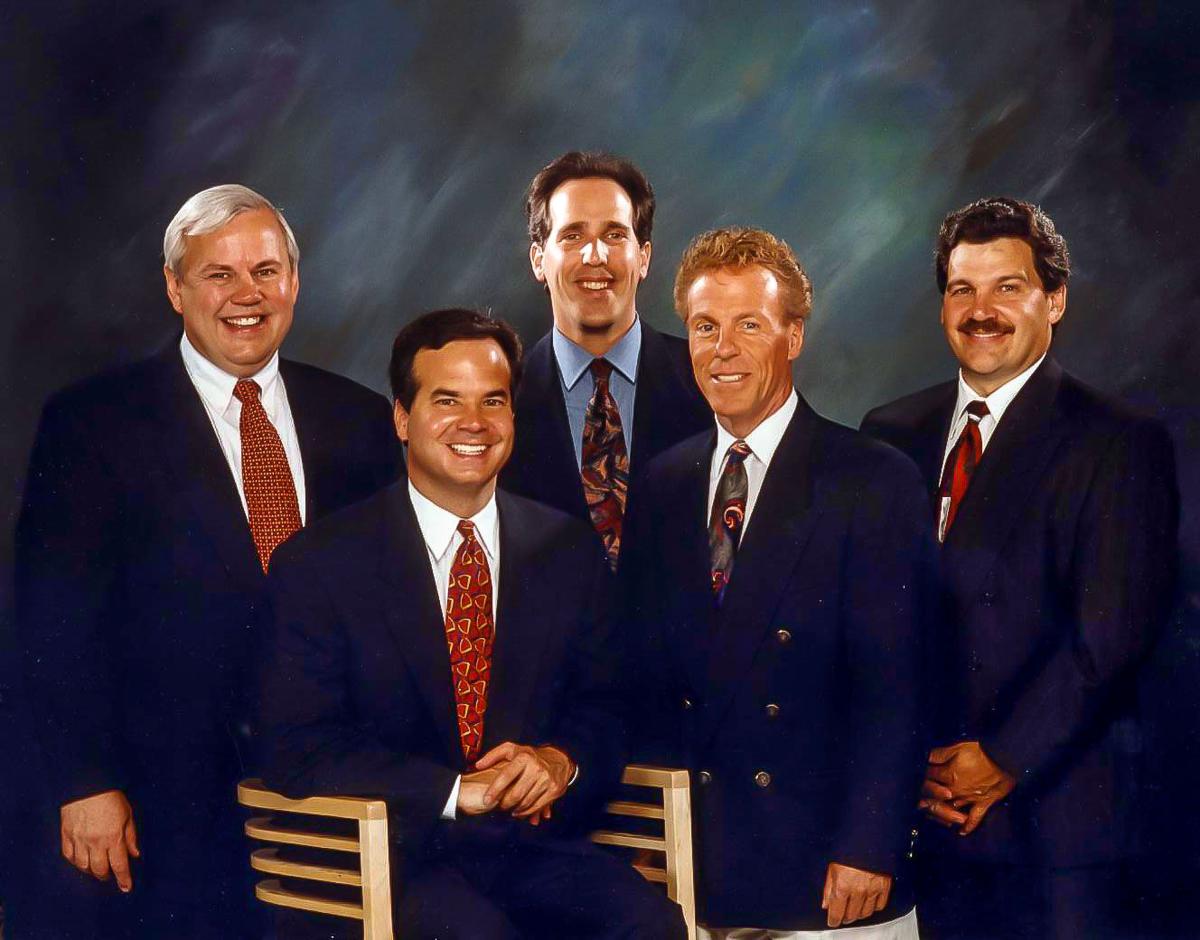 The Bills are going to the playoffs for the third time in four years and have a real shot at the Super Bowl for the first time since 1994. After nine months off the ice, the Sabres are closing in on a start to their season. While battling the pandemic every day, the local college basketball teams are forging ahead with their schedules. The University at Buffalo football team just played in its third consecutive bowl game.
Stories are everywhere. You can only imagine the hours of programming the Empire Sports Network would be producing now to cover them all. It's been nearly 16 years since Empire left the air, collateral damage to the fall of Adelphia Cable and the business and financial dealings of the Rigas family.
Born from an idea by Empire chair John Rigas and his son, Mike, Empire became a giant on the Western New York sports scene in the 1990s and early 2000s before going off the air in 2005. It had the rights to Sabres games. It aired college basketball and Triple-A baseball games across the state and had wall-to-wall Bills coverage with several shows featuring personalities from the team.
"When I was at Channel 7, I was climbing the ladder in the late '80s and I didn't even know what a regional sports network was," said former Empire general manager Bob Koshinski, now the owner and president of media/event agency All Services WNY. "They launched on Dec. 31, 1990, with a Sabres game, I came on board in August '91 and for the first five years or so it really wasn't much above a local origination channel. We were using Adelphia sets, their people, their equipment.
"You plant corn, you're going to get corn. And that's what we were. ... But they built a new building (in West Seneca). We started hiring people, a lot of people. We started covering stories, breaking stories and people noticed."
Regional sports networks are the norm in virtually every pro sports market in the United States through NBC/Comcast, Fox, Root sports or team-specific networks such as YES, SNY or the Chicago Cubs' 1-year-old Marquee venture. Except in Buffalo.
"The fact people still talk about it is cool," said former Fan TV anchor Howard Simon, who has been on the air at WGR Radio since Empire dissolved in 2005. "I still get the occasional tweet from somebody saying it's cool to listen to you because I grew up watching you on Empire. We could go live anytime, do press conferences any time, go to events. Channels 2-4-7 were doing three minutes of sports. We were there for hours."
"A package might be limited to 90 seconds at a network affiliate, but if you had a story at Empire that could carry three minutes, fine," said Ginger Geoffery, an Empire reporter who is now director of communications at Canisius High School. "They wanted content, chunks to fill shows. Get three interviews after the morning skate and pursue something. Yeah, sign me up."
Especially in the early days, ratings weren't great, but Empire grew to 1.8 million subscribers in 2001 in New York and parts of Pennsylvania and Ohio, and its cult following continues to this day. Longtime Buffalo sports nuts can quickly rattle off the names of their favorite Empire shows. The Empire Sports Report was the twice nightly, 30-minute "SportsCenter" of Western New York. There was Fan TV. Hockey Hotline. Fan Forum. Sportsline with Paul Maguire. Pros and Cons with former Buffalo News Sports Editor Larry Felser, Ed Kilgore and Art Wander. The Bills shows featured Marv Levy, Bill Polian and players such as Thurman Thomas, Frank Reich and Cornelius Bennett.
"The Sabres won a lot back then and you had the premier goalie in the league (Dominik Hasek) standing on his head every night," said fellow Fan TV anchor Jim Brinson, now working in radio in Des Moines, Iowa. "We broadcast the games. We covered the Bills like crazy. We did the Big 4, Syracuse, national events. We grew to become a full-service operation."
Featuring news, features and viewer calls, Fan TV became a signature show for the network starting in 1996. It ran weekdays from 4:30-7 p.m. with Brinson and Simon and again from 10-11 p.m., first with Pete Weber and then other hosts. It started by accident in part because of Canisius' run to the 1995 NIT Final Four, with Koshinski hosting an otherwise normal edition of Fan Forum.
Koshinski: We did a live interview with two boxes on the screen and we got (ESPN's) Bill Raftery from New York in one and I was in the other. After we did that and I went back to (vice president) Ron Bertovich and said, "This is what should be doing all the time. Nobody is doing this." That planted the seed for Fan TV. It gave us a weapon. We ended up with 1.8 million homes in New York State and 5.5 million across the country on DirecTV and Dish.
Brinson: I loved that show. Howard and I were different in our approaches, but the chemistry worked. We played off each other so well. Were there funny moments? Absolutely. Where they serious moments? You bet. It wasn't easy to fill 2 1/2 hours, but once we got into the groove after a couple months, it wasn't like we were working at all.
Simon: We were opposites. I was anal. I had never done TV before and this was a new show. I'd write little notes, questions. Jim was so good that he could walk in the studio at 4:25, sit down and do the show at 4:30. He knows people, has the knowledge, had been around a lot. You could throw the script in front of him and he could do the show. Very easy. Great to watch.
Geoffery: I got here in 2001, and by then it was a well-established show. Brinson fascinated me. He was a total talk off the top of your head kind of guy, I like to have things bullet-pointed out. You'd watch the guy and think, "What's going to happen here when the camera goes live to me and we're on the air?" He didn't have any notes. Boom, the light on the camera would go on and there was Jim talking away. So good.
It hasn't even registered a Nielsen rating of 1 yet, but Fan TV scored big last week when it broke the Jim Kelly story. And you know what hit the fan at the mainstream broadcast outlets after the five-month-old afternoon program on the Empire Sports Network announced Jan. 24 that the quarterback's career as a Bill was history. 
Brinson: It changed and went to another level when we broke the story that Jim Kelly was retiring (in 1997). I convinced them to send me to the Super Bowl in New Orleans. We were set up on the French Quarter out on a balcony. When you're in New Orleans, you venture into a refreshment stand in the evening. I'm sitting around. Lots of former players and current players. I overheard a conversation about Kelly possibly retiring. I kept my nose to the ground, got wind of more. Called the station and they worked it too and we went with it. Steve Tasker was out there and pretty much confirmed and came on the air with me after we broke the story right at 4:30. That put us on the map. We had three anchors back in Buffalo saying, "They're just a little cable access network. This isn't true." I still laugh at that.
Simon: That's the first time I thought, "Wow, people are watching." We knew (Channels) 2-4-7 and WGR Radio were actually tuning us in at 4:30 to see if we had anything. Jim used to say on the air all the time, "Nationwide on the Empire Sports Network" and we used to make fun of him for it, but he was right. We thought of ourselves as a Buffalo show. But I was visiting family in Florida, went to a restaurant in Fort Lauderdale with one of my older brothers and a guy stops me and says, "Hey, you're the guy from Empire, from Fan TV." My brother was impressed. We really were nationwide.
Brinson: I'm at a Bills game in Arizona one time talking to Howard in the studio and the noise just starts to build behind me. "Jimmy B, Jimmy B, Jimmy B." They just started yelling your name and I turn around during the break there's hundreds of people and one guy yells, "I live in Reno and i watch you guys all the time." It was nuts, absolutely nuts. People who moved could keep up because we were national.
Simon: It was kind of the same feeling when we had Ted Nolan on (in 1997) the day Darcy Regier got hired and said he was only giving Ted a one-year contract. We put Ted on the air right away and he said he wasn't taking it and then we turned around and surprised Darcy with that. I thought it was so cool. But it was really kind of "gotcha" television, which I'm not a big fan of. We put Darcy in a bad spot, but at the moment we knew the other media was scrambling to their televisions. I heard people saying, "They've got Nolan on live right now. What is he saying?" That was a huge thing for us. Ted was able to tune in Empire, watch the Sabres press conference. It couldn't have gone any better for us.
Sabres games were the network's signature live event, but the audience didn't taper off much after the game. Sometimes running for as long as two hours, "Hockey Hotline" was one of the most well-known shows in the NHL during its run as the postgame presentation, featuring host Brian Blessing, analyst Mike Robitaille and fan phone calls.
Robitaille, now retired: Those were 12 of the best years I think in my life as far as broadcasting was concerned. Honest to God, I don't think we stopped laughing for 12 years. I can't tell you how many times we had looked at one another. "Oh my god, can you actually believe we're getting paid for this?"
Blessing, who now works in sports radio in Las Vegas: We would watch the games in the office, laugh like little kids watching the game and then we'd go do a TV show and laugh like little kids on the set. The nonsense started the minute we got in the building. There was a night the Capitals won here and Steve Konowalchuk had a hat trick for them. So we go to Danny Gare to the postgame interview and he says, "Boy, you guys came out you had a bounce in your step," and Konowalchuk says, "Oh, yeah. We were bound and determined those two guys on the postgame show weren't gonna cut us up tonight." Well, we're on the set high-fiving because that means they were watching us in Washington before they ever got here to town.
Simon: Roby was worth the price of admission. You never knew what was going to come out of his mouth. Funny, bombastic, loud. Brian knew what buttons to push to get Mike to explode. In terms of chemistry, that's one of the best pairings I've ever seen. They'd be down the hall in a conference room, I'd stay just to sit with them and hear what they talk about watching the game. It was absolutely phenomenal.
Blessing: The "Robyisms" were special. Whatever was in his head came out of his mouth and they made the show. There was one after a check one night by Brad May where he said something like, "They walk the cow down the ramp to the slaughter and hit the cow in the forehead with a mallet." I said, "Well, I just think you turned a lot of hockey fans into vegetarians." It was like stupid stuff like that. It was utterly hilarious.
Robitaille: I guess it was in my subconscious, or something. A lot of that stuff came from horse ownership. I have always been around thoroughbred horses and spent a lot of time in the backstretch. And there's a lot of characters back there, old-timers short a few teeth here and there. And they would have some of these sayings that were just endless. Quips would come out of my mouth out of nowhere. It kind of surprised myself sometimes.
Blessing: We made sure to have some serious parts to the show and we hit that team hard. What good is nonstop praise if you're not willing to be critical? We praised them to the moon when they deserved it. And if a guy or the team was bad, we pointed it out. Watch home broadcasts today around the league and the team lost 7-1, but it's, "How about that goal?" Please. What a waste. 
Robitaille: I had carte blanche to say what I wanted to. Every year I would always have a talk with the old man (John Rigas). He'd say, "My wife and I just love what you're doing and whatever you do, don't change it. If you're going to be critical, I want you to promise me one thing that you'll always double check and make sure you're right." Can you imagine an owner, any owner, saying that now?
Brian would get me going, really knew how to push my buttons. He could be hot-tempered and I could flip him off very easy, too. We had a great crew. We kept it red hot. Fans never left us. It was picking up speed. You could just sense that proverbial snowball going downhill. You could really verify that with the calls and letters coming from all over the country. You had your small cadre of people working with you that became close friends. It was the coolest damn thing.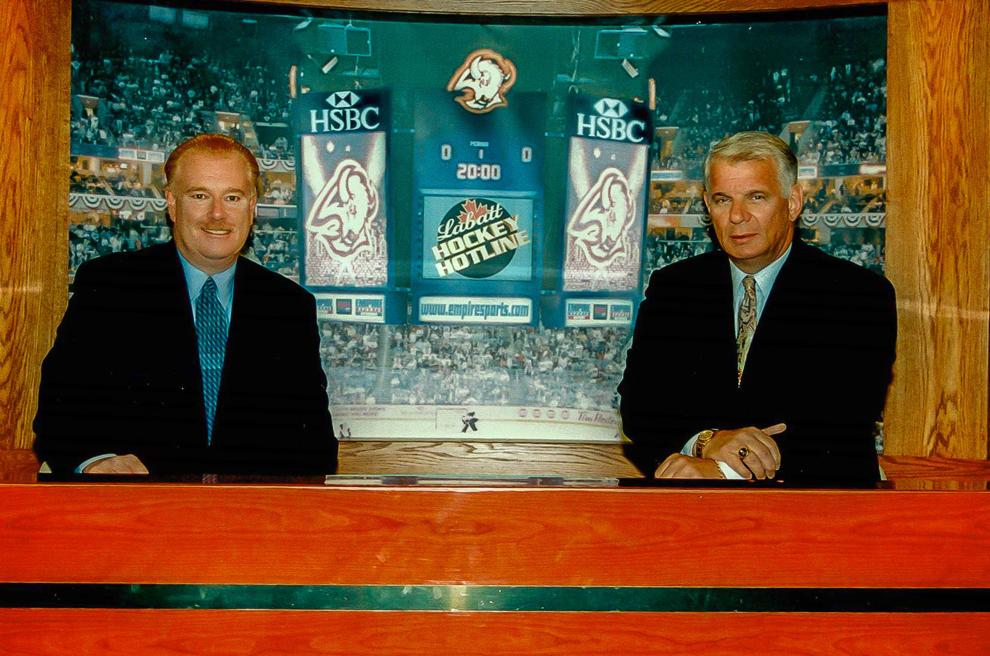 During the 2000 playoffs, a year after No Goal ended the Sabres' Stanley Cup hopes in 1999, the Sabres were robbed in Game 2 of the first round in Philadelphia by a goal that clearly went in through the side of the net. NHL VP Colin Campbell called Hockey Hotline live after the game to discuss the play.
Blessing: To his credit, he stepped up to the plate and fell on the sword. He basically admitted their mistake. And they were proactive on it and basically apologized to the people of Buffalo. And that was the forum he chose to do it on. The league was watching the show.
Robitaille: We used to call that the war room during the game, right? Sometimes Campbell would call and be ticked off. We would argue with him and things would be smoothed over.
Sabres players often complained about criticism on the show. None more than former NHL star Doug Gilmour, whose 2000-01 stint with Buffalo was a flop that produced just 10 goals in 82 games.
Robitaille: Huge fan of his. He came here and he pretty well didn't do anything. Just, like, nothing. I'm driving back from the cottage up in Canada after locker cleanout day and Brian calls me and says, "Holy bleep, did you hear Gilmour? He said, 'The one thing I'm sorry I didn't do before I left was punch Mike Robitaille right in the mouth.' " Now I'm 60-some years old, I've got a disability. I'm out of shape. And I couldn't think of a better place to be but stuck in a phone booth with him. He was my type of player from top to bottom. But he started a lot of fights and then went on the outside. Everyone was drawing blood and he's over there whistling a tune by the boards.
Blessing: I asked Mike if we should send him flowers. That kind of summed up what the show was. Great player, incredible career but I'm sorry, that doesn't forgive you for floating back on Darius Kasparaitis' game-winning goal in Game Seven (the Sabres' 2001 second-round loss to Pittsburgh). We said it and he didn't like it. Tough beans.
Robitaille: It was for the fans and became really personal. They ate it up and they wrapped their arms around it, really, really enjoyed it. So I could feel it. They could trust us. We didn't lie to them. 
It's Valentine's Day, and my heart is broken. ... So what, you ask, hast cleft my heart in twain? My TV. Specifically, the recent news that Empire Sports Network is not long for this digital world.
The thriving network had plans for new studios in a downtown tower on the site of what's now LECOM Harborcenter, but they never came to fruition as the Rigas family was investigated in 2002 by the Securities and Exchange Commission for securities violations and Adelphia eventually went bankrupt. The Sabres were run by the NHL until Tom Golisano purchased them, but there was no saving Empire, as Adelphia could no longer afford to run the network. The layoffs started in 2003, with 27 employees going in one day and Fan TV taking the brunt of the hits as the program was dropped. The final signoff came on March 7, 2005.
Brinson: I'm still pretty sour on that situation. You'd walk in and your friends were cleaning out their stuff.
Geoffery: I had a real reality check at Bills camp the day the Rigases got led off in handcuffs. I remember seeing the video and thinking "Oh boy, this is not good for the future of Empire." It's a shame. To this day, "I remember you from Empire" is something I hear. I was new and so focused I didn't realize at the time how big it was.
Simon: In Florida at an uncle's funeral, I'm at his condo, saw a story on USA Today's web site and clicked a headline. A relative up on finances was there and I told him to read this story and tell me what it means. He looked at me and said, "You guys are gonna be in trouble."
Blessing: The sickening sad thing is if there is a market in this country that deserves and requires a regional sports network, it's Western New York. My hope and belief is we would still be doing Hockey Hotline. Anything Empire did back then to this day is better than any regional sports network that's on now. I can't believe someone hasn't stepped up to the plate to bring it back.
Koshinski: Larry Quinn and Tom Golisano passed on owning it. That to me is ultimately why. Mark Hamister had it in his deal with the Sabres that fell through and the Bills looked at it, too. There was an outside chance when the Pegulas created PSE and I'm told they looked into it. But MSG was willing to pay them $18 million to carry the games, why would you risk one penny and risk it to do it yourself? 
Robitaille: We had such salt of the earth people. My heart just broke for them. You'd think ownership might want to look hard at that and set something up, but I guess it's not financially correct. If there's some money be made. they would have done it by now.
Simon: It was a really good company to work for, really good. They'd hand out Sabres tickets, throw Christmas parties. A lot of people got screwed in the end. We were a regional network with national tendencies. If you want to do it right, it's an expensive proposition. No one has done it like we did it. It takes manpower and money. You can't bare-bones it.