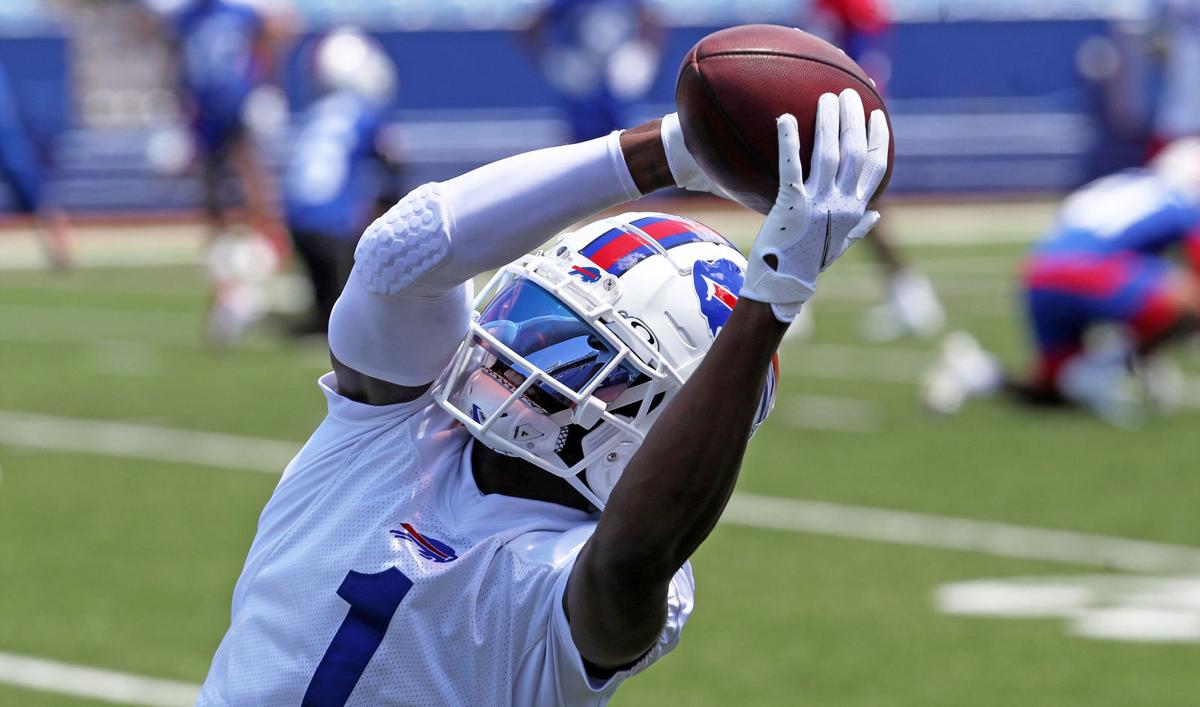 Emmanuel Sanders came to Buffalo to win the Super Bowl.
The veteran wide receiver made his intentions clear this week when he addressed his new Bills teammates as a full group for the first time at the start of the team's mandatory minicamp.
"He's a grinder. He's a guy that wants perfection," Bills quarterback Josh Allen said. "He got the chance to talk to the team (Tuesday) morning. He got to share his story. But the thing that he said that stuck with me, was, 'My first year, I went to the Super Bowl and I've been chasing it ever since.'
"He's been to three, he's won one. But he wants another one. And just the motivation that he has to be here in Buffalo, and the want that he has to be an impact player for us, it's awesome."
Sanders, 34, was released by the New Orleans Saints in March, following one of the worst statistical seasons of his 11-year NFL career. The two-time Pro Bowl selection finished 2020 with 61 catches for 726 yards and five touchdowns.
Sanders signed a one-year, $6 million contract with the Bills and is likely to replace John Brown, who was released, as the team's No. 2 wide receiver alongside All-Pros Stefon Diggs and Cole Beasley, his college teammate at SMU. Second-year pro Gabriel Davis rounds out a stacked top four.
Sanders and former Chicago Bears starting quarterback Mitchell Trubisky, who signed a one-year, $2.5 million deal to serve as Allen's backup, rate among the Bills' most high-profile free agent acquisitions this offseason.
"Those have been really good additions to our team," Bills coach Sean McDermott said this week. "Obviously, it's early. It all starts with and ends with who they are as people and the early returns on both of those two guys, Mitch and Emmanuel, are phenomenal. Good people who want to work hard. It's important to them. They're passionate about the game, so they've added to our team already in the short amount of time they've been with us.
"I think the future remains to be seen on the field, the impact of what you can measure on the field, that they'll have on our football team, in terms of numbers and all that type of stuff, but to this point, I'm very pleased with what they've added to our team."
The 5-foot-11-inch, 180-pound Sanders was a third-round draft pick by the Pittsburgh Steelers in 2010 and has amassed 662 career catches for 8,619 yards and 47 touchdowns in 158 regular-season games, including 109 starts, with Pittsburgh, Denver, San Francisco and New Orleans.
Sanders caught two passes for 17 yards in Super Bowl XLV before being carted off the field with a broken foot, ending his rookie season with a crushing disappointment on the sport's grandest stage. The Green Bay Packers won, 32-25.
Sanders played four seasons with Pittsburgh before continuing his career in Denver, where he made the Pro Bowl twice in six seasons and helped the Broncos win Super Bowl 50, catching six passes for 83 yards in a 24-10 victory against Carolina and McDermott, then the Panthers' defensive coordinator.
Sanders produced three consecutive 1,000-yard seasons with the Broncos in 2014, '15 and '16. He had his best season in 2014, when he made 101 catches for 1,404 yards and nine touchdowns.
Sanders was traded to the San Francisco 49ers for draft picks midway through the 2019 season and helped the Niners reach Super Bowl LIV, where he had three catches for 38 yards in a 31-20 loss to the Kansas City Chiefs.
Bills General Manager Brandon Beane tried to sign Sanders last offseason, but the wide receiver asked for time to think about the offer. That same day, Buffalo traded for Diggs, who led the NFL in catches and receiving yards last season. Sanders signed a two-year deal with the Saints.
"Beane was telling me he's been wanting, he tried to get me in a trade with Denver and he tried to get me last year," Sanders said earlier this offseason, after signing with Buffalo, "but he brought in Stefon and Diggs had 1,500 yards (receiving). He had a career year. And here I am now, so we're both together. Now, we've got to capitalize on that."
Sanders' scheduled video conference call with reporters on Wednesday was postponed, with no makeup date announced.
The Bills canceled their third and final day of minicamp Thursday. Players aren't required to return to One Bills Drive until the start of training camp in late July.
"He's going on Year 12 … and for him to come here kind of late in his career, he's still super explosive," Allen said of Sanders. "He wants it bad. You can feel it. You can hear it in his voice. And he's going to be a great teammate for us, and a great player for us and going to make some big-time plays this year."