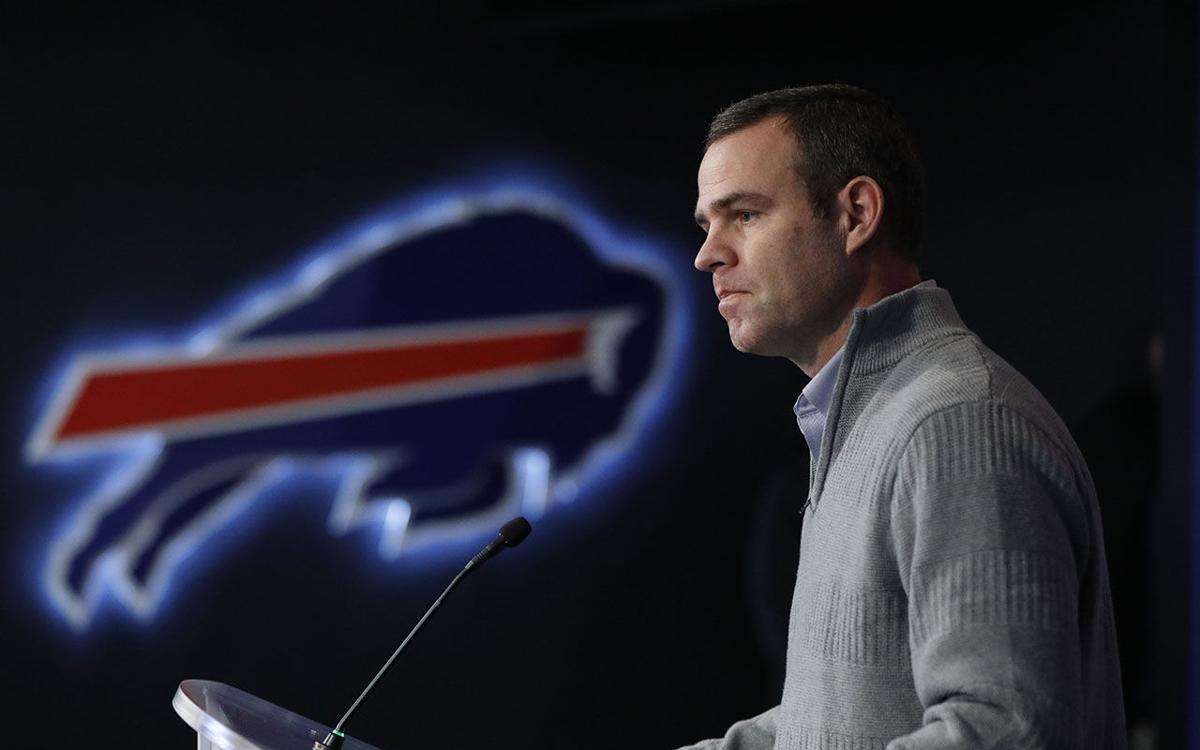 Look for the Buffalo Bills to move around at some point in the 2021 NFL Draft next week.
That's one conclusion from reading between the lines of a 50-minute news briefing Bills General Manager Brandon Beane conducted Tuesday.
Contract talks with the QB and linebacker Tremaine Edmunds will be "front and center as soon as the draft is done."
Beane didn't definitively say the Bills would be making draft-day deals. He straddled the fence on most subjects, just like every other NFL general manager in the run-up to the draft. But he said enough to make it seem like last year's experience – in which the Bills stood pat for each of their seven selections – was an aberration.
Here were observations from Beane's video conference call:
1. The Bills' spot at No. 30 in the first round is a good one to attract offers. Teams may want to grab another first-round pick due to a run at a position and because first-round picks can be kept under contract for an extra year, via the fifth-year option that teams are allowed to apply to the contracts of first round picks.
"Maybe the extension will happen later in the spring. Or, perhaps, the summer. Who knows?" writes Vic Carucci.
"I would be surprised if we don't get some calls for 30," Beane said. "We just have to make a judgement about how we see the board and if we're willing to give it up.
"I would definitely take this pick if there's a guy that we're excited about and we've got a good solid first round grade on," Beane said of No. 30. "We're very comfortable staying at 30 and getting that fifth-year option. But again we'll just kind of listen to the board and see what happens."
Last year was the first time in Beane's Bills tenure he did not make a move at some point in the draft.
"Some rounds we've got a decent amount of players," he said. "Some rounds we may have 15 players. And so it may work where you're going down. And that's the scenario where if you only got 15 players in a round, the odds of you getting a guy at the 30th or if there's comp picks involved, you're talking even later than that. That's the scenario where you're either going up, or you're trying to go back to get the value for the pick."
2. Covid-19 has been a problem for the scouting process. Beane and his scouting staff are dealing with the limitations on in-person scouting and the cancellation of the NFL Scouting Combine in Indianapolis in February. Normally the Bills could fly in 30 prospects to Buffalo in the month leading up to the draft. Not this year.
"It's not as good; that's real," Beane said. "We've done a lot of things and we've answered a lot of things that we would in person via Zoom. Sometimes it's you bring a guy in, you can spend a few hours with him. The Zooms are limited to one" hour. "And there's still that barrier of the Zoom. So some of these guys we've said, 'I still don't know if I know player X. Let's get back on him, or let's put somebody else on talking to him.' "
Then there are the medical evaluations. Normally, about 330 prospects all go to Indianapolis and receive a full medical work-up from NFL doctors. The NFL flew about 150 prospects to Indianapolis for physical exams earlier this month.
"We met with the doctors last night," Beane said of the Bills' physicians, "and the medical is nowhere near where it usually is. Our doctors usually have a very good feeling on all the guys that go to Indy. The loops we're usually trying to close at this point are non-combine guys, just trying to call their schools and get data. This year 140 guys ended up going to Indy, and some of those guys got out of there without images."
Beane said his staff is working on calling schools to fill in missing medical details.
"That's probably my biggest angst is some unknown medical," he said. "You don't want to take a guy high and all of a sudden you bring him in here and you're going, 'Man, I don't know how long this guy is going to stay on the field for us.'"
3. All 22 starters from last year are back. Can a rookie step in and start in 2021?
"I do think there are some positions if it worked out that way that maybe not definitely start, but you could say, 'This guy's got a shot,' " Beane said.
Cornerback is the most obvious starting opportunity for a Bills rookie.
"I think there's some other guys we have on the board, where we're going: 'This guy's one heck of a player, but he's not going to start Day 1, but we will count on him and maybe in a year he's going to be the starter.' We'll have a player that's on the last year of their deal, and he'll kind of back up that player, learn from him, compete with him, but we don't necessarily expect him to start."
This is the first in a series profiling players the Bills could select in the April 29-May 1 NFL draft.
4. You couldn't draw any conclusions on where Beane stands on first-round running back candidates Travis Etienne of Clemson and Najee Harris of Alabama.
"I mean we feel very comfortable with the guys we have, so I'm not going into this draft going, 'Man we got to find some back here in the top few rounds' or anything like that," Beane said.
At the same time, Beane isn't afraid to state the obvious. The Bills don't have a breakaway threat in the mold of Etienne in incumbents Devin Singletary and Zack Moss.
"I don't think either one of our backs are home-run hitters," he said. "So is there an elite trait that this guy has? ... 'Man, he's got something we don't have.' That's probably the conversation, versus, 'OK, are we going to take the same type of back as Devin? Are we gonna take the same type of back as Zack?' Because even those two guys have different skill sets."
5. Don't rack your brain trying to find candidates for the big-nickel role, which the Bills barely used last season. Still, a hybrid fast linebacker or big, fast safety might be helpful against New England, which has two tight ends who can catch.
"It's a hard spot because there's a lot of mental that goes into that big nickel position, especially if they have another primary position," Beane said. "We don't have a column that says big nickel. Most of that position comes out of linebackers and safeties that are going to fill that big nickel role. It's just a part of the defense. It's not something we're going, hey, let's go through our six big nickels here, like we would our outside linebackers or our safeties. There are some guys at each position that you could say, this guy has the size, the speed and we believe the smarts to handle Position A as a linebacker or Position A as a safety and also handle the volume of the big nickel. I think a lot was put into that last year more than was the reality of us looking for this unicorn of a big nickel out there. It's one of those if you have the player on there the coaches will use it, but it's not something we've got to have for this defense."
6. Coach Sean McDermott has consulted with veteran leaders on participation in the first phase of offseason workouts, which began Monday. Teams are allowed to conduct two hours of virtual meetings per day for the next four weeks. Players from several teams have released statements through the players union making clear their intentions to skip the offseason program.
Said Beane: "They're still working through who's going to come in and when, and we do have some participation. Obviously, it's not like most years, but Sean has been in communication with them, with at least the captains, the leaders, and they've done a great job of communicating with the group, and then kind of communicating back to us where their comfort level is on things, and so that's all we can ask. Sean and I are very appreciative."
7. Reserve tight end Tommy Sweeney will be back playing this season after battling complications from the Covid-19 virus last season.
Beane: "He passed his cardiologist visit. He's here, he's working out, he's doing his thing. I think he still has a couple of follow-up visits, but hopefully those will go well. We anticipate having him this year full go."
Sweeney missed all of the 2020 season. He was placed on the Covid-19 list in October and developed myocarditis, an inflammation of part of the heart.
NOTE TO BN Blitz readers: Mark Gaughan's Top 100 Cheat Sheet for the NFL Draft will be part of The Buffalo News' NFL Draft Preview on April 29. Gaughan's full 2021 Draft Cheat Sheet, listing 330 players, is on an Excel file. Subscribers who are big draft fans can email Gaughan to get the full Draft Cheat Sheet. He will send it to the first 100 responders. Email: mgaughan@buffnews.com