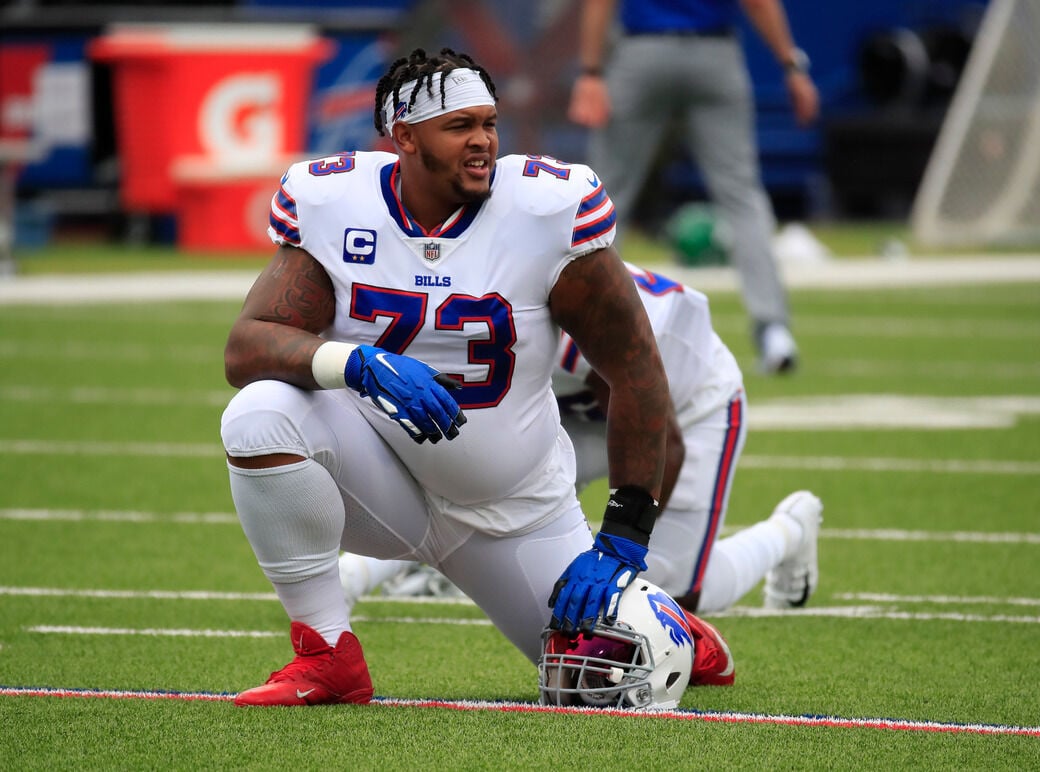 The Buffalo Bills bet big on Dion Dawkins this offseason.
Although it's been just 10 games since the team gave him a contract extension that could be worth up to $60 million over the next four years, it's so far looking like money well spent by General Manager Brandon Beane.
Dawkins has now started 50 straight games at left tackle for the Bills, solidifying one of the offense's key positions. He's also in his second year as a team captain, which is an honor voted on by his teammates.
"Nothing has changed from him getting that deal," wide receiver Cole Beasley said. "He still plays as if he's hungry to try and get another deal. He's been doing a good job for us. He's a very vocal guy when we're out there. He keeps us going in the huddle throughout the game, the highs and lows. It's good to have players like that."
Dawkins has been a mainstay at a time of significant shuffling up front. The Bills have used five different starting lineups along the offensive line this season, even though Dawkins and right tackle Daryl Williams have started every game.
"Any time one of your brothers goes down ... it's hard," Dawkins said. "As an offensive lineman, we have to play as one. Going through routines with the same guys, we kind of know what to expect. When somebody new comes in, it just changes that routine just a little bit. Nothing drastic, but just a little bit, and honestly in this world, just a little bit is kind of a lot. It's always hard, but it's nothing that can't be done. In this league, we know the injury rate is 100%. We deal with it as we go and handle it like pros."
The pendulum in the Buffalo Bills' backfield has started to swing toward rookie Zack Moss.
Dawkins is currently No. 15 in Pro Football Focus' rankings of offensive tackles, with an overall grade of 79.1. As subjective as that ranking can be viewed, it's a fair representation of how his game has grown.
Dawkins, though, doesn't talk like a player who has "arrived."  
"With the type of person that I am, I can always do better. If I have 99 plays correct and one play wrong, I'm hard on myself, because as an offensive lineman, you can have a million good plays and one bad play, and that's looked at as bad," he said. "Honestly, I think in the position that I'm in ... just because you sign on that line, it doesn't just elevate you from, 'OK, he was average to now he's this super human.' Like, no. I still have to grind all the way through it. I think that I'm still grinding through it. I'm still learning every day. I'm still learning every play. I'm still working on perfecting my craft."
A focus on fitness in the offseason has helped Dawkins take 653 snaps and counting this year. Dawkins' preferred cardio workout was riding a bike. He got up to a 52-mile ride.
"I never thought I could do it," said the 6-foot-5, 320-pounder. "I honestly think it was a different part in my process in the offseason that gave me that little bit of kick for the season. It's definitely cardio – strength, we're all strong, we're all pretty fast – but that cardio is literally what separates you from an elite to a great. That's what I'm trying to adapt in every part of my game. If you can outlast somebody, then you're going to be dominant in the fourth quarter."
Dawkins has showed that athleticism in the past, making a touchdown catch in each of the past two seasons.
"He's a little guy in a big guy's body," Beasley said. "I think his calves are the size of my waist. Dude is a freak athlete."
Dawkins will need to continue to be sharp over the closing six weeks, starting Sunday when the Los Angeles Chargers come to town. The Chargers' Joey Bosa is one of the best pass rushers in the NFL. Even if Bosa lines up against the Bills' right tackle, which he does more often than not, Dawkins will still have go up against Melvin Ingram, who has had at least seven sacks in each of the past five seasons.
In Week 14, Dawkins will have to deal with either T.J. Watt or Bud Dupree, both of whom are having excellent seasons for the Steelers. The ability to match up with those premier pass rushers is why the Bills made Dawkins a key part of their future.
"It's never perfect, but there's certain things you can just see in an athlete and as a player that you're doing differently and that you're doing at a higher level," he said. "It's a lot of mental stuff that comes with it, as far as looking at defenses and knowing what they're going to do before they do it. But overall, hey, I'm not really the judge I guess. That's what everyone else does. I'm just me. I'm going to go out there, I'm going to play hard, I'm going to mess up, I'm going to do things right. I'm going to run around and support my teammates. I'm going to keep focusing on me and my team and I'll be alright."
The Bills now know when they'll be playing in Week 15.
The Bills now know when they'll be playing in Week 15. The NFL announced Tuesday that the Broncos will host the Bills at 4:30 p.m. Saturday, Dec. 19. It will be the second straight season the Bills have played on a Saturday, following a Week 16 game last year at New England.
Of Buffalo's remaining six games, just two of them have customary 1 p.m. Sunday starts – this week at home against the Chargers and the Week 17 season finale at Bills Stadium against Miami. In between, the Bills play on Monday Night Football twice (in Week 13 at San Francisco and Week 16 at New England) on Sunday Night Football (in Week 14 at home against Pittsburgh) and on Saturday against the Broncos.
The Bills practiced Tuesday coming off their bye week, but the team is not required to submit an official injury report until Wednesday.
Unofficially, wide receiver John Brown and tight end Dawson Knox were not seen participating during individual positional drills. Defensive end A.J. Epenesa, who suffered a concussion in the Week 10 loss to the Cardinals, was in a red, non-contact jersey.
The Bills will practice Wednesday and Friday this week, taking Thanksgiving Day off.