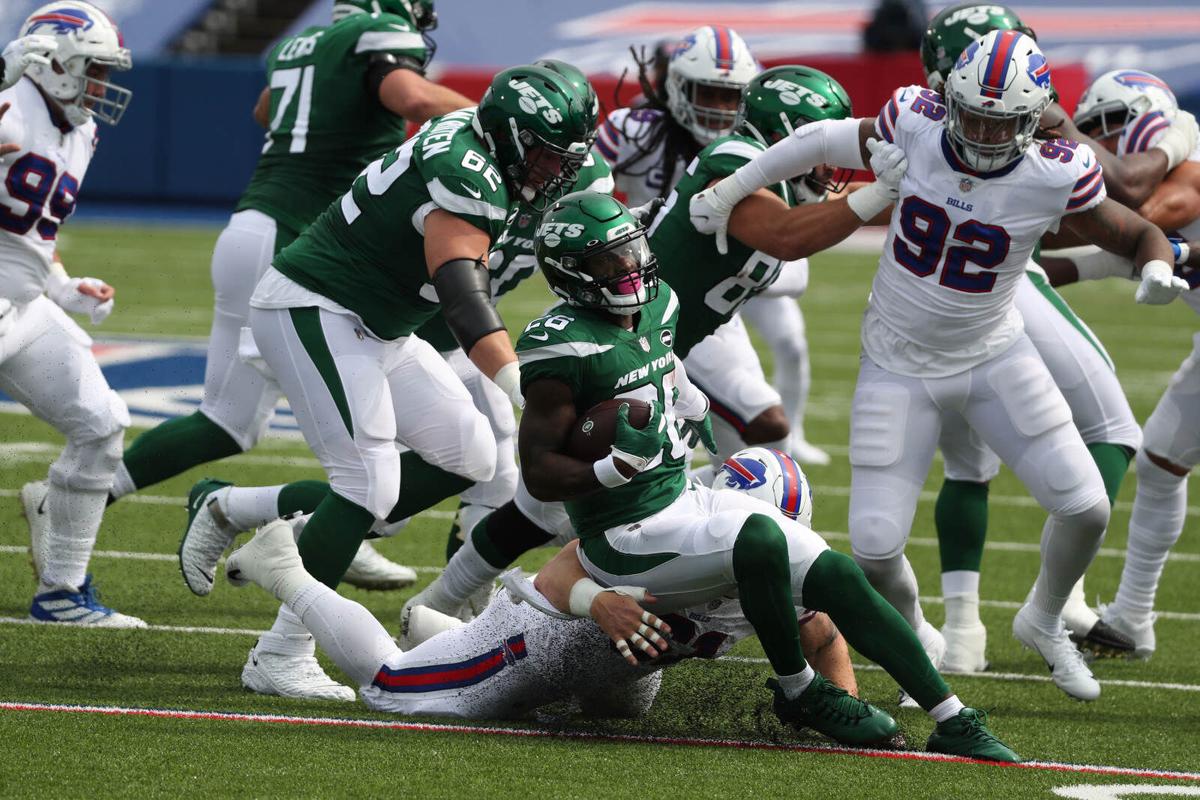 The Buffalo Bills' offense could use better production from the running game.
The point was accentuated Thursday with the news that the Bills kicked the tires on free-agent running back Le'Veon Bell.
Bell, released on Tuesday by the New York Jets, agreed to a deal with the Kansas City Chiefs Thursday evening, multiple media outlets reported. The Chiefs, Bills and Miami Dolphins were the three teams Bell had considered, ESPN reported. Bell won't be available for the Chiefs' game in Buffalo Monday night.
Bell is a three-time Pro Bowler who ranked third in the NFL in rushing in 2017 with 1,291 yards. He instantly would have become the Bills' No. 1 back. The 28-year-old sat out the 2018 season in a contract dispute with Pittsburgh then signed a big free-agent deal with the Jets in March 2019.
The Bills rank 28th in the NFL in rushing through five games at 93.8 yards a game, and they are 26th in yards per rush at 3.84.
The Bills' run ranking is partly a function of design. They've relied heavily on their passing game, which ranks second. The Bills stand 21st in rushing attempts.
"Brandon (Beane) and I are always looking into every situation, this being one of them," Bills coach Sean McDermott said Thursday, referring to the team's general manager. "We're always trying to improve our football team. That's all I can tell you right now."
The Jets gave Bell a four-year, $52 million contract in March 2019. It was a curious signing from the start, because Jets coach Adam Gase never has relied on a workhorse running back in his offenses. Sure enough, Bell was underutilized and underperforming for the Jets last season. He missed three games this season with a hamstring injury but returned to the lineup for the loss to Arizona last week.
While the Bills are averaging a healthy 27.8 points a game, better balance between the run and the pass would help their attack and eventually help open up even more room for the passing attack.
Devin Singletary is averaging 47.6 yards a game and 3.9 yards a carry. As a rookie last season, Singletary averaged 64.6 yards a game and 5.1 yards a carry.
"Whether it's run the ball or pass the ball, whatever it may be, we have to find a way," Singletary said Thursday. "But definitely we need to get this run game going."
Singletary said getting into a rhythm via consistent touches during the game isn't something he worries about.
"It doesn't really affect me," he said. "I always say you've got to stay locked in. Passing has been working for us. Of course, we've got to get the run game going. It's not where we want it to be. But it doesn't really upset me as far as being in a rhythm.
"This offense as a whole, we've been doing pretty well, passing the ball well, spreading it around to all the weapons that we've got," he said. "It's been working for us. We just got to keep finding ways to get better as an offense."
The Bills have been missing No. 2 back Zack Moss due to a toe injury the past two games. He was on the practice field Thursday.
"Of course, we want to see him healthy," Singletary said. "He's looking like he's very close to that. So hopefully we'll be seeing him this weekend."
Bell's signing with the Chiefs enhances their standing as the team to beat in the AFC. Kansas City has gotten good production out of rookie runner Clyde Edwards-Hellaire. But the Chiefs' backfield depth took a hit when veteran Damien Williams opted out of the season. Now Bell and Edwards-Hellaire form a superb backfield tandem.
The Bills might want to attack the Chiefs' run defense, which ranks 29th in the NFL. That's a bit misleading, however, because Kansas City has faced power running teams Baltimore, New England and Las Vegas already this season.
"We can do better in a lot of areas, that being one of them, with our ability to run the football," McDermott said. "Get a hat for a hat. Move people in the run game. Whether it's pass game or run game, we've got to be balanced as much as we can to win games."
The Bills held a walk-through type practice Thursday without pads but the initial injury news was encouraging.
Linebacker Matt Milano, out the past two games with a pectoral injury, was on the field and participated on a limited basis.
Cornerback Tre'Davious White (back) also was back and was a limited participant. Receiver John Brown, who like White missed the Tennessee game, practiced fully.
Also practicing fully were Moss (toe) and guard Quinton Spain (foot). Tight end Dawson Knox, who suffered a calf injury in Tennessee, sat out.
Cornerback Levi Wallace is on injured reserve for at least the next two games with an ankle injury. But he was on the sidelines working with strength and conditioning coaches.
[BN] Blitz Daily Updates
Feed your obsession. Start every morning with a guide to the latest news from One Bills Drive and stay informed about what is going on elsewhere in the NFL.