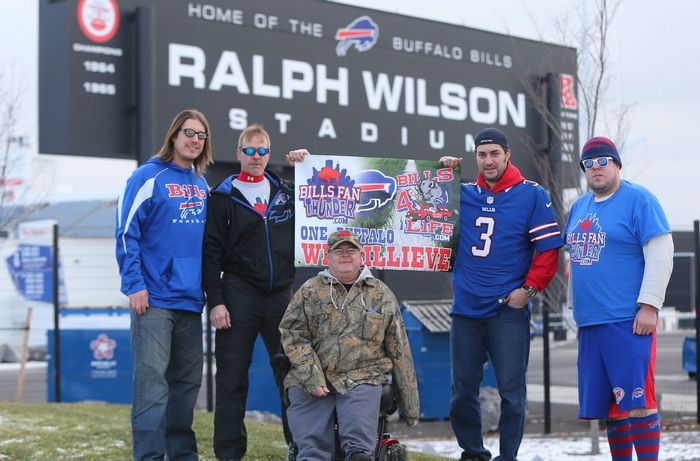 When Jon Bon Jovi tried to calm the masses – the legions of Buffalo Bills fans angry over his interest in buying the team – Charles Pellien and his pals went to work.
On tap first, a petition signed by 12,000 fans demanding the rock star keep the Bills here.
And then, a boycott of Bon Jovi's music at local bars and restaurants. There are still 232 "Bon Jovi Free Zones" across the region.
And if that wasn't enough, Pellien and company followed up with a widely distributed photo of a wolf in sheep's clothing and Bon Jovi's name scrawled on top of it.
The campaign, a public relations nightmare for the singer, got national media attention, and Pellien and his friends at Bills Fan Thunder were smack dab in the middle of it all.
"It's nothing personal," Pellien said. "Even if it was Santa Claus wanting to move the team to the North Pole, we would have staged a boycott."
For Pellien, a truck driver who grew up in the shadows of Ralph Wilson Stadium, doing whatever it takes to defend his beloved Bills and, perhaps even more important, his hometown, comes naturally.
Not surprisingly, there are more than a few other guys like him, guys who have spent their entire lives living near the stadium, guys who can't imagine life without the Bills.
"We're the blue-collar fans from the neighborhood," said Charles "Chuckie" Sonntag, one of the founding members, who referenced a road near the stadium. "We're the Big Tree Boys."
When Ralph Wilson died and it became clear the Bills would be up for sale, Sonntag and Pellien decided it was time to create a new fan organization.
The goal was simple: Give fans a much-needed voice in the sale process and, even more important, back ownership groups dedicated to keeping the team here.
Now only nine months old, Bills Fan Thunder quickly gained a reputation for bold, high-profile – some might say hardball – tactics.
"I never thought I'd be in Time magazine," said Anthony Lynch, a founding member of the group, which was cited in the magazine last spring. "We sparked a real passion in the city."
Still in its infancy, the group found itself tested when its original moniker – 12th Man Thunder – caught the attention of SEC powerhouse Texas A&M. The Aggies claim to own the 12th Man trademark. They also claim the Bills pay a licensing fee to use the phrase on its Wall of Fame.
Pellien says the local group never thought twice about using 12th Man and, when Texas A&M complained, its first inclination was to simply stop.
"They were pretty scared and nervous," said Jeremy Colby, a Buffalo lawyer who read about the dispute and offered to take the case pro bono.
With the help of Vincent LoTempio, a local trademark attorney, Colby recommended the group challenge Texas A&M's trademark rights in court.
"We had the paperwork ready to go," said LoTempio.
Even more important, perhaps, the media got hold of the story.
Almost overnight, Texas A&M found itself portrayed as the big bully picking on Sonntag, a double amputee and cancer survivor.
"A corporation that size is suing a guy in a wheelchair who survives on 9,999 bucks a year and only wants to keep the Bills from moving out of Buffalo," ESPN's Keith Olbermann said at the time. "They don't care."
Within days, Texas A&M backed off.
"That was the straw that broke their back," said Pellien.
In the end, it was Texas A&M who wanted to settle. Sources close to the dispute said the school gave the group $25,000 not to sue, though the group did change its name.
Pellien wouldn't comment on the settlement except to say the outcome allowed them to buy 10 season tickets. Those tickets are now used to take at-risk youth to Bills games, one element of the group's growing charitable work. At last count, 70 young people had attended their first NFL game.
The group's passion for the Bills is unquestioned, but few stories demonstrate the depth of its passion more than the tale of Sonntag's hospital stay earlier this year.
Wilson had just died and longtime political consultant Michael Caputo was visiting Sonntag, one of his closest boyhood friends.
Sonntag, who has suffered since childhood with Albright's disease, had just had one of his legs amputated and the two friends were talking about Sonntag's future.
"I asked him, 'What's next for you?' " Caputo said. "He turned to me and said, 'The Bills are moving to Toronto, man. We got to do something.' "
Caputo, who was working for Donald Trump at the time, offered to help and within days the seeds of Bills Fan Thunder had been planted.
From there, it's been a journey filled with stops and gos and, above all else, a growing sense that they've done a lot of good so far.
"It didn't take a lot to get people behind us," said founding member Paul Roorda.
For Roorda, the brains behind the group's Bon Jovi boycott posters and the wolf in sheep's clothing photo, it's been an unexpectedly wild ride.
And, he's quick to add, it's not over yet.