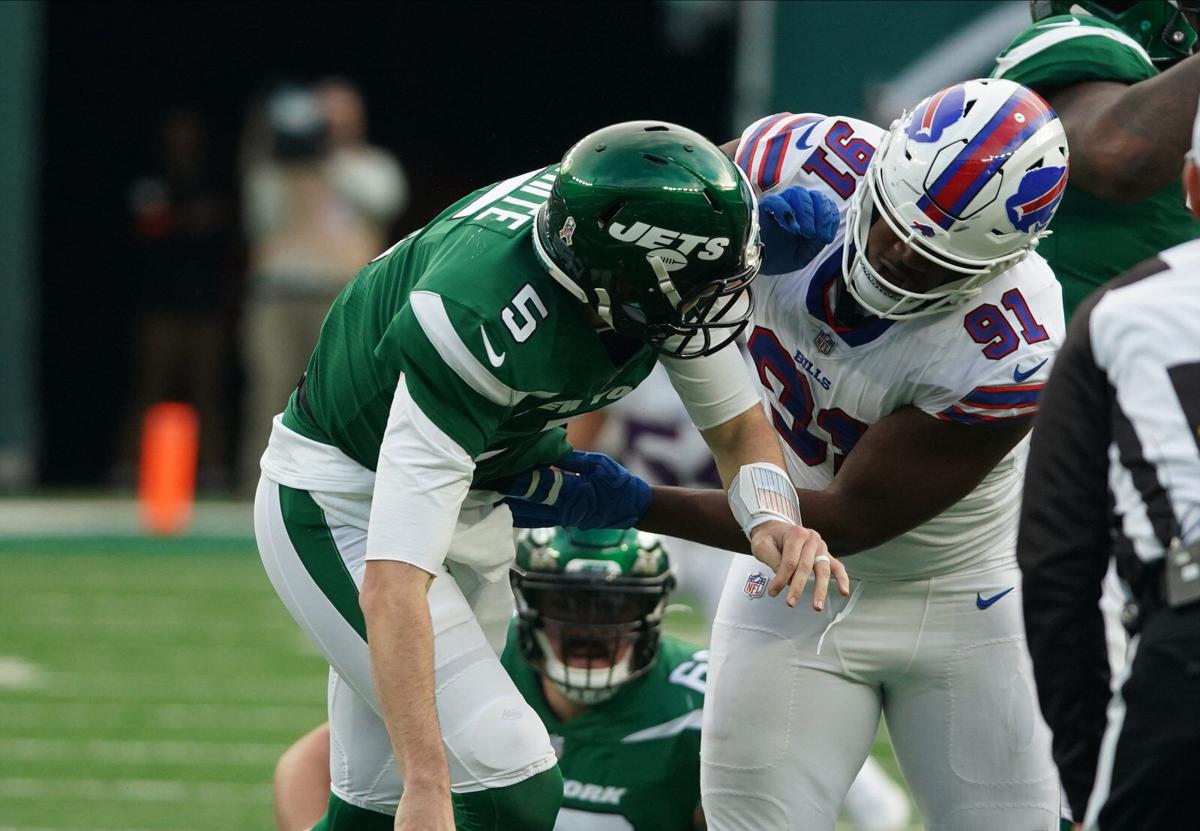 Leslie Frazier doesn't feel the need to apologize.
The Buffalo Bills' defensive coordinator was asked this week about the idea that, even though the team's run defense ranks second in the NFL in yards allowed per carry, it's perhaps not quite as good as that statistic would make seem.
"Those numbers don't lie," Frazier said. "You know, we've done a good job."
For the most part, that's true. Through the first 11 games of the 2021 season, the Bills' defense has piled up a number of impressive stats. Entering Week 13, the team leads the NFL in total yards allowed, both per game (275.2) and per play (4.58).
The impressive numbers don't stop there. The Bills rank second in points allowed per game (16.5), sixth in rushing yards allowed per game (96.6), second in passing yards allowed per game (178.5) and first in passing yards allowed per play (5.34). Additionally, the team is giving up the fewest first downs per game (17.0) in the NFL, as well as ranking second in interception rate (4.35%), fourth on third downs (33.3% conversions allowed) and seventh on both fourth downs (42.11%) and in the red zone (51.61%).
It's also true the defense has benefited from a cupcake schedule to this point. The Bills have played against a backup quarterback for all or most of five games. They shouldn't have to apologize for that, but it's not unfair to point out, either.
The perception that the defense has fattened up on inferior opponents is heightened by the defense's results against elite competition. Against the two best running backs in the NFL – Tennessee's Derrick Henry and Indianapolis' Jonathan Taylor – the Bills have been gashed, giving up a combined 360 yards from scrimmage and an astounding eight touchdowns to just those two players.
"As a coach and a player, you can't get caught up in that one game. You got to make sure you're getting ready to line up for the next game," Frazier said. "And at this point, it's all about New England."
With the Bills' biggest game of the regular season approaching, it's a good time to offer up our grades on each of the Bills' meaningful contributors through the season's first 11 games. We'll define that as playing at least 20% of the defensive snaps, so that means cornerbacks Dane Jackson, Siran Neal and Cam Lewis, linebackers Tyrel Dodson, Tyler Matakevich and Andre Smith, safeties Jaquan Johnson and Damar Hamlin and defensive linemen Eli Ankou, Brandin Bryant and Boogie Basham don't quality.
With that, let's get to the grades …
Key stats: 56 tackles, five interceptions, eight passes defensed, four tackles for loss, one sack
Analysis: An annual Pro Bowl snub, perhaps this is the year Poyer finally breaks through. Poyer is tied with Tennessee's Kevin Byard for the league lead in interceptions by a safety. He's playing the best football of his career in Buffalo, which is no small accomplishment because he has been consistently good for the past five seasons.
"And make no mistake: I'm ready to help lead this team to a Super Bowl now," Poyer wrote in an essay for the Players Tribune this week in which he detailed his fight against alcoholism. "More ready than I've ever been. My body feels right. My mind feels right. I'm excited for the future – as a husband, as a father, and as a leader of this football team."
Key stats: 44 tackles, three interceptions, one forced fumble, two fumble recoveries, seven passes defensed, one sack
Analysis: Hyde might be right there next to Poyer in the Pro Bowl. He's certainly on the path toward deserving a spot. Hyde and Poyer, both of whom are team captains, find a way to bring out the best in each other. "I think it starts with two guys that are really committed to their profession," Frazier said. "First of all, they're really good athletes, without question. But they're very smart players as well who have a lot of pride and are very committed to getting better. And when you've got guys that are good athletes that have that type of commitment, you have a chance to see a maturation over time. And as they have become comfortable with this system, they're to the point now where they could stand up and really teach some of the principles of what we want to do on defense. They know the defense that way."
Key stats: 41 tackles, one interception, six passes defensed, one forced fumble, one fumble recovery, 0.5 sacks
Analysis: Before suffering a torn ACL against the Saints in the Bills' last game, White was having another excellent season.
"He was playing, I thought, really, really high-level football, quality ball," coach Sean McDermott said. "He's done that through the course of his career, really, especially the last couple of years." According to analytics website Pro Football Focus, White has allowed 31 catches on 58 targets, and was not responsible for a touchdown this season while in coverage.
Key stats: 40 tackles, two interceptions, eight passes defensed, one fumble recovery
Analysis: The perception is teams target Wallace more frequently because White stars on the other side. That's not always reality. In fact, Wallace has been targeted four times less this season than White, according to PFF. Wallace, however, has given up 32 catches for 326 yards and three touchdowns when in coverage, so he has been beaten more often than White. That's not unexpected. It doesn't mean that Wallace has been a liability, though. He might not be a Pro Bowler, but he has given the Bills good return on investment on an affordable, one-year contract.
Key stats: 54 tackles, one interception, six passes defensed, one forced fumble, one sack
Analysis: Johnson has played a little less than 80% of the defensive snaps, allowing the team to stay in its nickel defense. He was rewarded with a rare, in-season contract extension, which also goes to show how the team values his contributions. Poyer and Hyde called Johnson the best nickel cornerback in the NFL earlier this season. At the time, that sounded like a stretch. Now, however, it sounds pretty accurate.
Key stats: 57 tackles, 11 tackles for loss, one sack, three passes defensed, two fumble recoveries
Analysis: Milano started the season on a heater, with a sack, six tackles for loss and two fumble recoveries in the first three weeks. He has cooled off since coming back from a hamstring injury in Week 6, however, with just five tackles for loss in the last six games. He doesn't have a turnover or sack over that stretch – which is a long stretch for a player with Milano's play-making ability.
Key stats: 63 tackles, three tackles for loss, two passes defensed, one interception
Analysis: A hamstring injury cost Edmunds two games, and his absence against the Colts was sorely felt. He has just six missed tackles this season, according to PFF. That's a big reason he ranks fourth in the analytics website's run-defense grades among linebackers. Edmunds has had some notable errors in pass coverage, but the Bills are better with him on the field.
Key stats: 22 tackles, 0.5 sacks, eight quarterback hits, three passes defensed
Analysis: Oliver is developing into the player the Bills hoped he would be when he was drafted in the top 10 in 2019. Don't let the fact he has just one half sack this season fool you – Oliver has been impactful in the middle of the defense on a near-weekly basis.
"Ed is a baller," veteran defensive end Mario Addison said after the win over the Saints on Thanksgiving.
Key stats: Nine tackles, two forced fumbles, 1.5 sacks, six quarterback hits, two passes defensed
Analysis: Hughes ranks tied for 23rd among edge rushers in PFF"s pass rushing productivity grade, a formula that combines sacks, quarterback hits and pressures relative to the amount of times they rush the passer. Hughes has a total of 31 pressures, which is tied for 32nd among edge rushers. Nevertheless, he's still a favorite of the analytics crowd, as he ranks eighth in PFF's pass-rush grade among edge rushers. It's fair to wonder if he's lost a step.
Key stats: 36 tackles, three sacks, six quarterback hits, one interception
Analysis: Rousseau started out hot, making a pair of sacks in his homecoming to Miami in Week 2 and then sacking and intercepting Chiefs quarterback Patrick Mahomes in a big Week 5 win. He has hit a bit of a rookie wall lately, however, with just four hurries and one quarterback hit over the last four games. Rousseau has played just seven fewer snaps than Hughes, so it's clear the rookie has won the trust of the coaching staff.
Key stats: 20 tackles, four sacks, one forced fumble
Analysis: Addison had some bad moments against the Colts in Week 11, but he leads the team in sacks. A reduction in snaps from last year has been beneficial in keeping Addison fresh – three of his sacks have come in the last five games. "I've been in this league a long time. I've kicked a lot of (butt), and I've gotten my (butt) kicked, too. That's just the nature of the beast," Addison said after the win over New Orleans.
Key stats: 29 tackles, four tackles for loss, three passes defensed, one fumble recovery
Analysis: Johnson's emergence as an every-down player has made Klein a reserve. The bulk of his playing time has come when either Milano or Edmunds has been out injured. Klein has struggled in pass coverage – which is nothing new – but defended the run well against the Jets in a Week 10 win. He has proven to be a versatile, valuable reserve.
Key stats: Nine tackles, 0.5 sacks, seven quarterback hits
Analysis: It looked like Epenesa had turned a big corner after his dominant performance in Week 2, when he racked up an impressive eight pressures against the Dolphins. Epenesa hasn't been able to build on that performance, however, with just two games since then with as many as three total pressures. He was made a healthy inactive against the Titans in Week 6, and doesn't have a single pressure over the last two games. He did make a pair of good tackles against the Saints, but the Bills need more from him over the final six games.
Key stats: 22 tackles, two quarterback hits
Analysis: Phillips is gutting through a torn knee ligament. He trails only Oliver in snaps for defensive tackles in snaps, and has 11 "stops," defined by PFF as tackles that constitute a failure for the offense. Phillips did not have a strong game against the Colts, but he was far from alone in that regard. After being a healthy inactive in three of the first five games, Phillips has developed into a key part of the rotation lately.
Key stats: 14 tackles, two sacks
Analysis: It has been the same-old story for Lotulelei: Teammates and coaches rave about his impact, and analytics websites like PFF don't care much for his performance. Lotulelei's PFF grade of 53.1 ranks 30th among 34 graded defenders. After watching how the Colts ran the ball against the Bills in Week 11, however, few would argue Lotulelei makes a big difference in the middle of the defense. He's expected to return against New England after missing three games while on the Covid-19 list.
Key stats: Nine tackles, one pass defensed
Analysis: It says something that the Bills called up a pair of defensive tackles from the practice squad to face the Saints and made Butler inactive. That something isn't good. A former first-round draft pick, Butler has clearly fallen out of favor, having been a healthy inactive for six games.
Key stats: Eight tackles, one sack, four quarterback hits
Analysis: A torn knee ligament knocked Zimmer out for the season after six games. He made an impact early in the season, registering nine quarterback pressures.
Key stats: Eight tackles, 1.5 sacks, five quarterback hits, one pass defensed
Analysis: It has been a challenge for Obada to work his way into the game-day lineup – he has been inactive five times – but he has been reasonably productive when given a chance. He has eight pressures over the past three weeks.