The sports consulting firm Legends has been a major player in the development of the new Buffalo Bills stadium for most of the last three years. Until a few days ago, much of their work – which has focused on research and fan experience, design and sales – happened in the background.
That changed noticeably on May 16 with the Bills' announcement that Legends' hospitality division has been awarded the food and beverage contract for stadium, a $1.54 billion venue scheduled to open in 2026.
That means the Bills' longtime food-and-beverage partner, the Buffalo-based Delaware North Cos., is out. Delaware North will finish its partnership with the Bills, which began in 1992, when the team plays its final season in Highmark Stadium. Then Legends, a company co-founded by Dallas Cowboys owner Jerry Jones, will take over in the team's new home, where the company expects to employ an executive team of about 30 people and a part-time game day staff of 2,000-plus workers.
We spoke with Dan Smith, the president of Legends Hospitality, about his group's approach to game day service, Buffalo cuisine, and how they plan to make use of the new stadium's significantly enhanced kitchen and retail facilities. Here are excerpts from the interview, lightly edited for space and clarity: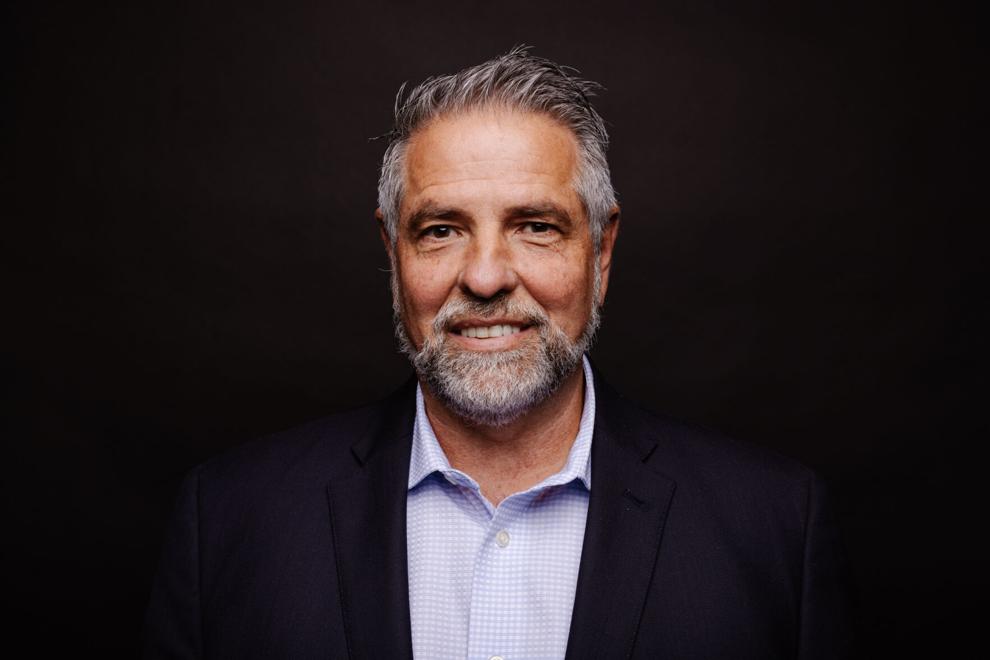 We're three-plus years away from the new stadium, but already people are eager to know what you're going to do.
Smith: They're going to be part of it. We're going to be working a lot with the local community and talking to local constituents to make sure that everyone's voices are heard and we hear what their thinking is. That's all part of the Legends DNA.
What can you tell Buffalo Bills fans about your plans so far?
Smith: You can tell them all it's going to be good food – let's start there. Obviously we're not partnered with anybody yet. We're just going through all of our research on who those local partners might be and what type of culinary items we'd be bringing to the stadium.
In your research of the Bills fan base, what has stood out?
Smith: The passion of this fan base is unrivaled by any in the NFL. They know what they want, they know when they want it, and they're demanding. They need to receive just what it is that they're looking for in the experience. We spend a lot of time trying to understand what that passion is centered around.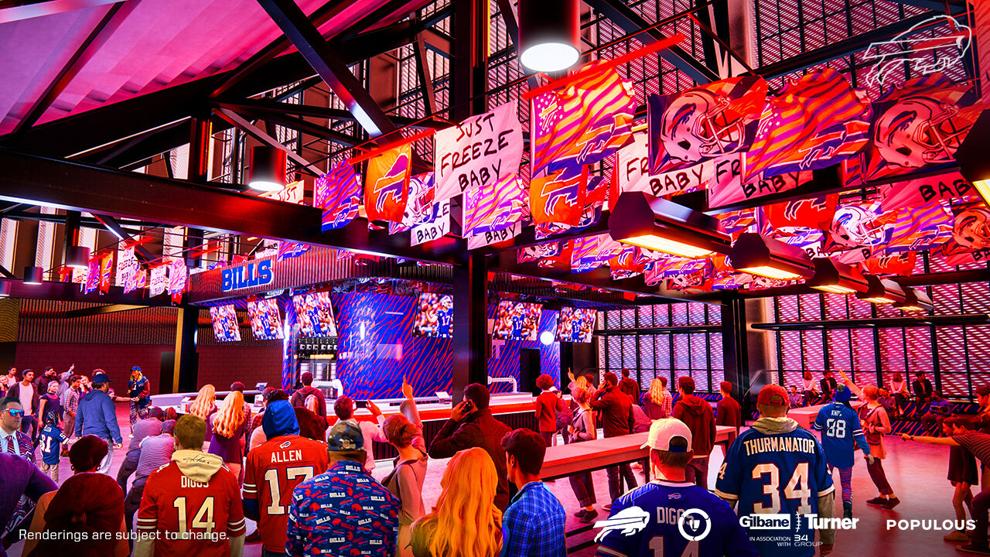 No one is going to touch that fan base more than the folks providing the food and beverages. There are more opportunities to make those impressions and we have to make sure we're delivering what the Bills fans expect.
Can you share an example of what Bills fans expect?
Smith: The cooking style is very different. Let's use a menu item like pizza. Pizza is very regional and people are passionate about the pizza style. In your marketplace, we have to serve that cup-and-char pizza. Hands down, that has to be on the menu. And now, when we're designing the stadium, we have to make sure we were able to deliver that same quality that you would get there, or in one of the local neighborhood taverns.
I've been to La Nova, and that's the style that we would look to emulate inside the stadium. That's what fans want, and they told us that.
Legends Hospitality has been awarded the food and beverage rights for the new Bills stadium, which is scheduled to open in 2026.
And it's "wings," usually not "chicken wings" and definitely not "Buffalo wings."
Smith (laughing): Wow, you're going to give me a lot more than I'm going to give you in this.
The other thing to know is blue cheese, not ranch.
Smith: Right. They will crucify us if we try to put ranch dressing out there. Then the other cooking style is the charbroiling. That's unlike any other marketplace. A lot of the menu items have to be charbroiled because that's what they want. A Ted's hot dog or something like that, with that crispiness to it. We have our chefs now working with that, and then what we'll do is overlay culinary innovation on top of that to create a unique product for the stadium.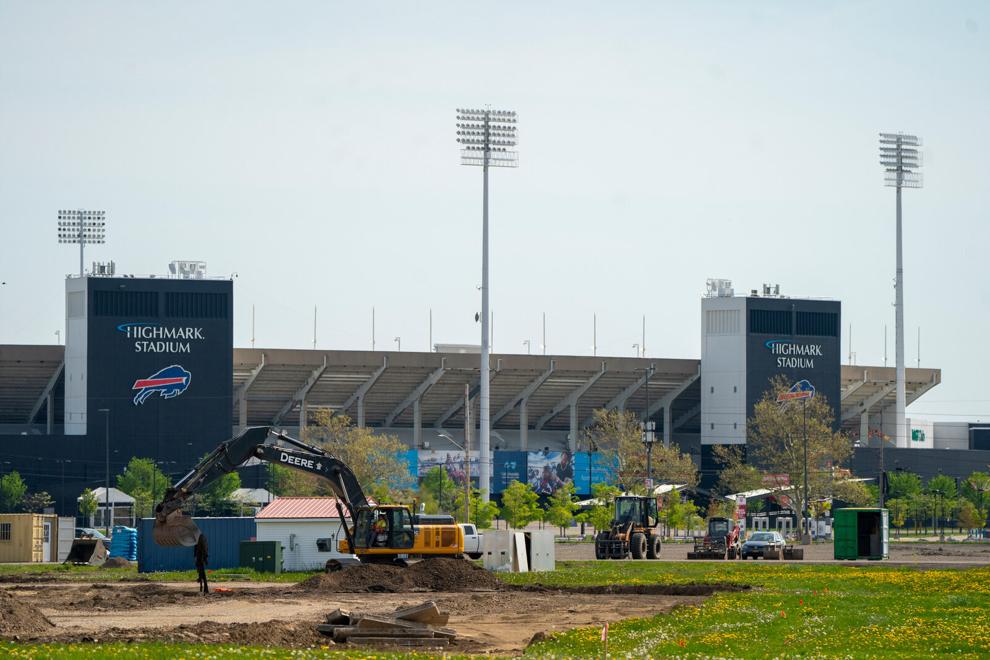 The Bills have pointed out that Highmark's main kitchen is located outside the stadium, whereas in the new facility there will be many more kitchens and they'll be strategically located inside the facility. How will that change the food and beverage experience for fans?
Smith: It would be unfair to compare the new facility to the old facility, because we're able to create on a fresh palette. But the four guiding principles in anything we do and design are:
• We've got to make sure we have the right variety of food.
• We have to make sure the quality is as good as they're going to get, if not better, than in the local marketplace.
"The Bills have a great vision, great understanding of the business and great knowledge of the market and their fans," Tomon said. "When the fans approach this, they'll sit back and think, 'they thought of everything.' "
• We have to introduce a value proposition: "Hey, you're paying this amount of money, but you're getting value for that money."
• Efficiency. You want to get people through the lines quick enough.
When you look at the older facilities, it was that old belly-up service when you walk to a counter and somebody got you what you ordered, gave it to you, and then you walked away.
In the new stadium, you won't find that everything comes over a counter. You'll be able to walk into spaces. You'll be able to grab the menu items that you want, and you'll be able to exit this facility through some sort of (checkout) technology.
That efficiency is going to get more people up, out of the seats, and through these facilities on a quicker turn. We're going to have cooking facilities that are going to enable us to keep up with that demand and enable us to produce the variety that we need. All of that is going to equal a really enhanced experience at the new stadium.
What are your plans for hiring?
Smith: We will be phasing in a staff there, and we'll be interacting with some of the local folks. Some of the most talented people in a marketplace are the people that are already there. When we moved from old Yankee Stadium to new Yankee Stadium (in 2009), the best compliment we got was when someone would say to us, "Where'd you get all the new people?" And I would say, "No, they're the very same people that worked in the old stadium." But they're retrained, they're repurposed, we've re-engaged with them in a more positive format than what they might be used to, and just the whole level of customer service elevates. So we'd be looking to folks that are already in the marketplace, understanding we need to be respectful, because there is an operator in place now and you don't want to interfere with their operations. But when the time is right, we'd love to start those conversations with as many folks as we can in the local marketplace.
When the Buffalo Bills began working with Legends – a sports consulting firm co-founded by D…
Bills executive Ron Raccuia told me that Legends Hospitality's pitch for fitting local cuisine into all areas of the fan experience – from pregame to postgame – stood out as "one step different than some of the others." What does that approach look like?
Smith: We think about the fan journey. From the hospitality standpoint, we want you thinking about food from the minute you get out of bed, knowing you're going to go to the stadium. We want you to think about when you get there, what you're going to have, because you're going to go right to that, and then we're going to keep you in that space throughout the experience. We're concerned about how you get through the parking experience, how you get through the turnstiles, how we then direct you through a signage package, or even through aromas and culinary theater.
That is all part of the experience. That's why you're paying that amount for the ticket – to get that experience. Not to get something that was cooked four hours ago, wrapped in tin foil and deteriorated in quality. It's something that's cooked fresh, almost à la minute to the point you get there. You want to get back and have it the next time.