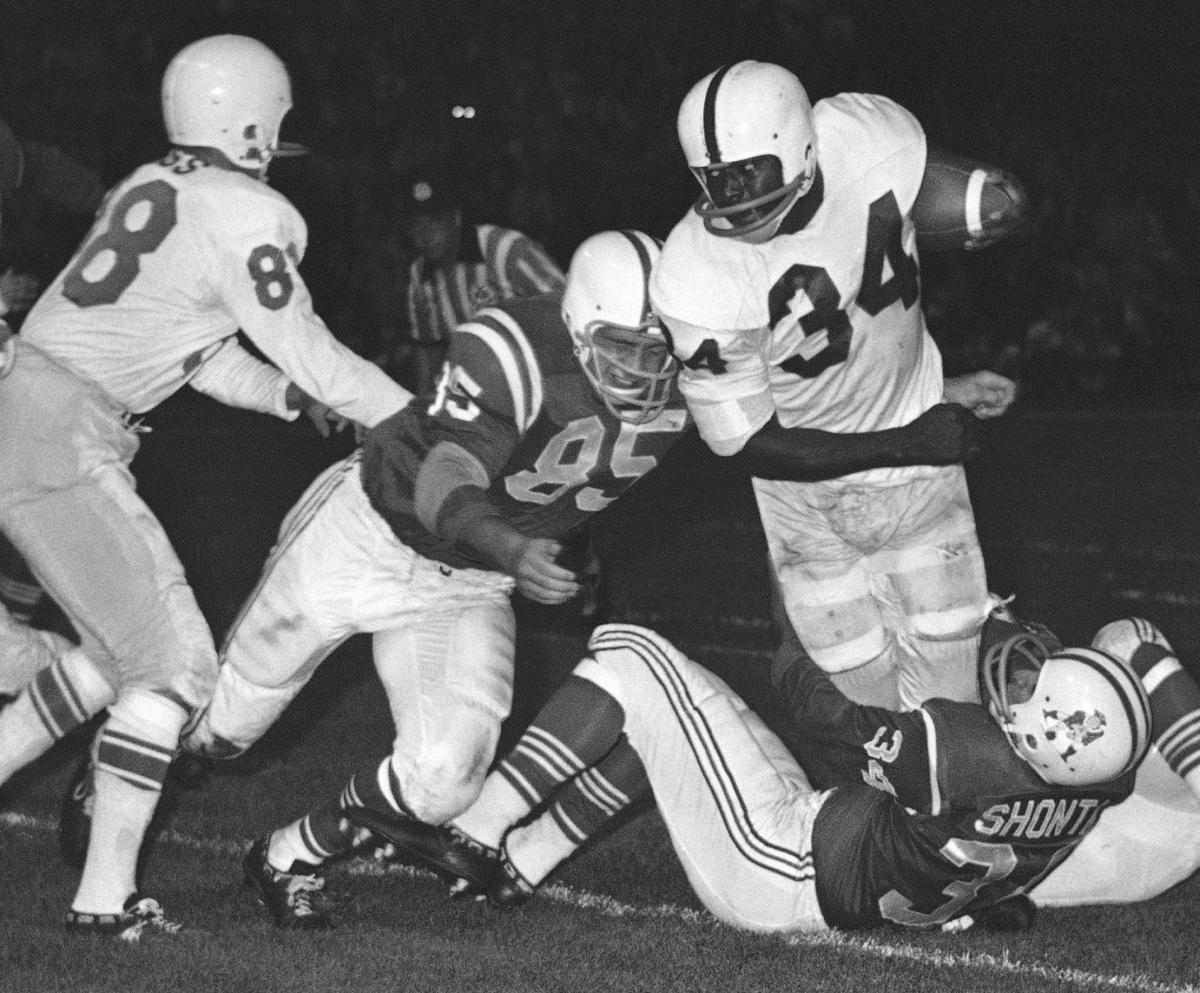 Former Buffalo Bills fullback Carlton "Cookie" Gilchrist has been selected the 31st member of the team's Wall of Fame.
Gilchrist, who died in 2011 at age 75, will be honored during a halftime ceremony at the Bills' Oct. 29 game against the Oakland Raiders at New Era Field.
Although the 6-foot-3, 251-pound Gilchrist only spent three seasons with the Bills, 1962-1964, he established himself as one of the most productive and impactful players in franchise history.
He ranks ninth on the Bills' all-time rushing list with 3,056 yards on 676 carries. Gilchrist also ranks third in career rushing touchdowns (31), fourth in career rushing average (4.52 yards), and second in most rushing touchdowns in a season (13 in 1962). He led the AFL in scoring in each of his three seasons in Buffalo.
Signed by the Bills as a fullback and kicker after six seasons in the Canadian Football League, Gilchrist became the first 1,000-yard rusher in the American Football League in '62 with 1,096 yards in a 14-game schedule. He also set an AFL record with 13 TDs and was named the league's Most Valuable Player.
Gilchrist was actually the Bills' second choice as a featured back. The first was Ernie Davis, Buffalo's 1962 first-round draft pick from Syracuse. Davis instead chose the NFL, and died of leukemia before he ever had a chance to play a professional down.
In his one season as a kicker with the Bills, 1962, Gilchrist connected on eight of 20 field-goal attempts and 14 of 17 extra points.
On Dec. 8, 1963, Gilchrist set a pro football record by rushing for 243 yards and five touchdowns in a single game against the New York Jets. The five TDs still rank as the most in a Bills game, while his 36 rushing attempts that day are fourth in club history.
Gilchrist's 122 rushing yards helped the Bills to the first of their back-to-back AFL championship victories against the San Diego Chargers in 1964 and 1965.
With seven consecutive games with a rushing touchdown in 1962, Gilchrist is tied with O.J. Simpson for the most in franchise history.
Born in Brackenridge, Pa., Gilchrist signed his first contract to play pro football in 1954 with the NFL's Cleveland Browns -- a signing that violated league rules -- as a junior at Har-Brack High School in Natrona, Pa. However, he still reported to the Browns, but left their training camp as a rookie, saying team founder and coach Paul Brown reneged on a promise that Gilchrist would make the team.
He spent the next two years in the Ontario Rugby Football Union with the Sarnia Imperials and the Kitchener-Waterloo Dutchmen before signing with the CFL's Hamilton Tiger-Cats in 1956. A year later, he led them to a Grey Cup title.
Gilchrist also played for the CFL's Saskatchewan Roughriders (1958) and Toronto Argonauts (1959-61). In six CFL seasons as a two-way player, he had 4,911 rushing yards, 1,068 receiving yards, and 12 interceptions. He also handled kicking duties during his three seasons with the Argonauts.
Gilchrist spent the final three seasons of his playing career with the AFL's Denver Broncos (1965), Miami Dolphins (1966), and back with the Broncos (1967).
Bills Wall of Fame Recipients
1989: Ralph C. Wilson Jr.
1985: Patrick J. McGroder
Be the first to know
Get local news delivered to your inbox!