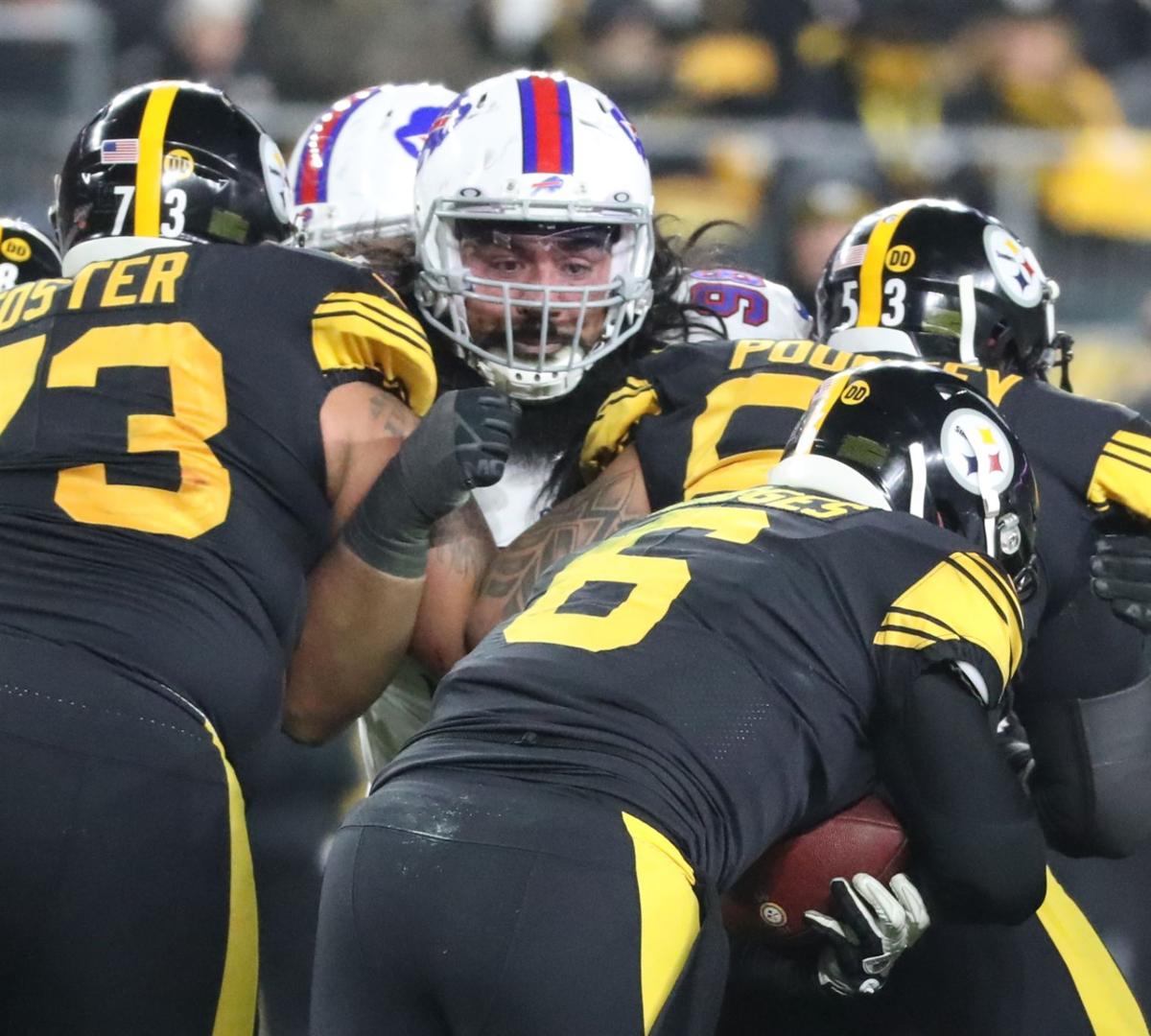 If you're a Buffalo Bills fan seeking a way to soften the blow from Star Lotulelei's decision to opt out of the 2020 season, you don't have to look very hard.
His production hasn't come close to matching the hefty salary he received when the Bills signed him to a five-year, $50 million contract as an unrestricted free agent in 2018. For that matter, his restructured deal, calling for a guaranteed base salary of $4.5 million this season, still seems a bit rich for a defensive tackle whose only two sacks since joining the Bills came last year. His entire seven-year NFL career, including five seasons with the Carolina Panthers, has been mostly defined by modest numbers that don't align with his being a first-round draft pick or cashing the kind of checks first-rounders cash.
But you'd be wrong to assume the Bills won't feel Lotulelei's absence.
If you go by the plans new defensive line coach Eric Washington had for bringing a much-needed boost to the Bills' ability to generate sacks, Lotulelei's loss leaves a fairly significant hole on the side of the ball that factors heavily into all those giddy expectations for this season.
In June, Washington, speaking during an exclusive Zoom call with The Buffalo News, said the success of the system he would employ began with the nose tackle's performance.
"I hear people characterize the nose tackle as 'he eat-up blocks, he does this, he grabs this guy,' " Washington said. "The nose tackle is the first position that I start to focus on in terms of pass rush, believe it or not, because he has the most direct path to the quarterback. And he's routinely one-on-one in an over-front and a gap-aligned technique. So, I go to that position first, despite what people's opinions may be about the athletic ability or the rush prowess of that position."
Washington coached Lotulelei in Carolina and was counting their history and Washington's understanding that Lotulelei "sees improved production as a necessity" to result in his most impactful season in Buffalo.
Now, as with so much in this Covid-19 world, that optimism needs some pulling back.
If the nose tackle's play is as central to the allowing the Bills to vastly improve upon the 44 sacks they had in 2019 as Washington believes, a viable alternative to Lotulelei must be found. For now, it's hard to see one emerging from the team's remaining players at the position.
The Bills have another ex-Panther, Vernon Butler, who they signed in free agency. Washington coached him in Carolina, too, but Butler is seen more of a versatile spot player than a mainstay. Washington sees plenty of positive qualities in Butler, but says "he's still developing."
Harrison Phillips also falls into that category. He has the potential to a highly effective inside pass-rusher, but is working his way back from major knee surgery and admits he might not recapture the form of the rising player he was before suffering the season-ending injury last September.
Finding someone via trade is a distinct possibility, even with training camps underway. There's no selling short the wheeling-and-dealing prowess of General Manager Brandon Beane, who is never shy about making moves this time of year.
Still, Lotulelei is on the team for a reason. He would still be in his starting spot for a reason. Washington expressed his confidence that Lotulelei would live up to his salary, once and for all, for a reason.
He's big and strong and talented. Pass-rush contribution aside, Lotulelei is a solid run-stuffer. Not having him for the 2020 season is a problem, one the Bills might very well struggle mightily to overcome.
I don't fault Lotulelei for opting out. The health concerns that he and other players who have chosen not to take because of the risks posed by the coronavirus pandemic are real. Putting one's well-being, as well as that of loved ones, ahead of football is thoroughly understandable. Lotulelei and his wife have four children.
The rules of the NFL's opt-out option also helped ease the burden of what couldn't have been an easy decision. That $4.5 million base pay Lotulelei was guaranteed to receive this year will be there for him in 2021. He also will still end up getting a $2.5 million guarantee that was due next year in 2022.
Removing him from the current picture gives the Bills another worry to add to a growing pile since the pandemic began.
In June, Washington couldn't wait for when he and Lotulelei would be reunited at One Bills Drive.
"Star had some productive seasons with us (in Carolina)," the coach said. "That takes a certain amount of conditioning and discipline ... and then there's some technique things that we have to make sure are extremely sharp so we can react in a timely way to really put ourselves in the best position. We're going to go and unpack all of that stuff again, start from the beginning like we would, and I think both of us are excited about just working together again."
That was how it looked only a month ago.
Be the first to know
Get local news delivered to your inbox!