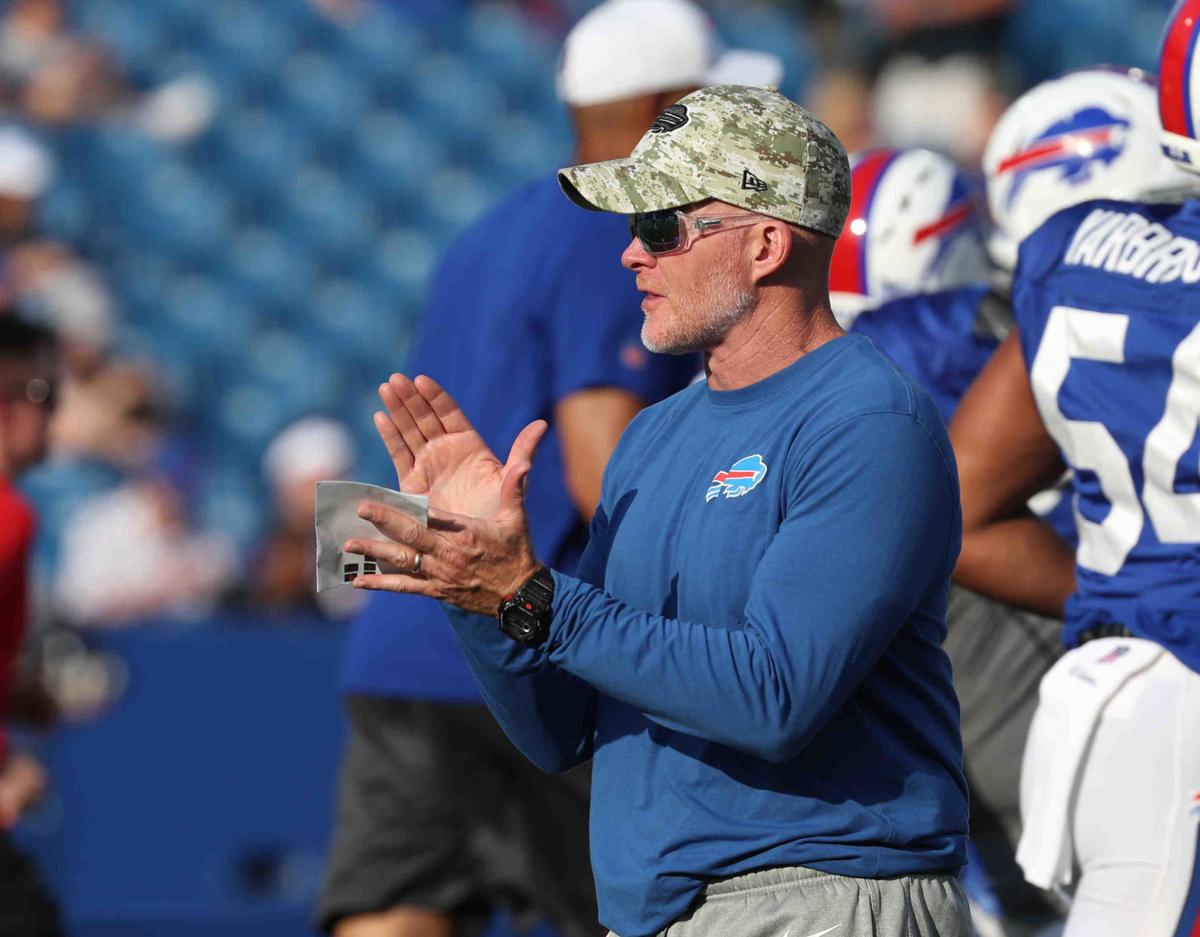 Sean McDermott channeled his inner Marv Levy during a Zoom call with reporters Thursday. He talked about waking up to blue skies in Western New York, then, as if on cue, delivered the line synonymous with Levy during the Buffalo Bills' Super Bowl run.
"Where would you rather be right now, right?" McDermott said with a smile.
His mood was understandably as bright as the latest in a line of spectacular weather days that have helped remove some of the Covid-19 blahs from summer. A six-year contract extension, which locks up McDermott through 2025 and is believed to push his salary well into the upper third among NFL coaches, will do that.
It also raises the stakes for McDermott as he enters the final month of preparation for his fourth season at the Bills' helm.
Quoting Levy will win points with nostalgic fans who yearn for the glory days. Bringing that kind of consistent success back to the franchise, and exceeding it by actually winning a Super Bowl, will assure McDermott of not only being with the Bills through the life of his new deal, but result in a second lengthy and lucrative extension.
Terry and Kim Pegula are counting on that. It was the only reason to do the extension in the first place.
Not McDermott's 25-23 regular-season record in the three years since he was hired. Not the two playoff appearances during that span, as impressive as that might be. Not the no-nonsense, high-accountability, team-first tone he brought to One Bills Drive after the anything-goes atmosphere left behind by Rex Ryan.
Those merely reinforce the Pegulas' deep belief that McDermott will deliver in ways no Bills coach has since the 1990s. And that's where the heavy lifting begins.
"It hasn't been an easy lift, but we've moved it in a lot of ways," he said. "But that said, there's more work ahead. The reason that I came here, the reason that we work every day is to bring a world championship to this team and this city and our fan base across the world. And that's what we're here to do."
To a large portion of their fans and neutral observers throughout the NFL, the 2020 season represents something of a launching pad for the Bills. Ownership shares that optimism.
And if those giddy expectations are to be realized, McDermott must:
Slay the beast that is Bill Belichick and the New England Patriots. There's a widely held presumption that it will happen because Tom Brady now plays for the Tampa Bay Buccaneers. That's reasonable, but far from guaranteed. McDermott needs to win the coaching chess match against the all-time master. He needs to do a better job with a defensive scheme that shuts down the Pats' big, mobile quarterback, Cam Newton, than Belichick does with his plan for Newton's big, mobile counterpart, Josh Allen.
Win a postseason game. Or two. Maybe even three. But let's start with one. Regardless of whether the Bills weren't ready for the wild-card game at Jacksonville they miraculously reached after McDermott's first season, it was winnable to the end. Last January, they blew a 16-0 lead on the way to a wild-card loss at Houston. The harsh reality is that coaches don't get the benefit of asterisks on their record. McDermott is 0-2 in the playoffs. The extension means there isn't the slightest doubt about that changing sooner than later.
There shouldn't be. Besides being loaded with talent on both sides of the ball, the Bills have a solid core of players who have fully bought into the McDermott way. Regardless of the outcome, they'll always look to dig a little deeper and find a little more than the other guys.
More than a few of McDermott's coaching colleagues acknowledged as much when they saw him earlier this year at the NFL scouting combine.
"I've often said, it's the greatest compliment a coach can get when other coaches talk about how your team plays – how hard they play, how tough they are, how resilient they are," McDermott said. "And that's some of the things that we hear now as a staff when we go to the combine, and to me that gives us great joy."
McDermott's extension means he has, at the very least, three more seasons to either win it all or put the team within striking distance of doing so. General Manager Brandon Beane, who like McDermott received a five-year contract in 2017, should be on the same timeline, although he has yet to receive his contract extension.
McDermott made it clear they should be a package deal when he said, "I really can't envision myself working with anybody else but Brandon moving forward. For coaches, it's one thing to be a good coach and develop players, but if you're not being fed good players, it's almost like drinking from a dry hose."
The most important of those players is Allen. Being the seventh overall pick of the 2018 draft has bought him the chance to be the starter for a minimum of two more seasons.
But a large part of what comes with McDermott's extension is the trust that, within that window, he and offensive coordinator Brian Daboll will figure out how to make Allen the elite passer his draft status requires him to become. The flip side is also trusting McDermott to know, if it proves necessary, the right time to pull the plug on Allen and take another crack at finding a franchise quarterback.
"Just like when I first signed with the Bills, it was a responsibility," McDermott said. "Now, the responsibility, to me, I take on even more. Not that I didn't before, but I think there's a tendency to let up, there's a tendency to rest on one's laurels. And I'm not wired that way.
"I promised Terry and Kim, when I first took the job three years ago, (almost) four years ago now, that I would handle the responsibility the right way. And I wake up every day with that burning desire to do that."
The Pegulas are rightfully counting on as much.
The Buffalo News: Bills
Feed your obsession. Start every morning with a guide to the latest news from One Bills Drive and stay informed about what is going on elsewhere in the NFL.