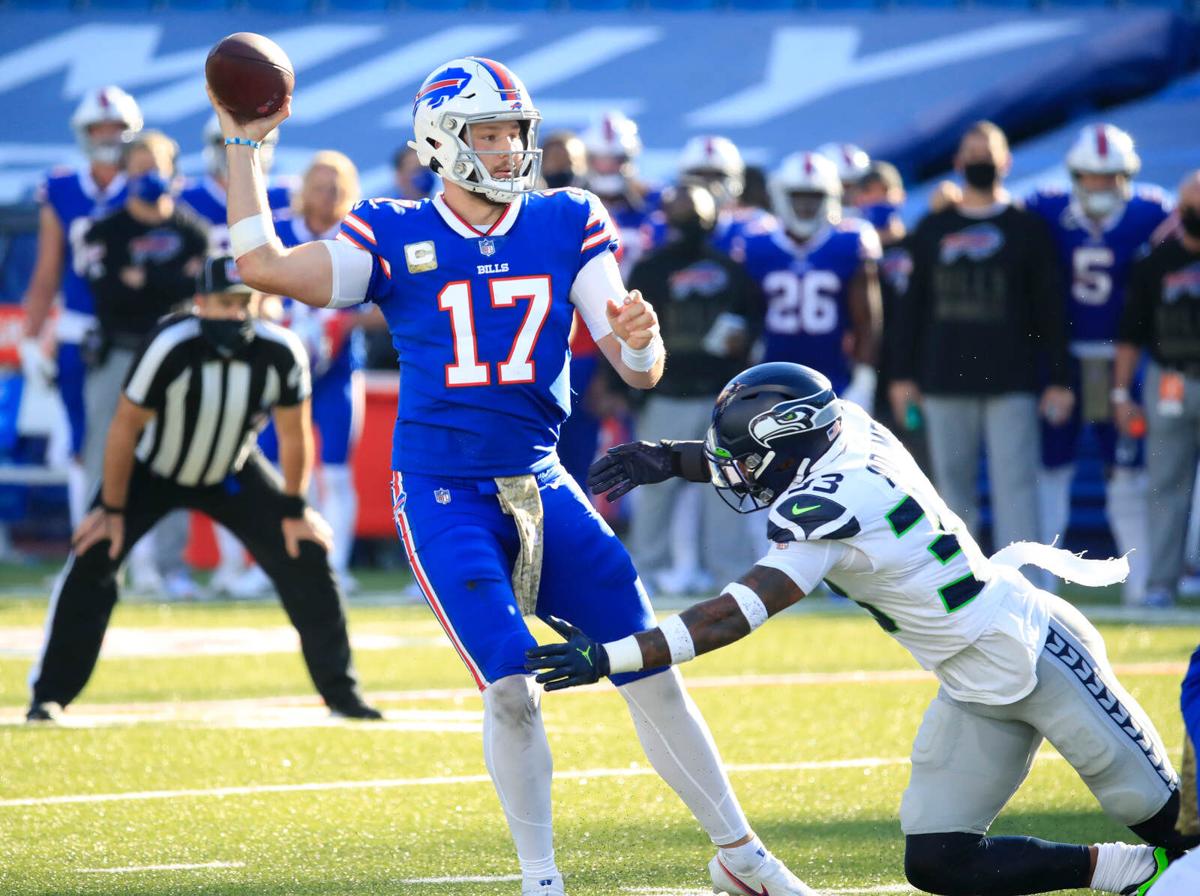 This isn't coming from a place of medical expertise.
Matt Hasselbeck is an ESPN NFL studio analyst. He's also a former quarterback, spending the bulk of his career with the Seattle Seahawks. He's someone who injured his left shoulder multiple times, once requiring surgical repair.
So it's fair to think he should feel qualified to address the noticeable impact a left shoulder injury can have on a right-handed passer.
That was what Hasselbeck believed played a role in the four games through which Josh Allen looked a bit less than the dominant player he was during the Buffalo Bills' 4-0 start before returning to that impressive form with his 415-yard, three-touchdown pass performance in Sunday's 44-34 win against the Seahawks.
Based on his experiences, Hasselbeck concluded that Allen's recovery timeline was such that he would be ready for a breakout game against the Seahawks and Hasselbeck said so on ESPN Sunday morning.
"I thought, after maybe two to three weeks, you might be feeling better," Hasselbeck said in a phone call with The Buffalo News. "But after four weeks, you're good. You're not thinking about that at all. Obviously, I'm sort of pulling for Seattle because I've got more friends in Seattle than I do in Buffalo. But I sat there and I'm like, 'Seattle is in trouble with this guy. He really looks like he's ready to bust back out like he was in the first four games.'
"And then you have the combination of how good they are right now, offensively, and Seattle's struggles in the secondary, which are historically bad, you're figuring (the Bills') defense will figure it out at some point and get back to playing like they played last year."
Hasselbeck became focused on Allen's left shoulder when he injured it while falling forward after completing a pass to Stefon Diggs to set up a field goal late in the first half of the Bills' 30-23 victory against the Las Vegas Raiders on Oct. 4. Allen returned for the final play of the half to take a kneel-down. He emerged from the locker room for the second half wearing a harness on the shoulder on the outside of the jersey, and finished the game without missing an offensive snap.
"Basically, he was on fire (for four games), 12 touchdowns, one interception," Hasselbeck said. "Then, I watched that play (when Allen was injured) and I knew right away. I was like, 'Oh, man, I know what it is.'"
Hasselbeck looked for signs of how the injury might impact Allen in his next start, nine days later at Tennessee. Hasselbeck remembered from his own experience that pain and swelling in his left shoulder inhibited his ability to make throws because he wasn't able to get full rotation from his upper body.
Allen completed 26 of 41 passes for 263 yards and two touchdowns, but had two interceptions in a 42-16 loss.
"He didn't play bad in the Tennessee game; the guys around him played bad," Hasselbeck said. "But he just looked like he was having less fun. With certain injuries that I've had, it's not that they keep you out, it's not that you can't play with them, but it's just not as fun. And I just thought he played that way in the Tennessee game.
"He's just so infectious and contagious when he does play the way that he plays. It's the most entertaining football you can watch. But I also think his teammates feed off of his energy."
The Bills lost the following week against the Kansas City Chiefs. Allen and the offense continued to look mostly ordinary in wins against the New York Jets and New England Patriots. And that did nothing to quiet concerns that the Bills, while looking like a shoo-in to win the AFC East, might not have what it takes to compete with elite clubs and make the deep postseason run that looked promising after four games.
Along the way, Allen went from 12 TD passes and one interception to four TD throws and four picks. As far as Hasselbeck was concerned, it was all about Allen's left shoulder, on which he continued to wear the harness.
"If people think that your left shoulder doesn't affect your throwing mechanics as a right-handed thrower, then you just don't understand throwing mechanics," Hasselbeck said. "I ended up having surgery on my left shoulder at one point in my career, and when I was getting second opinions, I was going to baseball doctors as well. They were telling me stories about the different pitchers whose off shoulders were injured and they weren't as good of a pitcher because of that off shoulder. It's an important piece of the puzzle.
"If I'm looking downfield and I'm a right-handed thrower, my left shoulder is pointing downfield. If I were to throw the ball hard, now all of a sudden my right shoulder is pointing downfield. So it's just getting that full rotation of it."
For his part, Allen has never publicly complained about injuries. He offered no excuses for the offense's lack of explosiveness through the 2-2 stretch. Even after the Seattle game, he blamed himself for taking seven sacks and believed he could have done more on a day when the Bills had their highest point total since 2016.
This from a quarterback, who, astonishingly, ranks third in the NFL with 2,587 passing yards, despite having two games in which he threw for fewer than 200.
"He's a tough sucker, man," Bills coach Sean McDermott told reporters. "That's why I think the guys like playing with him, playing for him. The O-line likes blocking for him. He endears himself to his teammates. You know, maybe some other quarterbacks would have taken a week or two to come back, or whatever the timeline."
Hasselbeck sees the same qualities. He thinks Allen's ability to inspire his teammates, who knew he was playing Sunday only 24 hours after learning of the sudden death of his grandmother, is as important as his production.
"When people talk about quarterbacks, a lot of times they talk about intangibles and you never really know what that means," Hasselbeck said. "I just remember, when I got to Green Bay, Brett Favre was there and Andy Reid was the quarterback coach, and he basically laid out what he thought were the intangibles that Brett brought to the table. And some of those intangibles were the way that his teammates believe in him and rally around him and he sets the tone. The other thing Andy said was, 'Notice how Brett intimidates the opponent without even saying a word. Like when they get their game plan book, what are they saying? They're saying, 'Oh, boy, we got that guy. He can throw it all over the field. You can't rattle this guy. The harder the harder you hit him, the better he plays,' whatever it is that they might say.' Those are intangibles.
"Some quarterbacks will never, ever, ever have those intangibles or certain intangibles. Josh has got them. I don't even know if he knows he's got them, but he's got them. And people fear his arm. They fear his athleticism. They fear his size. And I just know from watching the excitement (he creates for) his teammates. One of the things that Josh's teammates said he was, 'He's a stone-cold dog.' I said on the air, 'This guy's like a cowboy.' And people were like, 'Oh, is that a shout out to Wyoming?' I'm like, 'Yeah, kind of, but I really mean he's like a cowboy.' And it's infectious. Some guys have it, but very few do."
[BN] Blitz Daily Updates
Feed your obsession. Start every morning with a guide to the latest news from One Bills Drive and stay informed about what is going on elsewhere in the NFL.