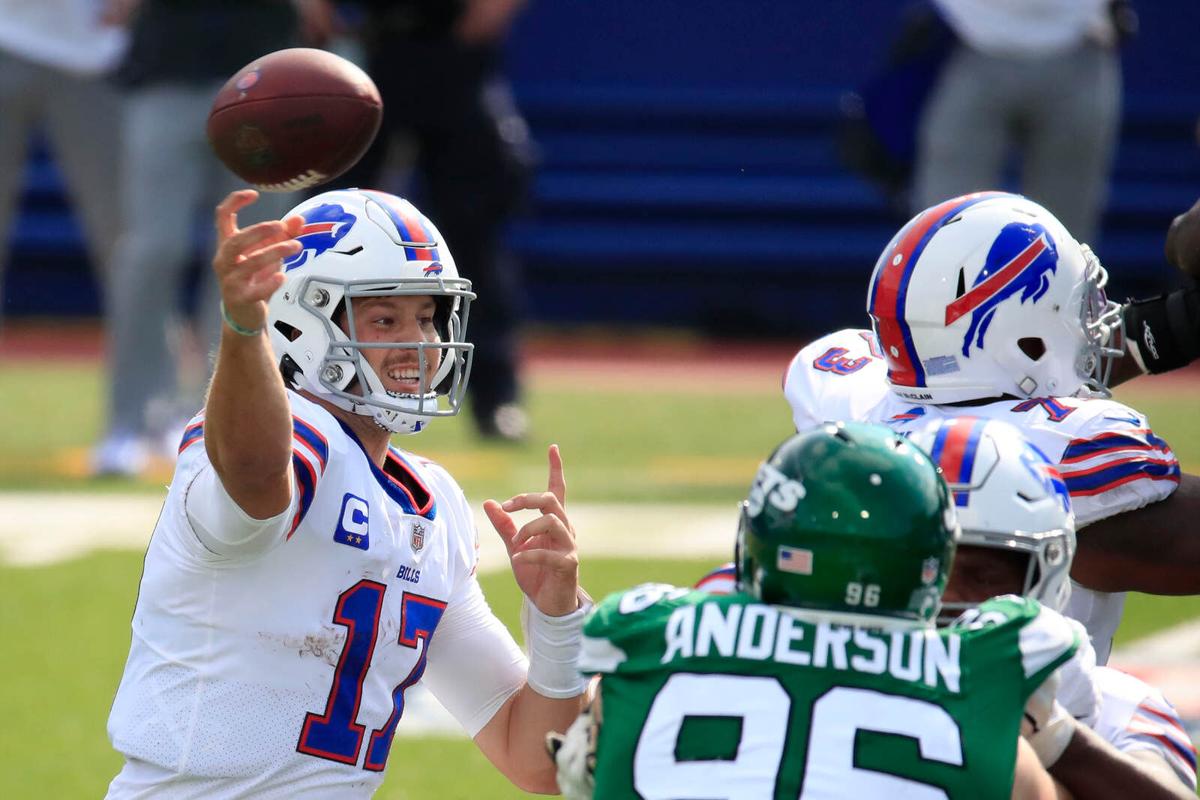 Two fumbles that wiped out ideal scoring opportunities and, on the second, resulted in a field goal for the other team can't be overlooked. Nor can that unforgivable overthrow of John Brown on a sure touchdown.
The turnovers were already on a list on Sean McDermott's desk within minutes after the Buffalo Bills' season-opening 27-17 victory against the New York Jets Sunday. They fell under the category of what Josh Allen needs to fix.
Let's not, however, fixate too much on them. Let's allow ourselves to also look at the things Allen did well, because there was plenty.
This has been touted as the season the Bills finally enter the modern era with an explosive passing game. Allen's first NFL 300-yard game, with 312, and career highs for attempts (46) and completions (33) put a fairly sizeable checkmark next to that. He also had two touchdown throws to go with a rushing touchdown.
This was, for the most part, a good day for Allen. Even McDermott, whose stomach churns at the sight of any Bills turnover, agreed.
"Overall, I thought Josh did a really good job giving the receivers a chance," the coach said in a video call with reporters.
Allen deftly managed a game plan, heavy with multiple-receiver sets, designed to utilize his many weapons to the fullest. Stefon Diggs, the newest addition to No. 17's toybox, caught a game-high eight passes for 86 yards. Brown had six receptions for 70 yards and a score. Six other pass-catchers got into the act.
"Those two turnovers by me, we can't have those," Allen told reporters in a video call. "But we were moving the ball how we wanted to. Our guys were getting open. We understand the guys that we have are tough for defenses to cover for a long period of time, and when I'm able to escape the pocket, our guys did a great job today of (following) scramble rules and getting open and making plays."
Allen made plays, too. When he wasn't using his arm, he was using his legs. Yes, Allen ran way too often. A career-high 14 carries for 57 yards (and a TD) is ridiculous for a quarterback, and not only because of those fumbles deep in Jets territory in the first half. Mobility is a key facet of Allen's game, but he and offensive coordinator Brian Daboll, who called many of those runs, need to use it in moderation if the Bills' quarterback is to survive the season.
And as Allen's performance, especially as a passer, showed Sunday, he must be protected at all costs if the Bills have a prayer of fulfilling all of those dreams of a deep postseason run.
The championship-caliber defense that smothered a pitiful Jets offense is part of the equation, for sure. But that was an offensive-driven victory. Those 27 points could have easily been 34 or 37 or 40 (when you factor in two missed field-goal attempts by rookie Tyler Bass).
Allen mainly made solid decisions on where to go with his passes. Other than when he launched the ball well over the head of a wide-open Brown in the end zone, his touch was excellent.
"If we clean up a few things here and there, we put more points on the board," Allen said. "But ... you've got to look at the positives. I think we did more good than bad."
Diggs, for one, was impressed with Allen's poise, which came into question when the Bills blew a 16-point lead in their wild-card playoff loss at Houston last season. 
"I know he had all that in him," Diggs said. "He's still got a little bit of kid in him, so when he's out there, he's out there having fun. I enjoy it. I'm always in his ear, trying to keep that positive energy going because I can't imagine how hard it is to go out there and play quarterback. When I see him having a good time, it gives you a little bit of motivation, a little bit of a push in the back to say, you want to play for this guy. You want to go hard for this guy because he damn sure is going to go hard for you."
The strategy used to attack Gregg Williams' blitz-happy defense was on point. Allen's runs were part of it, but more important was Daboll allowing Allen to get into a groove early with high-percentage throws.
Allen did a superb job of working the screen game, especially with the nice read he made of the Jets' coverage before delivering a sidearm throw underneath to Brown for a 17-yard TD.
"We started off with a lot of really good play calls to kind of get me in a rhythm," Allen said. "I think I did a good job of kind of letting the game come to me and not trying to force things early on. I know people want to see the deep to Stef, the deep to John, and, shoot, I want to throw those.
"But you've got to be smart and check down when necessary, and I think that's what we did a good job of (Sunday). Our guys underneath were patient. When they caught the ball, they made some guys miss and got some yards after the catch."
It was not so much excuse-making when Allen and McDermott attributed the fumbles, in part, to what often happens in a first game. As Allen pointed out, before Sunday, no one had taken a football hit for seven months.
"We've got to go back and find out why things happened where they didn't work out to the way we wanted them to work out," McDermott said. "That's where practices comes in."
"I expect us to get better," said Allen. "There's a lot of things we left out there, missing John in the end zone, the two fumbles, obviously, and a couple of times I put the ball in harm's way. We'll clean that up and we're looking forward to a tough one down in Miami next week."
That should be seen as the brightest side of all of this less-than-perfect opener. The Bills can do better than having their quarterback throw for 300-plus yards and two touchdowns in a win.
Buffalo Bills beat New York Jets, 27-17, in season opener
Allen in all alone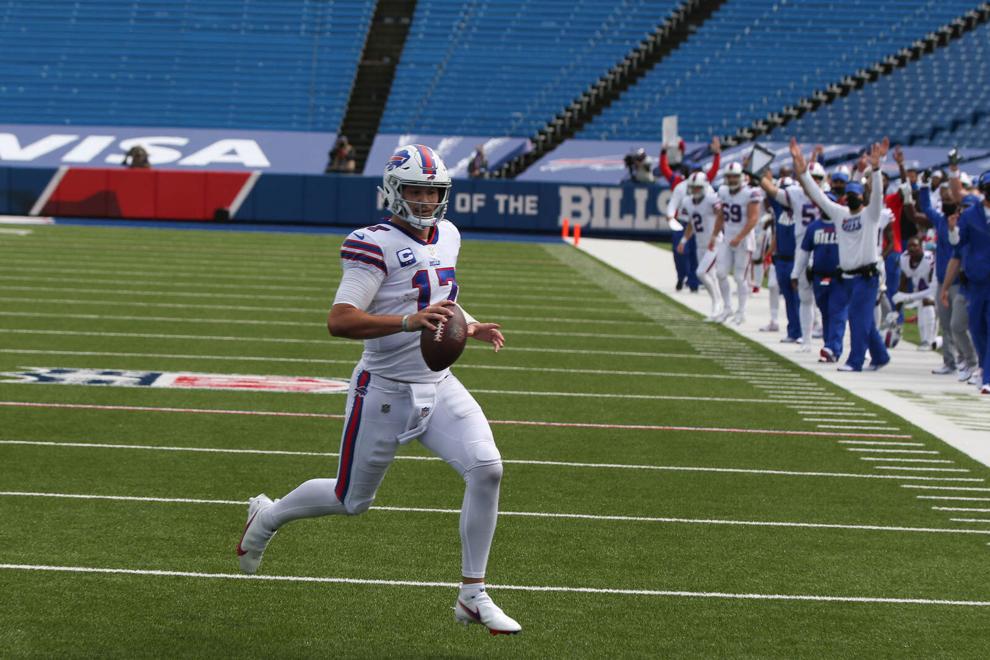 Allen fumbles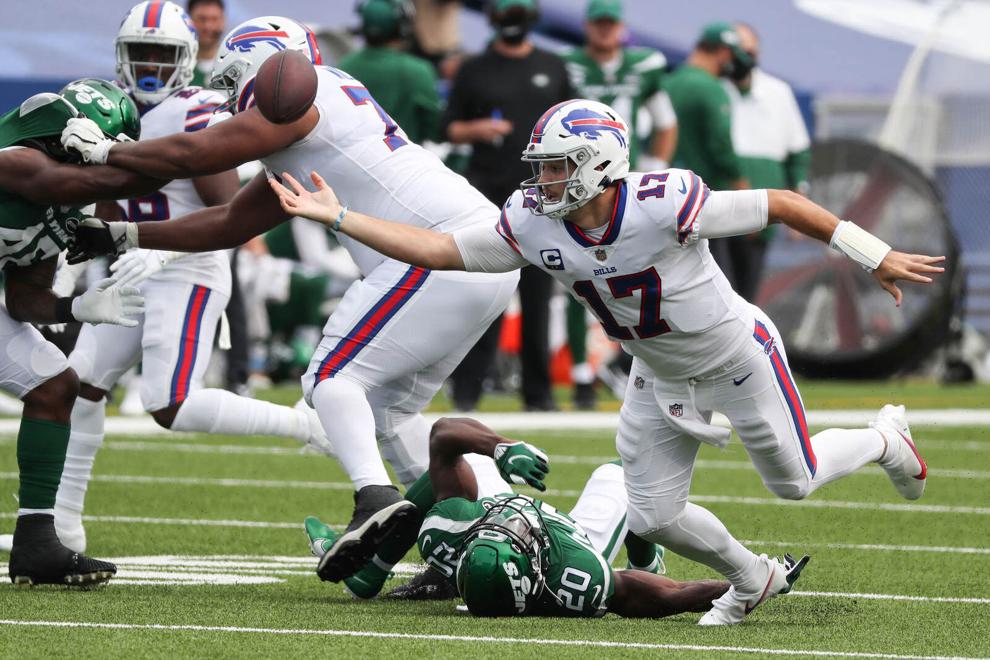 Brown goes up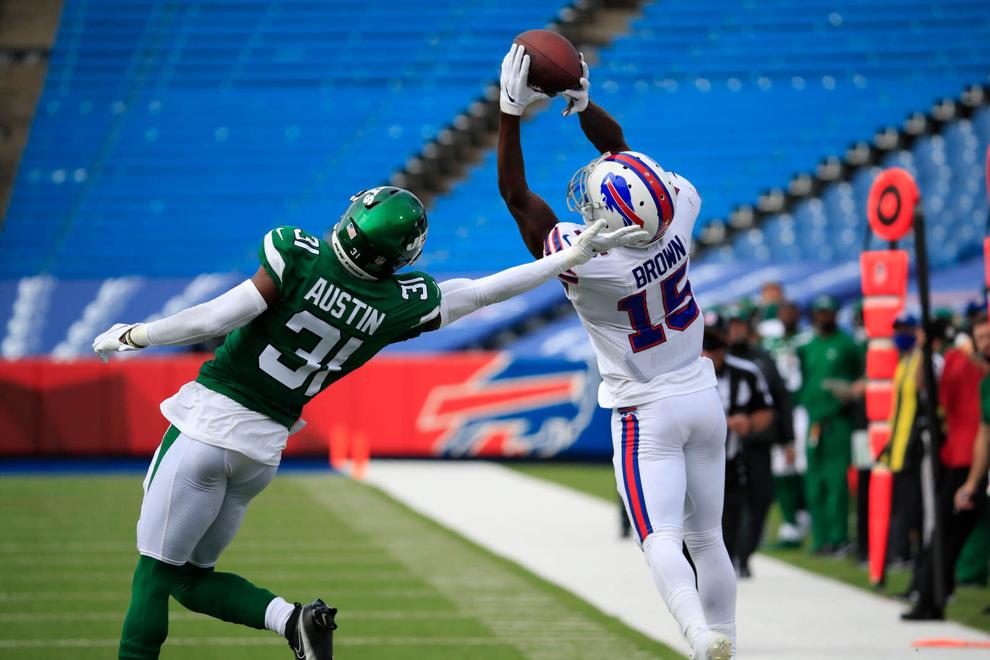 Allen out of bounds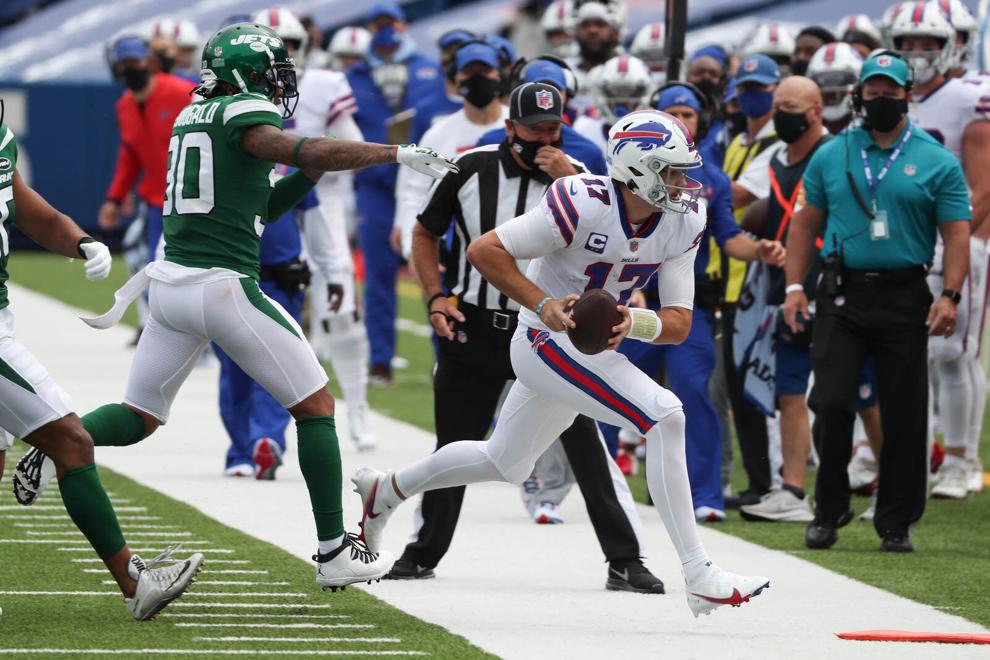 Milano intercepts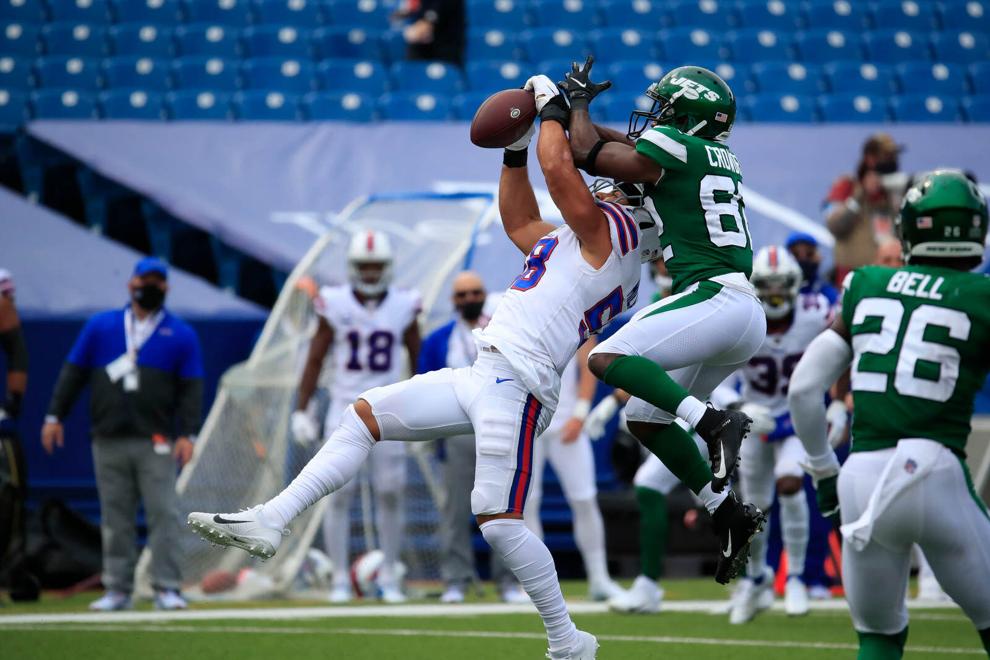 Coach McDermott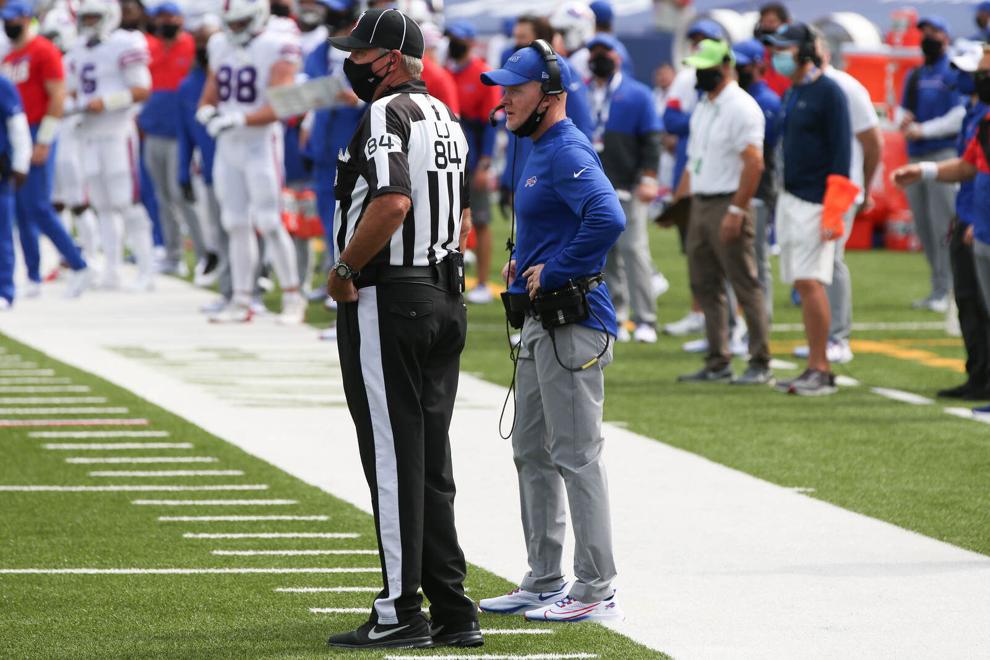 Knox up the middle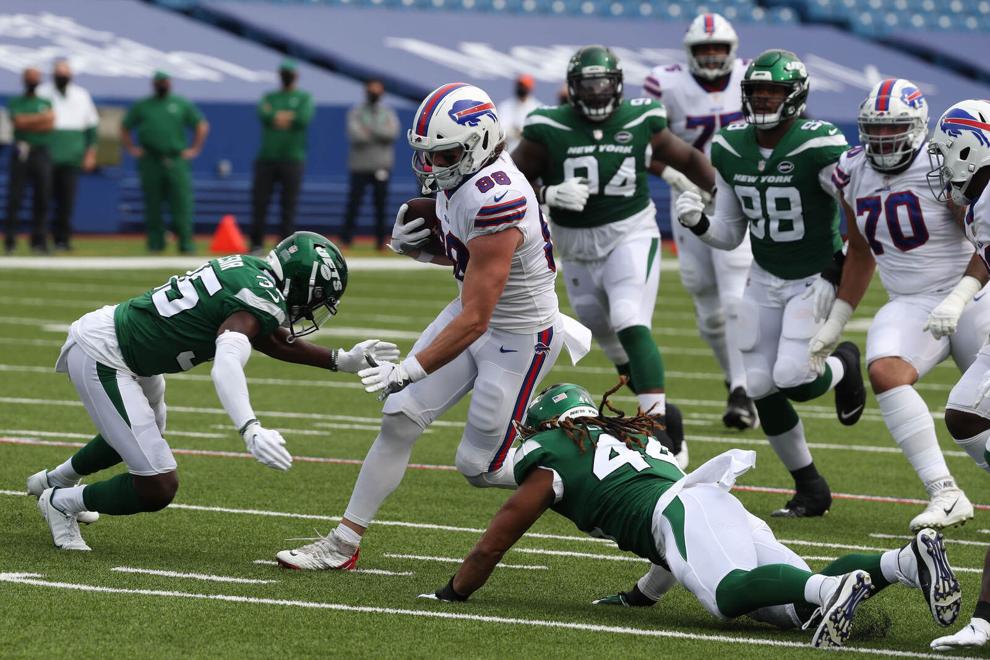 Allen passes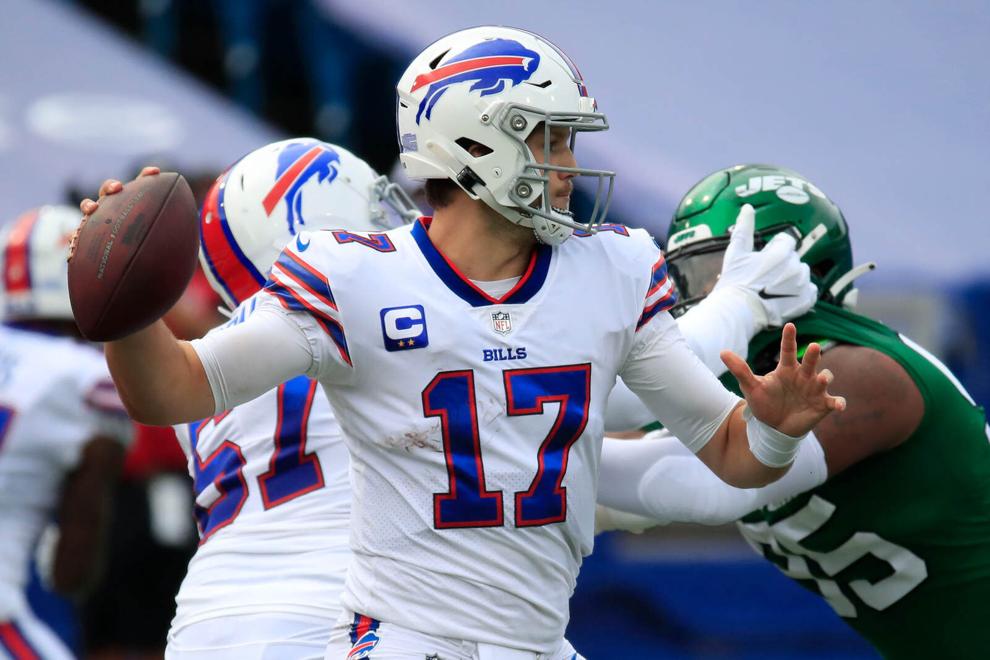 Moss scores a TD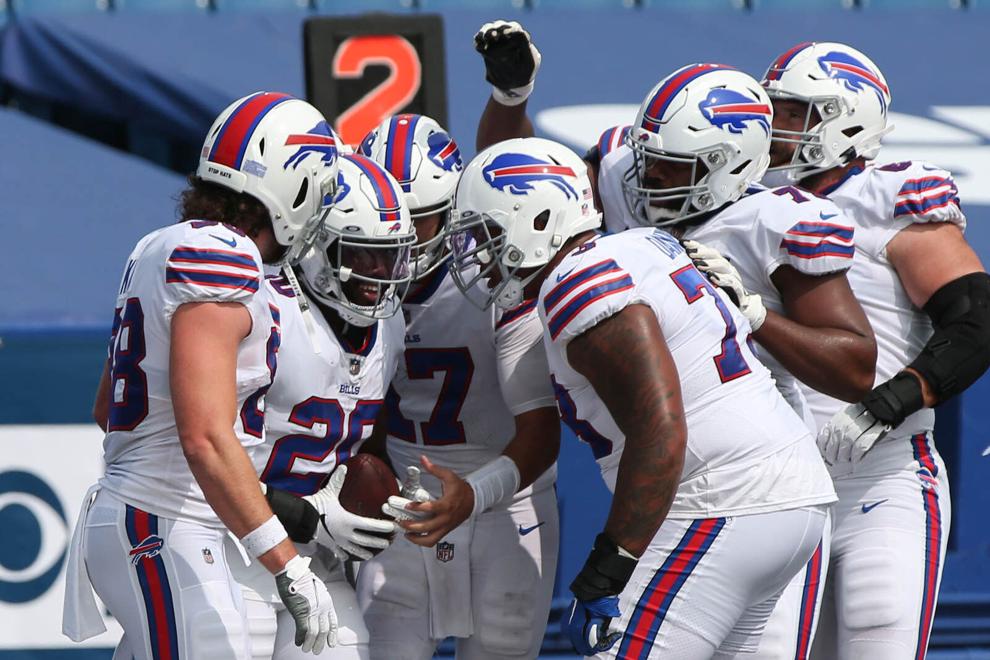 Darnold in the pocket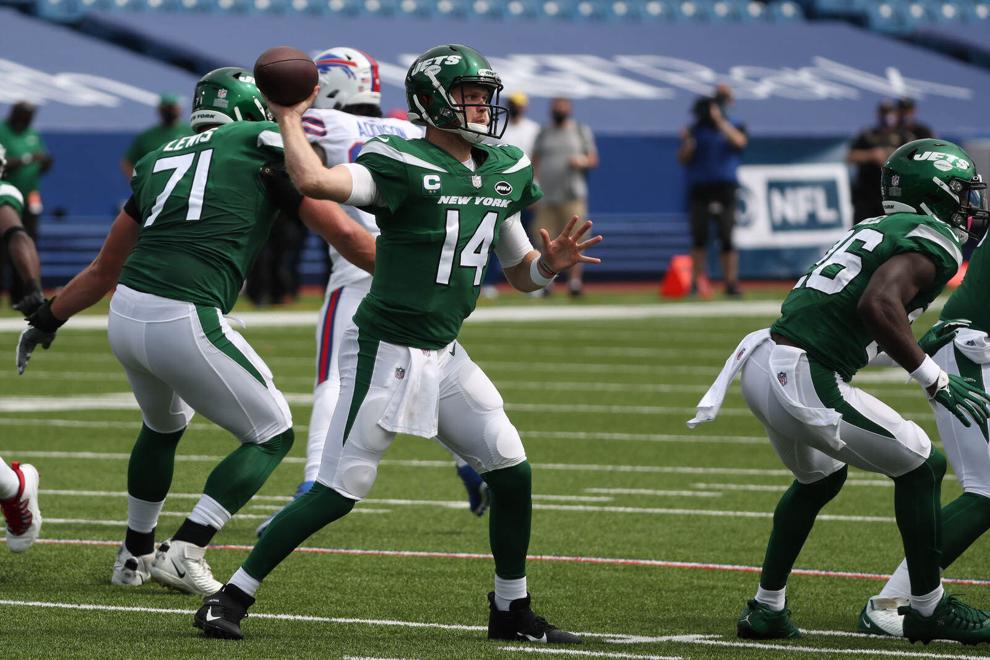 Bell contained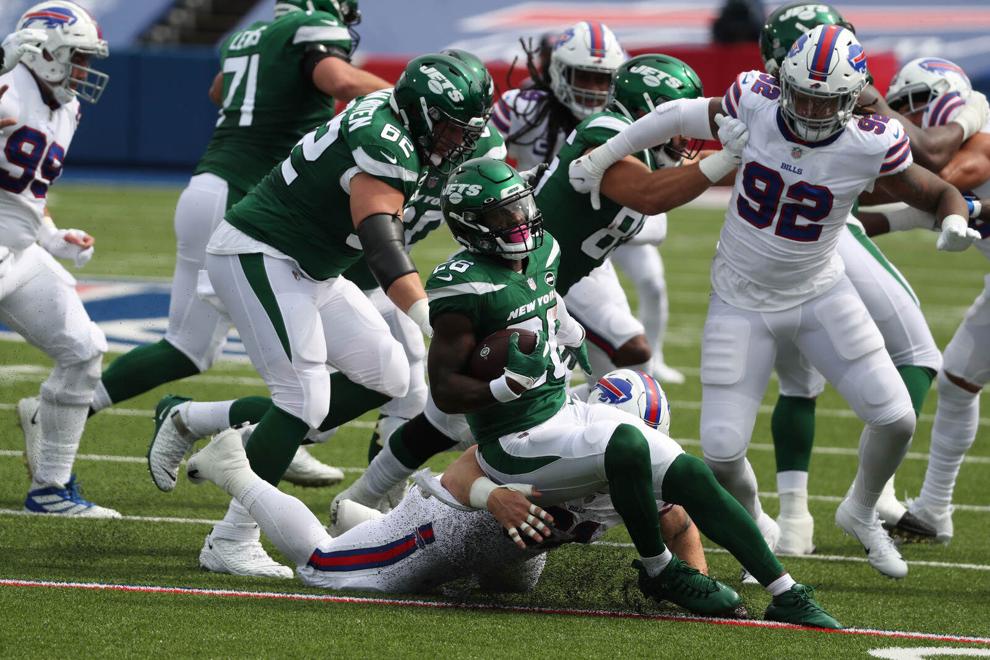 Allen on the run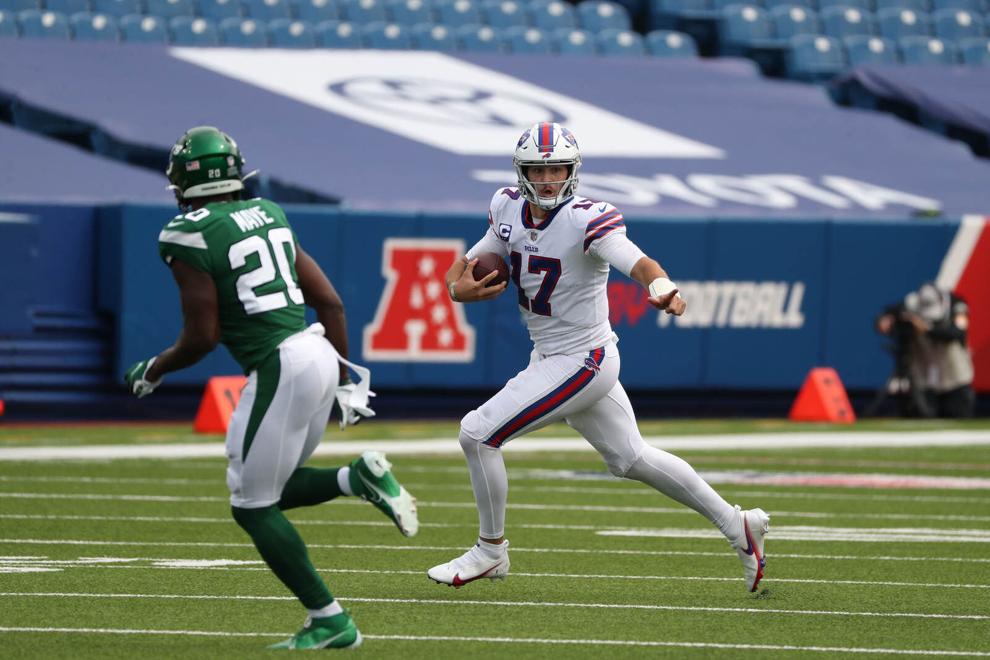 Brown into the end zone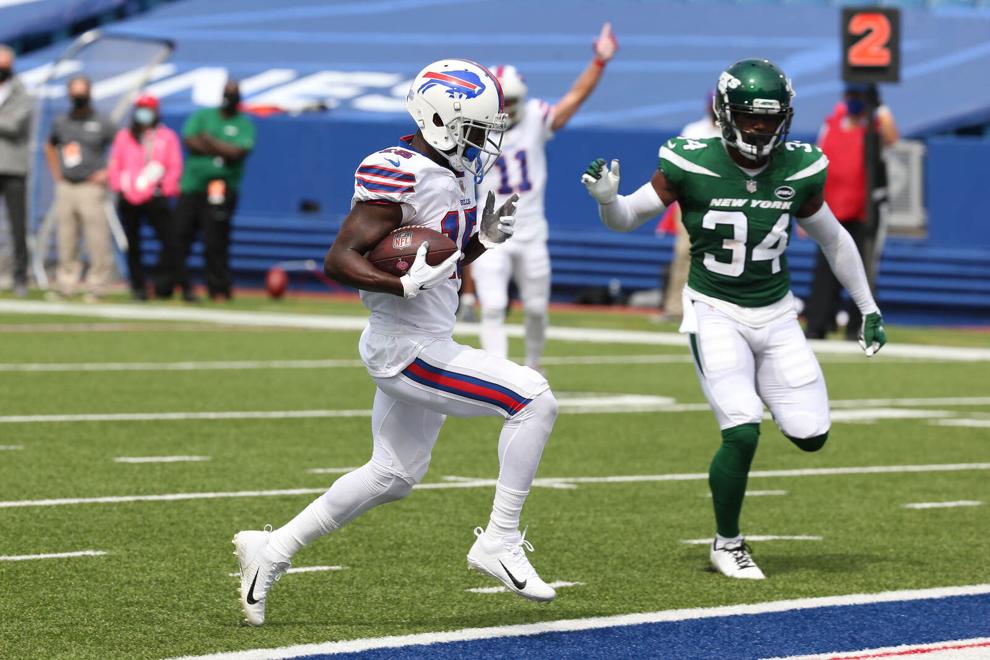 Brown brings it in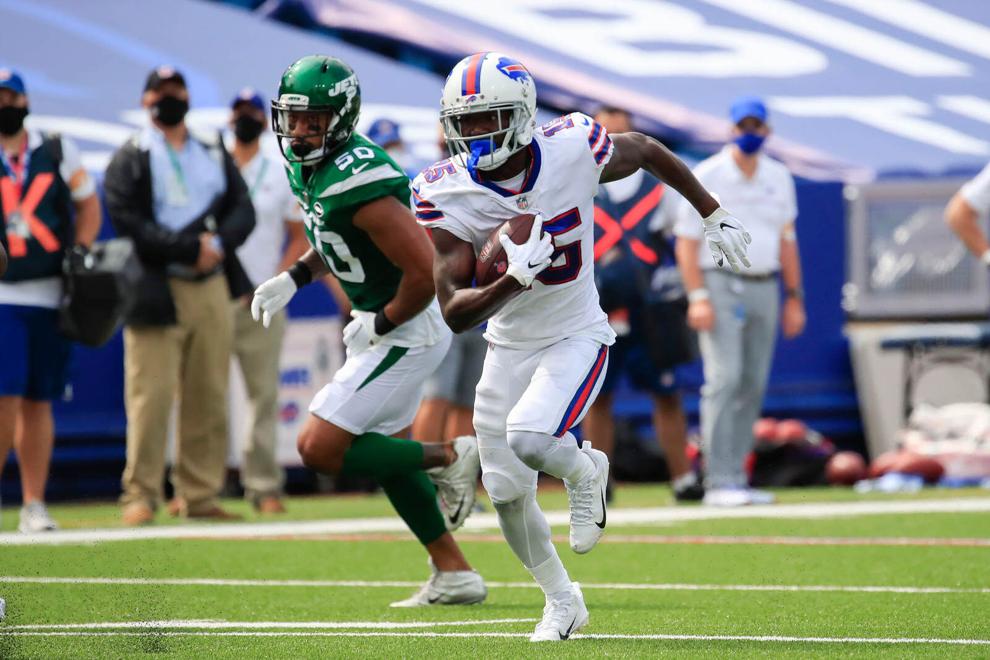 Allen to Brown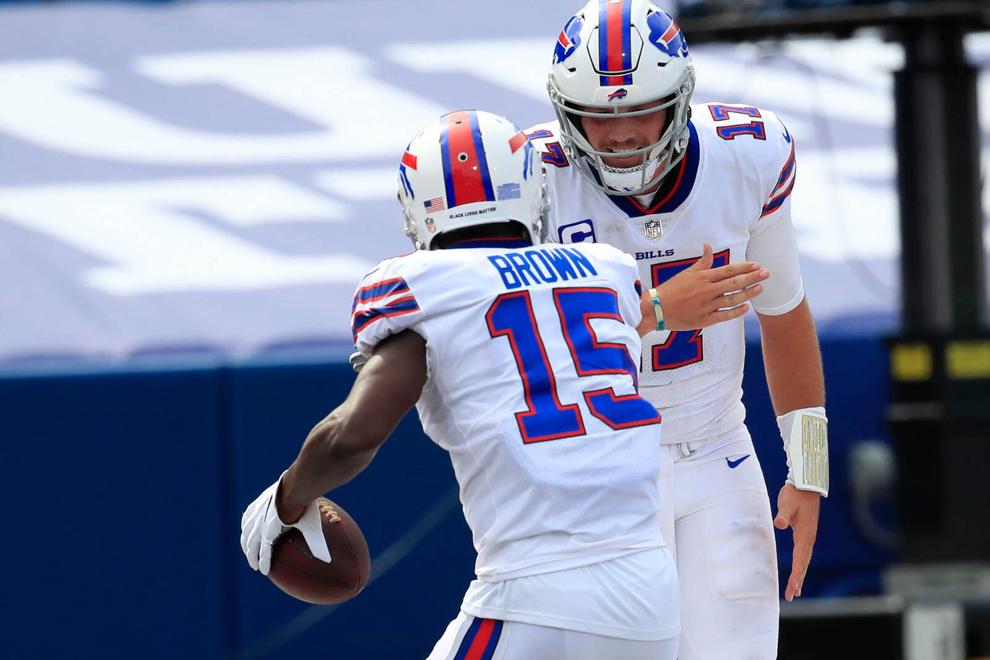 Dancing in the end zone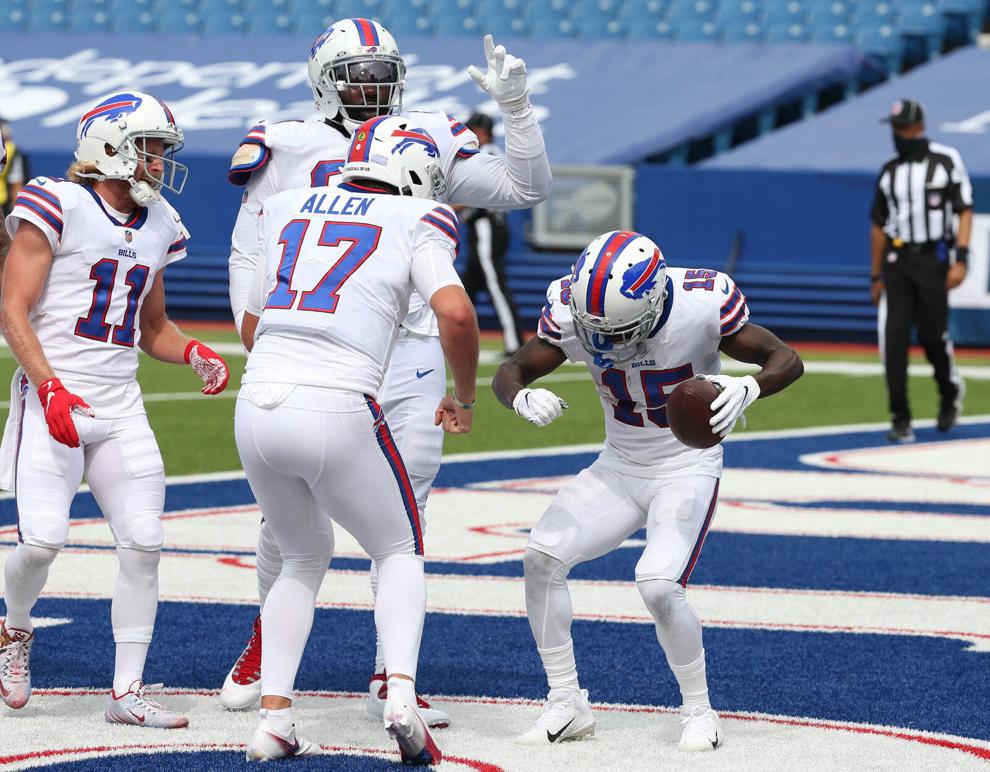 Empty stands
Murphy sacks Darnold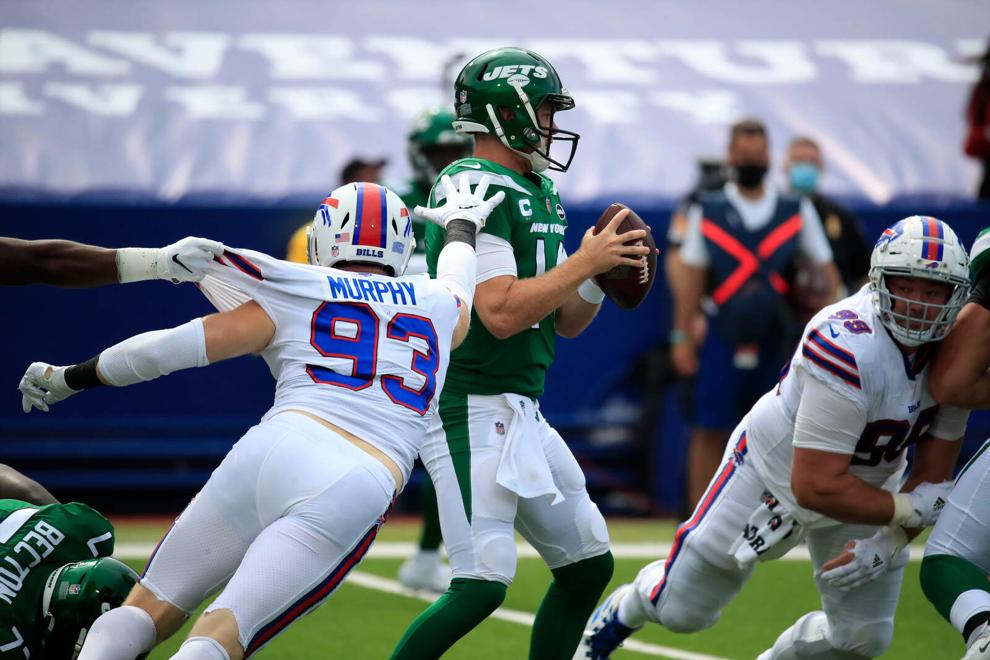 Singletary up the middle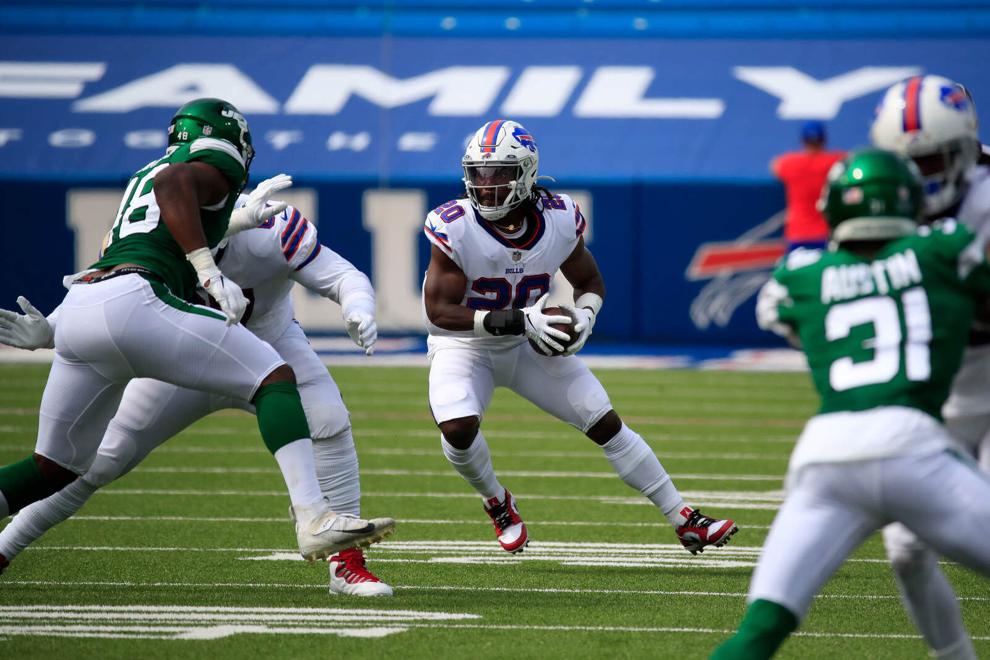 Allen sacked hard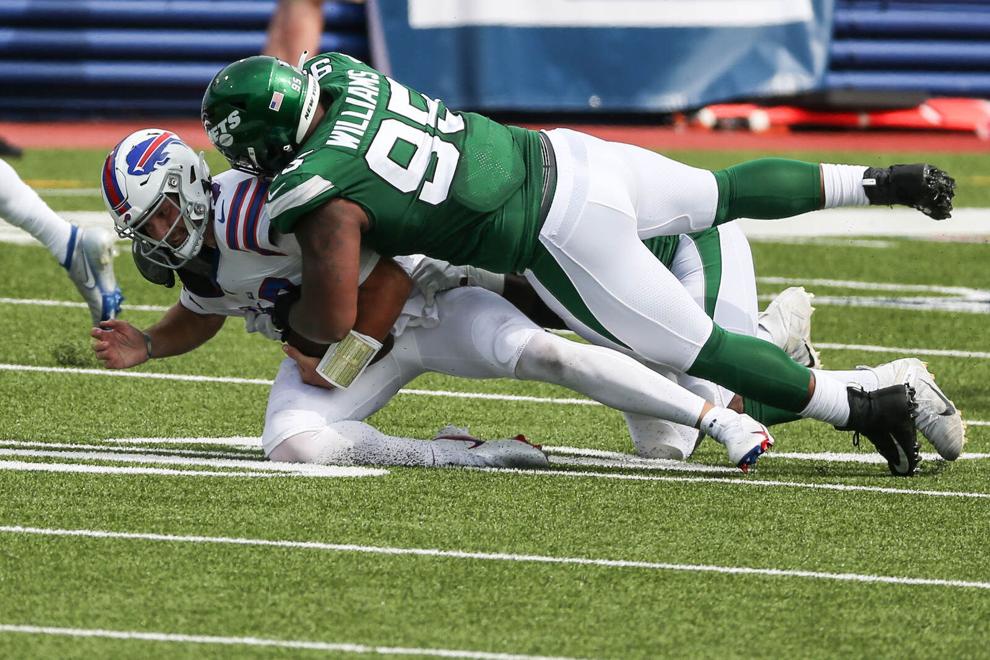 Singletary fights for yards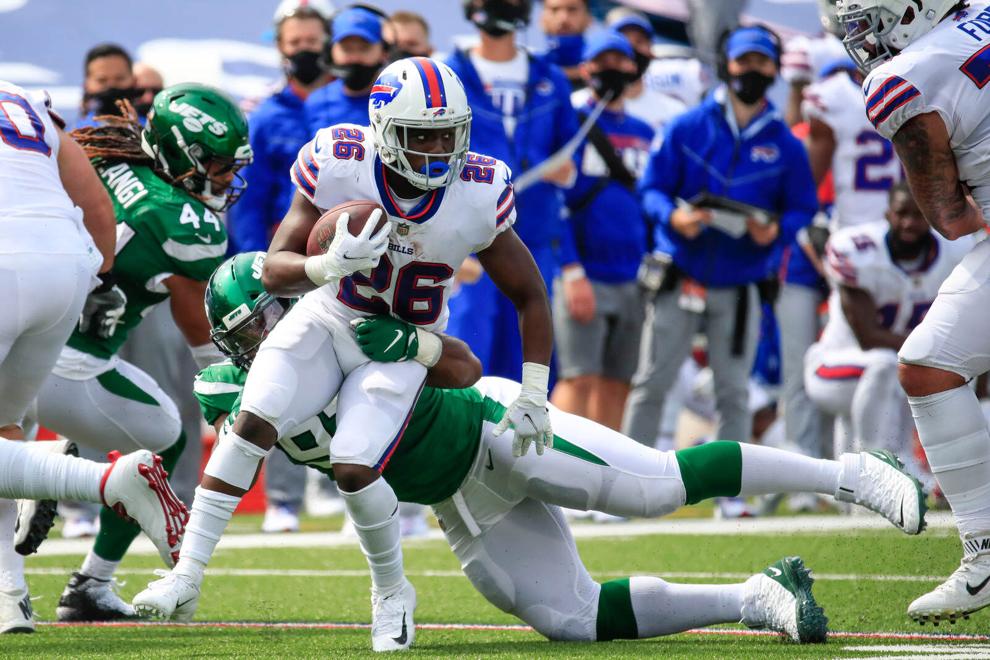 Upper deck view
Allen goes high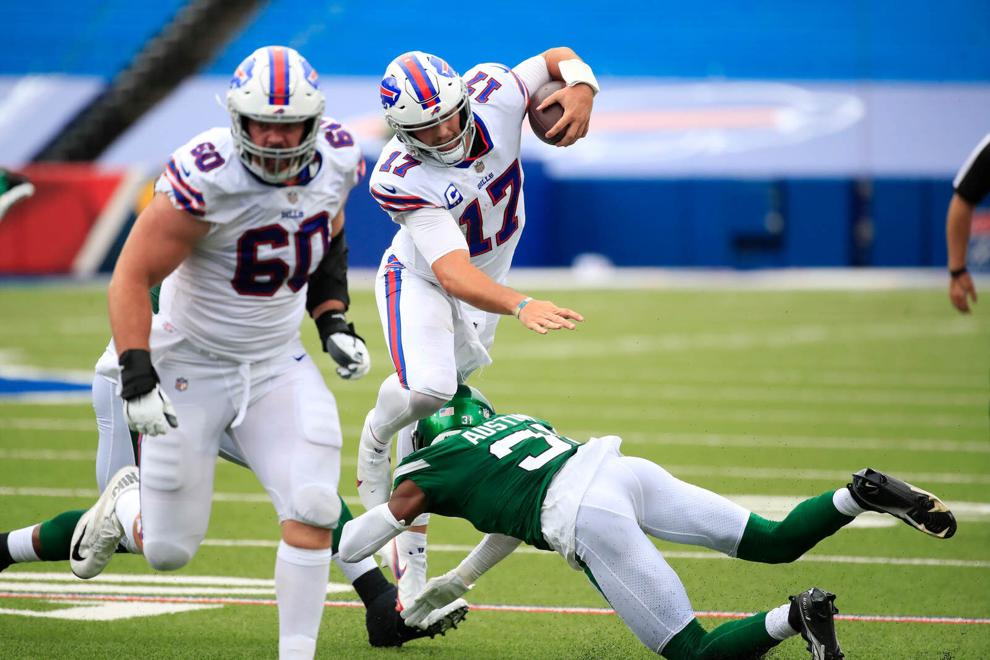 Bass on the board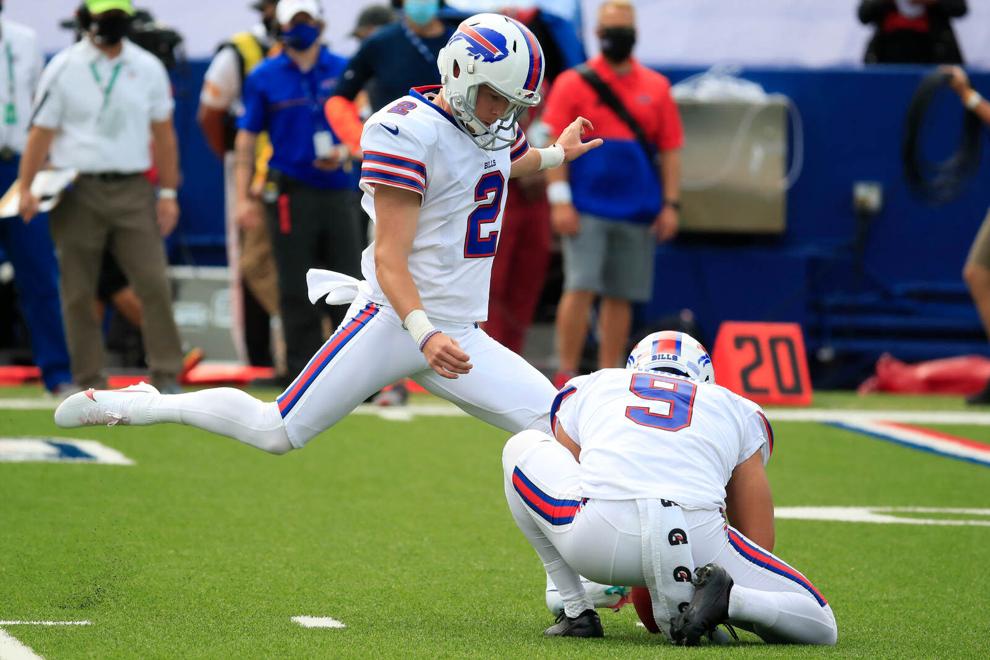 Former Bills coach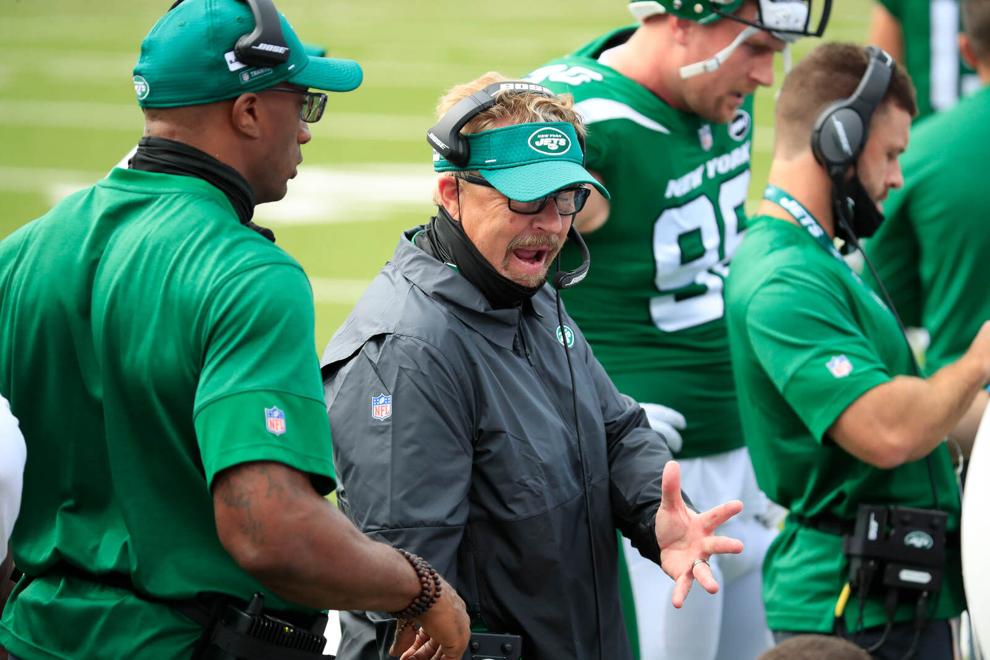 McKenzie makes a move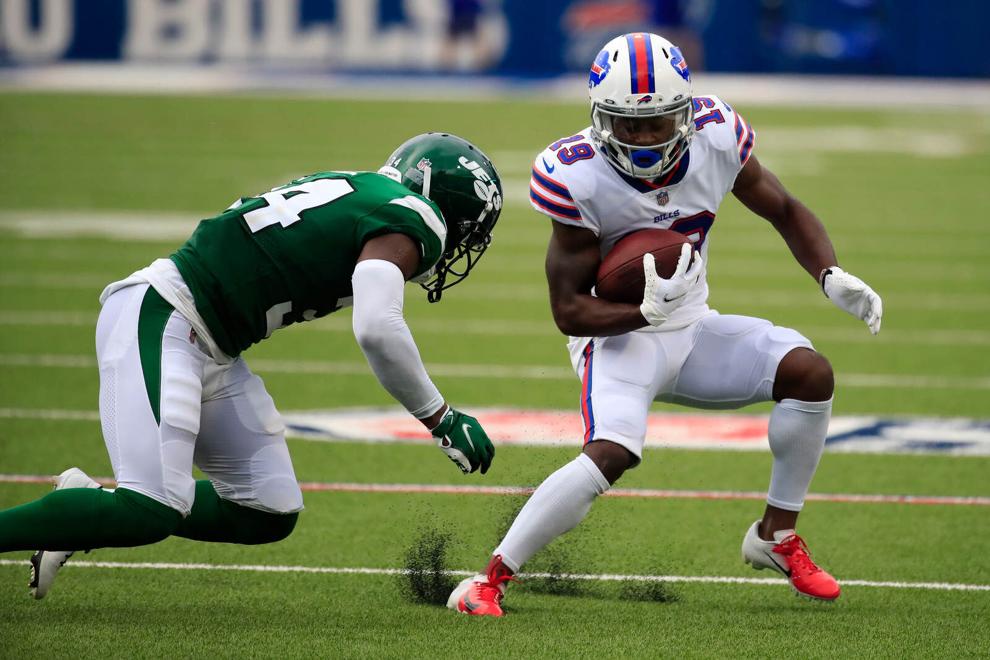 Allen stretches out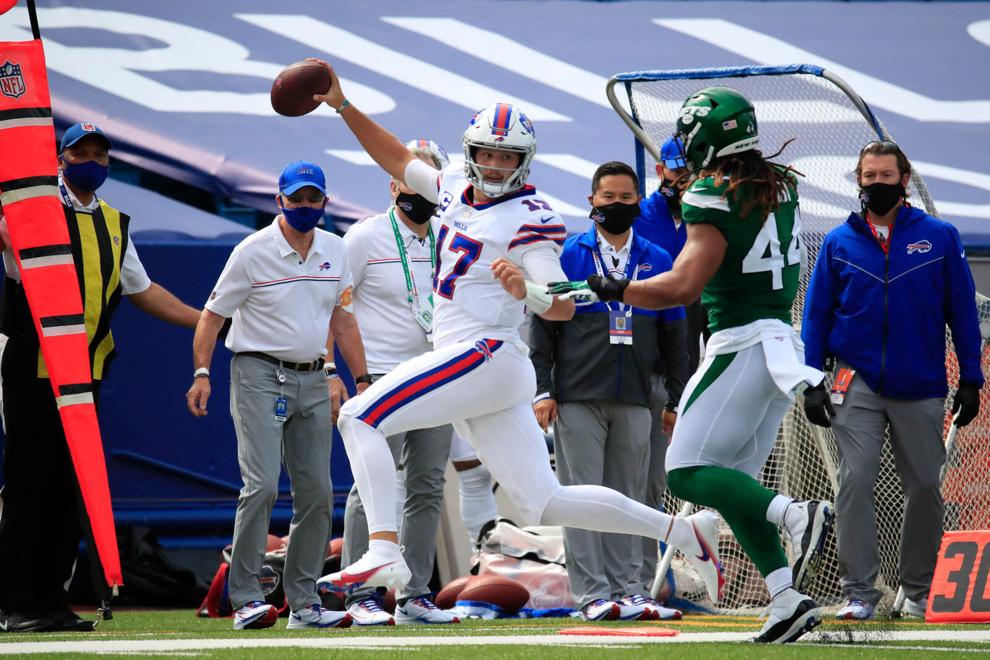 Empty stadium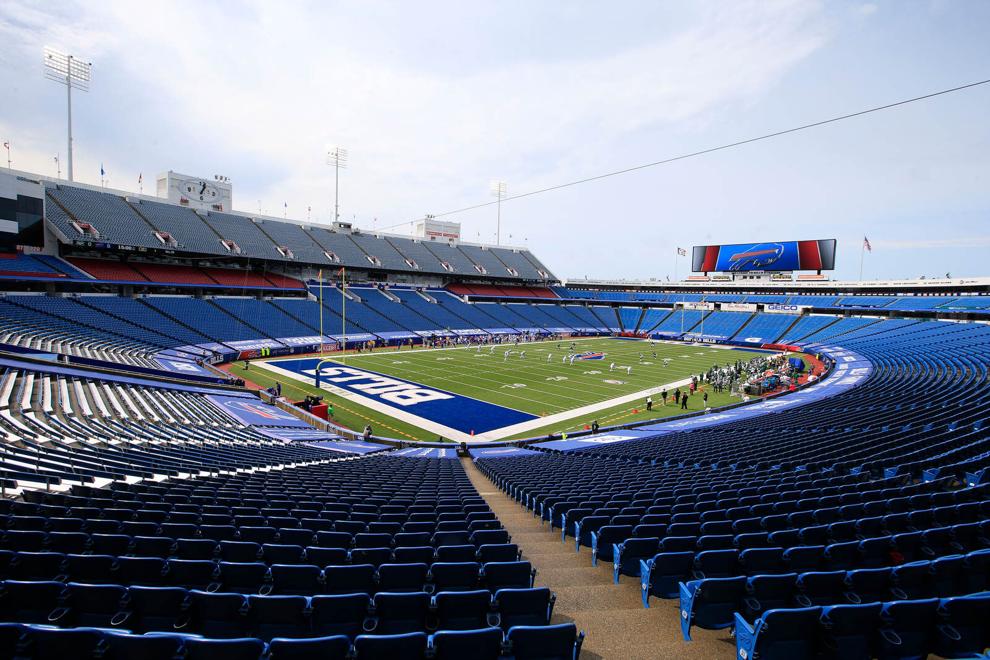 Davis up the sideline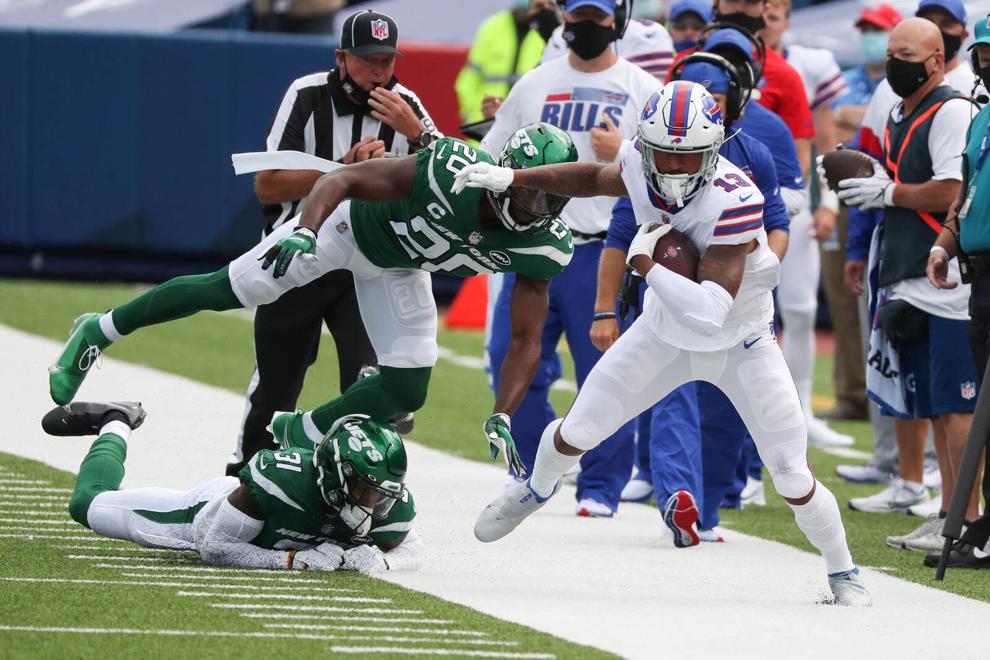 Coach McDermott pumped up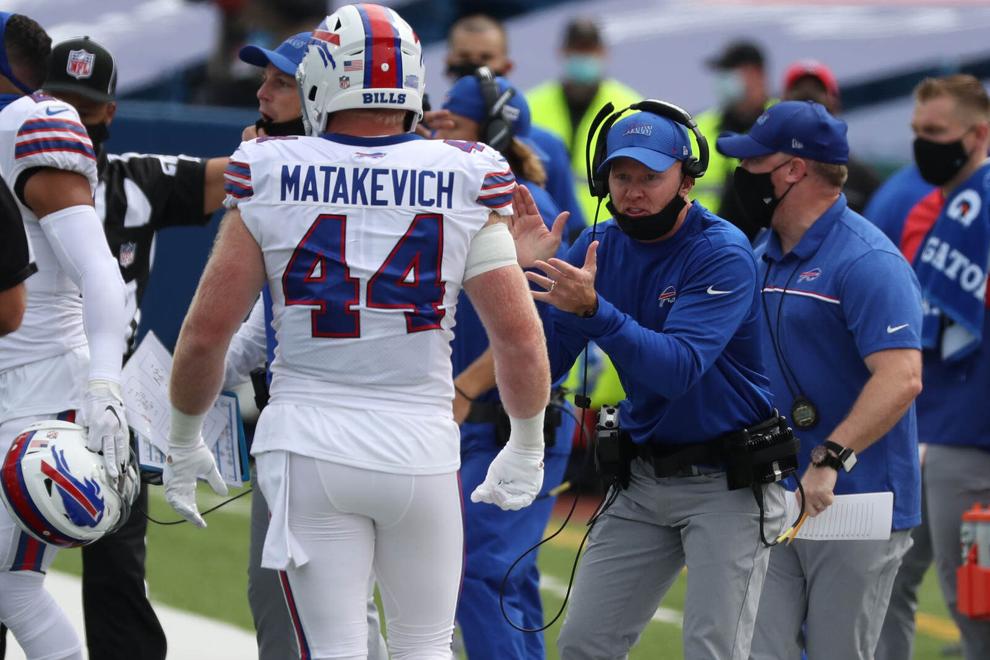 Fan free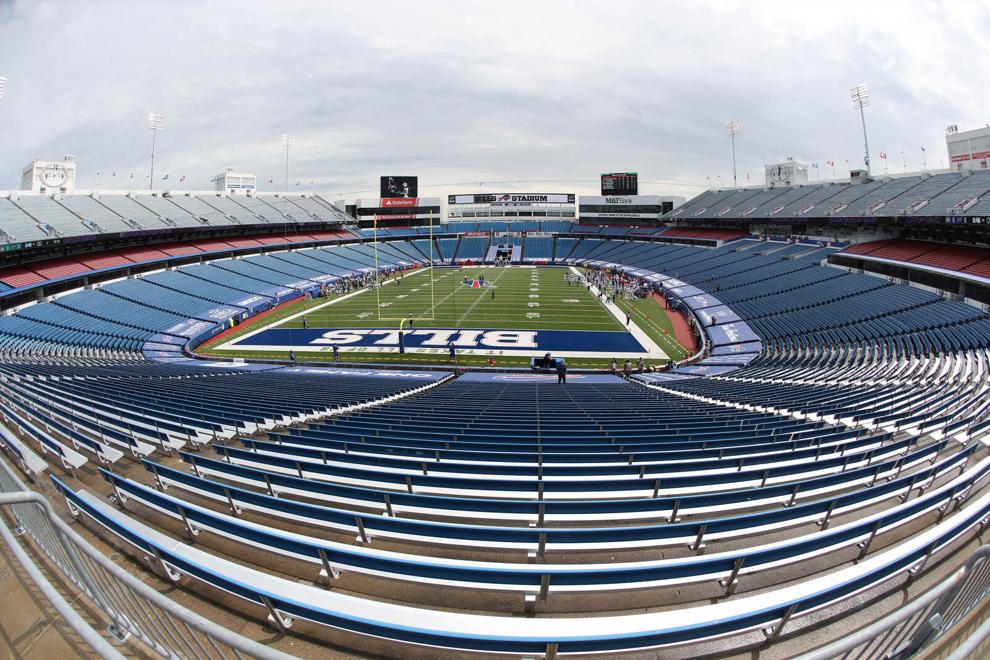 Allen fires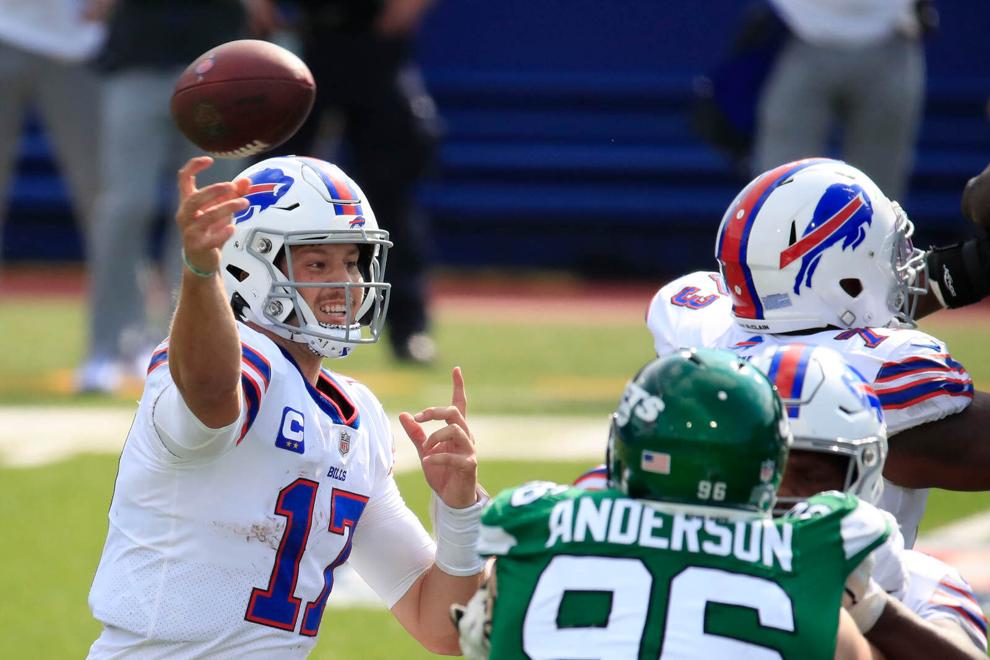 Allen wiggles free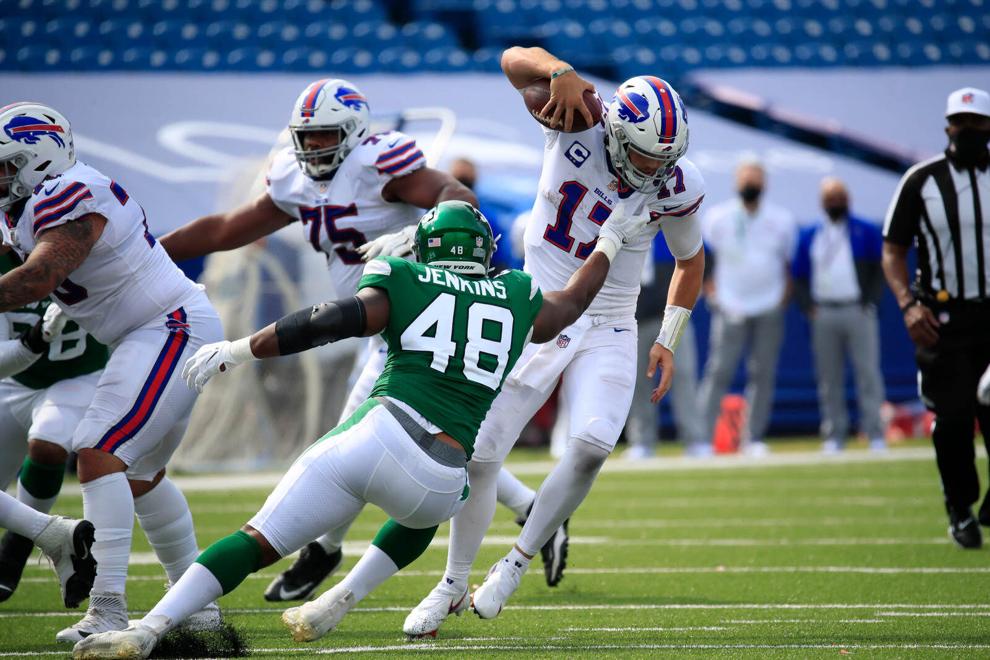 Jets kick field goal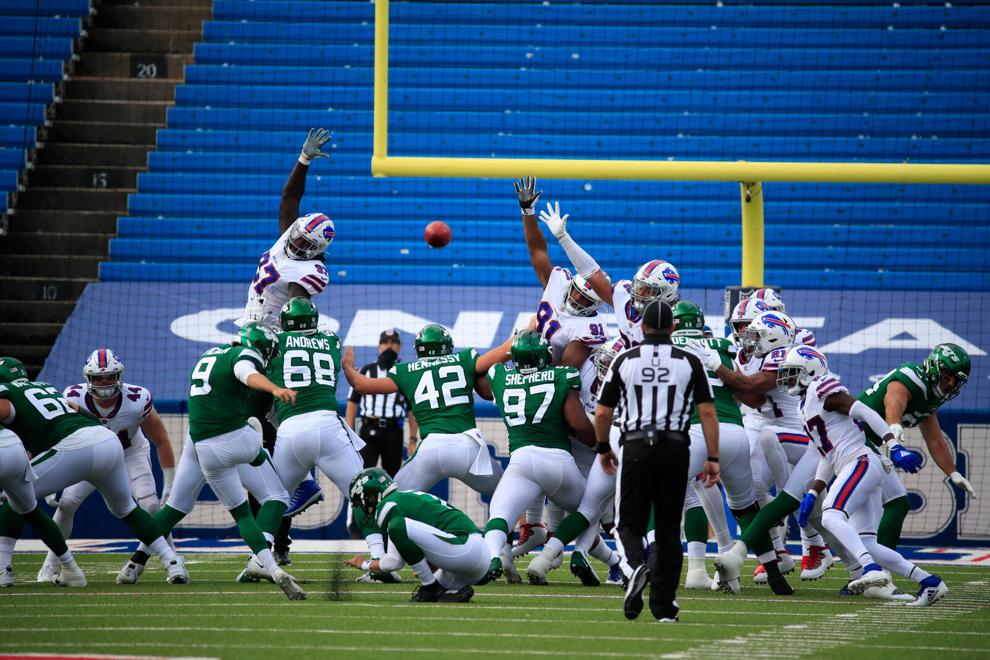 Allen sacked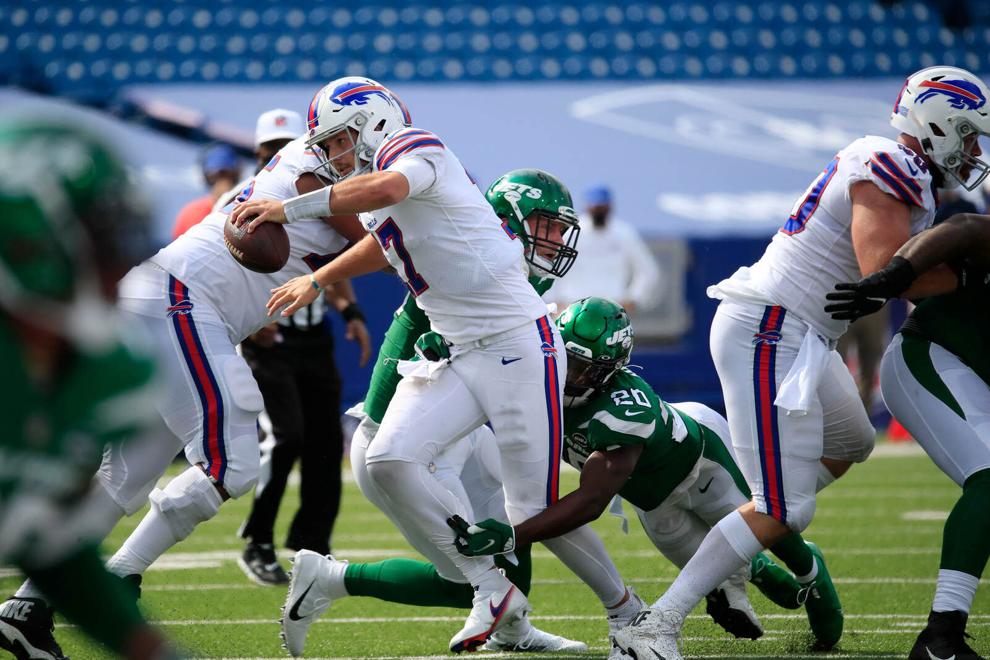 Missing the fans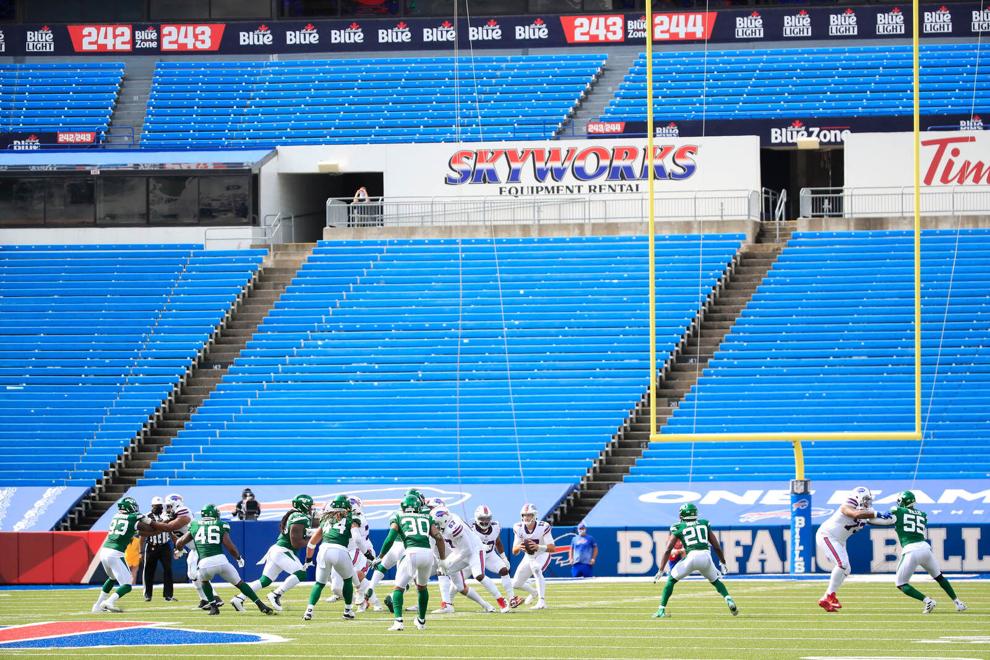 Missed field goal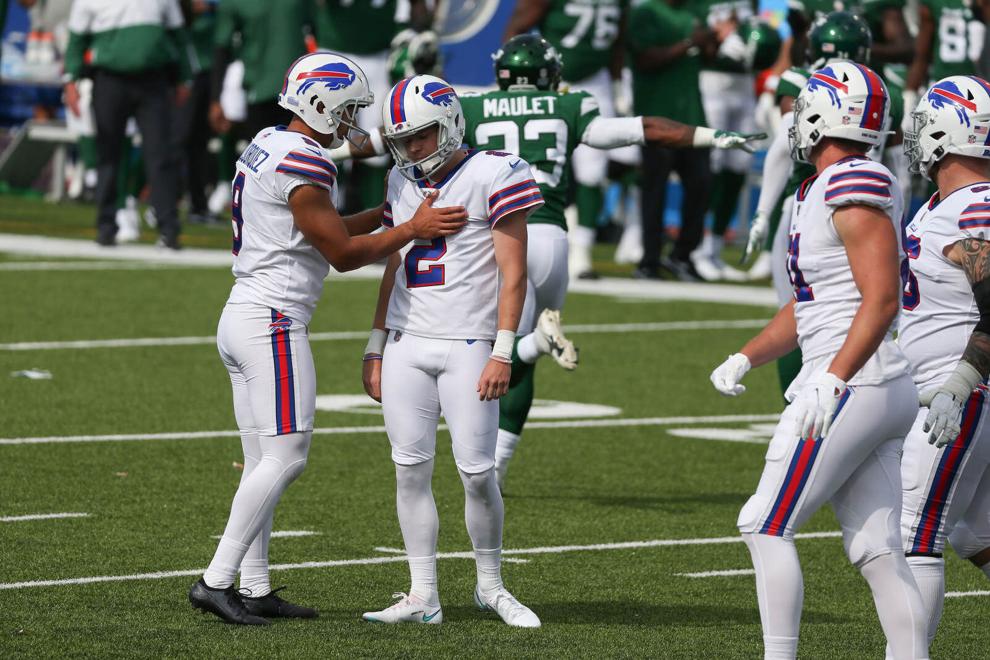 Field goal good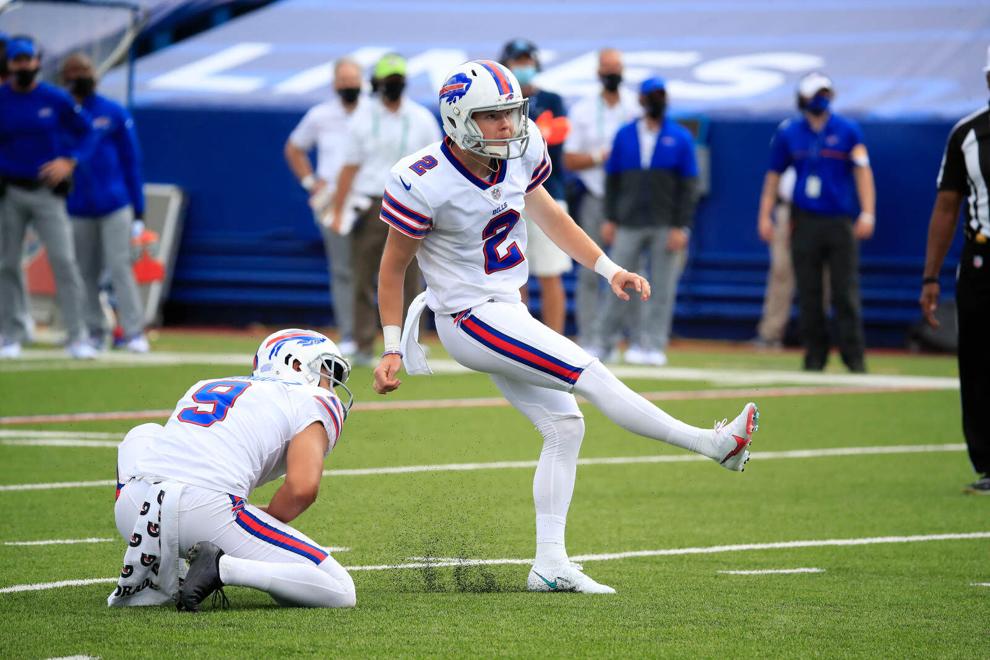 Moss rushes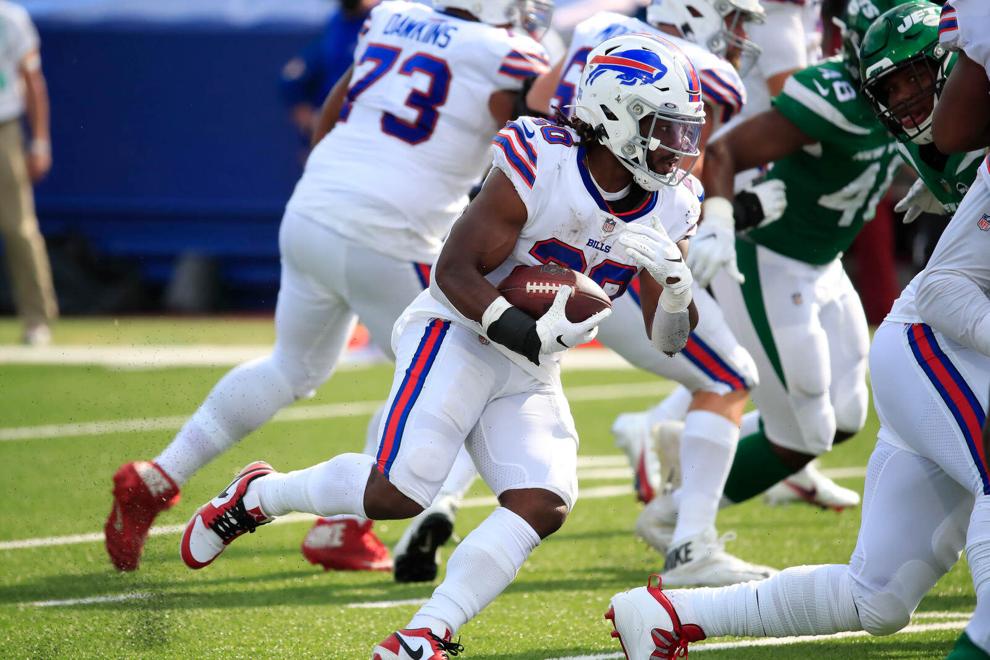 Hughes interception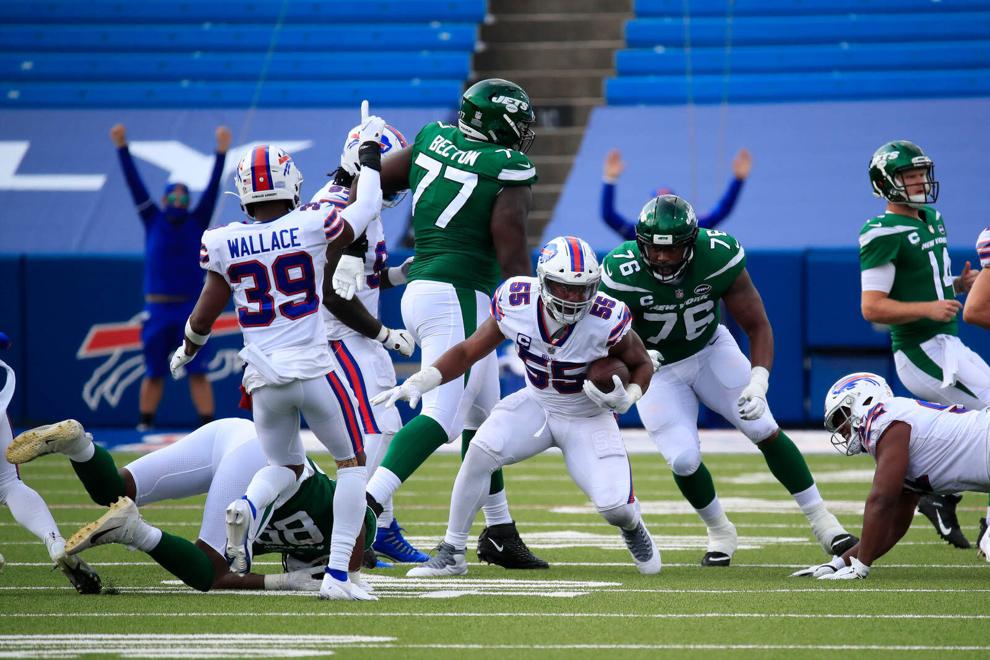 Jets too little too late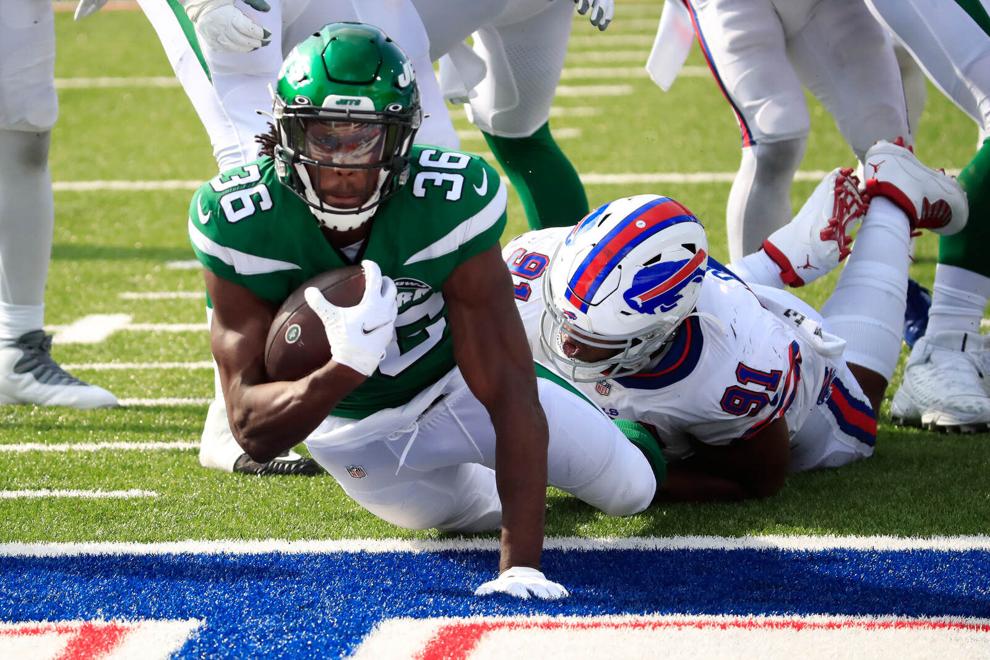 Sam Darnold throws it up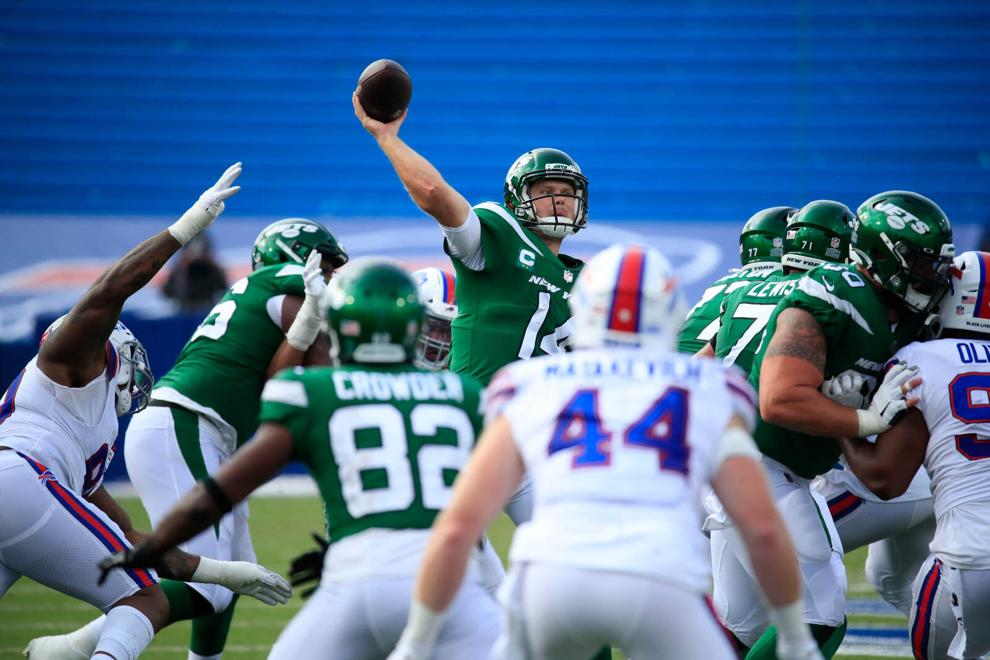 Win for the books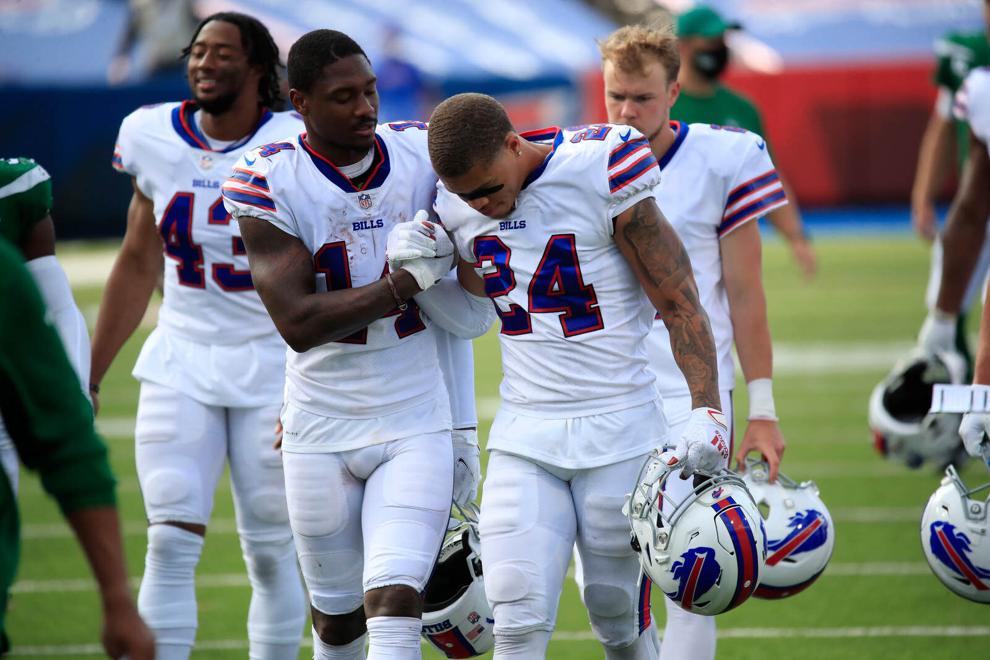 Mission accomplished