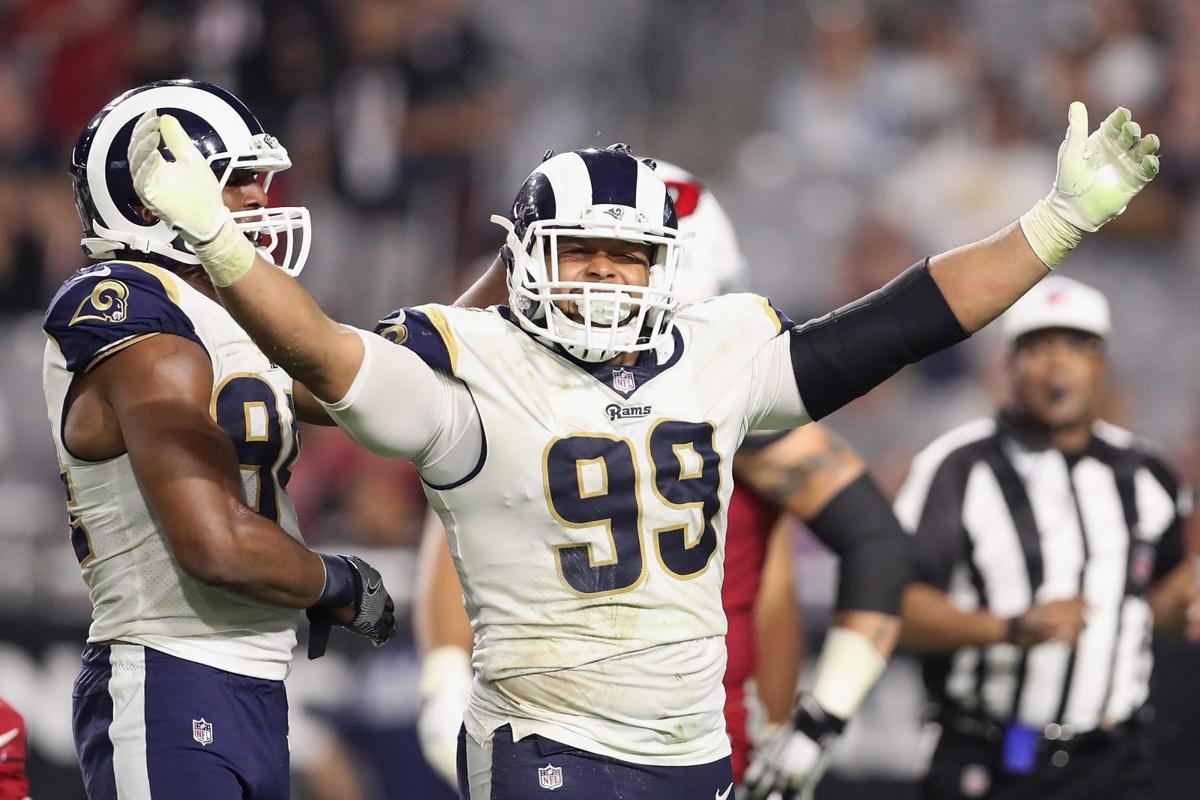 If you focus only on his height, Aaron Donald does not seem all that imposing. 
Donald stands a little more than 6 feet tall and weighs about 280 pounds. Hardly small, by everyday standards, but not exactly what you would expect from a defensive tackle universally described as one of the most dominant and disruptive forces in the brutal environment of interior line play.
"He's the best in the world at what he does and arguably the greatest to ever do it at that position," Josh Allen told reporters on a video call Wednesday. "He's so explosive, so powerful, so quick. He can bull-rush you, he can swim you, he can basically juke you at the line of scrimmage. So he's a tough task to handle."
Call it a mammoth task. And handling it well, or at least as well as possible, tops the list of what the Buffalo Bills must do to enhance their chances of beating the Los Angeles Rams Sunday at Bills Stadium.
For most of Donald's seven seasons in the NFL, opponents have struggled to prevent him from making life miserable for their quarterbacks, running backs, and offenses as a whole. That's why Donald was the league's Defensive Player of the Year in 2017 and 2018, why he is a six-time Pro Bowl selection and a five-time first-team Associated Press All-Pro choice, and why he was voted the league's No. 1 player by his peers in the Top 100 in 2019. Simply put, the guy is a beast.
Few people know that better than Wade Phillips, who spent part of a lengthy coaching career in the NFL as head coach and defensive coordinator of the Bills. Phillips guided Donald when he was the Rams' defensive coordinator from 2017 to 2019.
"He doesn't have the height, but he's got tremendous speed for his size," Phillips said by phone from his home in Houston. "He's got so much power that he can accelerate off the line so quick and get on you and then he's got the strength, even though he's not tall. Most great players have some kind of acceleration where they could speed up to make plays, and he's one of those guys that can do that."
Being shorter than many NFL defensive linemen is actually a significant advantage for Donald. Line play is as much about gaining a leverage advantage over the guy across from you.
Just as with all other aspects of his game, Donald excels there as well.
"The lower man wins in most cases, so he can get up under people pretty quickly with the way he generates power," Phillips said. "You get underneath the other guy and you've got an advantage to be able to get off the block or push (the offensive lineman) back or those kind of things to start with. And then that starts the process of run (stopping) or pass rush."
"Nobody can get lower than him," said Brian Baldinger, a former NFL offensive lineman and current NFL Network analyst. "He's got incredible striking ability, at his size, and he's got real legitimate power. Most smaller guys just don't have that kind of power. They've got to win on the edge. Whether it's (Dallas Cowboys guard) Zack Martin or pick a guy, I mean, he can run him right back into the quarterback's lap."
Martin and the rest of the Cowboys' offensive linemen had all sorts of problems with Donald in the Rams' 20-17 season-opening victory at Los Angeles. Donald had four tackles, a sack, a tackle for loss, three quarterback hits and six hurries on just 42 pass plays.
"Within a very small area, the force that he creates is greater than anybody else's, so it starts with his actual power from that body of his," Baldinger said. "And then, just level of nastiness, without being dirty, is second to none. And then he has the most and the largest array of moves, not just pass-rush moves, but just moves, to beat blocks than anybody else. And he's just got really strong hands; he knows how to disengage and get off blocks."
The Rams improved to 2-0 with last Sunday's 37-19 win at Philadelphia, though Donald wasn't nearly as large a factor. He was credited with one assisted tackle, a quarterback hit and two hurries on 38 pass plays.
"In fact, he was almost invisible," Baldinger said. "It was pretty bizarre how he could you be so dominant (the previous) Sunday night, and really not a factor the following week. Now, the Eagles had a good plan. (Center) Jason Kelce slid to him every single play, they doubled him every pass play, so he didn't really do what he does.
"It also helps that they had (offensive tackle) Lane Johnson healthy for the first time all year and, athletically, he's on the same plane as Aaron Donald. So when he was on the left side, Lane Johnson was able to help and shift and double and really not let him get started, not let him get his penetration. His penetration is what just kills offenses, run and pass. (The Eagles) just didn't allow him to get the penetration going."
Nate Herbig, an undrafted free-agent guard the Eagles signed in 2019, also made a major contribution to the efforts to contain Donald. At 6 feet, 4 inches and 334 pounds, Herbig used his size and strength to help neutralize Donald's explosiveness.
But no one handles Donald alone. The Bills know that and, as with all Rams opponents, they will have a plan that involves constant double-team blocking.
"You have to get two guys going to him at all times," Allen said. "And even then, it still might not be enough."
Asked the strategy for handling Donald, offensive coordinator Brian Daboll joked, "Maybe he can miss the bus."
Phillips made the analogy that stopping Donald is similar to trying to contain a star offensive player.
"It's like playing defense," Phillips said. "If you've got a great running back, you've got to try to stop him somehow, right? Or a great receiver, you've got to double him. It's the same concept. You've got a great defensive player, you've got to make sure that he doesn't take over the game, which he can. There aren't many that can do that. Only the great ones can do that, and he's one of the great ones."
That means, on pass plays, center Mitch Morse will have to slide over to either guard spot, depending on where Donald lines up.
When the Rams are in their base 3-4 defensive front, one of the Bills' guards will likely have to help a tackle deal with Donald from the outside.
"A lot of teams, on third down, will put a back on him," Phillips said. "You've got to design a game plan to not let him disrupt the game. And that's what the offensive people's challenge is."
Donald was in his fourth season with the Rams when Phillips became their defensive coordinator. He had a good understanding of Donald's physical abilities from watching him on videotape.
For Phillips, the true revelation of what Donald was all about came after he began coaching him. Donald had 11 sacks in his first season with Phillips and a league-leading 20.5 in 2018.
"There's something special about the really great ones," Phillips said. "And one thing is their dedication and their heart. They want to be better than everybody. They know they're real good, but they want to improve, they want to try to get better all the time.
"They don't think of themselves as the best. They try to be the best, which they end up being. It's that special attitude, I think, that the really great ones have. And Aaron has that."
[BN] Blitz Daily Updates
Feed your obsession. Start every morning with a guide to the latest news from One Bills Drive and stay informed about what is going on elsewhere in the NFL.