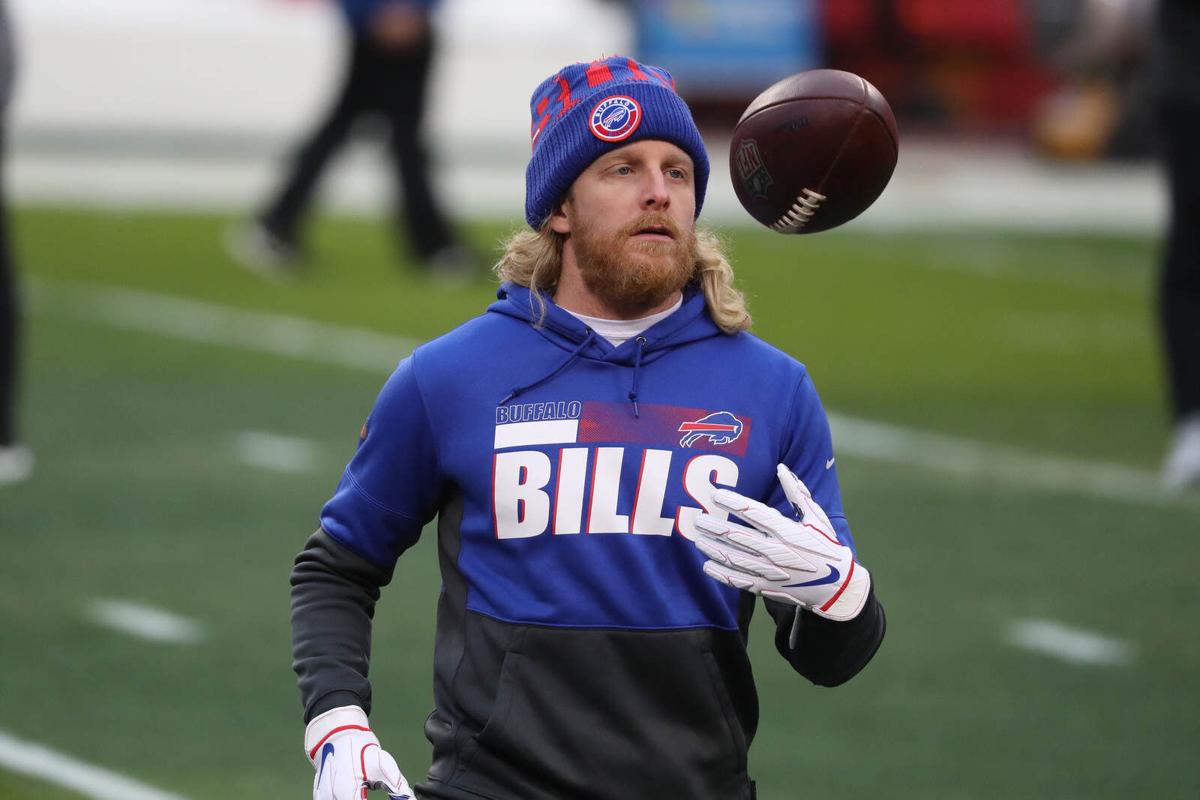 Cole Beasley took to Twitter on Thursday to question whether it's now illegal for people to be outside without a mask.
Quote tweeting a tweet from CNN that quoted Dr. Anthony Fauci, the director of the U.S. National Institute of Allergy and Infectious Diseases, as saying that Americans vaccinated against Covid-19 can be outside without masks, Beasley responded: "I do that without being vaccinated. Is this illegal now?"
Beasley's tweet understandably drew plenty of response, both from those who agreed with him and those who expressed dismay that he would share what they feel is a reckless opinion on social media. 
He continued: "Until we all share the same opinion or belief we are considered ignorant. I don't understand. You feel how you feel and I respect that. It doesn't always make me wrong or a bad person cause I don't agree with you."
When a follower responded that Beasley isn't always right, either, the Bills' receiver replied: "I'm not saying I'm right. I just want the freedom of choice. If you want to wear a mask do it."
Beasley, 32, wasn't finished. He then tweeted: "If you get vaccinated you are good? So if I don't I shouldn't pass it on to you regardless, right? ... That's a serious question. I don't really know how these things work I'm not a doctor."
It should be noted that the Bills and all NFL teams have strongly encouraged all players to be vaccinated and have made resources available to them to have any questions like the ones Beasley evidently has answered by qualified medical professionals.
Beasley's comments come after Bills General Manager Brandon Beane made headlines last week when he said he would cut an unvaccinated player if it meant a return to normalcy at One Bills Drive. It is expected that teams will be incentivized to have a certain threshold of players and staff vaccinated by removal of some of the Covid-19 protocols that were put into place last season, like wearing masks inside the facility. Beane, of course, wasn't referring to a player of Beasley's skill, but rather a player near the bottom of the roster in the hypothetical situation that the Bills were on the cusp of having those restrictions removed.
"All clubs should continue their efforts to educate about available vaccines to maximize vaccine acceptance among their staffs, players, and family members," a league memo sent out last month to teams read in part. "Each club should make the vaccine easily and conveniently available through a 'Vaccination Day' or other program, and we will continue to work with the joint NFL-NFLPA committee to develop additional educational material that communicates the benefits of the vaccine to players, staff and families. All clubs are participating in this effort."
Vaccinated players and staff do not have to submit to daily Covid-19 testing, but are rather tested weekly. Additionally, those vaccinated do not have to quarantine if identified as a "high risk close contact" and don't have to submit to "entry" testing after travel.
Beasley, however, doesn't sound like he's aware of that.
"I could miss the super bowl without getting COVID just because my contract tracer showed I was near a person who tested positive for longer than 10 min," he tweeted, which is exactly the opposite of what would happen. "Even if I'm wearing a mask around them. And then that test could turn out being a false positive later."
Social media being what it is, Beasley had plenty of people eager to tell him how wrong he is -- and plenty agreeing with him.
"All the CTE comments we get for speaking our mind is crazy to me," he said, referring to references that football has caused him brain damage. "I can't wait for when y'all tell me how dumb and stupid I am when I'm walking around in the real world. Oh wait…that never happen."
Eventually, Beasley stepped away from the discussion.
"Good talk everyone. My plane is landing so I'll prolly be back on Twitter in maybe another year or so," he said.