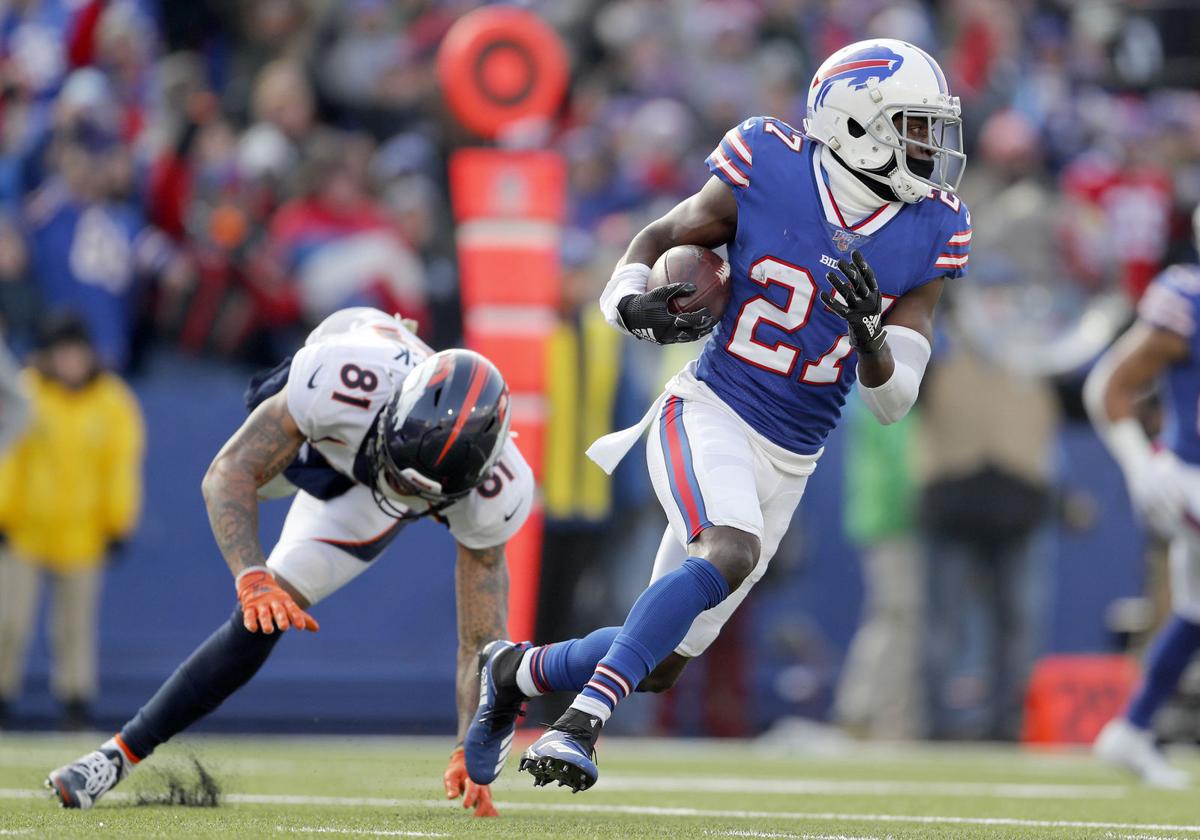 Seems like we find ourselves in this spot again. Another national outlet not giving Bills cornerback Tre'Davious White the recognition he deserves.
The latest is CBS Sports, which has been posting top 10 rankings at each position. White is listed as the No. 7 cornerback in the league, and third in the AFC East. New England's Stephon Gilmore is No. 1; and Miami's Byron Jones is No. 6.
That doesn't seem to connect with the fact that White earned All-Pro recognition from the Associated Press, NFL.com and Pro Football Talk.
Pro Football Focus had White as one of the final cuts for its Top 50, despite being the only cornerback since the outlet's start (2006) to have played 500-plus coverage snaps and not allow a single touchdown while leading the NFL in interceptions. He shared the NFL lead with Gilmore and Minnesota's Anthony Harris.
White initially responded to the tweet to chime in on his rankings but quickly deleted it.
We checked in with Patrik Walker from CBSSports.com to ask about his decision to place White at No. 7.
"White was a challenging one because while I view him as a top-5 talent, the résumé on those in the top five pushed him just outside of it," Walker told the News. "He nearly landed above Jones, but while Jones yields to White in some categories – e.g., INTS – Jones has a better rating in several other categories (such as pass per target and PFF grades), plus Jones is entering a system that could and should see him explode beyond even what White has done in Buffalo.
"No. 6 and No. 7 were scathingly close, admittedly, but I'm hard-pressed to subscribe to the notion Marcus Peters (at No. 2) and Joe Haden (at No. 3) are overrated. From there, Jalen Ramsey has to get in the top five ... and Patrick Peterson is still Patrick Peterson. White is a top-5 talent that lands just outside of it mostly because of the résumés of those atop the list."
Asked if this was a case of the amount of exposure that White gets compared to some of his peers, Walker said, "I love what White is and what he'll continue to be. I could see him cracking the top five in 2021. I mean, he's right 'there.' To be in a market often overlooked by most and still land just outside the Top 10 is a credit to his abilities. Ice is in his veins."
White's rankings was criticized by CBSSports.com colleague and former NFL cornerback Bryant McFadden.
"I can't take that, I can't accept that. That is clearly wrong," he said. "You need to redo this list only based on seeing Tre White listed on No. 7. He's easily top 3 based on how he performed in 2019 and expectations with some of the additions that they've made on the defensive side in Buffalo for 2020."
Former Bills pass rusher Shaq Lawson also weighed in on Twitter saying White is a "top 2 CB in NFL."
Be the first to know
Get local news delivered to your inbox!