Buffalo Bills quarterback Josh Allen wasn't the only one showcased to 75% of the country during the team's 30-23 victory over the Las Vegas Raiders Sunday.
It also was a showcase for CBS analyst Adam Archuleta, who likely had one of his largest audiences for any NFL game.
Allen and Archuleta received that large of an audience because the Bills game essentially became the national CBS game when the New England-Kansas City game was postponed to Monday.
Archuleta had as good a game as Allen.
And the quarterback lived up to the pregame assessment by CBS studio analyst Phil Simms that he currently is the fourth best quarterback in the league behind only Patrick Mahomes, Russell Wilson and Aaron Rodgers and ahead of Lamar Jackson.
Archuleta once again illustrated that he is one of the most underrated NFL analysts. He easily belongs in the top three of CBS analysts behind Tony Romo and perhaps newcomer Charles Davis. (I haven't heard of enough of Davis at CBS yet.)
Archuleta was calling his second Bills game this season. He worked the Bills' 31-28 victory over Miami alongside play-by-play announcer Spero Dedes. As far as I am concerned, Archuleta could work every Bills game played on Sunday.
He sees just about everything, including why receivers get open, obvious defensive mismatches and key blocks even before the replays are shown to confirm his analysis.
After Raiders quarterback Derek Carr hit former "Monday Night Football" announcer Jason Witten for a touchdown in the back of the end zone, Archuleta noted the tight end was open much earlier in the route before Carr located him.
After Carr hit another Raider tight end for a reception, Archuleta noted that the quarterback exploited Bills linebacker A.J. Klein, who just entered the game because Las Vegas was in a two-back, one tight end formation –called 21 personnel in football lingo – that required the Bills to put in an extra linebacker.
A former NFL safety, Archuleta is especially good at explaining coverage in the secondary against man-to-man and zone.
He also is quick to have opinions on coaching decisions. Notably, he didn't agree with Raiders Coach Jon Gruden's decision to kick a short field goal to close the Bills lead to 17-16 early in the third quarter rather than go for a first down on a short yardage play from the Bills' 7-yard line. Dedes agreed with Gruden's decision.
The way the Raiders offense was dominating the Buffalo defense at that point, Bills fans likely were happy to see Gruden being more conservative than Archuleta during the one time the Raiders had a chance to take the lead.
CBS incorrectly put the Raiders ahead anyway, 19-17, after the Raiders' Daniel Carlson kicked the field goal. Dedes corrected the graphic mistake after a commercial break.
Archuleta has made Dedes a stronger play-by-play announcer. He gets properly excited during big plays, although he sounds a bit too monotone for long stretches.
Dedes and Archuleta have a good rapport, as exhibited when the play-by-play announcer called out "Arch" for not being sold on Allen during the quarterback's first two years in the league.
Unlike some Allen doubters, Archuleta owned up to his misgivings and more than compensated for them during the game when addressing many of Allen's big plays, incredible throws and recognition of defenses at the line of scrimmage.
"He is growing up before our eyes," said Archuleta, repeating what he said during the Miami game.
Now on to some more highs and lows in the broadcast.
Best Uniform: In his pregame interview with Boomer Esiason, Allen wore a sweatshirt with the message "Keep Buffalo a Secret." It is a popular slogan with Western New York natives who love the area. The Bills no longer are a secret after getting what amounted to their first national game of the season.
Best Graphic: During the Bills' second touchdown drive, a CBS graphic noted Allen's red zone performance includes 24 passing touchdowns, 18 rushing touchdowns and zero interceptions.
Picking on Tre? Early in the game, Archuleta noted that Carr was going after Bills cornerback Tre'Davious White, "who didn't play his best game last week."
Rough Call: After a roughing the passer call went against Vegas, Archuleta looked at the replay and said, "I can't see a lot there. I'd be pretty upset if I was Chucky (Gruden's nickname) as well." After an illegal formation negated a deep Raiders touchdown, Archuleta said, "Jon Gruden has to be besides himself."
The Alley Cat: After the Raiders' Johnathan Abram blew by an attempted block by Allen on a sweep, Archuleta said, "This is how you run the alley."
The Dog: That's what Dedes said Bills receiver Cole Beasley told him he calls Allen. "There are not many quarterbacks who are dogs," Beasley told Dedes.
Make a Play: Archuleta must have been overhearing Bills coach Sean McDermott when he frequently said one of the teams' defenses needed to make a big defensive play. After the game, the Bills' Josh Norman – who forced a fumble by Raiders tight end Darren Waller and recovered it with more than 12 minutes left – said that was what the Bills coach was saying on the sidelines. Dedes smartly noted that it was Norman's first game as a Bill.
Tough Criticism: When Waller dropped a key pass from Carr at the Bills' 8-yard line, Archuleta conceded it was a little high but added, "You've got to catch that." He repeatedly harped on the number of makeable plays the Raiders didn't make. "This is all about missed opportunities if you are the Raiders," he said.
Say What? Although the Bills defense failed to stop the Raiders once in the first half, Dedes praised that side of the ball, saying, "So far, so good." That comment came shortly after Archuleta blamed the Raiders for stopping themselves on offense.
Mission Impossible: After Bills back Devin Singletary forced a Raider to miss a tackle, Archuleta said, "He is just about impossible to tackle one-on-one in the open field."
The Magic Trick: That's what Dedes called the Allen underhand left-handed pass to Stefon Diggs on the third-down play in which the quarterback's left hand or shoulder seemed to be injured after he was hit by two Raiders. Magically, Allen returned without missing a play. Studio analyst Esiason referred to the play at halftime as Allen exhibiting "the (Brett) Favre in him, putting himself at risk, the Mamba Mentality, I'm going to lay it on the line." Allen's love of the play of the late Kobe Bryant (Mamba) was mentioned in Esiason's pregame piece.
The Bachelor Party: At halftime, CBS studio analyst Nate Burleson praised the Bills defense in the first half because it was stopping the run by rallying to the ball. "There are a bunch of Bills on the ground, like a bachelor party in Vegas," said Burleson of the Bills run defense. As good as the Bills rush defense was, Burleson's praise seemed odd since the Raiders weren't forced to punt once in the first half.
Striking Comment: Archuleta was critical of the pass rush of both defenses late in the third quarter, noting, "The lack of pressure in this game is striking." The Bills' Darryl Johnson Jr. had a sack after that comment and Quinton Jefferson sacked Carr and recovered the resulting fumble in the fourth quarter.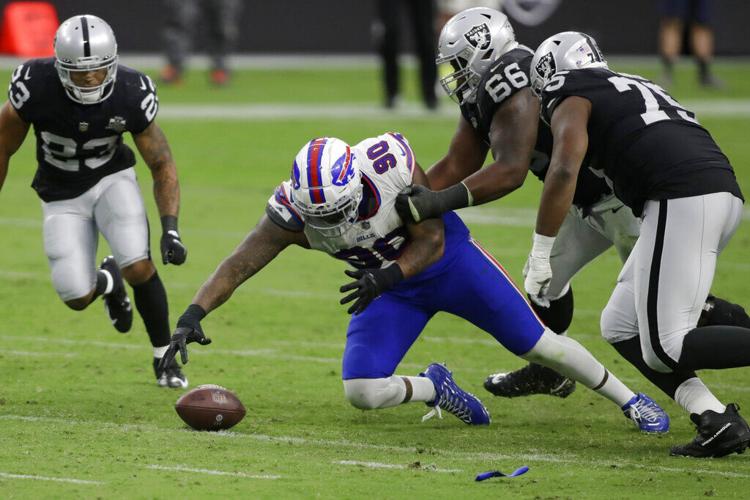 Sound Issues: For some reason, the fake sound piped in was more annoying than it has been in the three previous games.
No Debate: McDermott decided to go for it on fourth down and one yard to go around midfield with a one-point lead so quickly that Archuleta couldn't answer when Dedes asked him about the gamble. After the Bills made the first down, Archuleta said he wanted to say he would have gone for it. I believe him.
No Fumble: Dedes seemed to be a little confused when Carr was ruled down by contact before a fumble the Bills recovered. It looked like a quick whistle.
Confusing Review: After receiver John Brown appeared – certainly to Bills fans – to have scored a touchdown and before he was ruled down inside the 1-yard-line, CBS' officiating expert Gene Steratore initially told Dedes off camera he thought it was a touchdown. But he changed his mind off camera before the Bills challenge failed. Dedes did a good job explaining that McDermott had to challenge the call because only touchdowns are automatically reviewed and the play wasn't initially ruled a touchdown.
A Clinic: Archuleta did an excellent job describing the route run by Diggs on a 49-yard completion, calling it "a clinic on how to turn around a defensive back."
The Warning: With the Bills up 30-16 and about 11 minutes left, Dedes reminded viewers that the Bills blew a 28-3 lead to the Los Angeles Rams in their win a week earlier. Sure enough, the Bills needed to recover an onside kick for the second time this season to secure a victory. The Bills always seem to make things interesting.
What a Difference a Year Makes: With about 4 minutes left in the game, Archuleta noted that there was "something different about this Bills team. How are they different? They are scoring 30 points a game."
I've Got a Secret: If the undefeated Bills game with Tennessee Sunday isn't postponed, Tom McCarthy will be the play-by-play announcer and Jay Feely the analyst. When it comes to CBS' top announcing teams, Buffalo is remaining a secret for at least another game.
[BN] Blitz Daily Updates
Feed your obsession. Start every morning with a guide to the latest news from One Bills Drive and stay informed about what is going on elsewhere in the NFL.