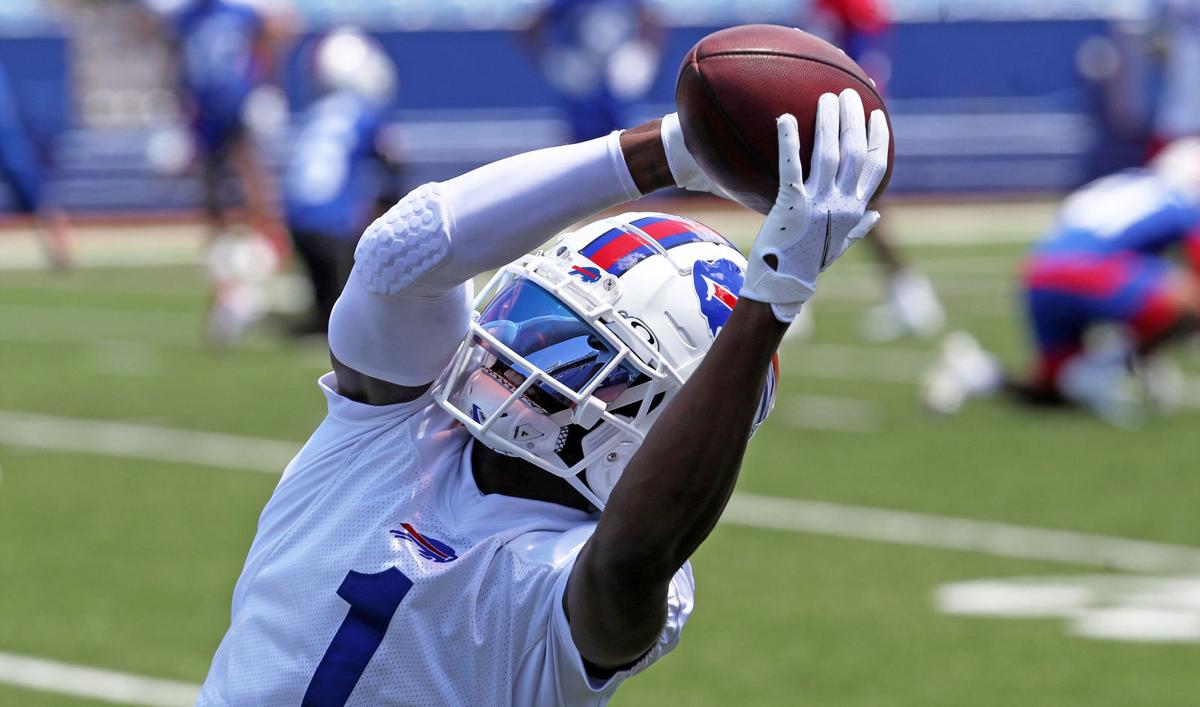 Pro Football Hall of Fame general manager Bill Polian, who built the Buffalo Bills into a perennial Super Bowl contender in the early 1990s, marveled at the "unprecedented chemistry" Josh Allen developed in his first season with Stefon Diggs as the franchise steamed toward its first AFC championship game in a generation.
Emmanuel Sanders figures his transition will be just as seamless.
"For me, I'm old school," the veteran wide receiver said Thursday when asked how long it takes to build chemistry with a quarterback. "I'm backyard football. Let's strap up. 'Hey, you. Hey, kid. Get in here. Right? Let's play football.' That's just how I think. And that's kind of how Josh plays, too. He's like, 'Hey, look. Just get open and I'll find you the ball.' "
Sanders, a two-time Pro Bowler who has played with Ben Roethlisberger, Peyton Manning and Drew Brees, has the benefit of a full offseason and training camp to learn the Bills' offense and the tendencies of their young franchise quarterback.
A year ago, because of the Covid-19 pandemic, Allen and Diggs had no official offseason workouts or preseason games to get on the same page after the wide receiver was traded from Minnesota to Buffalo, but Allen nevertheless finished in the top two of MVP voting and Diggs led the NFL in catches and receiving yards.
One might think that Stefon Diggs would struggle to come up with an area in which he could improve on his 2020 performance.
Sanders, 34, was released by the New Orleans Saints in March after one of the worst statistical seasons of his 11-year NFL career. He finished his brief tenure in The Big Easy with 61 catches for 726 yards and five touchdowns, then signed a one-year, $6 million contract with the Bills.
"I think sometimes when people were just talking about football in general they overthink it. Right?" Sanders said. "At the end of the day, football is a game. And it is a game that's creative. You've got to have fun and you've got to go out and make plays. You can't be a robot. And so that's my approach and that's Josh's approach and that's kind of everybody's approach around here. Let's just go out, get to your spot, get open and make plays."
On paper, the 5-foot-11-inch, 180-pound Sanders replaces John Brown as the Bills' No. 2 wide receiver, between Diggs and slot receiver Cole Beasley, his college teammate at SMU.
But Sanders wasn't necessarily signed to line up on the outside and stretch the field.
Gabriel Davis can fulfill that role when the Bills line up four wide, while Sanders' route-running ability, particularly out of the slot, should offer the Bills' offense a different dynamic in this season.
Rookie defensive end Carlos Basham and quarterback Josh Allen produced the spectacular plays of the day Thursday at Buffalo Bills training camp.
"I played two years with Emmanuel at SMU and there he was actually only a slot guy," Beasley said. "His last year there, he asked (coach) June (Jones) to move him to outside to get some film, but there's really where he kind of reigned supreme, was in the slot. Separation guy. Anytime you can get away from DBs, you're going to be pretty good at wideout. So he brings a lot of juice and energy to this team and I'm excited to get to play with him once again. It'd be the coolest thing ever if we could kind of put this thing together and get a Super Bowl together."
Sanders has played in three Super Bowls, winning one, when he helped the Denver Broncos defeat the Carolina Panthers in Super Bowl 50.
Sanders caught six passes for 83 yards in a 24-10 victory against Carolina and then-Panthers defensive coordinator Sean McDermott.
"What he provides our team is another veteran that's been around it, right?" McDermott said. "He's been and won a Super Bowl in his career, and so that brings something to our locker room, it brings something to our team. And then on the field, with respect to the wide receiver position, I think he just gives Josh another option of a guy that can get vertical but can also work the underneath and intermediate game, as well, so time will tell.
"We're going to get a feel for him. He's going to get a better feel for us. And, in particular, Josh and him being on the same page, that takes time and that's some of the work that we've got to do here."
With Dion Dawkins and Ike Boettger in Covid-19 protocols, the Bills signed offensive linemen…
It didn't take Allen and Diggs much time to jell last season.
Diggs caught eight of nine targets for 86 yards in a Week 1 victory against the New York Jets. He caught eight of 13 targets for 153 yards and a touchdown in a Week 2 victory at the Miami Dolphins.
Sanders said Diggs reminds him of himself.
"I love everything about him," Sanders said. "He's a dog. Definitely a high-energy guy. He gets the guys going and I'm kind of the same way. I feel like we're built from the same cloth. So it's going to be a fun year, I'll tell you that."
Sanders was a third-round draft pick by the Pittsburgh Steelers in 2010.
He has recorded 662 career catches for 8,619 yards and 47 touchdowns in 158 regular-season games with Pittsburgh, Denver, San Francisco and New Orleans.
"We've only practiced two days, so I can't really say the offense has changed or anything," safety Micah Hyde said. "Obviously, (offensive coordinator Brian) Daboll is going to do what he does calling the plays and there's a lot of weapons on offense that they can go to, but playing against Emmanuel in the past, he's a dog. He really is a dog. He goes out there, he'll block, he'll do whatever he has to do to help out the offense. That's the type of player he is and we're happy he's on our team."
Sanders had his best season with the Broncos in 2014, when he made 101 catches for 1,404 yards and nine touchdowns.
He had three consecutive 1,000-yard seasons with Denver in 2014, '15 and '16.
"You see why he's been in the league so long," Allen said. "Just the attention to detail he has and even in the conditioning test – he was number one every time we crossed the line. To see that with a guy who's been in the league I think 12 years now, it's fun to watch. It really motivates the younger guys and sets a great precedent for the team. They feel his energy and they feel his excitement to be here. We're lucky to have him."