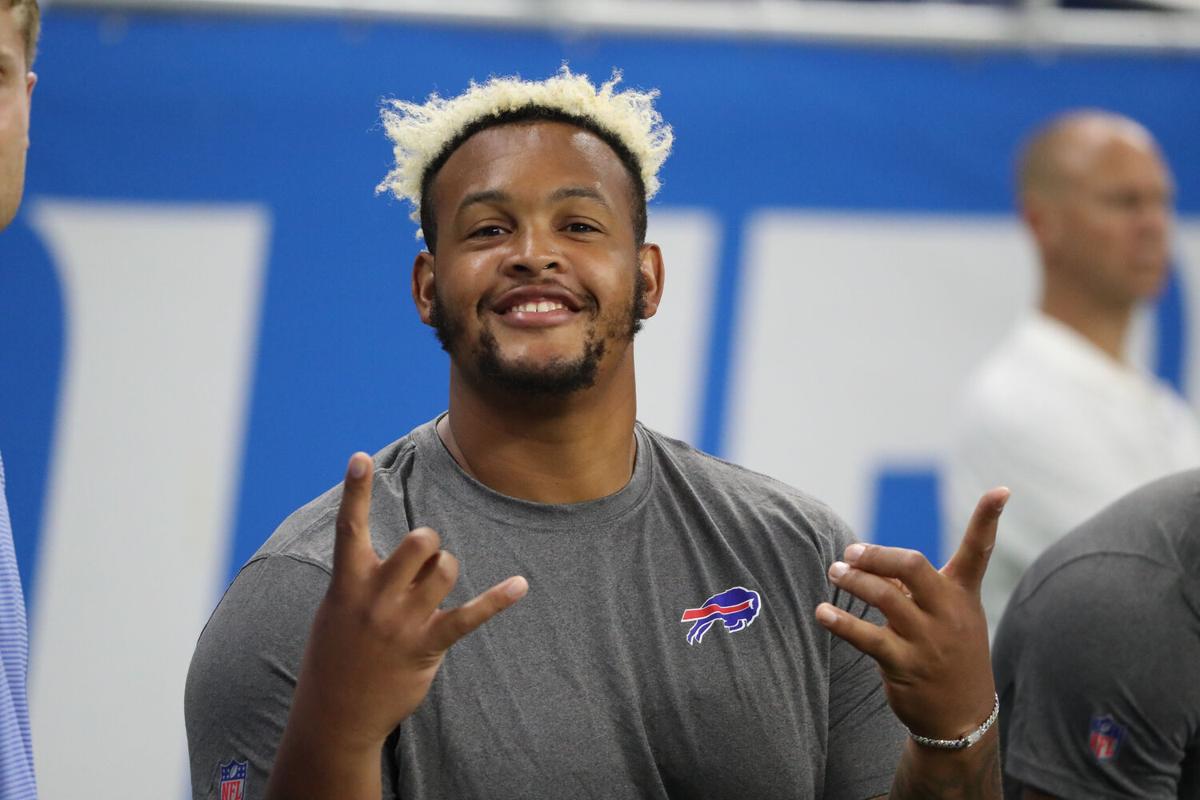 When Dion Dawkins sat down for his Zoom press conference Saturday, he was still singing and said he hoped everyone else would have high energy, too. Between his general enthusiasm and the upcoming game, the looming bye week was the last thing on his mind. 
"Oh man, I told myself I would not talk about the bye week. I truly did," he said, when asked about his plans. "But: Rest. Work hard, push myself to the limit in this game. Empty out my tank, and know I have time to refill. But simply, just resting. Getting as much mentally de-stressed as possible, and honestly just getting off my feet, and letting my body try to catch up as much as it could."
"Honestly, just kicking back, playing some 'Call of Duty,' chillin' with the kids and vibing out," he added.
The fifth-year left tackle has been candid all season about what it's been like to work his way back from a stint in the hospital during the summer with Covid-19. It's been an ongoing balance of pushing his body and letting it recover. Now, the bye week offers added time to recharge and reflect. 
In the 34-31 loss to the Tennessee Titans, Dawkins blocked pass rusher Harold Landry 18 times in true pass-blocking situations, and didn't give up any hurries to Landry, according to Buffalo News charting. He also got the better of Landry at the point of attack early in the game, as Bills running back Devin Singletary ran for 14 yards. Coach Sean McDermott thought Dawkins did well overall against the Titans linebacker.
"Yeah, Harold Landry is not an easy matchup for anyone. I thought Dion did some good things in the game and they were going at it over there on that left side and there were some where it looked like Harold may have won a couple, but that's going to happen," McDermott said Tuesday. "But for the most part, he did a good job of keeping (quarterback) Josh (Allen) clean, and so we continue to go in a direction there of finding Dion's best football.
"As we move through the season, I'm looking forward to watching that, and see him continue to grow and get more and more comfortable."
Dawkins also gave up no hurries in solo blocking linebacker Bud Dupree four times, per Buffalo News charting. But any bye-week reflecting on the game likely will focus on the end of it. When the Bills went for it on fourth down, Titans defensive tackle Jeffery Simmons got inside Dawkins into the gap Allen tried, tackling Allen for no gain. After the game, Allen mentioned his footing as an issue, and Simmons told Tennessee media he knew what was coming.
Still, after struggling in the season-opening loss to Pittsburgh, Dawkins has been better the last five games. Some of that comes from the continuing trajectory of getting back to football shape.
"I'm feeling better, man. I'm feeling a lot better every day – literally, every day," Dawkins said Saturday, ahead of the game. "I think that I'm in a good spot health-wise, and I definitely have my best foot forward, and I play free. I've been playing this year without being afraid of making mistakes. And really not caring – in a respectful way – really not caring about the outside world. I'm just focused on just being free, not being over tense, and just being fully Shnow."
In the Week 5 win over Kansas City. Dawkins had a nice block on Frank Clark on a long touchdown to tight end Dawson Knox. That illustrated why his health and conditioning can take on added importance in this Bills offense: the offense's ability to extend plays.
"That is probably one of the most challenging things in this offense," Dawkins said. "You just have to know that any play can be extended twice as long or a quarter longer, and we literally think about that before plays. We think about that before games. We know that with our offense and our quarterback, we just have to give 'em time. And the more time we can give them, the better off the end result will be."
There are plenty of ways the Bills offense keeps things fresh for Dawkins. He embraces them all. 
"Knowing I have a heavier quarterback running behind me and the rest of the guys, it's a good feeling," Dawkins said. "He's harder to tackle because of his size, his speed and his physicality. I'm happy to be a personal protector and a personal brother to that boy Josh Allen."
News sports reporter Mark Gaughan contributed to this report.