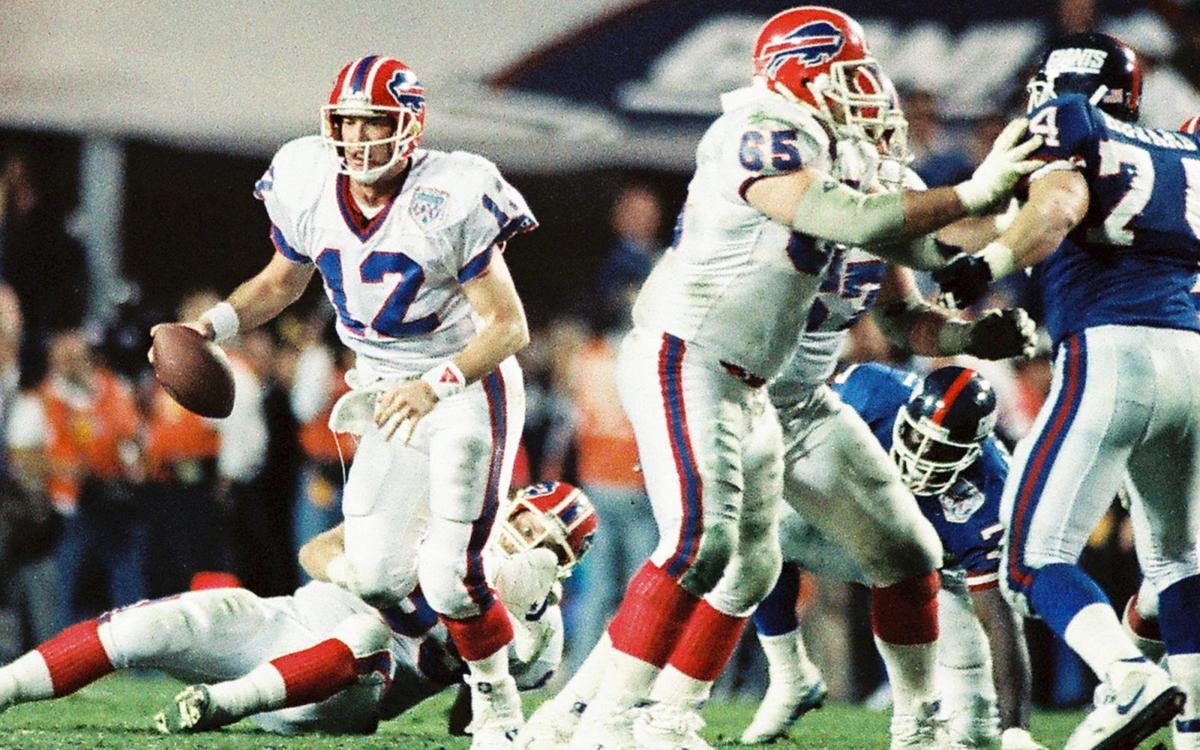 This is the first in a series looking at Buffalo sports' greatest what-ifs. Today: What if the Bills had won Super Bowl XXV.
Let's say the ball traveled straight, that it never took that wicked and fateful right turn into the Tampa, Fla., night.
Let's say Scott Norwood was remembered as a hero rather than, as New York magazine would label him as recently as last year, one of "sports' most enduring icons of failure."
Let's say the Buffalo Bills finished the job, the officials pointed their hands to the sky signaling that 47-yard field-goal attempt was good, and they beat the New York Giants in Super Bowl XXV.
After the massive parade and wild celebration in Buffalo and everywhere else in Western New York (yes, there was a time when such gatherings would have been permitted), you can't help but wonder how a different outcome might have altered the course of the Bills' franchise.
The question has been pondered for nearly 30 years. Countless voices have weighed in on the subject. Former Bills players, coaches and members of the club's front office, as well as media and fans have offered a range of opinions.
The most popular is this: Had the Bills won that first Super Bowl, they wouldn't have made it back in each of the next three seasons.
It's a logical conclusion, based largely on the premise that they would have lacked the same incentive, fueled by the agony and frustration of their 20-19 loss on Jan. 27, 1991, to get another crack at the Lombardi Trophy.
Think about it. A shiny, silver piece of hardware under glass, with just the perfect lighting overhead, on display at One Bills Drive. No endless nightmare about "Wide Right" or other glaring missed opportunities, including the near-touchdown Bruce Smith could have generated when he tackled Jeff Hostetler for a safety.
Even if the Bills would have still proceeded to suffer those lopsided losses the next three Super Bowls against the Washington Redskins and the Dallas Cowboys, twice, those outcomes would not be as painful to their fans if they had that one NFL title.
Another logical conclusion is that the rest of the football world would have had a much greater appreciation for those Bills teams if they had cashed in when the best opportunity to do so presented itself. It's fair to say that, the more time that has gone by, the more respect they have received for maintaining their status at the top of the AFC.
But consider how much more there probably would have been had they won that first Super Bowl. Consider how much sooner it would have arrived.
"Maybe it wouldn't have taken so long for people to actually get on board with how tough it was like they seem to have these days," Steve Tasker said by phone. "And I think Marv (Levy) would have been held in higher esteem. The same with some of the other players on that team, guys like Cornelius (Bennett) and Shane Conlan, those guys. It would have been big for them."
In his 2004 book "Where Else Would You Rather Be?" Levy wrote about spending "most of that tormented night" in his hotel room "trying to refrain, sometimes unsuccessfully, from kicking away my blankets and from pummeling my mattress."
Jim Kelly has talked about never watching replays of that or any of the Bills' Super Bowl losses. Amid the current pandemic, Kelly has been watching old Bills games. His wife noted on Twitter that he started with the 1990 AFC Championship Game. Thurman Thomas tweeted that he was watching, too. Otherwise, a Super Bowl win would have been the obvious starting point.
Tasker, for one, doesn't think the Bills would have gone to three more Super Bowls consecutively had they won XXV.
"The next year, we were in a dogfight with Denver in the (AFC) championship game," Tasker said of the Bills' 10-7 victory against the Broncos. "We were good, we had the home-field advantage in the playoffs (after finishing with a 13-3 record). But, also, it was the most stressful environment in that locker room and around our building that I've ever been around because we lost the first Super Bowl.
"I don't know if that stress would have been present and would have pushed us to win games like we won against Denver."
Tasker recalls several players on the team, including himself, practicing with injuries and illness.
"I mean, nobody took a day off, a workout off or anything," he said. "Guys didn't even really pause for a breath. We were pushing hard. It was really an intense time."
Tasker recalls players showing up for practice with the flu and being forced by the training staff to go home. He remembers dealing with an ankle injury that caused considerable pain. But he refused to allow it to prevent him from practicing or playing.
Tasker can't think of a moment when he spoke with any of his teammates specifically about the need to make amends for the loss against the Giants. He can't even recall overhearing such a discussion.
For the most the part, the response came from within.
"The moment that kick in Super Bowl XXV went wide, some screw got tightened up," Tasker said. "You could feel it. And I think that stuck with guys all the way through that next season. I think it's one of the main reasons we were good that next year, the pressure we put on ourselves because of the way we played in Super Bowl XXV."
The pressure wasn't only psychological. Being a perennial Super Bowl contender for that long also presented its physical challenges.
Counting the preseason, the Bills had the equivalent of a full extra schedule of games during their four-year Super Bowl run. That included two overseas preseason games, in London and Berlin.
"Certainly, Marv was sensitive to that. He wasn't grinding us veterans down at all," Tasker said. "But by the same token, you're still traveling, you're still there, you're on the sidelines acting like you're going to play a game. And it's a long season. I think it really showed really later on than it did at the beginning."
Levy refuses to believe that anything, including a win in Super Bowl XXV, would have prevented the Bills from competing as fiercely as they did to make repeat appearances in the big game. He felt his players' makeup was simply too strong to allow for any other approach.
"I truly don't think it would have affected the resolve of our players, coaches and front office to get back there again," Levy said from his home in Chicago. "But it sure would have eased the hurt that remains to this day in not having been able to reward Ralph Wilson and the people of Buffalo with that exultation that would come from hoisting that trophy.
"One thing it might, and I stress might, have had impact upon would have been the draft that took place a few months after that loss. If we would have had to pick one notch lower could it have meant that we wouldn't have been able to select Henry Jones (in the first round, 26th overall) and Phil Hansen (in the second round, 54th overall). Both of those guys sure were vital players in helping us get back to that Super Bowl Game in ensuing years. Phil Hansen made an unbelievable play to keep Houston from scoring a go-ahead TD in the dying seconds of our 'greatest comeback game ever.'"
High on Tasker's list of memories from the Bills' Super Bowl era is that core members of the team placed a high priority on being regarded as the roster's best. It was something that could be seen on virtually a daily basis during and between each season.
"I think there was a lot of internal competition on that team, with Jim and Bruce and Thurman (Thomas) and Cornelius," Tasker said. "Those guys never wanted to be, for lack of a better word, upstaged. There was a lot of pride in that room about being accepted and part of that group. They wanted to be respected in our locker room."
They also wanted to be recognized as the best in the NFL.
That, in addition to talent, had plenty to do with the considerable Pro Bowl and All-Pro honors Bills players received. The same goes for the five Hall of Fame players from the Super Bowl squads: Kelly, Smith, Thomas, Andre Reed and James Lofton.
"They weren't driven just to win as a team," Tasker said. "They were driven to be great football players, as great as they could be. Bruce really did want to be a legendary player. Jim did want to be one of those quarterbacks that people look up to like the Joe Namaths and the Terry Bradshaws of his youth. He wanted to be one of those guys. That showed.
"They worked at it, particularly those two, who were the best players on our team. When those guys are motivated, there's no end point."
Perhaps the greatest "what-if" of all from the Bills' first Super Bowl was what a victory would have meant to the career and life of Norwood. Tasker has given that plenty of thought.
"Missing a kick in the Super Bowl like that, it's almost like you get a face tattoo," Tasker said. "When you get a face tattoo, that's the first thing anybody talks about, that's the first thing that's on their mind. When they find out his name is Scott Norwood, that's like having that face tattoo. That's what everybody notices, that's everybody remembers, that's what everybody says.
"He's lived for the last 30 years with that thought. Everybody was aware of what happened in Tampa, and he had to deal with that every time he encountered a new person or an old person or whatever. And his ability to do that has been pretty inspiring. But that would have been a complete course change for Scott had that kick gone through, I think."