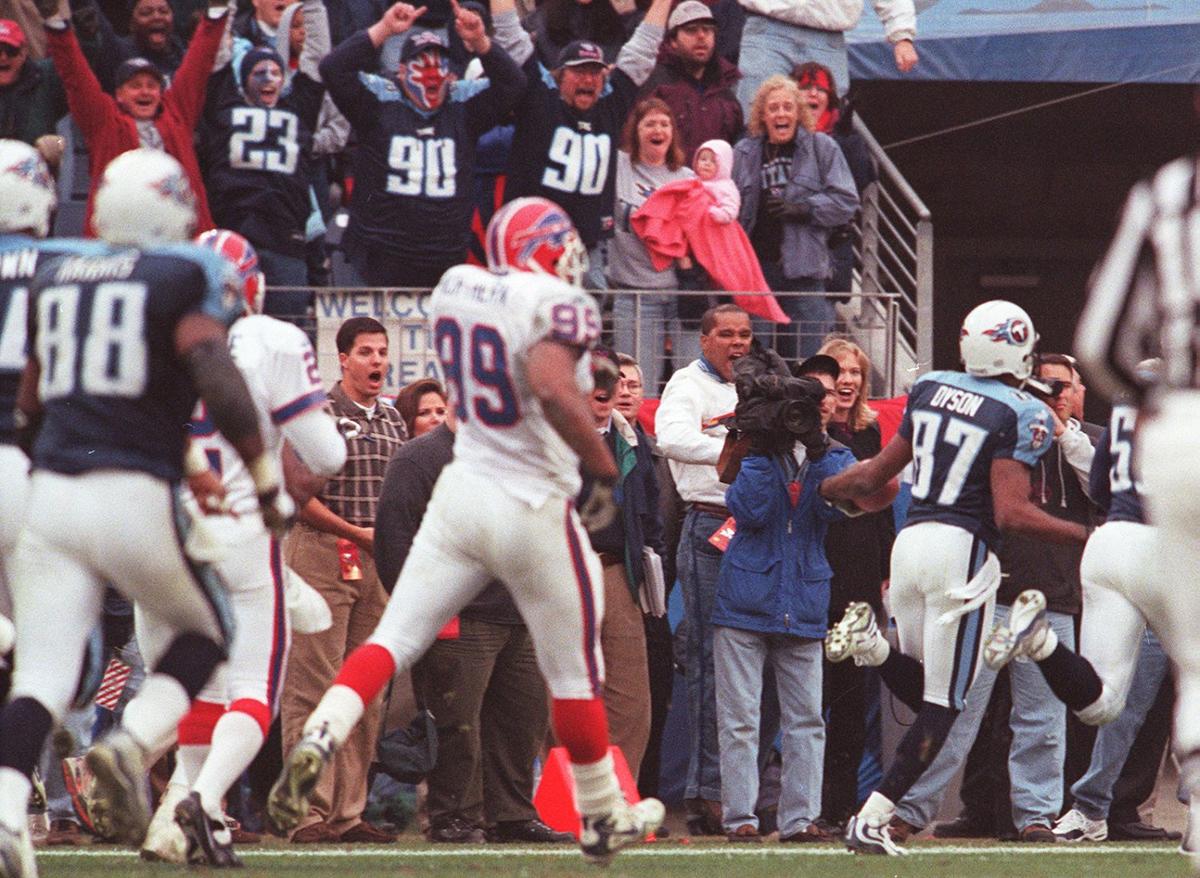 This is the fourth in a series looking at Buffalo sports' greatest what-if's. Today: What if  "Home Run Throwback" was ruled an illegal forward lateral?
Maybe Rob Johnson would have gone on to become the franchise quarterback the Buffalo Bills hoped they were getting.
Maybe a tailspin that resulted in the longest postseason drought of any professional sports franchise in North America never would have happened.
Maybe, just maybe, the pain of four consecutive Super Bowl defeats would finally have been erased.
Maybe all those things would have happened if only "Home Run Throwback" came to be known as something else – something the Bills insist it was. An illegal forward pass.
Instead, it's come to be known as the Music City Miracle – one of the most famous, and controversial, plays in NFL history.
Trailing 16-15 after a 41-yard field goal by Steve Christie with 16 seconds left gave the Bills the lead, the Tennessee Titans pulled off a miracle in an AFC wild-card playoff game on Jan. 8, 2000. Titans special teams coordinator Alan Lowry went deep into the playbook and called "Home Run Throwback" – a play he watched Southern Methodist use against Texas Tech in a game nearly two decades earlier. Every Saturday, the Titans would practice it, never knowing when the right time would come.
The right time, it turned out, was after Christie's kick. Titans fullback Lorenzo Neal fielded the pooch kick, then turned and handed the ball to tight end Frank Wycheck, who drifted right. The Bills' coverage unit followed. Wycheck then turned and – depending on your point of view, threw a lateral (or forward pass) – to wide receiver Kevin Dyson, who streaked down the left sideline for a touchdown that shattered hearts on the Bills' sideline.
"You don't think about it at the time, but looking back, that Tennessee game was kind of our last chance," said Bills quarterback Rob Johnson, who spoke to The Buffalo News this week from his home in California. "It led to a lot of things."
The Titans would go on to represent the AFC in Super Bowl XXXIV, losing to the St. Louis Rams, 23-16, with Dyson famously being tackled 1 yard short of the goal line as time expired.
Today, more than 20 years later, the Bills who experienced that most painful of defeats believe that should have been their spot in the Super Bowl.
"That team was so well-rounded and with the teams that were ahead of us, no disrespect to them, but I thought we had a shot of going to the Super Bowl and I thought we could have beat the Rams with the team they had," Christie said in an interview with The News this week.
"Honestly, everyone on that team would probably say this, but I thought we were a Super Bowl team," added Johnson.
Johnson's belief was forged by what happened the week before the Bills played Tennessee. The Bills entered the regular-season finale against the Indianapolis Colts with a 10-5 record and a playoff berth already secured, so they had nothing to play for. That meant the Bills sat Doug Flutie, their starting quarterback the entire season up to that point. The Colts, on the other hand, were 13-2 and still had a chance at home-field advantage throughout the AFC playoffs, so they played their starters.
Johnson and Co. carved them up. The Bills put up a season-high 419 yards of offense in a 31-6 demolition of Indianapolis – leading to one of the most shocking moments in team history.
Coach Wade Phillips announced that Johnson would start the playoff game against the Titans. Phillips would later say that he was directed to do so by owner Ralph C. Wilson Jr., but regardless, one of the most divisive decisions in franchise history was made.
"Just let Dougie play," Christie said. "Don't interfere. Nothing against Rob, but Doug won 10 games that year. He was the guy that got us there. And I'm not saying Rob didn't get us in position to win, because he did. He got us down the field and got us ready to go for a field goal, and we made it. We know what happened after that. But if we're asking what if, let's start there. What if Flutie started? Would it have come down to a field goal? I don't know."
Flutie had originally taken over as the Bills' starting quarterback after Johnson had gotten hurt against Indianapolis in the fifth game of the 1998 regular season. Flutie won the NFL's Comeback Player of the Year and made the Pro Bowl, leading the Bills to the postseason and earning himself a $22 million contract extension.
By the end of the 1999 season, though, some of the "Flutie Magic" had started to wear off. His numbers that year (3,171 yards, 19 touchdowns, 16 interceptions with a 75.1 passer rating) were ordinary. Instead, the Bills were led by the best defense in team history, with Bruce Smith, Ted Washington and Phil Hansen up front and linebackers John Holecek, Sam Cowart and Sam Rogers patrolling the middle.
"We had the No. 1 defense in the league, so I felt like we were in a good position," Johnson said.
A defensive struggle was expected against the Titans, and that's exactly what happened. Johnson's final numbers reflected that. He was 10 for 22 passing for 131 yards against the Titans and took six sacks, fumbling the ball three times.
Despite that, Johnson put the Bills in position for the go-ahead points. On Buffalo's last offensive play from scrimmage, the quarterback scrambled away from pressure – without a shoe on his right foot (it had been ripped off on the previous play) – and completed a 9-yard pass to Peerless Price that set the Bills up for Christie's play.
If the miracle never occurs, how famous would that play be in Bills history? How much of Johnson's story would be rewritten by it?
"I understand the narrative and perception of what went on in Buffalo. When I played, I played well. I got hurt too much," Johnson said. "I don't know if it ever would have changed. I've had three back surgeries – I just had my back fused – I've had knee surgeries. I've had Tommy John surgery. I don't know if I played too many sports growing up, I played three all the way through or if my body just gave out or it just wasn't built for professional football.
"I look back, I was only 25 or 26 when I got signed there. I hadn't started at all. I never had free rein with Doug there. I didn't have time to develop. Every time I got in there, I thought, 'This may be my last game. I have to play with my hair on fire.' It got me in bad habits of never giving up on plays and trying to make the most of everything. I didn't know when the next time I was going to get to play. I wonder more about that. If I had a guy behind me who was more supportive and would have let me groom a little bit, maybe things would have been different."
In an interview with The News in December, Flutie acknowledged the tension between he and Johnson, but said, "I never said anything, I never did anything behind his back to try to undermine anything. I just was trying to play football. When he was on the field, I was as supportive as I could be. You just fight your butt off to play football."
The loss devastated the Bills. Running back Antowain Smith collapsed to his knees on the grass turf of Adelphia Coliseum. Grown men were reduced to tears in the locker room. The hurt only grew in the weeks and years that followed.
"I was standing next to Doug Flutie and our mouths just dropped open like, 'That just did not happen,' " former linebacker Holecek said in 2015. "There is no way. It's shock. Your breath is taken away."
The Titans went on the road and beat the Colts in the divisional round, then destroyed the Jacksonville Jaguars, 33-14, in the AFC championship game.
"I think going into that game against the Titans, people had felt that the Bills and Tennessee were the sleeper teams," Johnson said. "No one wanted to face us because we both had really good defenses. I remember before the game, the talk was, 'Whoever wins this game is probably going to go to the Super Bowl.' It's easy to say, but that was the talk."
"For me personally, I felt that way after the Tennessee game," Christie said. "After I settled down, got home, I went to the Shannon Pub, had a pint of Guinness with my buddies and sat there and said, 'OK, what happened?' As I started watching the next rounds of the playoffs go by, I'm like, 'Man, we should have been there.' We were good enough to make the same run Tennessee did."
Christie was at the Super Bowl that year, working for Sportsnet Toronto. He watched in disbelief as Dyson was tackled a yard short of the end zone, but couldn't shake the feeling that, had the Bills been there. "It wouldn't have even come down to that," he said. "A lot of guys in our locker room thought we had a shot to go all the way that year."
Fallout from the loss to Tennessee was swift, and brutal. Just a month later, with the team being squeezed by the salary cap, General Manager John Butler released Bruce Smith, Thurman Thomas and Andre Reed on the same day. Just like that, three future Hall of Famers and pillars of the Super Bowl teams were gone.
"I felt horrible for the City of Buffalo and especially Ralph Wilson," Johnson said. "I loved Ralph. At that time, the city was great toward us and the Bills. That hurt me more than anything. We knew because of salary cap and guys getting older, that was our last chance probably. After that year, they pretty much broke up half the team."
Phillips made the decision to fire special teams coordinator Bruce DeHaven after the loss to Tennessee. That proved to be a disaster when he replaced him with his friend, Ronnie Jones. The following season, the Bills had the worst special teams unit of all time, as judged by analytics website Football Outsiders.
DeHaven certainly doesn't get fired if Home Run Throwback never happens. The Flutie-Johnson debate raged on. Johnson's inability to stay healthy continued in the 2000 season, and the Bills finished the year 8-8. Their historically awful special teams played a big part in that record.
Before the season finale, Wilson fired Butler. In announcing the move, the owner said he couldn't strike a deal on a new contract with the general manager, whose agreement was to run out in February 2001.
Phillips refused Wilson's request to replace Jones as the special teams coordinator after the 2000 season. In response, the owner fired Phillips, who had gone 29-19 in his three seasons as head coach.
Wilson hired Tom Donahoe to replace Butler. Donahoe then hired Gregg Williams as head coach to replace Phillips.
Still facing a cap crunch, the Bills were forced to decide between Johnson and Flutie at quarterback. Donahoe ultimately cut Flutie, who then signed with the San Diego Chargers – where Butler had been hired as GM.
The Bills went 3-13 in 2001 in their first season under Donahoe and Williams. That was just the second season of what would become a 17-year playoff drought that tormented fans and multiple executives, coaches and players.
"For the Bills, the great organization it was, after we lost John Butler, they brought in a GM I really didn't like too much and I'm sure he didn't like me, which is fine," Johnson said. "A lot of things changed. The organization went into a tailspin. That was sad."