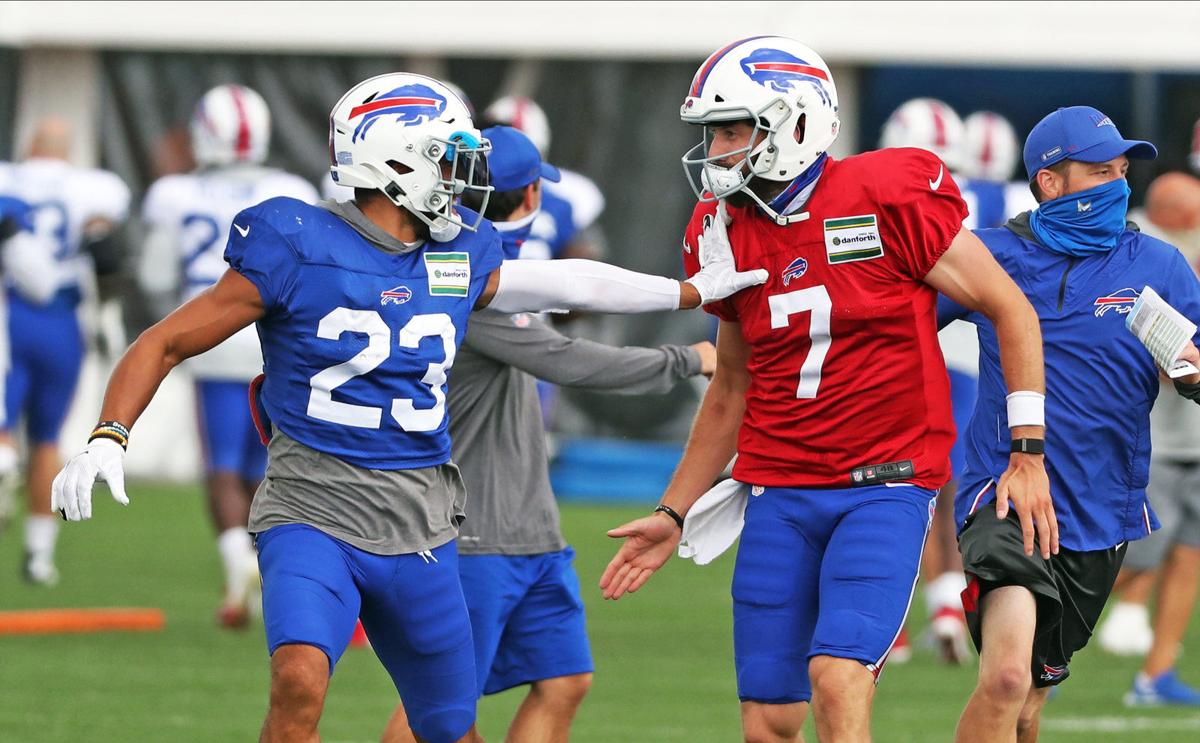 The Buffalo Bills are staying home for a second consecutive summer.
The team announced Monday that training camp will be conducted at its Orchard Park headquarters. That means no trip to St. John Fisher College in Pittsford, which had hosted training camp every year since 2000 with the exception of last year because of the Covid-19 pandemic.
The Bills informed the college of their intentions over the weekend, according to a statement released from the team, adding that the complexities of the NFL's current Covid-19 health protocols in place make going away too great of a challenge.
"Tough decision," General Manager Brandon Beane said. "We sent a crew up there a few weeks back. They looked at everything based on what the protocols are today. We've been in constant contact with the league, because we really wanted to make it work at St. John Fisher. … We were trying every which way we could to make it work. But in the end, as we sit here today, the current protocols just make it really hard for us to do what we need to do and not be a distraction for our team, with all the distancing, and some things would just have to be virtual that we can do in person here with this setup."
The Bills' current contract with St. John Fisher College expires this year, so it remains to be seen where training camp will be held in coming seasons. Beane and head coach Sean McDermott have been consistent in their messaging about the value of the team going away for training camp. A permanent move home, a return to St. John Fisher or an entirely new location elsewhere are options being considered. Team owner Kim Pegula is expected to lead the team's search for a new summer home.
"I know there'll be discussions down the road with the representatives of St. John Fisher about what that would look like," Beane said, "but at the end of the day, we're just focused on this year, and I'll let Kim and them handle what it looks like going forward."
Training camp is scheduled to begin July 27. Exact days and times of camp practices will be announced at a later date. The move back to Orchard Park means there will be far fewer opportunities for fans to see the Bills in the summer.
"That's the hard part. We love in camp to be able to involve our fans, so we're having internal discussions," Beane said. "We always have that scrimmage a week before the preseason game. We're looking at that, plus another opportunity or two. Nothing's in stone, but we're trying to find some ways to have some open practices in the stadium so that we can allow our fans to come."
Beane said the Bills could have made the decision weeks ago to move camp back to Orchard Park this summer, but delayed it as long as possible to find any way to go to St. John Fisher.
"I mean, it's disappointing. I feel bad for them because I know how many people love to come up there," he said. "It's such a great setup. The weather is generally really, really good. Selfishly, I'm disappointed not to see the fans and not to have camp up there."
Beane said the Bills' decision had nothing to do with the current vaccination rate of players. 
"It's literally the protocols that we're operating under right now," he said. "The league updates them, but they don't tell us when it will happen. And as of now, we have certain things that have to be distanced, how we do meals, how the locker room space is. All of that stuff as we sit here today, no matter who's vaccinated and who's not, those are the rules that we're under."
The Bills even tried to find out from the league when those protocols might be amended, but that issue is still being negotiated with the NFL Players Association. Because of that uncertainty, the Bills didn't have time to wait.
"We just decided the best way to get our team ready for our season was to do it here again this year," Beane said. "We have a great setup here, and our guys did a great job here last year, all of our operations staff, and all the people behind the scenes putting them together. We'll now focus 100% of our efforts on what that will look like here."
There are undoubtedly advantages to being at home.
The Bills have a state-of-the-art training facility, as well as two, outdoor grass practice fields to use. Additionally, they can move inside the fieldhouse in the case of inclement weather.
"The Pegulas put a lot of money into here and they're getting use of it now, which is very helpful and then in the season," Beane said. "You can't replicate what we have here. The reason for the getaway is just the team camaraderie building, which still happens here. It's just you don't get the stuff at night maybe because guys have obligations to go home or things that pull them away. Kids at games or whatever is going on, but we have a great setup here and it's not a negative. It's really not. We love what we have here and the setup. So I think from that standpoint, it'll be a very good camp. … I'm sure guys will tell you their bed is more comfortable than a dorm bed or a rented bed. My bed is more comfortable here than it is there, but I'd still prefer camp. You ask 50 people and 25 are gonna tell you they love camp and 25 are gonna say they'd rather stay home. You're not gonna please everybody, but it'll still be very productive here."