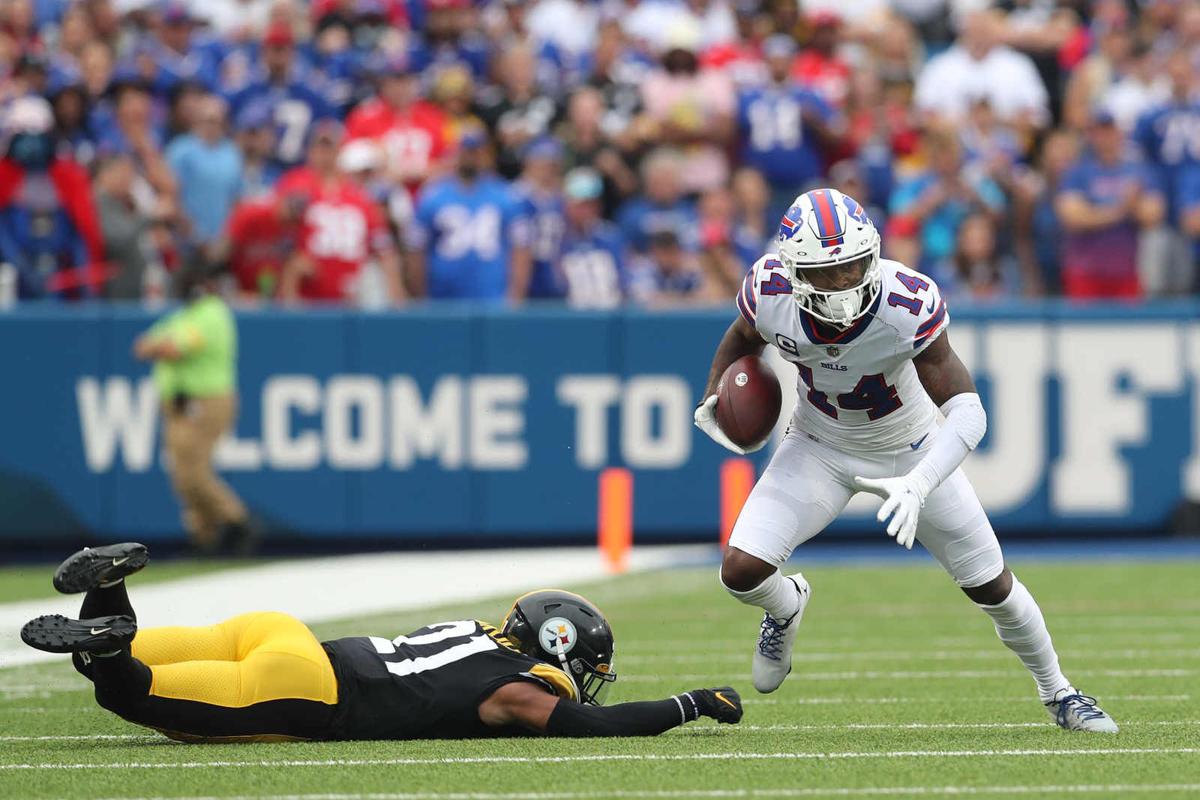 There's been a resounding theme for the Buffalo Bills the last few days: it's never as bad as it seems, and it's never as good as it seems.
Devin Singletary said it after the loss on Sunday. Josh Allen also said it Sunday, and he repeated it Wednesday. By the time wide receiver Stefon Diggs said it an hour later, the mantra was more pervasive than groundbreaking.
"You like that quote?" Diggs said. "I stole that, I stole that."
It's not necessarily on posters or t-shirts, but it has emerged as a motif in Orchard Park.
"I think it's something that just echoed," Diggs said. "You get so caught up in the moment and you'll be like, 'Damn, this sucks. We're not playing as well as we want to. We're not doing the things.' And it's just like, take a moment to really take in the fact that, yes it's the first game, yes it's this (mistake) – and it's not excuses. This is real life stuff. So as far as it being football, watch the tape."
"Here we are in 2021, and Bills-Dolphins is pretty hot again for a couple reasons," writes Mark Gaughan.
Diggs broke it down as soon as he got home Sunday, drinking a ginger ale as he dissected what went wrong. He had personal takeaways – he wished he'd played faster, he wished he'd spent less time thinking.
"Yeah, the film told us obviously we didn't play well enough to win that game," Allen said. "Some missed opportunities here or there, missed assignments, missed throws, stuff to clean up, a lot of stuff that we can take and we can learn from. At the end of the day, it's Week 1. We've got a lot to do, we've got a lot to learn from."
The missed opportunities were notable in the Bills' red zone efficiency: They were 1 of 4. The Bills' 371 net yards well outpaced the Steelers' 252 yards, but didn't translate to the scoreboard.
"Yards (don't) matter. That's not what wins games," coach Sean McDermott said Wednesday. "Points matter, right? That's what wins games, so that's what we're into is points and why we didn't come away with more points. So that's what we're trying to solve. We had opportunities, as we all know, and I think that the first step is awareness to those opportunities and then solving why we didn't cash in on those opportunities."
Now, the Bills will keep trying to solve those problems while preparing for the 1-0 Dolphins. Miami's 17-16 win over the Patriots has them atop the division, though just one week into the season. The Bills are trying to hit reset before they head south. But Allen felt the best way to move past an underwhelming opener was to get to that next game.
Knox caught all four passes thrown to him, gaining 41 yards and producing three first downs. He played 48 offensive snaps (56% of the team total), while the only other true tight end on the roster, Tommy Sweeney, played two.
"The best way to cure that is to go out there and execute and play how we know we can play football," Allen said. "… We've got to find ways to move the ball, put the ball in the end zone and, ultimately, that's the job of the offense to score as many points as you can."
To keep his focus there, Allen returned to a mantra once again.
"Ultimately, it's one game and we're not gonna freak out over it," Allen said Wednesday. "We know what we need to get better at, and some Mondays are better than others. I've been in this league for four years now and I've kind of learned one thing: It's never as bad as you thought, and it's never as good as you thought on wins as well."
After a shaky performance Sunday, McDermott did not announce plans to change starters on the offensive line, but he left the possibility open.
"We'll see. We're going through that, but it's true of every week, though," McDermott said. "We want to compete during the week, so you see where we're at, see where some of the guys are with their injuries and these guys know that we compete every week and guys have to earn playing time, and that's true for all of us."
Wide receiver Gabriel Davis (ankle), wide receiver Cole Beasley (veteran's rest) and defensive end Mario Addison (veteran's rest) did not practice Wednesday. Wide receiver Isaiah McKenzie (shoulder), defensive tackle Star Lotulelei (calf) and linebacker Matt Milano (ankle) were limited.
Davis told The Buffalo News on Wednesday that he is "just taking it day by day, trying to see how my body feels. So we'll see."