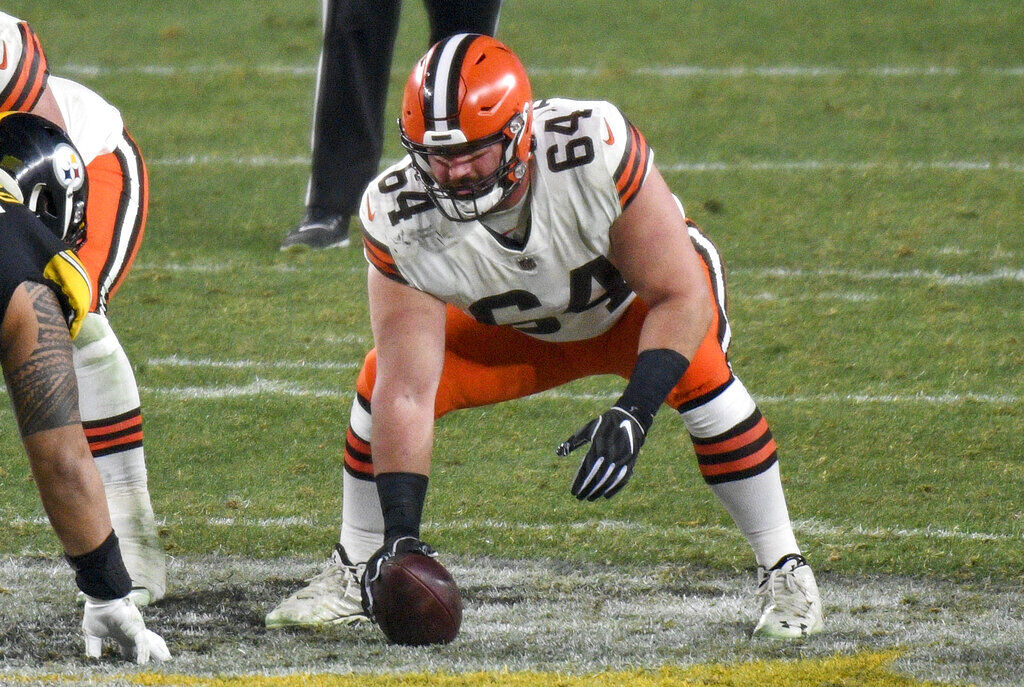 As far as J.C. Tretter is concerned, the NFL and NFLPA got it right last year by keeping teams' offseason workout programs virtual until training camp.
The move was in response to the Covid-19 pandemic, with the league and its union following scientific guidelines that recommended social distancing as the best way to minimize the spread of infection.
Tretter, the NFLPA's president and a center for the Cleveland Browns, sees no reason for that to change because he doesn't believe the pandemic is any less of a concern now than it was a year ago.
"I think, to start, we're not normal," Tretter, a Western New York native and former standout football player at Akron High School, said during a conference call Wednesday with reporters. "I think we need to start there, and we can't get too far ahead of ourselves."
Shortly before the conference call with Tretter and NFLPA executive director DeMaurice Smith, the NFL informed its teams that offseason programs will begin remotely on April 19, but that it doesn't expect them to again remain virtual through the entire offseason. Though Covid-19 vaccinations are not mandated, the NFL made it clear that they will factor in loosening protocols.
LSU wide receiver Ja'Marr Chase and Florida tight end Kyle Pitts are expected to be prime candidates to be picked by the Miami Dolphins.
"It is expected that the NFL-NFLPA Covid-19 Protocols will be amended in the coming months to eliminate a number of significant restrictions for vaccinated individuals, such as the need to participate in daily testing, quarantine periods due to close contact with an infected individual and/or refraining from social gatherings among other vaccinated individuals," the league said in a memo obtained by multiple media outlets. "It is also anticipated that clubs that achieve a certain rate of vaccination among its tiered staff and players may be permitted to relax restrictions that apply to meetings, mealtime and use of locker rooms."
Tretter didn't accept the logic of the league's efforts to shift to in-person offseason programs this year.
"The NFL doesn't get to decide when the pandemic is over, or when we get to stop caring about Covid," Tretter said. "Covid is still out there, our players do not want to catch it still. There are plenty of guys that have talked about issues that they've felt for a long time after catching Covid. (Browns defensive end) Myles (Garrett) being one of them. He talked all year about how he felt that was still bothering him. So, guys don't want to catch something and make themselves vulnerable to that in the middle of unnecessary practices in the springtime that could impact them during games in the fall."
In an injury-riddled career, Lee has played in 34 games with 19 starts, posting 85 tackles, six tackles for a loss and three quarterback hits.
Tretter cited statistics from 2020, including a 30% reduction in concussions and a 23% reduction in missed-time injuries, as support for maintaining the virtual offseason approach that included eliminating preseason games.
"It's important to highlight that information because what it also shows is that we had an extremely successful, competitive season, too," Tretter said. "And the decrease in practice time, the virtual offseason, the acclimation, all that stuff that was dictated by science to keep us healthy, it worked in keeping us healthy and we had more competitive games, more scoring, higher performance, more parity, more drama than really any year.
"That's important to highlight in these discussions that, when we search for answers on how to make the product better and how to keep players healthy, we have the answers we just saw. And we need to continue to build off those answers and not ignore what we just saw, what we just learned from."
For Adams, it's a second chance with the Bills. He was claimed by the Bills off waivers in 2017, but failed his physical and was released a day later. 
Smith said the NFL and the union "did a great job together" in assembling offseason and training camp schedules, and doing away with preseason games, to try to mitigate virus spread. This year, the league plans for each team to play no more than three preseason games and a 17-game regular-season schedule.
Smith pointed out that the alterations to the offseason, training camp and preseason last year "resulted in something no less than 256 regular-season games accomplished on time ... a season that had an unprecedented amount of scoring, the lowest amount of penalties in NFL history and players feeling better and actually being better."
"So, I think the model for how we should operate in Covid is there, Smith said. "We have to find out whether or not there's the willingness on the part of the NFL to actually do what we know worked."