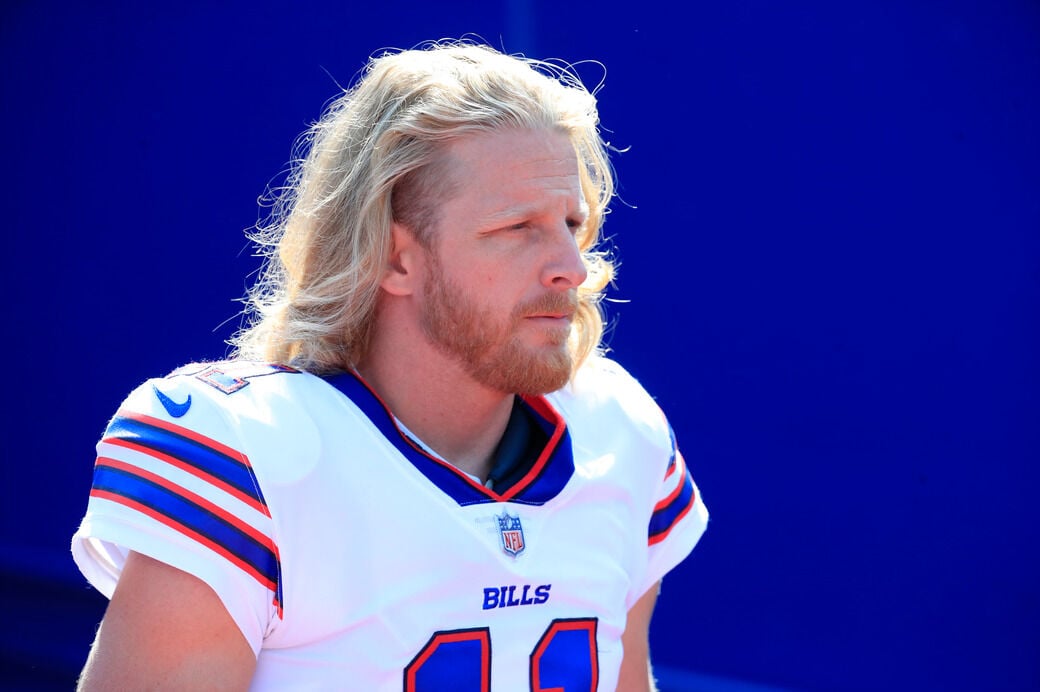 The Buffalo Bills were small at wide receiver, running back, defensive line and defensive backs in 2020. They were big at quarterback and offensive line.
What does it mean? Big or small isn't necessarily good or bad. Talented, obviously, always is good. Fast usually is good.
Nevertheless, the rankings reinforce a few truths about the Bills' roster.
• The Bills were fourth in quarterback height and third in weight due to 6-foot-5, 237-pound Josh Allen. Former Bills failed QB EJ Manuel was almost identical in size to Allen. Still, talent plus size is very good, because big quarterbacks usually have better durability than small or slender quarterbacks.
• The defensive line for Buffalo ranked 32nd in weight and 20th in height in 2020. Bigger defensive lines generally did better against the run. Seven of the 10 smallest D-lines finished in the bottom half of the league in rush yards allowed. The Bills finished 17th against the run. The Bills' smallish front is no surprise, since 315-pound Star Lotulelei opted out of 2020. The Bills were forced to give 6-foot-4, 291-pound Quinton Jefferson a lot of snaps at the 1-technique position, over a shoulder of the center. Plus, defensive tackle Ed Oliver is on the light side at 287 pounds. The Bills probably will rise in the height and weight categories in 2020, with Lotulelei returning and if 6-foot-7 rookie first-round draft pick Greg Rousseau gets decent playing time.
• The receiving corps was 31st in height. So what? The Bills had the No. 3-ranked passing attack in the NFL, and no-so-giant Stefon Diggs (6 feet tall, 191 pounds) led the league in catches and receiving yards. In fact, six of the eight shortest receiving corps in the league ranked in the top 12 in passing yards. That included mighty Kansas City (27th in height, first in yards) and Houston (32nd in height, fourth in yards).
The Bills figure to have one of the smaller wideout corps again this season, since 5-foot-11 John Brown was replaced by 5-foot-11 Emmanuel Sanders. Cole Beasley and Isaiah McKenzie are 5-foot-8. But the corps is fast. Diggs ran a 4.46-second time in the 40-yard dash. Sanders ran 4.41, McKenzie 4.42 and Beasley 4.49. Gabriel Davis, at 6-2, ran a solid 4.54 for his size.
• A lack of size in the defensive backfield hasn't hurt the Bills. Buffalo was 24th in height and 31st in weight. Yet the Bills were 13th in passing yards allowed in 2020, fourth in 2019 and first in 2018 – with virtually the same cast. Jordan Poyer isn't a big safety at 6 feet tall, 191 pounds. But he's one of the best safeties, pound for pound, in the league. He led all NFL safeties in tackles last year with 124. Likewise, all of the Bills' cornerbacks – 192-pound Tre White, 179-pound Levi Wallace and 191-pound Taron Johnson – play the run well. However, in a perfect world, the Bills would be in a better position to defend some elite, big-bodied wideouts like Seattle's D.K. Metcalf or Tennessee's A.J. Brown if they had a bigger corner in the lineup.
• The Bills' running backs were 30th in weight and 32nd in height, with 5-foot-7 Devin Singletary and 5-foot-9 Zack Moss carrying the load. But like at receiver, success at the position is more a case of quality than size. Tennessee was No. 1 in RB weight, thanks to 247-pound Derrick Henry, the NFL rushing champion. But Pittsburgh and Chicago were second and third in weight and ranked 32nd and 25th, respectively, in rushing.
• Buffalo prefers big people-movers on the offensive line. The Bills ranked fourth in weight on the unit. Sizes of offensive lines are partly a function of scheme. Baltimore, which ranked second, likes giant linemen to play a power gap scheme. San Francisco and Minnesota ranked 32nd and 31st. The 49ers and Vikings play an outside zone scheme that often employs slightly smaller, more mobile linemen to get out in space.