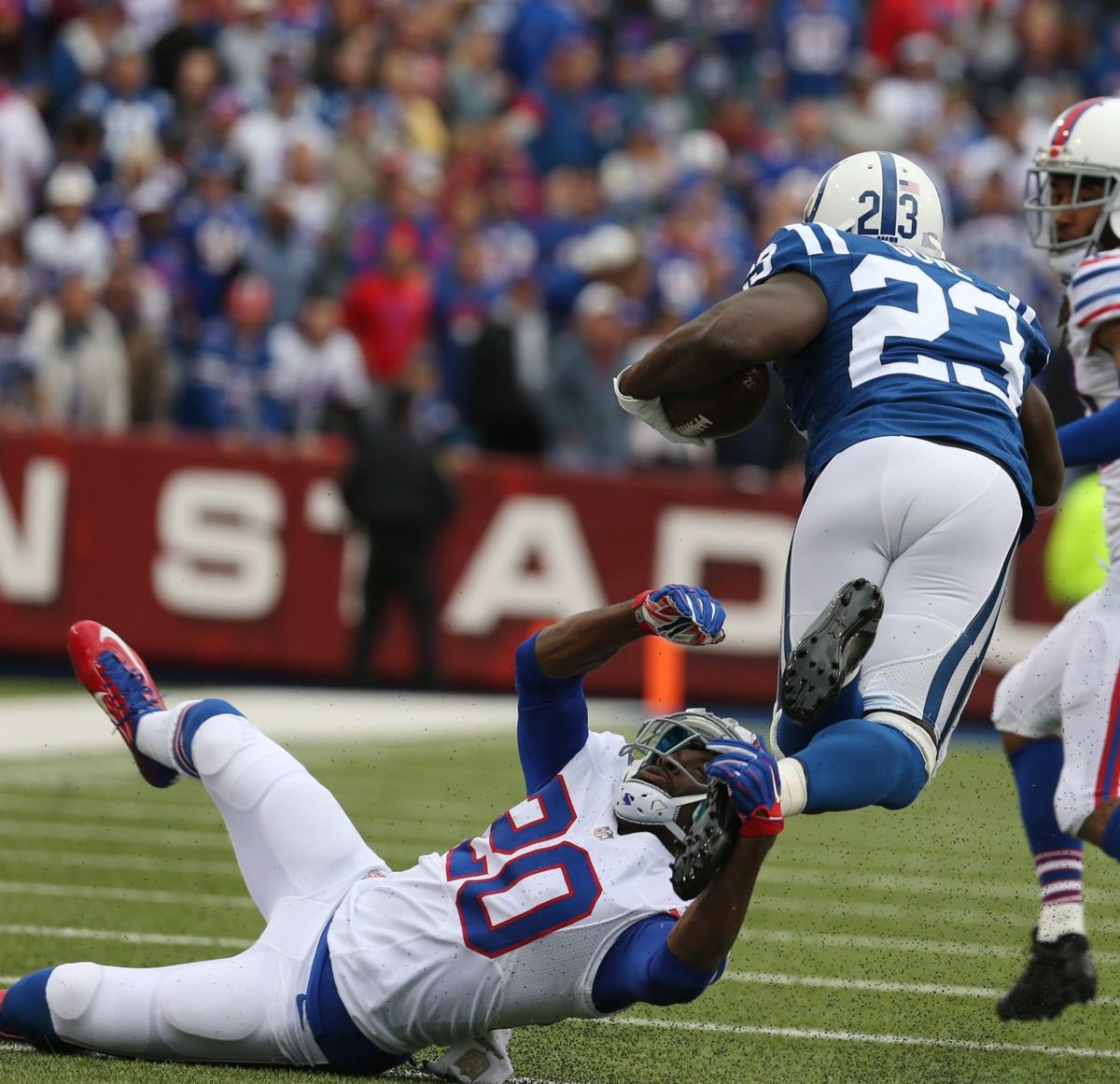 For eight months, Kevin Kolb wasn't Kevin Kolb. He was somebody else. Concussion No. 4 changed him. ¶ At night, he'd stare at the ceiling for four hours straight. His sleep cycle was warped beyond repair. ¶ In the morning, he'd brush his teeth in front of the mirror and see a cloud form around his face. Forget coffee. One cup spiraled him into a "whole different realm." When people spoke to Kolb, he couldn't digest the information. His short- term memory? Shot. ¶ Worst of all, his vision could blur at any moment. ¶ "Almost like you're drunk," Kolb said, "like everything is fuzzy all the way around you." ¶ And that nearly killed him one day in Western New York. ¶ After yet another sleepless night, four weeks after that concussion in Buffalo's 2013 exhibition game against Washington, Kolb
drove toward the team facility in Orchard Park from his residence in Lakeview. Suddenly, without even knowing, Kolb began veering into the middle of the road as another car approached him head-on at 50, 55 miles an hour.
"We would've hit each other had not I… he reacted, honestly. He reacted. I didn't react."
Kolb immediately pulled to the side of the road to catch his breath and collect his thoughts.
He never played another NFL snap.
The scary reality? This is normal. Scarier? The science behind concussions is still new but damning.
Last week, the nation's largest brain bank studying chronic traumatic encephalopathy (CTE) updated its study — 87 of 91 former NFL players the Department of Veterans Affairs and Boston University have analyzed tested positive for the disease rooted in repetitive trauma to the head. CTE can cause headaches, memory loss and concentration issues in the short term and potentially cognitive issues, dementia and/or depression in the long term.
In all, the lab has discovered CTE in the brain tissue of 131 of 165 individuals who, before dying, played football professionally, in college or in high school.
The NFL knows it cannot downplay the effect of concussions anymore — the landmark book/documentary "League of Denial" exposed years of ignorance. Several players retired early last offseason, most notably San Francisco linebacker Chris Borland, at 24.
And, of course, one brain in the study belonged to Junior Seau, the Hall of Fame linebacker who committed suicide in May 2012.
As a result, two incredibly powerful forces are converging like never before. The reality of CTE, of concussions and the desire to play are meeting head-on like Kolb and the other driver on Southwestern Boulevard.
Asked if he'd play again given what he knows now, Kolb pauses, sighs, pauses again.
"I think I would," he said. "Definitely. It taught me so much, what I went through — the highs, the lows. It taught me a lot in life itself. So I wouldn't take that back for anything."
More brains will reveal CTE. More players could retire early.
So players of all ages must decide: Is it worth it?
This August celebration in Canton, Ohio, was muted the moment Seau was enshrined. Tears replaced laughs. Sorrow replaced elation. In the crowd, Seau's mother cried into a towel. On the stage, Sydney Seau's voice quivered as she stayed strong.
"Dad, I love you. I miss you. Congratulations, you made it."
Seau isn't the first player to suffer from concussion-related depression, nor is he the last.
Players on this very stage faced the same demons. Back at the McKinley Grand Hotel — where fellow Hall-of-Famers walk by, hunched over in pain — New York Giants great Harry Carson explains.
He was once depressed himself and had no clue why. Carson's team was winning through the 1980's and he made nine straight Pro Bowls, but when Carson crossed the Tappan Zee Bridge from his home in Ossining to the stadium, he often considered killing himself.
"I was thinking about driving through the guardrail," Carson said. "Into the Hudson River."
He never did. The thought of his daughter without a dad kept his eyes forward.
It wasn't until 1990, two years after retiring, that Carson realized why he was depressed. Doctors diagnosed him with post-concussion syndrome. So today, Carson is a voice of reason on the subject. He speaks freely on the dangers of the game.
Even here in Canton — the pinnacle of his profession — Carson leans back on a couch and says that given what he knows now he would've never played.
"Because once you injure the brain," he said, "you may never be the person you were prior to that injury."
So many hits come to mind. After colliding with Washington's John Riggins one play, Carson staggered back to the huddle and faded to black, he said, "like a television screen." He squeezed a teammate's hand and everything started to come back.
Of course, Carson stayed in the game. In all, Carson estimates he suffered up to 18 concussions.
They affected his mood which, in turn, affected his marriage. His first wife used to accuse Carson of never listening to her, to which he'd reply, "I do listen, I just don't remember."
They divorced. He remarried.
Call any former player up and you'll hear a concussion story.
Former Bills quarterback Rob Johnson remembers four concussions in Buffalo. After the mild ones, his vision turned yellow.
"Remember the movie, 'Traffic?' That lighting?" he said. "It's crazy."
After getting blasted against Philadelphia in 1999, Johnson blacked out and didn't snap out of it until he was sitting on the bench several minutes later to teammates' laughter. Afterward, he completely forgot his girlfriend and family were even at the game.
It was a badge of honor to play through pain. He remembers shooting his arm up before practice to get the reps over Doug Flutie at the height of that quarterback controversy.
The wide receiver Johnson threw to, Eric Moulds, starts a conversation by saying he only suffered one mild concussion. But even his is chilling. Moulds' head hit the concrete-hard turf, he went "blank," and stayed in the game. On the field, Josh Reed needed to grab Moulds' jersey and tell him where to line up after they broke the huddle. Soon after, on the sideline, Moulds asked "Hey, we're winning? Who scored the touchdown?" when he was the player who had just scored.
"They ran and got the doctor," Moulds said.
He's healthy today. Johnson is, too, though he is worried about the Alzheimer's that runs in his family.
Carson? He knows he's one of the lucky ones. Symptoms can be managed. Aware of his own brain damage, Carson works out five times per week, spends time in a hyperbaric chamber, eats healthy and keeps his mind busy by giving speeches on concussions. In May, he spoke at NYU and Farleigh Dickinson University.
Said Carson, "You don't have to commit suicide."
Then, he pulls out his cell phone.
In his email is a folder full of unsolicited messages. He taps open one from a 24-year-old woman who details the painstaking story of her 18-year-old brother. This jovial "sweetest person on the planet," she wrote, underwent a "terrifying" transformation after suffering several severe concussions. Suddenly, he smoked, he drank, he hung out with the wrong crowds and endured wildly erratic mood swings.
Carson reads the message aloud word for word.
The 18-year-old committed suicide.
He opens another email. This one's from a former NFL player whose name Carson doesn't want public. In this heartfelt, rambling message, the player is nervous about his accelerated loss of nerve function.
"You remember the code," Carson reads from the message, "if you could run, you played."
Six months later, that player committed suicide.
Carson's voice is soothing, yet haunting. He knows the NFL can't stand him; he doesn't care. People must know the truth, he says. Players have the right to know what these collisions can do.
Bring up Borland's name, however, and Carson doesn't hesitate. Is the NFL in danger? "None." Even with the suicides? The retirements? "Doesn't matter."
"Players don't think about down the road," Carson said. "They think about right now. So if you're offering somebody, let's say the minimum, and they're coming from nothing, they're going to play.
"They'll worry about tomorrow some other time."
One walk through the Buffalo Bills locker room confirms Carson's theory as fact. Several players are told of the CTE study.
There in Nigel Bradham's locker is a pair of boxing mitts awarded for the hit of the season in 2014. The players who truly love the game, he says, don't stress over concussions. He's not a fan of the NFL's rule changes softening the game, either.
"I hope it's not flag football because then anybody can play," Bradham said.
Boobie Dixon? He'll encourage his kids to play. The game gave his life purpose, pulled him out of a rough, tough upbringing.
"In life, you have to take risks, you have to take chances," he says. "I would never tell my son not to do something because it might be a little risky."
Last season, wide receiver Marquise Goodwin collided with Chris Hogan in practice and suffered a concussion. CTE? "What's that?" he asks.
The disease, the study is explained. Goodwin doesn't hesitate.
"I live with no worries," Goodwin says. "I try to be as stress-free as possible. You start worrying about that stuff too far in the future and you're worrying about the wrong thing."
Six seconds. That's how long the 2015 season lasted before the first concussion here. Buffalo safety Corey Graham swooped in to tackle Frank Gore and the Indianapolis running back's knee struck his temple.
He didn't black out but he was "wobbly." Graham snapped out of it in five minutes.
"It's always scary," Graham said, "but it's what we signed up for."
If another 230-pound running back comes his way, Graham promises to attack downhill. He's seen nauseous teammates throw up through harsh concussions, but his burning desire to play has never wavered.
One player who did read the report suffered the worst concussion of the bunch: Percy Harvin. In a 2013 NFC Divisional Game with the Seattle Seahawks, he was rocked by New Orleans Saints safety Rafael Bush, got up and felt his world "shift." This concussion absolutely scared him.
"It scared the heck out of me. I've never felt anything like that before," Harvin said. "You're there but you can't zero in on anything. So you just kind of see everything floating around you. I remember feeling out of body."
Still, he'll never dial it back. At a young age, Harvin decided to go all in, to play "100 miles an hour."
As for his son? With what he knows now?
"He won't even get a tryout."
So this is where the real battle is waged now: youth football. To preserve the long-term stability of the game, the league must win over Mom.
Any concussion news is bad for business. Seau-like stories threaten the game at its grass roots.
Three high school football players died this month alone.
Last year, the NFL gave USA Football a five-year, $45 million grant to expand its "Heads Up" program to teach safe tackling. This can be interpreted as a noble act, a proactive way to prevent concussions. Or, as Chris Nowinski explains, it's merely "doubling down." The co-director of BU's Center for the Study of Traumatic Encephalopathy, one who helped revolutionize the study of deceased players' brains, Nowinski compares football/concussions to smoking/lung cancer.
"The earlier you start and the more packs per day, the greater your risk," he said. "So we made a decision as that data became clear that children aren't allowed to smoke. And I think that's the move that we have to take with football from a pure public health/environmental exposure perspective."
Eliminate contact at a young age and the effects of CTE would be less or, at least, postponed.
Football was never invented for children in the first place, Nowinski says. Those 300 hits a year at 9, 10, 11 years old add up.
"So the clear prescription here is that we no longer hit children in the head 300 times every fall before their body and brain has any chance to mature," he said. "It's a huge change to the business of football but it's not really a change to the game at all."
Maybe 7-on-7 leagues and/or flag football catch on.
The NFL's likely fear would be that kids then gravitate to other sports. As Nowinski notes, if Commissioner Roger Goodell banned tackle football at the Pop Warner level, "he'd be fired" by owners.
Instead, money is poured into teaching proper tackling.
"Not only is there no evidence that 'heads up' will reduce risk of anything," Nowinski said, "but it's doubling down on the riskiest time to be getting hit in the head. So that's where the fight's going to be. And the question is: should the business of the NFL with 30 billionaires be marketing a dangerous game to children because it helps their bottom line?"
In response to the CTE study, a NFL spokesman said the NFL has "made many changes over the past 10 years to better protect players, including rule changes, advanced sideline technology and expanded medical resources," noting the research grants made to Boston University and other groups.
Yes, the game has changed drastically. Head-to-head hits are way down. Penalties, up. The spokesman also said that concussions in regular-season games have decreased 35 percent the last three years.
Nowinski has heard such numbers several times and doesn't buy it. Many concussions go undiagnosed — the CDC also had a report that 69 percent of young athletes play through concussions. Thus, the problem isn't the concussions diagnosed. It's the ones players play through.
Like Carson, Nowinski agrees the NFL isn't going away. It's no different than firemen accepting a dangerous job.
Players assume the risk — hopefully educated — and play on.
"We call it a 'sport,'" Nowinski said, "but we can also call it an environmental risk factor for developing a brain disease."
Life is good for Kevin Kolb now. Married to his high school sweetheart in Texas, he has three kids and now runs "MK Transfer," a company that provides frac water.
"I don't envy the guys going through," Kolb said, "what I remember going through."
Each concussion progressively got worse. The first, in Philadelphia, lingered four days. The second, two weeks. The third, eight weeks. The fourth? Those eight hellish months.
Buffalo was his latest fresh start. Kolb was the handpicked bridge to rookie EJ Manuel.
And against Washington, he scrambled, lunged for a first down and a linebacker's kneecap clipped the back of his head. Instantly, he blacked out, felt tingling from his neck down, yet finished the series.
On the sideline, Fred Jackson approached him and said he should think this one through. Kolb told offensive coordinator Nathaniel Hackett to give him 10 minutes. Within two, those haunting symptoms resurfaced.
Kolb looked around FedEx Field and couldn't make out any faces — the maroon and gold blurred together. As soon as he returned to the locker room, Kolb called his wife. And within four weeks — through that one near crash — he decided to retire.
"With how minor the hit was," Kolb said, "you realize how fragile you are and how your brain just can't take it anymore."
Considering Kolb made more than $40 million, there was no financial need to play on.
But he knows he's in the minority. Be it money, fame, a pure passion, players are going to fight through concussions.
In high school. In college. In the pros.
"I could've hid every one of those concussions and tried to play through it,'" Kolb said. "So if it's a contract year, certain guys are going to choose that. If you're a coach, you can't blame the coaches for putting the pressure on the players because, in the end, they want to put the best players on the field to further their careers. So who's at fault?"
Three weeks ago, Bills president Russ Brandon actually sent Kolb a text message checking in. The support from Buffalo, he said, was through the roof. Johnson agrees. Owner Ralph Wilson actually sent him to a specialist in Florida.
But asked how much players are educated about CTE, Kolb admits "not very much at all." He couldn't remember a trainer, a doctor, a coach, anyone in Philadelphia, Arizona or Buffalo informing players of the disease.
It's on everyone, he repeats, to fix this.
He can still remember Green Bay's Clay Matthews burying him into the turf for Concussion No. 1 and seeing Michael Vick run away with his job.
"It was supposed to be 'my team,' " Kolb said. "I could see it falling apart in front of my eyes. Of course, I'm going to try to go out there and play."
Until, well, he couldn't.
Kolb didn't answer calls or texts initially. For a while, he told only his wife how he was feeling. Not anymore. He wants players to be educated.
And after months of no "clouds," no virtual intoxication, no symptoms at all, Kolb had a blurry episode last week, a reminder that brain disease doesn't vanish.
He's only 31 years old. Deeply religious, Kolb doesn't fear death or sickness. No, his only fear is if his family is forced to take care of him one day.
Because, really, he has no clue what's in store.
"How do you know it's not going to get worse?" Kolb said. "It's out of my hands at this point."