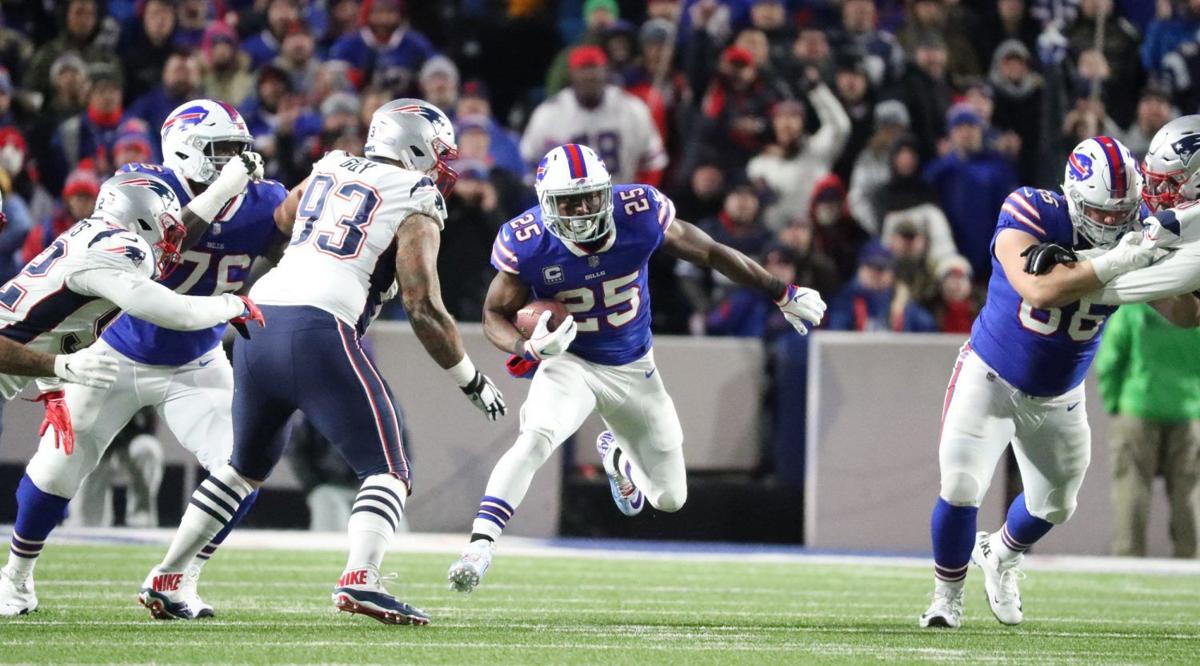 Things were quiet on the Bills front during the Memorial Day weekend. That allowed thoughts to drift over to fantasy football.
The Bills made plenty of additions to the offense this offseason, but will that have any effect on the team's fantasy relevance? Which Bills players will be the best picks this season?
ESPN's early fantasy rankings don't paint an optimistic picture for Bills players. A few may be worth rostering, but according to their lists, Bills defense/special teams looks like the only must-have for 2019.
Here's a position-by-position look the Bills' fantasy rankings on lists belonging to five different ESPN analysts: Matthew Berry, Mike Clay, Tristan H. Cockcroft, Eric Karabell and Field Yates. The numbers listed are the player's rank at their position (NR means not ranked). Note that leagues are assumed to be PPR (point per reception), and that some rankings include more players than others.
Quarterback
Josh Allen: Berry: 21, Clay: 23, Cockcroft: 21, Karabell: 18, Yates: 21.
Takeaway: The quarterback position is deep. There are many proven passers that are expected to put up more points than Allen. However, he's worth drafting as a backup. Allen's running ability should keep him fantasy relevant even if his passing takes time to develop.
Running back
LeSean McCoy: Berry: 42, Clay: 33, Cockcroft: 37, Karabell: 39, Yates: 31.
Devin Singletary: Berry: NR, Clay: 61, Cockcroft: 49, Karabell: 57, Yates: NR.
Frank Gore: Berry: 57, Clay: 63, Cockcroft: 68, Karabell: NR, Yates: 55.
T.J. Yeldon: Berry: NR, Clay: NR, Cockcroft: 79, Karabell: NR, Yates: NR.
Takeaway: McCoy isn't a running back you should build your team around. He's worth adding as a backup, especially if you foresee a rebound in the passing game (or a trade to a better team). But seeing McCoy fail to crack the top 30 isn't the surprising part here – it's seeing how high some of these analysts are on rookie Devin Singletary. Gore is thought to be the secondary option at running back, but the analysts seem to expect Singletary to gobble up some value.
Wide receiver
Cole Beasley: Berry: NR, Clay: 71, Cockcroft: NR, Karabell: NR, Yates: 48.
Robert Foster: Berry: NR, Clay: 88, Cockcroft: 64, Karabell: NR, Yates: NR.
John Brown: Berry: NR, Clay: 74, Cockcroft: NR, Karabell: NR, Yates: NR.
Zay Jones: Berry: NR, Clay: 85, Cockcroft: NR, Karabell: NR, Yates: NR.
Takeaway: The Bills added some competent pros at wide receiver this offseason, but nothing about the unit strikes fear into opposing defenses. I thought Beasley would've been ranked higher given his potential to accumulate receptions in Brian Daboll's offense, but perhaps his exclusion says more about the concern over Josh Allen's completion percentage. Foster could be worth taking a shot on late due to his boom-or-bust potential – some weeks he might not produce anything, but other times he could score a long touchdown that makes your week. If he's forced into your lineup, you're hoping to catch him on a week he goes boom.
Tight end
Dawson Knox: Berry: NR, Clay: 31, Cockcroft: NR, Karabell: NR, Yates: NR.
Tyler Kroft: Berry: NR, Clay: 40, Cockcroft: NR, Karabell: NR, Yates: NR.
Jason Croom: Berry: NR, Clay: NR, Cockcroft: NR, Karabell: NR, Yates: NR.
Takeaway: Not a lot to get excited about here, especially after Kroft's injury. The battle for the starting job will need to play out during training camp, but if you're looking for a Bills player to grab late, consider Singletary or Foster over a tight end.
Kicker
Stephen Hauschka: Berry: didn't rank kickers, Clay: NR, Cockcroft: NR, Karabell: NR, Yates: 20.
Takeaway: Haushchka is a good kicker. The question here is how often the Bills offense will get him in position to score. However, kickers don't vary as much as people seem to think, so if you really want Haush Money, you could probably justify taking him in the last round.
Defense/special teams
Bills D/ST: Berry: didn't rank defenses, Clay: 5, Cockcroft: 7, Karabell: 8, Yates: 17.
Takeaway: Finally! A member of the Bills you definitely might want in your starting lineup. There's no rush to grab the Bills, but once top-projected teams like the Bears, Jaguars and Rams are gone, you could certainly defend picking the Bills.
Elsewhere at [BN] Blitz...
Kyle Williams advances to USGA Four-Ball Round of 16: Williams and partner Gregory Berthelot are the No. 8 seed in the tournament after qualifying with a two-round total of 10-under.
On tap: OTAs continue Tuesday. Offensive coordinator Brian Daboll will meet with the media at approximately 11 a.m.
Want more [BN] Blitz? Sign up for a two-week free trial by clicking here.
Be the first to know
Get local news delivered to your inbox!