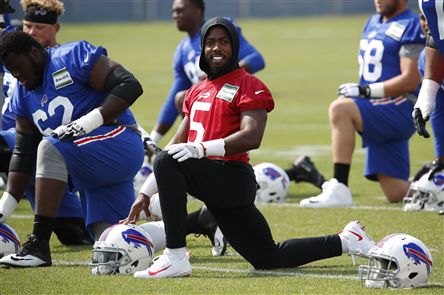 Over the past 10 days, Bills coach Sean McDermott has used the word "protocol" as often as "process." That trend may not continue.
T.J. Yates, on the other hand, has been placed on injured reserve. Yates, like Taylor, had been in the concussion protocol since the Bills' third preseason game against Baltimore on Aug. 26. Both quarterbacks participated in the individual portion of Monday's practice that was open to the media.
The Bills still have three quarterbacks on the active roster, with newly-signed Joe Webb joining rookie Nathan Peterman as Taylor's backups. If active on Sunday, Webb could also play on special teams.
Additional moves: Safety Colt Anderson was re-signed to fill the open roster spot created when Yates was put on IR. Anderson was released on Monday when the Bills signed Webb. Defensive tackle Deandre Coleman has been released and replaced by Cedric Thornton, a seventh-year veteran who has played for the Cowboys and Eagles.
The Bills also shuffled their practice squad, adding defensive end Eric Lee, safety Orion Stewart and offensive tackle De'Onde Wesley, while releasing defensive end Ian Seau, safety B.T. Sanders and cornerback Marcus Sayles.
And speaking of practice squads, former Bills running back Jonathan Williams, released on Sunday, has reportedly signed with the Broncos.
'Greatest Comeback' celebration: The Bills will hold a halftime ceremony on Sunday to recognize the 25th anniversary of their historic comeback victory over the Houston Oilers on Jan. 3, 1993. Game-day programs will also include a commemorative ticket from the game.
National writer roundtable: In an effort to "break out of the Bills Nation bubble," Greg Connors compiled the thoughts of eight prominent NFL writers from national outlets regarding the team: Judy Battista (NFL.com), Jarrett Bell (USA Today), Greg Bishop (Sports Illustrated), Kevin Connors (ESPN), Sam Farmer (Los Angels Times), Gary Myers (New York Daily News), Dan Pompei (Bleacher Report), Ian Rapoport (NFL.com), and Adam Schefter (ESPN).
Be the first to know
Get local news delivered to your inbox!