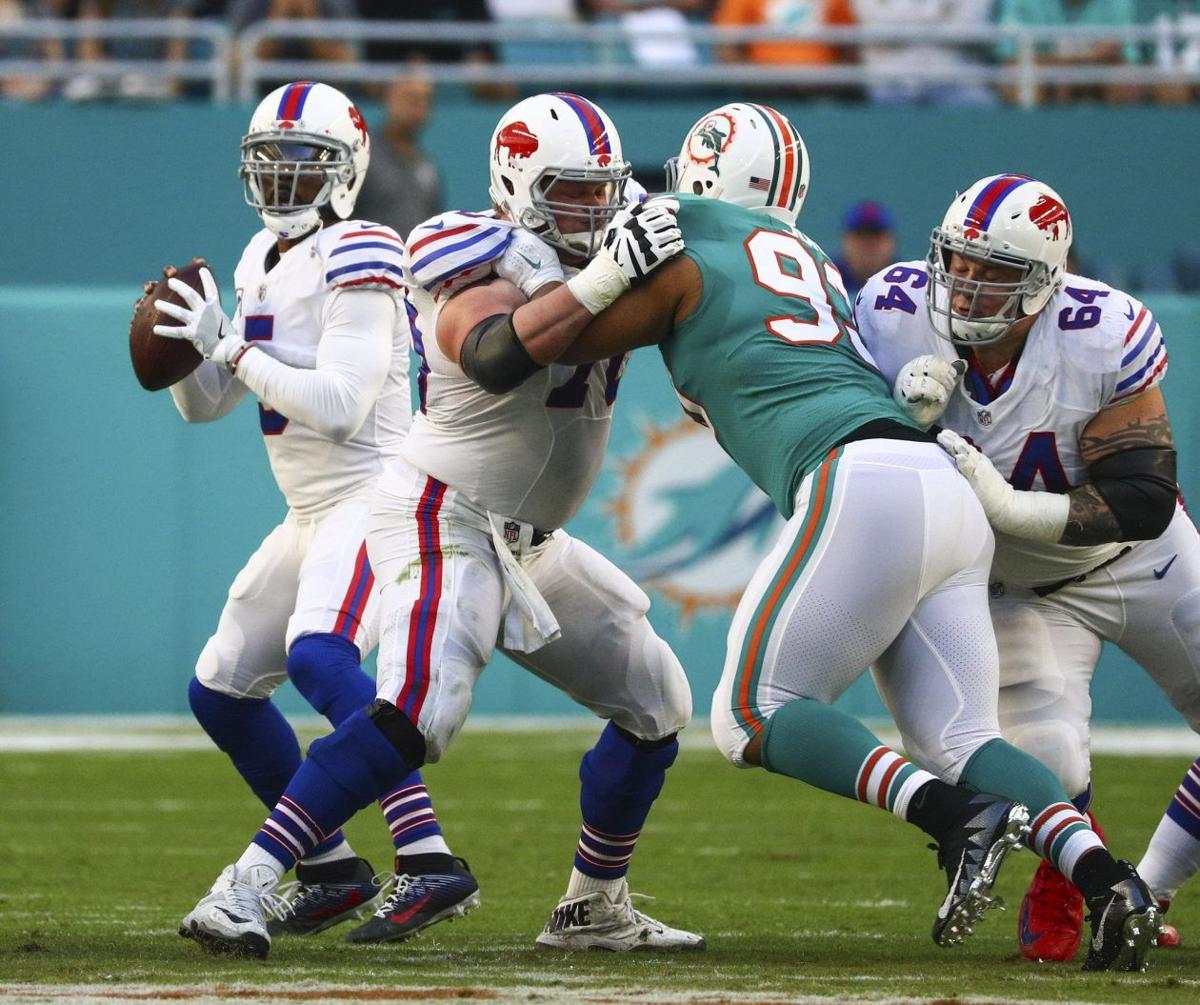 Tyrod Taylor's time as quarterback of the Buffalo Bills is over.
The team traded Taylor, who started for the last three seasons, to the Cleveland Browns on Friday night in a blockbuster deal that returned a third-round pick to the Bills. The trade, which can't be made official until the start of the NFL's new league year at 4 p.m. Wednesday, was confirmed by a league source to The Buffalo News. It was first reported by ESPN's Adam Schefter. In exchange for Taylor, the Bills will receive the first pick of the third round, No. 65 overall.
That's a significant acquisition by General Manager Brandon Beane and gives the Bills six picks in the first three rounds of the draft – Nos. 21 (their own) and 22 (Kansas City's) in the first round, Nos. 53 (their own) and 56 (the L.A. Rams') in the second round and Nos. 65 (Cleveland's) and 96 (Philadelphia's) in the third round.
That the Bills traded Taylor does not come as a surprise.
The writing was on the wall regarding his time as the team's starter dating back to Week 11 of last season, when he was benched for rookie Nathan Peterman before the team's game in Los Angeles. After Peterman melted down in spectacular fashion in that game against the Chargers, Taylor returned to the starting lineup the following week in Kansas City. He would ultimately finish out the season as the starter -- save a one-week absence because of a knee injury -- leading the team to a 9-7 record and helping the Bills end a 17-year playoff drought.
Despite that, the team never gave any indication Taylor was a part of their long-term plans. Most recently, coach Sean McDermott and Beane took turns tap dancing around questions at the NFL Scouting Combine about Taylor's future with the team.
"We're still going through that process," McDermott said. "We're in a good position with some options out there. So that will work itself out."
"Tyrod's on our roster right now," Beane said. "That's the plan. We're just taking it day by day. Like every position, we're trying to get better everywhere. We're looking at every position, including quarterback. But Tyrod did a lot of good things for us."
The one thing McDermott ruled out was the Bills cutting Taylor.
"I've learned being around this league around 20 years that it's way too early to take anything off the table other than cutting him at this point, which is not in our plans," he said. "He's a good football player who has been instrumental in getting us to the playoffs. At this point in the process, whether it's Tyrod or any of our players, you look at what's out there, you look at your options and you make decisions based on the best interests of your football team."
Looking back at that quote now, it looks like a negotiating ploy by the Bills to drum up interest in a player they were ready to move on from. There are a couple different reasons Bills fans can feel good about Friday's trade. No. 1 is the compensation they received -- a top-65 pick in the draft is a home run for Beane and substantially more than was expected. No. 2 is financial. By trading Taylor before March 16, the day his contract calls for a $6 million bonus, the Bills will save $10.44 million against the 2018 salary cap, pushing their available space to more than $32 million with the start of free agency just days away.
The flip side to that is saying goodbye to arguably the best quarterback the Bills have had since Jim Kelly retired after the 1996 season. Taylor had a 22-20 record in three seasons as the Bills' starter, throwing for 8,857 yards with a 62.6 percent completion rate along with 51 touchdowns and 16 interceptions.
During an appearance at Super Bowl week, Taylor was asked if he wanted to remain the Bills' quarterback.
"Absolutely. I love playing in Buffalo, I love my teammates," he said. "I know the work they put in, day in and day out. I know that's a special group and I see the potential that we have and as a team, we see it as well, too. If you were around Buffalo this past year, it was definitely different from the previous two years. It's a special group and I love competing with those guys, day in and day out."
Taylor has one year left on his contract, which includes a $10 million base salary. He was scheduled to count $18.08 million against the 2018 salary cap -- a figure that's in line with the going rate for a starting quarterback. That meant the Bills could have kept Taylor for one more season, which is what one of his veteran teammates expected to happen.
"I mean, I was surprised," Bills linebacker Lorenzo Alexander said Friday night. "Obviously there's been a lot of rumors about what we were going to do at the quarterback position. I thought we were going to keep him. That was kind of the last thing I had heard. So for this to break today was surprising, but I guess being in the league this long, nothing should surprise me anymore.
"I'm sad to see him go. I loved him as a teammate, what he brought to our team work-ethic wise and what he was able to do on the field for us, as well. … Great dude all around, and I wish him nothing but the best."
Taylor leaves the Bills as the franchise's career leader in passer rating (92.5) and is sixth in completions (774), second in completion percentage (62.6), and sixth in both yards and touchdowns. He also has the immense respect of those he played with. It would have been easy for him to throw a fit after being benched for Peterman in the thick of a playoff race. Instead, he offered his support to the rookie and reaffirmed why he was chosen as a team captain.
"Everything that Tyrod did was grade 'A,' professional," Alexander said. "He really set a great example to the young guys, and even for guys like myself, he raised the bar. I loved playing for him, loved going out there and trying to get the ball back for him. He laid it on the line for us each and every time. Even when we had adversity, he never allowed that to effect him.
"I think we all wished it would have worked out better for him in Buffalo, because we love what he brings, but unfortunately the league works the way it works, and our front office made a different decision. Now we have to kind of fill that void moving forward."
Late Friday night, Taylor reacted to the trade on social media, tweeting a picture of himself in a Bills jersey with the caption: "Thank you Buffalo! God's Plan. The marathon continues.
Taylor's acquisition was just one of the moves made on a busy Friday for his new team. Cleveland also acquired Dolphins receiver Jarvis Landry in exchange for a fourth-round draft pick in 2018 and seventh-round pick in 2019 and cornerback Damarious Randall from the Green Bay Packers in exchange for quarterback Deshone Kizer. The Browns and Packers also swapped picks in the fourth and fifth rounds of next month's draft.
Cleveland still has five of the top 64 draft picks, including the first and fourth overall selections.