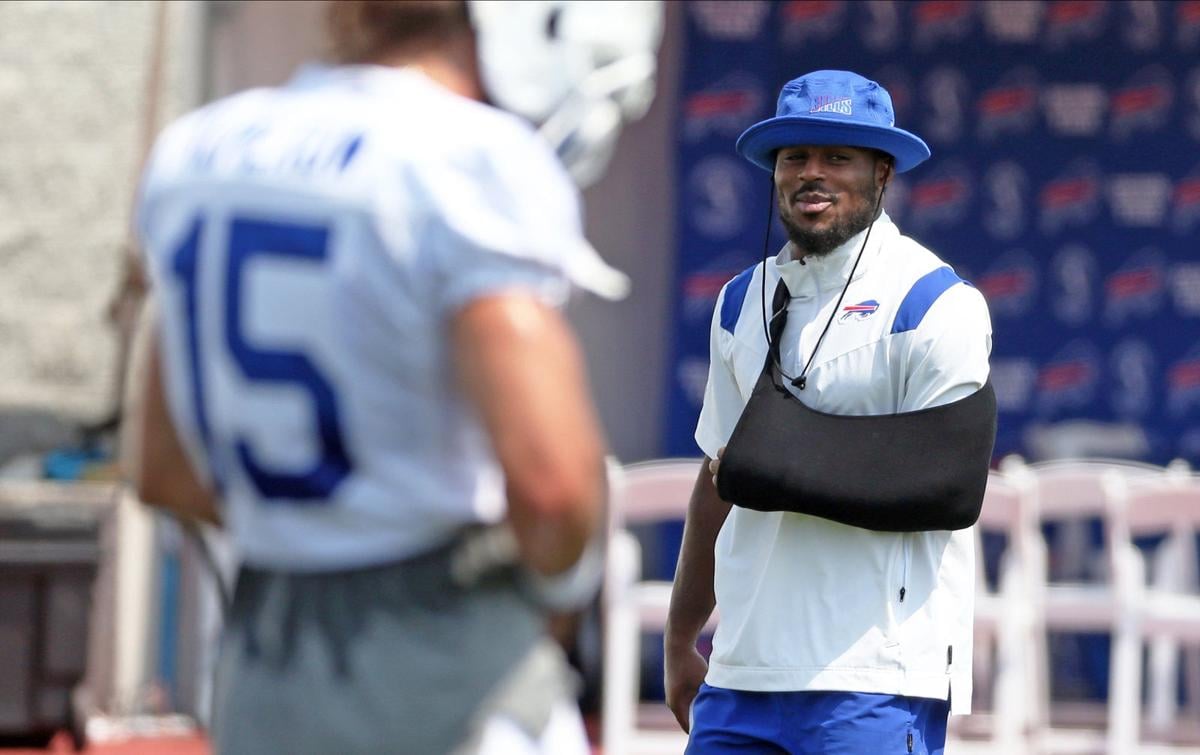 It's not been a great week for Isaiah McKenzie.
The Buffalo Bills' wide receiver suffered a shoulder injury during practice Tuesday that had him in a sling during Wednesday's practice.
Thursday morning, McKenzie shared on social media that he's been fined $14,650 by the NFL for failing to wear a mask inside the team facility.
According to the letter, McKenzie's violations came at 2:15 p.m. Wednesday when he walked through the team's indoor fieldhouse into the training room and again at 4:35 p.m. when he did not have a mask on in the meeting area of the weight room while gathered near other players.
"Your refusal to wear a mask occurred after you were informed that it was required for unvaccinated players as set forth in your 2021 club discipline schedule and as reiterated by signage throughout the club facility stating that unvaccinated players may be subject to fines/discipline for failing to wear a mask," the letter reads.
McKenzie was previously warned by the NFL about not wearing a mask in a letter dated July 27. 
"For players who are not fully vaccinated against Covid-19, like you, your conduct is expressly prohibited by the protocols," the letter reads. "Again, your conduct potentially compromised not only your safety, but also the safety of others, as well as the league's ability to ensure that your club's training camp is conducted in a safe manner."
McKenzie's letter notes that the violation occurred after the league staff gave a presentation to the Bills regarding the Covid protocols agreed to by the league and the players union. League officials have been visiting each team to provide in-person presentations, ESPN reported.
McKenzie's fine comes after the Bills are currently without four players – wide receivers Cole Beasley and Gabriel Davis and defensive tackles Star Lotulelei and Vernon Butler Jr. – because they are in mandatory quarantines as unvaccinated players who came into close contact with a Covid-positive member of the team's training staff.
Beasley, who has become the NFL's poster child for vaccine hesitancy, quote tweeted McKenzie's photo showing his fine letter to say "don't worry they got me too. But I was wearing a mask when I was in close contact with fully vaxxed trainer who tested positive and still got sent home. So what's the point of the mask anyways? Meanwhile I'm here still testing negative and can't come back. Make it make sense."
Beasley contended that his fine was for not wearing a mask for about "five steps" when he entered the facility Tuesday. 
Beasley was asked if he intended to retire, as he had threatened in the spring. 
"I'm gonna exhaust all options before retiring and try to change as much as I can for the other unvaccinated players," he wrote. "They are not protected at all. They have to protect themselves from the vaccinated players and staff. Which is almost impossible since they're tested 1/14 days."
Beasley again said he would not get vaccinated. He has said his position is not pro- or anti-vaccine but pro-personal choice.
"So I can go around infecting everyone without anybody knowing it? No thank you," he said. "The vaccinated is why I am at home right now. He got sick and I didn't. Why would I get it?"
McKenzie and Beasley would be subject to increased discipline from the NFL for further violations, which could include a maximum of one-week salary and a four-game unpaid suspension. The league has fined 25 players for refusing to wear a mask or tracking device since the start of training camp, the NFL Network reported.
"It's unfortunate when players get fined but these rules have been agreed upon and in place and well communicated for some time," coach Sean McDermott told reporters Thursday. "It's important for us that we focus on being safe and healthy and the purpose of why we're here." 
According to the Washington Post, 92.7% of all players are fully vaccinated and all but four teams have a vaccination rate at 89% or higher. 
"Some people are in a better position than we are at this point," McDermott said. "I respect our players' decisions. In my opinion, there's plenty of evidence why you should get vaccinated.
"I'm passionate about doing what is right. Respect is very important, but it doesn't mean that I'm not passionate about doing the right thing for the greater good of our country. That, in my opinion, means getting vaccinated."
Bills General Manager Brandon Beane said earlier this week that the Bills remain at around 80%. 
"We're similar to what we were when I mentioned that low-80s percent," Beane said Tuesday of the number of players who have been vaccinated. "I don't have an update with what we've done, you know, the latest roster moves we've done. I don't know if we're still about that 80% threshold. It may be slightly below it. We had a push right as camp started to get us over that 80 number, and it kind of has leveled off since then."
Bills guard Jon Feliciano tweeted his reaction to the fines, taking issue with the testing protocols, and also revealed that he is vaccinated, writing "us vax ppl." 
We repeatedly see vax ppl get covid and get other ppl sick regardless of their vax status. If us vax ppl were getting tested more frequently (like pa asked) than we could avoid situations like we are in. Just because some ppl aren't vax shouldn't mean we treat them as a pos.

— Jonathan Feliciano (@MongoFeliciano) August 26, 2021
Stefon Diggs tweeted about the fine, noting "15K is a lot of money." He later said they would probably send letters for "for not wearing it at home too," with a laughing emoji.
This is a developing story. Please check back for updates.