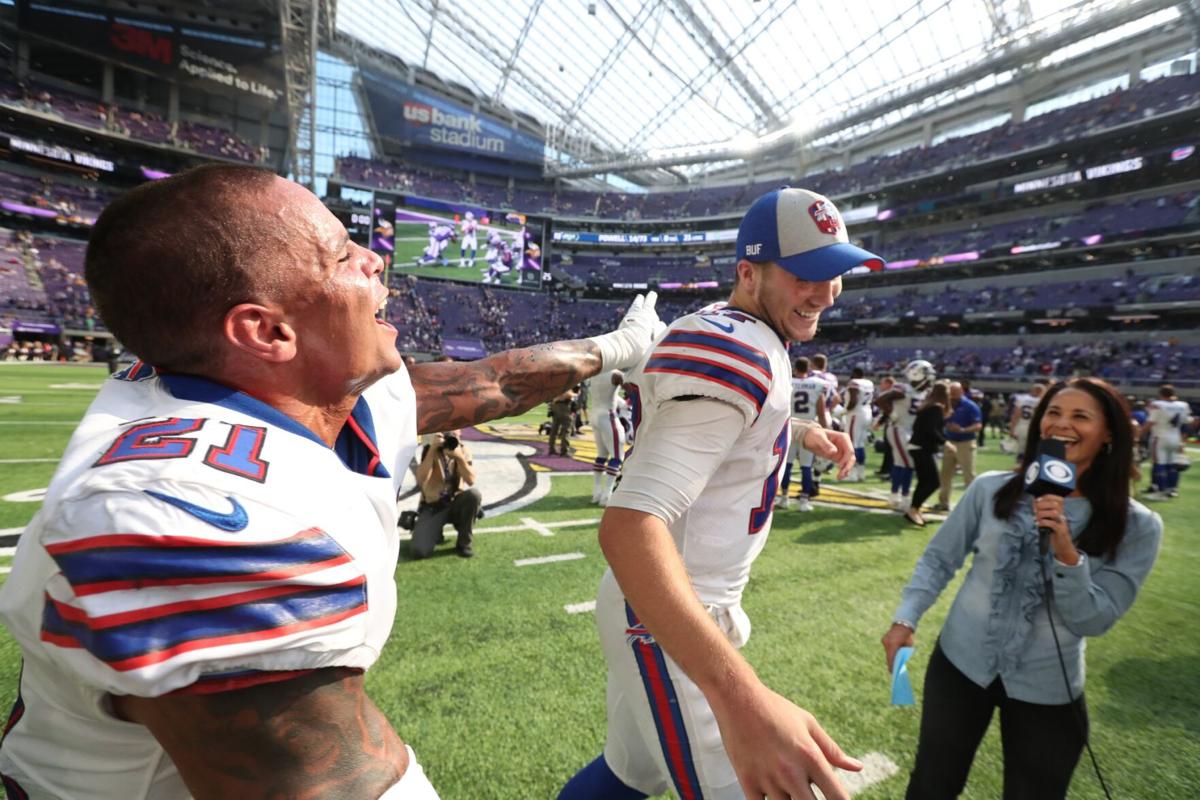 Without LeSean McCoy, the expectations for the Bills' running game were low. They'll gladly take the final results: A combined 38 carries for 128 yards. While 3.4 yards per rush isn't spectacular, it got the job done. Chris Ivory grinded out 56 yards on 20 carries, while Marcus Murphy took eight rushes 33 yards. The highlights on the ground came from quarterback Josh Allen, who sprinted, hurdled and barreled his way to 39 yards on 10 carries, including a pair of touchdowns. The Bills were content to run out the clock in the second half.
Allen's first half was absolute dynamite: 12 of 19 for 172 yards, one touchdown and a passer rating of 110.0. It would have been even better if it weren't for four drops. Those dropped the overall grade a little. The Bills didn't have to throw it much in the second half, meaning Allen finished 15 of 22 for 196 yards and a 111.2 passer rating. It was good to see No. 1 receiver Kelvin Benjamin make a couple of catches after two early drops, including one that might have gone for a touchdown. Eight players caught passes, with Ivory using a 55-yard pickup to lead the team with three catches for 70 yards.
Nasty is the best way to describe it. The Bills absolutely flew to the football all game, then hit hard when they got there. Rookie middle linebacker Tremaine Edmunds led the way with 10 tackles, one of which went for a loss. This is the type of effort the Bills had in mind when they drafted Edmunds and signed Star Lotulelei in free agency. Going back to the second half of Week 2 against the Chargers, the Bills have given up just 17 yards on the ground in six quarters. Wow.
So Vontae Davis wasn't missed, was he? Tre'Davious White locked down Stefon Diggs all game. The pass rush, led by Jerry Hughes, was relentless. Linebacker Matt Milano recorded an interception and led the team with two passes defensed. Tackling in the secondary was superb all game. Ryan Lewis made his first career start and didn't look out of place. Rookie Taron Johnson returned to the lineup after a one-game absence and finished with six tackles and one pass defensed. The Bills registered 10 passes defensed as a team.
Pretty much flawless here, too. Kicker Stephen Hauschka drilled a pair of field goals, including one from 50 yards. Rookie punter Corey Bojorquez kept flipping the field position in the second half. The coverage was excellent, as well, as the Vikings didn't have a single yard on punt returns. Taiwan Jones downed a punt inside the Minnesota 5-yard line. The only small quibble is rookie Ray-Ray McCloud failing to come up and make a fair catch. That allowed the ball to bounce, costing the Bills 30 yards of field position.
The "nobody believed in us" motivation is real. Sean McDermott had his team ready to go from the very start. McDermott went back to defensive coordinator Leslie Frazier for the play calls, which looks like a genius move now. I loved the aggressiveness of going for it on fourth-and-goal from the 1-yard line. McDermott did lose a challenge, but it looked like the right decision to try to overturn a fumble and turn it into an incomplete pass.
The Bills overcame missing their starting running back. The Vikings did not. Minnesota finished with a pathetic 14 yards on six carries with starter Dalvin Cook out because of a hamstring injury. Latavius Murray started in place of Cook and finished with 1 yard on two carries. He was outgained by quarterback Kirk Cousins, who had 2 yards on two carries. The lone highlight was an 11-yard rush by rookie Mike Boone.
So that's what bad Kirk Cousins looks like. The Vikings' quarterback wilted under pressure, particularly in the first half when he went 9 of 14 for 44 yards. Garbage time allowed Cousins to pile up some yardage, but his final stat line: 40 of 55 for 296 yards, one touchdown and one interception, is deceiving. He was not good Sunday, even though his 40 completions set a team record. The same can be said for Diggs, who finished with just four catches for 17 yards. He let a would-be touchdown catch go through his hands in the second half. Adam Thielen is a heck of a player. He finished with 14 catches for 105 yards, but the Vikings otherwise could not take advantage of a Buffalo secondary that featured a cornerback making his first career start.
Anthony Barr is happy he doesn't have to see Allen anymore. Barr couldn't prevent Allen from getting to the pylon on a 10-yard touchdown run, got hurdled by the Bills' quarterback and also took a horse-collar penalty. Defensive end Stephen Weatherly led the team with seven tackles in his first career start. Nose tackle Linval Joseph is a load. He finished with six tackles, an impressive total for the position.
Coach Mike Zimmer chalked up Jason Croom's 26-yard touchdown catch to "miscommunication." I'd say so – there wasn't a Vikings defender in sight on the play. The same was true on Ivory's 55-yard gain. Cornerback Trae Waynes almost had an interception on a deep ball, but couldn't finish the play. He left the game with an ankle injury. The pass rush did sack Allen three times, but there were only four passes defensed the whole game.
Punter Matt Wile's final numbers look good: Five punts for 259 yards and a net average of 45.2, even if they weren't all pretty. The return game didn't do much. Mike Hughes' only punt return was stopped for no gain, and he finished with just 61 yards on three kick returns. Hughes brought the Vikings' first kick return out – a bad decision to start – and then an unnecessary roughness penalty meant Minnesota started its first drive on its own 7-yard line. That set the tone for what was a long afternoon.
Zimmer wouldn't buy into the idea that his team overlooked the Bills, but it sure looks like they did. "I don't think we took them too lightly, I think they came out and kicked our butts," Zimmer said. On that, we can agree. Zimmer admitted he didn't do a good enough job preparing his team. The Vikings looked nothing like a Super Bowl contender Sunday.