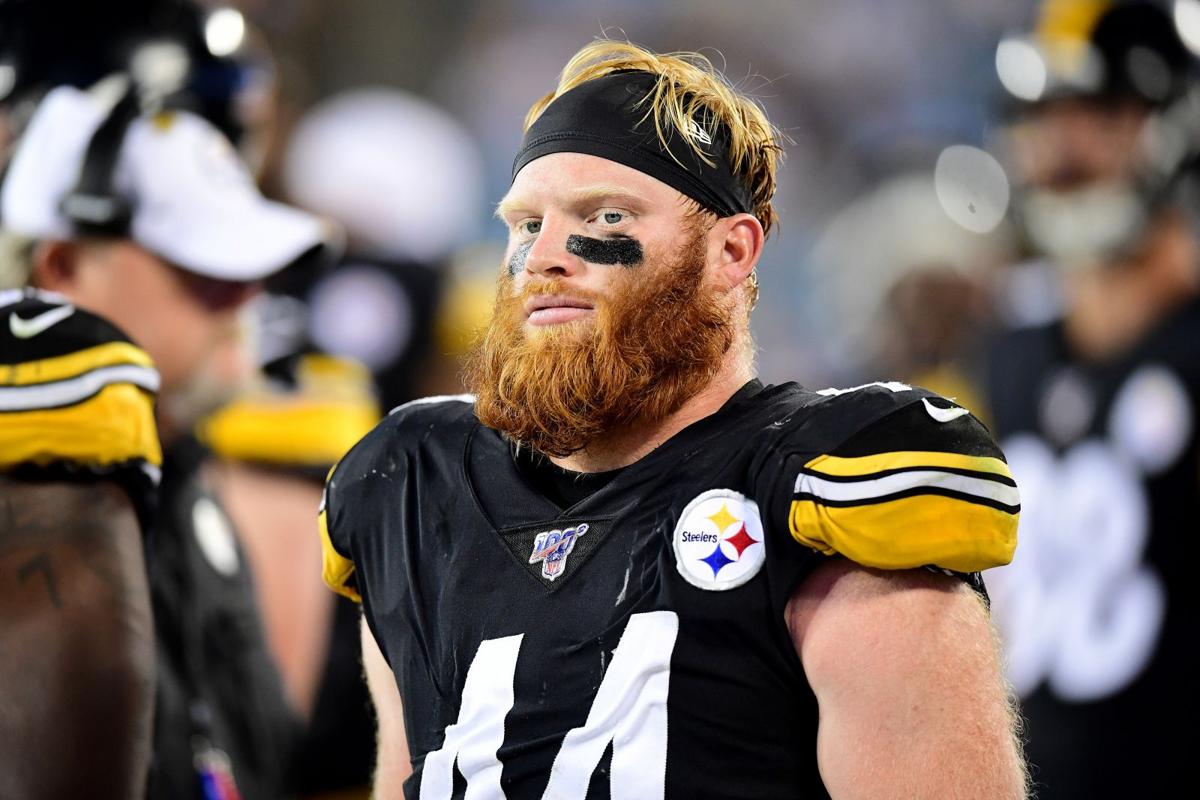 Tyler Matakevich had looked forward toward this moment his whole life, but he never wanted or expected it to happen like this, with a teammate paralyzed from the waist down, the stadium silent and his heart in his throat for what seemed like an eternity.
That's how it felt as fellow Steelers linebacker Ryan Shazier twisted on the turf in Cincinnati, unable to move his legs after a frightening head-first tackle early in the first quarter of a Monday Night Football game against the Bengals on Dec. 4, 2017. The national television broadcast twice went to commercial as Shazier was strapped to a backboard, carted off the field and whisked from the stadium in an ambulance as play resumed.
"I definitely remember that game like it was yesterday," Matakevich said this week. "It was such an unexpected, tragic thing that happened to Shay. And I got the opportunity to come in."
Matakevich, in his first season with the Bills, has played little more than special teams through his first five seasons in the NFL, since being drafted out of Temple in the seventh round in 2016. He more than doubled his career defensive snap count by the third quarter of that Week 13 game against the Bengals in 2017 when he, too, left the game because of injury. A torn labrum in his left shoulder required offseason surgery and ended any chance of him claiming the starting job down the stretch.
Matakevich finished in the top 10 in the NFL in special teams tackles in three of his first four seasons with the Steelers and led the league a year ago, before signing a two-year, $7.15 million contract with Buffalo on the first day of free agency in March. The reserve linebacker, who leads the Bills in special teams tackles this season and recovered a surprise onside kick in a victory against the Patriots, will face his former team for the first time when the Steelers visit Orchard Park on Sunday Night Football.
NBC will air a segment on Shazier at halftime featuring Tony Dungy's interview with the former two-time Pro Bowler, who had surgery to stabilize his spine and relearned to walk but could never again play football.
Matakevich, who turns 27 this month, continues to strive toward become a starting NFL linebacker, and Bills special teams coordinator Heath Farwell believes it will happen.
"I always make the comparison that playing special teams translates to defense so much," Farwell said. "So his instincts to get to the ball, to the returner, is very similar to getting to a running back on a swing route or a check down in space. So I think it translates really well and it would not surprise me at all. I think he's talented enough and a good enough player and … if he becomes a starter I would totally understand it and I'd completely agree and I think it'll happen. He's that good a football player that you want him on the field at all times.
"If we can find some reps for him on defense, I think that would be good."
Matakevich was deemed the best defensive player in the nation as a senior at Temple in 2015, winning the Bednarik Award and Nagurski Trophy after leading the Owls to their first top 25 ranking since 1979.
He recorded more than 100 tackles in four consecutive seasons as a starter and was a three-time team captain, the man whom Bills left tackle Dion Dawkins remembers setting the tone during outdoor drills in the freezing predawn hours on the school's practice field in Philadelphia.
"He was the center of our team," said Dawkins, then a junior on the Owls' offensive line. "We also had our quarterback that balanced that, P.J. (Walker), but Tyler was just a go-getter, man. He was just a crazy white dude. Just a crazy baller white dude. But not to say 'white dude' in any negative way. But to see a white dude ball the way that he balls and just go crazy the way that he goes crazy on the football field, is just different.
"And we always teased, like, 'Man, that white boy can't jump.' And stuff like that. And T-Y would be like, 'Man, I'm going to show you.' And he'll just keep going and going and going and going. And he'll make tackle after tackle after tackle."
But his physical measurables were unimpressive compared with the specimens in the NFL.
Scouts believed Matakevich was too small, too weak and too slow, the same issues that dogged him as a teenager, when he didn't have a single Division I scholarship offer out of his high school in Connecticut. A year later, he had one, from Temple, after a season at Milford Academy in New Berlin, the same upstate New York prep school once attended by LeSean McCoy.
Milford coach Bill Chaplick said he and Matakevich talk about his ambitions "all the time."
"But this is the NFL. It's 'Not For Long,' " Chaplick said. "And if you don't do what they tell you to do – if you want to be a linebacker and you're not a (starting) linebacker but you can stay in the league for 10 years on special teams and be the best guy possible, then that's what you do. And that's what he's doing because that's his character. You keep your mouth shut. You be a team player. And that's what he'll always be."
Matakevich's production in college, including against some top-tier competition, was undeniable.
He finished his senior season with 138 tackles, 15.5 for loss, 4.5 sacks, five interceptions and five pass breakups in 14 games.
"Here's the thing about Tyler," said former Temple coach Steve Addazio, who offered him a scholarship to play for the Owls and is now the head coach at Colorado State. "I don't think he's going to blow anybody down with his 40-yard dash time (4.81 seconds at the Combine). He's certainly a decent-sized kid (6 feet, 1 inch and 238 pounds), but he's not huge. Those numbers aren't his asset.
"But his intensity, his passion, his coachability, his toughness, those are all things that make him special."
Panthers linebackers coach Mike Siravo, who was Matakevich's position coach at Temple, said the linebacker made it to the NFL because of three traits – his genuine love for the game, instincts and durability.
"In the three years we were together, he did not miss a day," Siravo said. "He didn't miss an offseason workout, the grueling ones where a guy in his fourth year who led the country every year in tackles would, if his hamstring bothered him, say, 'I don't need to do these college mat drills anymore.' He was out there every day and never wanted to come out."
The Steelers took a flier, drafting him with the 246th overall pick in the seventh round.
Going from big man on campus to buried on the depth chart proved an adjustment.
"It was definitely tough at first," Matakevich said. "Don't get me wrong. I want to be out there every snap. I want to be out there playing linebacker. But I learned really early on in my career, when I was a rookie at training camp, if I can't make an impact on the field on defense how am I going to do it? And I figured out real early on that my way to change the game is on special teams."
Matakevich had a chance to show the nation he could play linebacker in the NFL late in his second season in the league, when Shazier was injured making a tackle after a short pass over the middle to rookie wide receiver Josh Malone.
Shazier's spine compressed as the top of his helmet slammed into Malone's hip, and he immediately flopped to the turf, grabbed at the middle of his back and rolled over, never moving his legs. It was a frightening situation, one that shook teary-eyed players from both teams and most anyone watching.
But the game resumed, and Matakevich was the next man up.
"I just remember being really concerned about Ryan and just hoping that he was going to be OK," said Kyle Friend, a fellow former three-time captain at Temple and practice squad offensive lineman with the Steelers in 2017. "And I had 100% full faith and trust in Tyler that he was going to go in there and play really well."
Matakevich had played just 19 defensive snaps in the first 11 games that season combined.
He played 41 against the Bengals – by far his most since college – and recorded six tackles before aggravating a shoulder injury in the third quarter.
"People really don't know or sort of forget," Matakevich said. "That season, earlier in the year, when we played the Chiefs (in a 19-13 win at Kansas City on Oct. 15, 2017), I tore my labrum, my rotator cuff and my bicep. I did that Week 6, so I was playing the whole year with it. So when Shay went down, I was pumped to go in, but at the same time I knew I only had one arm. And sure enough I played the first half. I was OK. And then the second half, I think it was the second series, I just went to go block a lineman and my shoulder came out and it wouldn't go back in. So that was the end of it. It was sorta like bittersweet."
He was replaced by L.J. Fort, the next man up, and the Steelers rallied for a 23-20 victory.
Matakevich missed the next game against the Ravens and was limited to special teams for the rest of the season. He had surgery in January 2018.
How did Matakevich play more than half an NFL season with "one arm?"
"It was really just sort of a mentality," Matakevich said. "I felt as if I could still play with it. I had a brace on, but the brace can only help you so much, you know? And it was really just being out there, just trying not to think about it. And at the end of the game, you're sorta like, 'OK, I made it through.' And you're onto the next one."
Being forced from the game and losing the opportunity for extensive playing time tested his resolve.
"It was definitely frustrating," Matakevich said. "But opportunities are going to come and go. You've just got to be ready for your moment. I was definitely a little upset. But at the end of the day something like that isn't going to get the best of me. You've just got to keep it moving, keep it going, keep working and trying to get another opportunity. That's all you can do."
'It leaves you speechless'
Matakevich said his work ethic comes from his father David, "a man of all trades" who used to clean oil tanks and transport medical waste and now works for Sikorsky, an aircraft manufacturer owned by Lockheed Martin.
"Growing up, it goes right over your head," Matakevich said. "You really have no idea what your parents do until you get older, and shoot, my dad, even once I got up to the NFL he was still working two jobs. And you sorta tell him, 'Hey, man. Stop. Like, I'll help you out.' And he just tells you to shut up and he's fine. You know? And that's just how I feel like my dad is.
"Just seeing the way he always worked and provided for me and my sister and my family, it just motivated me. No matter what obstacles, you've just got to keep going."
After shoulder surgery, Matakevich was the early favorite to start opposite Vince Williams in 2018, but the job went to Jon Bostic, who signed with the Steelers in free agency.
Because of injuries, Matakevich started a game for the first and only time in his NFL career in a 41-17 victory against the Falcons on Oct. 7, 2018. He finished with six tackles.
"I finally got an opportunity to go out there against a good team and just show everybody, 'Hey, I can play,' " Matakevich said. "And it was awesome. Those type of memories and games like that you definitely carry on with you for quite some time."
Siravo, the Panthers' linebackers coach who worked with Matakevich at Temple, said he has the potential to become a full-time NFL starter.
"You're going to count on him as a coach to be available," Siravo said, "and mentally, you know you have a guy you can put in several linebacker positions. Maybe you want a guy a step faster to cover someone in the slot or you can come up with 1,000 reasons, but he's going to make it right when it's important, when the game's on the line."
He came to study and admire retired Bills linebacker Lorenzo Alexander, at the recommendation of Steelers special teams coordinator Danny Smith, who coached Alexander in Washington. Smith also previously was the Bills' special teams coordinator. 
"That's definitely a guy that I try to mirror," Matakevich said. "My special teams coach in Pitt coached him and was talking about him, so one offseason I just decided to watch film on him and he's a guy who played 13 years, and shoot, he was on special teams for the first seven, eight of them, until he finally got his chance, and everybody knows what type of player he was up here."
In May 2019, only 17 months after Shazier was carted from the field with a spinal cord injury and Matakevich had his shot at taking over the job, he joined his teammates at Shazier's wedding.
"I was there. And, shoot, I was at the hospital on that Wednesday after our game, when it originally happened to Shay, so just to see him – and that day, I'll never forget it," Matakevich said. "To see him then and then to see where he's at now, and at his wedding he was dancing and to see him doing box jumps and just walking around, it's amazing.
"It leaves you speechless a little bit. Just because if there was one person who could ever overcome it, it would be him. His attitude, his mentality since the day it happened, he was so positive. And seeing the way he responded and how he acted when everything happened, it really just makes you appreciate life a little more."
'Not something you coach'
Farwell, the Bills' special teams coach, said Matakevich had caught his attention a couple of years ago and was a problem when game planning against the Steelers last season, when the Bills won 17-10 in a Sunday night game on Dec. 16 in Pittsburgh.
Buffalo, at Farwell's request, made signing Matakevich a priority last offseason.
"He's everything and more than we saw on tape," Farwell said. "His game speed is different than his 40 time. His instincts, his toughness, his willingness to throw his body around. It's not something you coach, really."
Matakevich has played just 11 defensive snaps in 12 games with the Bills, despite starting linebackers Tremaine Edmunds and Matt Milano missing time with injuries.
Both were hurt in the season opener and forced to miss time, but were replaced by Tyrel Dodson and A.J. Klein, respectively, until each was healthy enough to return. Klein was named the AFC defensive player of the week on Dec. 3 after recording 14 tackles, 3.5 for loss and 1.5 sacks against the Chargers.
"Even if there's two, three guys ahead of you, you've still just got to prepare like you're a starter," Matakevich said. "That's definitely a difficult task, but you've really just got to put everything aside and just be willing to help your team, no matter what role they need you to do. Every role is important, and you've just always got to be ready."
Edmunds said he's been impressed by Matakevich's work ethic.
"Tyler's my guy," Edmunds said. "Just a guy that, he's going to give you his all. Tyler, he's been going full force ever since he first got here. He's a guy that's bought into the process, a guy that comes to work each and every day, and it shows out there on the practice field. You see him aiming to get better, coming to work every day with something on his mind as far as something he wants to get better with."
Matakevich played seven defensive snaps in the Bills' Week 2 victory against Miami. He didn't record any stats. But if Matakevich was disappointed, Farwell didn't notice.
"He's a guy that never changed his demeanor, never changed his attitude," Farwell said. "It's always been positive, uplifting. He's always leaned in on special teams. Of course, he wants to play linebacker and he will at some point. But at that time, I didn't notice anything."
There was one thing readily apparent.
He'd stepped right into a leadership role with his new team.
"I just go out there and I try to tell the guys all the time, 'Hey, meet me at the ball,' " Matakevich said. "I really take special teams serious. Not everybody wants to do special teams. Special teams isn't for everybody. But I love it. I love everything about it. You've got one play, one opportunity. It's not like you've got four plays. You've got one chance to go down there and make the play, you know?"
He aims to make the most of it.