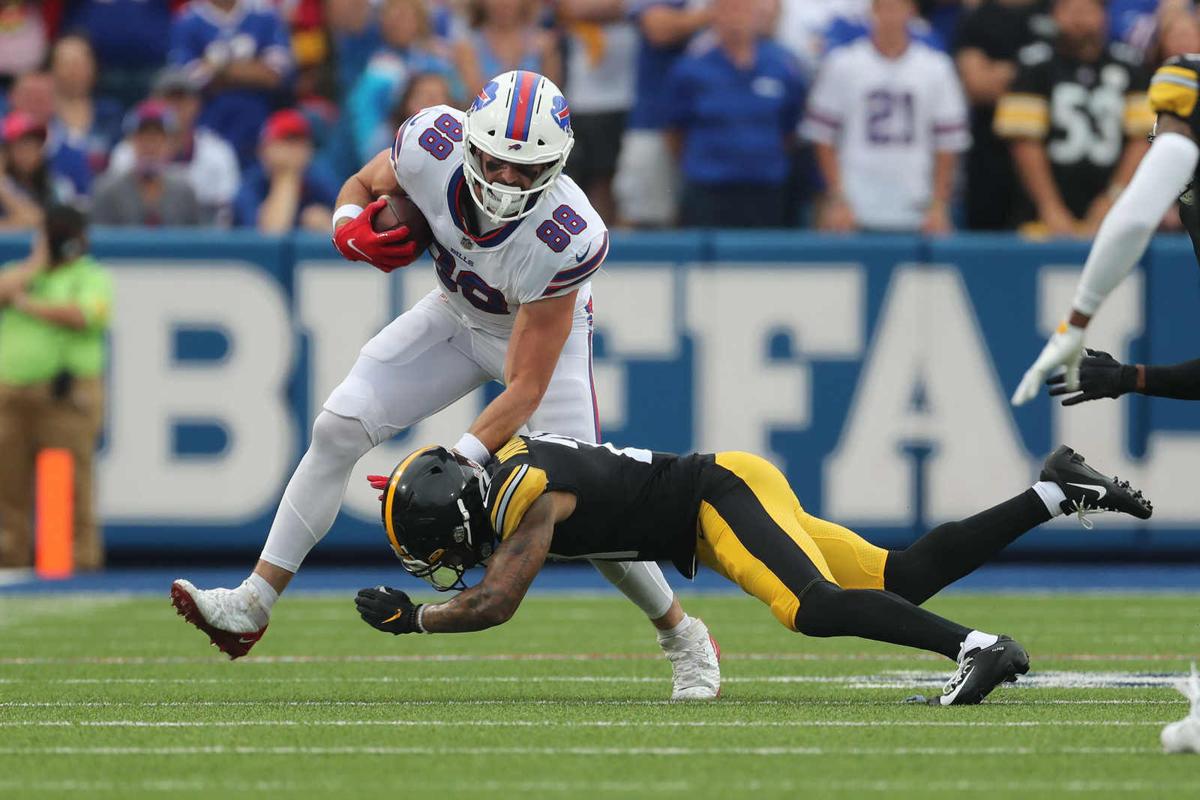 There weren't many positives to be taken away from the season opener for the Buffalo Bills.
The performance of tight end Dawson Knox, however, was one of them.
Offense and special teams let down the Buffalo Bills in the season opener, but the Bills' defensive grades are good from Sunday's 23-16 loss.
Knox caught all four passes thrown to him, gaining 41 yards and producing three first downs. He played 48 offensive snaps (56% of the team total), while the only other true tight end on the roster, Tommy Sweeney, played two.
That's a good indication the Bills trust Knox in all situations.
"We see improved play really through the spring and through training camp," Bills coach Sean McDermott said recently of Knox. "Whether it be the run game or the pass game, and I think Josh (Allen) would say the same. He's seen an increased level of trust from Josh and the tight end passing game. I believe Dawson's best ball is ahead of him."
"I think anytime a play doesn't work, you always want it back. But we're trying to call plays that give us a chance here, and maybe spring a big one, and they did a good job," offensive coordinator Brian Daboll said Monday.
Knox finished the game as the Bills' fourth-highest graded player, according to analytics website Pro Football Focus. That's a step in the right direction for the third-year veteran, particularly after an offseason full of speculation.
The Bills were widely rumored to be in the mix for a trade to acquire Eagles tight end Zack Ertz, but such a deal never materialized. That's another sign the Bills believe in Knox, as well as Sweeney.
"I've always felt the confidence of coach McDermott and (offensive coordinator Brian Daboll) and especially my position coach," Knox said. "I've never been wavered by someone we might bring in. There's always talk before the draft, 'Blah, blah, blah, maybe we'll bring in a couple more tight ends, maybe we'll sign a big free agent.' I've always kind of welcomed that. Whoever we bring in the room is going to elevate your competition. I think we all have that iron sharpens iron mentality of just whoever we bring in is going to make the whole room better, but now that it's just me and Tommy, there definitely is that confidence there. We can feel that."
Ertz joins Antonio Brown and Ryan Nassib as legendary former Bills who, you know, were never actually Bills. In a funny way, that's a bit of a disappointment for Knox.
"I got to meet Zach and talk with him a little bit at the 'Tight End U' thing. He's a cool guy," Knox said of the three-day seminar in June in Nashville organized by the San Francisco 49ers' George Kittle, the Kansas City Chiefs' Travis Kelce and retired tight end Greg Olsen.
Add a stadium full of diehard fans excited to see their $258 million quarterback make big plays, and you get a hyper-charged quarterback who was always looking for something better, rather than the simple completions that were available.
"It was fun learning some stuff from him. It got to the point where I was even excited about bringing him in, being able to compete with him for that starting spot if we both ended up on the roster together."
Knox is fully aware of all the Ertz chatter, but knows that's out of his control. The NFL is a revolving door, as the daily transactions wire demonstrates. It's entirely possible the Bills could make a move for a tight end to join Knox or Sweeney – or replace one of them – at just about any time.
"If I start focusing on other guys, my game is going to go downhill," Knox said. "Even if it stays stagnant, I view that as losing a step. I want to pick something to work on and just keep getting better. Timing with Josh, pass protection, whatever it is, just focusing on what I can control, what I can get better. That's the only thing that's going to make me a better player, not worrying about what Twitter has to say. ... That stuff is entertaining for people to read, but you've got to be able to focus on yourself and make yourself better."
Knox spent considerable time in the offseason working on timing with Allen. After a thorough review of his 2020 film, Knox found there were times he got open too quickly on routes. At that point, Allen wasn't looking at him, and the defender had time to recover before the quarterback's progression took him to Knox, who then wasn't open.
"Little things like that that are hard to really get ahold of in your first year or two," Knox said.
The Bills' fourth-and-1 lateral pass didn't work early in the fourth quarter of Sunday's loss to the Steelers.
In an effort to iron out those details, Knox has spent time sitting in quarterback meetings, all in an effort to get his chemistry with Allen where it needs to be. The Bills have introduced more option routes to the playbook this year, according to Knox, so knowing where to sit down in zone coverage and when to break in or out against man coverage has been a focus of those after-practice sessions with Allen.
"Little things like that, I necessarily wasn't able to look at my rookie year, because rookie year my head was spinning," Knox said. "I was just trying to figure out where to line up and what route to run."
Knowing the proper way to break down film to evaluate what the defense is doing and what his job is on each play has taken time for Knox.
"He's grown in our system," Daboll said during training camp. "He's not thinking as much, which is really natural for any young player. … He's been a consistent player for us. He's done a good job, put a lot of effort in in the offseason, which is good to see. I know the quarterback has a lot of trust in him. I'm glad we have him."
Having the faith of the coaching staff is one thing, but Knox knows it's imperative that Allen trusts him. He's the one who ultimately decides where the football goes, after all.
The Bills' average age is 26.4 years – only slightly higher than the league average of 26.06 years.
"Having Josh's confidence is the first priority," Knox said. "He's the one out there who is going to be looking at you or not. He's the one who is going to have the confidence in you to put the ball where it needs to be, even if it's tight coverage. So just stacking good plays on good plays with him is going to be the biggest thing."
Knox's 2020 season was marred by a concussion, a calf injury and a stint on the Covid-19 list that limited him to just 12 games, so making it to the regular season healthy was one of his goals. With just two tight ends on the active roster, the Bills need him to be in the best physical condition of his life.
"There will be a few extra reps during practice, which is great with me," he said. "I've always liked practice. … If it was up to me, I'd be getting every rep, but obviously it doesn't work like that. I might be able to last a whole 12-play drive, instead of having to tap out for a play or two. That cardio is going to be there, for sure."
Injuries aren't the only things that have held Knox back in his first two seasons. The 6-foot-4, 254-pounder fits the profile for a modern tight end, but inconsistency and ill-timed drops have also been a problem. Now 24 and in his third season, Knox knows the time is now to take the next step in his career.
Part of that involves resetting when things don't go right.
"I'm starting to think of every play as a life of its own," he said. "If there is a bad play, if I miss a block, heaven forbid give up a sack or something, have a drop, you've just got to forget about it. You can learn from it the next day, you can really break down why something went wrong, but in the game, we're going so quick. You've got to forget about it. If you let that affect the next play, you've already lost. It can go downhill quick if you start reminiscing on what went bad the play before."