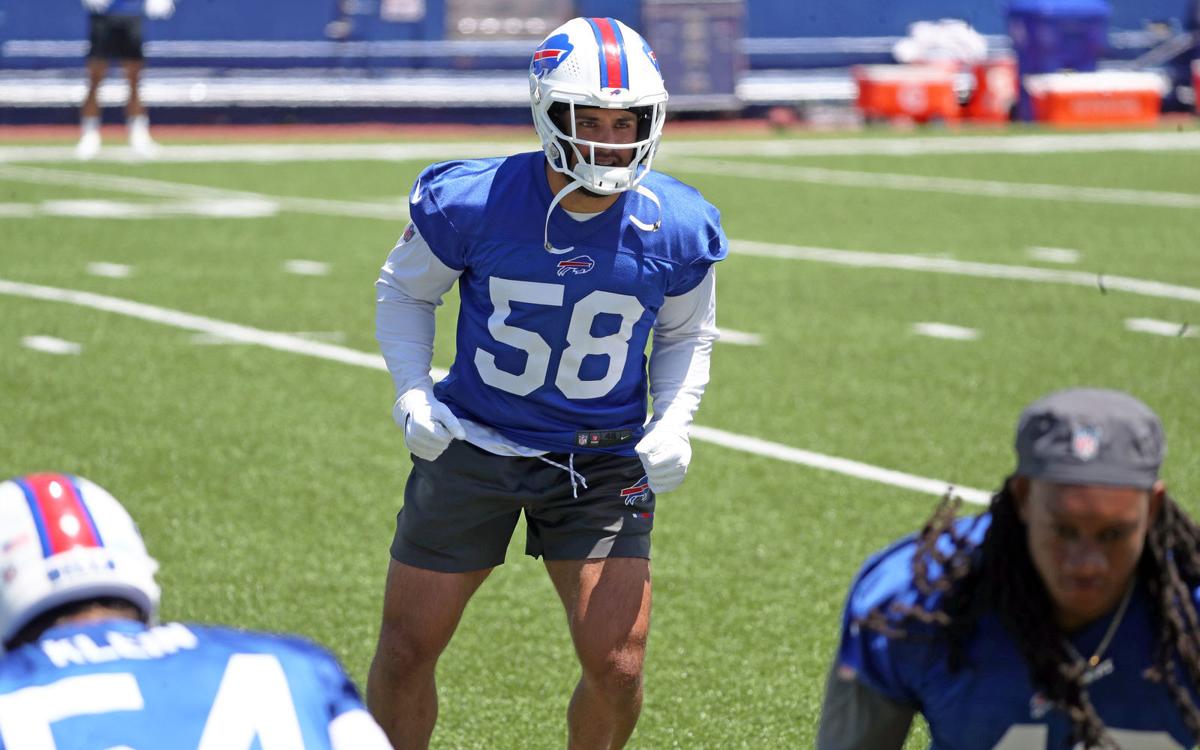 This is the seventh in a series of previews of the Bills at each position heading into training camp. This installment: linebackers.
The Buffalo Bills bet big on their linebackers in the offseason.
The team re-signed Matt Milano to a lucrative, four-year contract extension and also picked up the fifth-year option on Tremaine Edmunds' rookie deal, a sign the front office and coaching staff believe both of them to be integral to the defensive scheme.
Milano is coming off a season in which he played 10 games and started just five. A partially torn pectoral muscle led to a stint on injured reserve and otherwise relegated him to part-time duty for a significant stretch of the season. He was fully healthy by the end of the season, though, and should once again be an every-down player for coordinator Leslie Frazier.
Edmunds, meanwhile, is coming off his second consecutive Pro Bowl season – even if there are some lingering questions about whether he's quite lived up to his lofty draft status after the Bills traded up to select him No. 16 overall in 2018.
A.J. Klein, who overcame some shaky early-season games last year to flash in Milano's absence, returns as the presumed third starter in the team's base, 4-3 defensive scheme. He's more of a rotational player, though, as the Bills (and every other NFL team) spend more time in their nickel (five defensive backs) package.
With Edmunds and Milano as the centerpieces, the Bills focused on adding depth around them.
Returnees: Tremaine Edmunds, Matt Milano, A.J. Klein, Tyrel Dodson, Tyler Matakevich, Andre Smith.
Newcomers: Tyrell Adams (free agent, Texans), Mike Bell (free agent), Joe Giles-Harris (free agent, Jaguars), Marquel Lee (free agent).
Departures: Del'Shawn Phillips (free agent, Jets), Darron Lee (free agent, Raiders), Deon Lacey (free agent, CFL's Saskatchewan Roughriders).
Key number: 12-1. That was the Bills' record with Milano in the lineup last season. Of course, other factors are in play that resulted in that, but there is no doubt Milano is integral to what the Bills attempt to do defensively. His ability to defend the run, cover and pressure the opposing quarterback is hard to duplicate. That's why the Bills didn't even list a backup to Milano on last year's depth chart.
Top position battle: Tyrell Adams vs. Tyrel Dodson
The Bills are set at the top with Edmunds, Milano and Klein as the starters. The backup picture has some questions, though. Tyler Matakevich reworked his contract, which is fully guaranteed for 2021, so he's sure to stick around as the fourth linebacker. He's primarily used on special teams, however, so the backup roles are to be determined. Adams had a productive 2020 season with the Texans, finishing with 114 total tackles, two sacks, four pass breakups and two forced fumbles.
The Bills kept six linebackers at the start of last season. If they stick with that roster construction, Adams would have to beat out Dodson as Edmunds' backup. Adams played middle linebacker with Houston, but said during an interview with The Buffalo News recently that he's most comfortable on the weak side.
Dodson stepped in early in the 2020 season when Edmunds suffered a shoulder injury, but that doesn't guarantee a roster spot after the Bills added veteran depth in the offseason.
What to expect: Special teams will go a long way toward determining the backup slots. Coordinator Heath Farwell will likely have some sway with coach Sean McDermott before final cuts are made. That could work in Smith's favor, because he played a big role for the Bills there last year. The wild card of the group is Marquel Lee, who was out of the NFL last season following a training camp injury. He was productive with the Raiders in 2018 but was plagued by injuries in 2019.