Not only are ticket prices bound to increase for NFL games at the Buffalo Bills' proposed new stadium in Orchard Park, but season ticket holders will likely first have to pay $1,000 or more for the privilege to buy them.
Bills owners Kim and Terry Pegula plan to pay for a portion of their share of any "public/private partnership" struck with New York State and Erie County to construct a new stadium by selling personal seat licenses, a revenue source used to help pay for more than half the stadiums in the league.
"We will definitely have PSLs as part of a new stadium," said Ron Raccuia, the executive vice president and lead negotiator for Pegula Sports and Entertainment, during an interview this week with The Buffalo News. "Every new stadium that's opened since 2009 has utilized PSLs."
PSLs are a one-time, upfront expense that gives fans the right – and obligation – to purchase season tickets each year, or else return them to the team.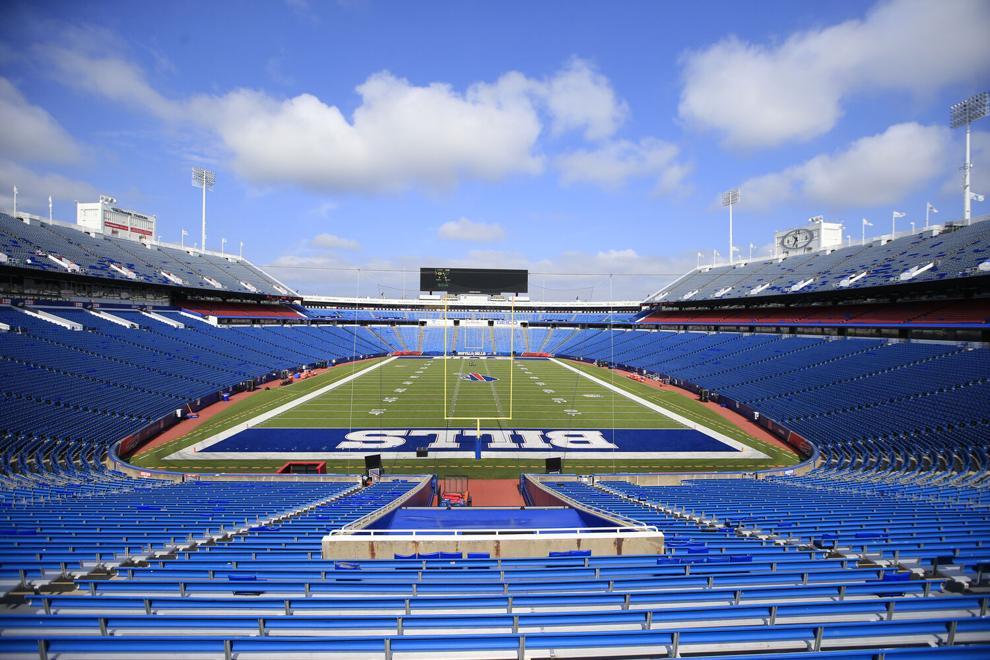 They are typically complex agreements that offer perks and aid in fan retention, but at their heart, PSLs are revenue-driving mechanisms that allow team owners to help pay for new stadiums by pushing their share of expenses onto their most loyal customers. And at the upper range of the spectrum, depending on the seat and market, they can cost well over $100,000 in some big cities.
"We will most likely have the lowest PSLs of any new stadium built since 2009," Raccuia said. "And that's a function of the market and us being committed to making sure that we don't price our fans out of the marketplace. We will be very cognizant of that with PSLs."
Twenty of the 32 NFL franchises, from the largest to smallest markets, including those that play in the seven newest stadiums, require season ticket holders to purchase some form of PSL.
"First you pay for the right to buy the seat, and then you pay for the seat itself," said Andrew Zimbalist, the sports economist at Smith College in Massachusetts who described the practice as a two-part tariff. "My buddy (the sportscaster) Bob Costas used to say, 'It's like walking into a restaurant and paying to see the menu, and then buying the food.' "
Bills to sell about 50,000 PSLs, season tickets
The Bills' least expensive PSLs in their proposed new stadium are expected to begin around $1,000, Raccuia said, and the requirement to buy a PSL will apply to every season ticket holder.
A price range has not been determined.
Raccuia said the PSLs will be perpetual and transferrable, meaning they will not need to be renewed and can be resold to a third party.
PSL holders will have the ability to choose their permanent seats, as well as the first opportunity to buy tickets for other events at the stadium, Raccuia said.
The PSLs may also incorporate preferred parking, early access, food and beverages and other amenities.
"If a PSL is structured correctly, it really does provide an additional benefit to the fan," Raccuia said. "And we're committed to making sure that the PSL package that any fan ends up having with us is going to have value."
The Bills expect to sell a maximum of approximately 50,000 PSLs and season tickets at their new stadium, which is expected to seat between 60,000 and 62,000 fans, Raccuia said, not including a standing room-only party deck, which could accommodate another 3,000 to 5,000 spectators.
At $1,000 apiece, that would raise, at a minimum, $50 million in PSL fees.
But the PSLs are likely to generate far more revenue, thanks to dynamic pricing, in much the same way tickets at the 50-yard line cost more than those in the end zones.
"Basically, PSL money is generally treated as the owners' contribution" toward stadium financing, Zimbalist said, "so that if a stadium costs $1 billion and the owner sells $300 million worth of PSLs, and does nothing else, then they would say 30% of the stadium is being financed by the owner. But of course the PSLs are being bought by the fans."
'Leaving money on the table'
The Bills' approach to PSLs seems reasonable to Roger Noll, the professor of economics emeritus at Stanford University.
"If you're a completely rapacious, profit-maximizing, monopoly football team, you typically sell them for a fixed time, like 10 years or so, so that you can resell them again 10 years later," Noll said. "And that's because most people don't have a time horizon that is much longer than that. … The fact that they're perpetual means that the Bills are actually leaving money on the table."
The last NFL venue constructed without incorporating PSLs was Lucas Oil Stadium, home of the Indianapolis Colts, in 2008, for which the public paid $620 million of the $720 million total cost.
Since then, the Dallas Cowboys, New York Giants and Jets, San Francisco 49ers, Minnesota Vikings, Atlanta Falcons, Las Vegas Raiders and Los Angeles Rams and Chargers have required PSLs to purchase season tickets at their new stadiums.
The total price tag for each venue, like the Bills' proposed stadium, exceeded $1 billion.
"All the PSL money is used for construction on a stadium," Raccuia said, "so that's critically important as we embark on this, especially in a market like Buffalo, where we don't have the ability to increase (ticket) prices the way other markets have. So the PSLs are critical.
"The other thing with PSLs is they help with fan retention. Most fans that have a PSL associated with their seat, no matter how small, the likelihood of them keeping their season tickets on a retention basis goes up exponentially."
Zimbalist said that fans being stuck with large upfront costs – and then being on the hook to purchase season tickets each year – can lead to a weaker football team, because it's much more likely that PSL holders will continue to buy tickets, whether the team is good or bad.
"Under normal circumstances, when you don't have a PSL, if you don't have a good team, fans don't buy the tickets," Zimbalist said. "So there's less incentive for the Pegulas to put a winning team on the field, and that's bad for fans, I think. That's a peculiar incentive system that's embedded in the PSL financing scheme."
Raccuia said the Pegulas don't yet know how much money they intend to raise through the sale of personal seat licenses.
"A lot of factors that go into that," Raccuia said. "We have to know what type of deal we're doing with the state and the county."