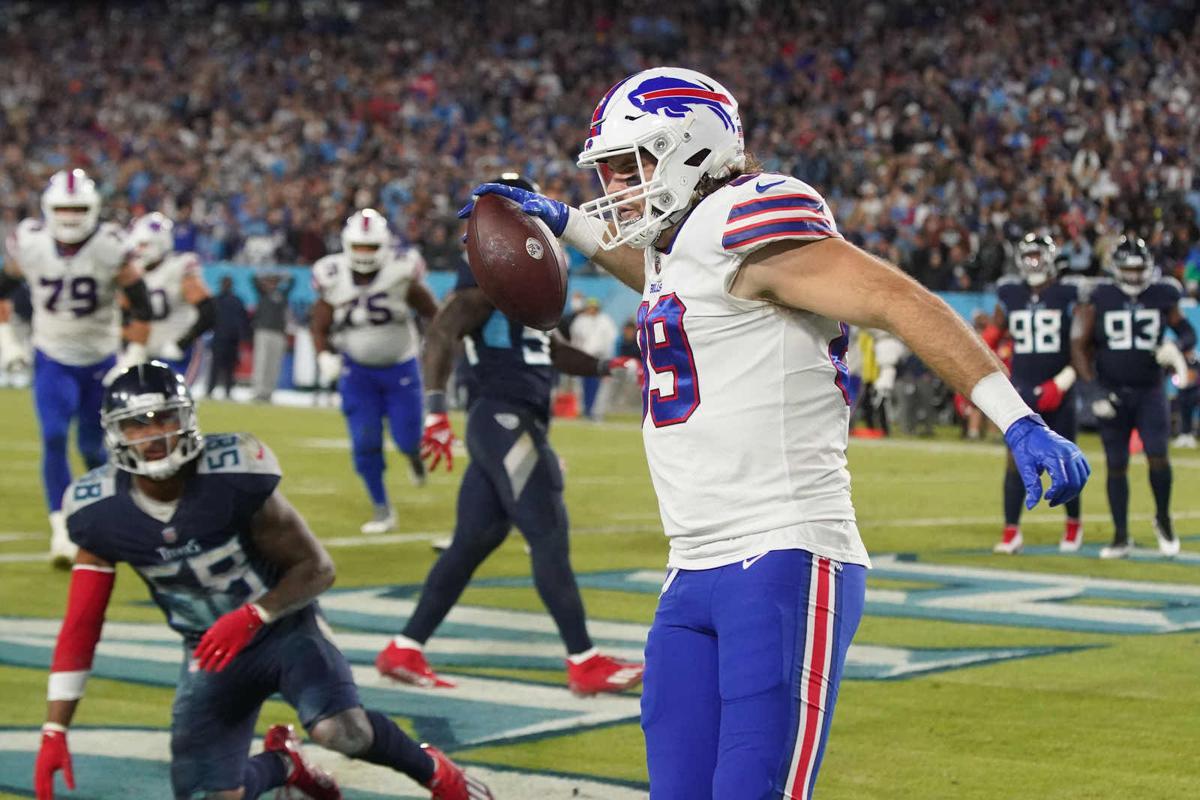 There is an irony to be found in the reason why Tommy Sweeney had football taken away from him last year.
The Buffalo Bills' third-year tight end was unable to play in the 2020 season on doctor's orders, as he became the first, and to date, only known NFL player to develop myocarditis following a Covid-19 infection. Myocarditis is an inflammation of the heart muscle that can reduce the organ's ability to pump and cause rapid or abnormal beating. Left untreated, it can cause permanent heart damage or even cardiac arrest.
The one thing all those echocardiograms last year could never have detected, however, is just how much Sweeney means to the collective heart of the Bills. Now fully recovered from that potentially career-ending – or even worse – ailment, Sweeney is set for the biggest opportunity of his NFL life. With starting tight end Dawson Knox sidelined by a broken hand, Sweeney figures to be prominently involved in the game plan when the Miami Dolphins visit Highmark Stadium at 1 p.m. Sunday.
That's brought a smile to the Bills' players and coaches – all of whom positively rave about the 26-year-old from Ramsey, N.J.
"He's probably one of the most interesting guys, not just on the team, but on the planet," quarterback Josh Allen. "He's awesome to be around. He's one of those guys that just consistently worked, kept his head down, never complained. He doesn't have a whole lot of opportunities in the passing game, but when his number's called, he usually ends up making the play. He's a guy that guys love being around. He's all about the team, and he wants to do whatever (he) can do to help this team win. … He's just one of the best dudes on the team."
That was a common refrain from anyone asked about Sweeney during the week.
"Honestly, not even speaking football, just him as a person – one of the coolest guys on the team," safety Micah Hyde said. "He's one of those guys that doesn't care what anybody thinks and is just Tommy Sweeney, but when he gets on the football field, he can play ball, man."
"Yeah, I slipped them a $5," Sweeney said with a laugh when asked if he paid off his teammates to say something nice about him. "No, we've just got such a great team, good guys, so they're probably just being nice. That's how they are."
While there wasn't much to celebrate during the Bills' last game – a disappointing loss to Tennessee on Monday Night Football – Sweeney's first career touchdown catch was one of the bright spots. That came on a 1-yard reception in the third quarter.
"If you ask my wife, she would say it was her favorite play in the Tennessee game," tight ends coach Rob Boras said. "That's the first thing I got in the text. … Obviously, she was disappointed in the outcome, but Tommy just has something about him, where people have a great feel for who he is and cheer for him."
Sweeney entered the NFL as a seventh-round draft pick in 2019, the same year the Bills used a third-round pick on Knox. As such, they've come up together, experiencing the highs and lows of life as a professional.
Sweeney has watched as Knox has enjoyed a breakout 2021 season, with five touchdown catches through the first six games. Before leaving the Tennessee game, Knox threw a two-point conversion pass to Allen – with a broken hand.
"I can't really say enough about Dawson as a guy, as a friend, as a teammate," Sweeney said. "He's battled through a lot, and it's great to see what's been happening this year."
While the Bills hope that Knox's absence is not prolonged, he could miss at least a couple of games. Knox has played 77.7% of the offensive snaps to this point, so that will require an adjustment.
It's possible the Bills will run more four-wide receiver sets with Gabriel Davis joining Cole Beasley, Stefon Diggs and Emmanuel Sanders on the field, but even if that's the case, Sweeney will likely get more work against Miami than he has in any other game this season.
"Full confidence in Tommy and I know the players feel the same way, as do the rest of the coaches," coach Sean McDermott said. "He's worked hard to get back to where he is and contribute. So it's a good story and we're happy for him, albeit it seeing a guy go down in Dawson is not what we want. But next man up."
Through six games, Sweeney has played 67 offensive snaps – 15% of the team total. In a statistical oddity, he has four catches … for 4 yards. He has a good chance of surpassing those numbers quickly Sunday. Allen has targeted Knox 27 times in the Bills' first six games, connecting 21 times for 286 yards.
"I'm ready," Sweeney said. "I've been in this offense for three years – up and down, obviously, with various things – but I'm excited. … I've just got to keep it as normal as possible and just go out and perform."
"I have 100% confidence in T-Sween," receiver Stefon Diggs said. "He brings that route running, that technician, that hard worker, that blocker. He brings that mindset that we love on offense and just on our team in general. I love me some T-Sween. I feel like he'll make a lot of plays for us. He does his job extremely well. He can catch and he has a little bit of craft with him. You can't really see it looking at him, but you watch him, he's gonna make some plays."
Knox is a superior athlete, but being underestimated is nothing new for Sweeney. Coming out of Don Bosco Prep High School in New Jersey, Sweeney had just one scholarship offer – from Boston College – but that did little to shake his self confidence, his father said.
"He's always had a pretty strong belief in himself," Bob Sweeney said in a phone interview with The Buffalo News. "Even early on in the recruiting phase, he always had a pretty strong belief that things would work out."
Sweeney made 99 catches for 1,281 yards and 10 touchdowns during his 50-game college career. As a redshirt senior in 2018, Sweeney was named a first-team All-Atlantic Coast Conference selection after finishing with 32 catches for 348 yards and three touchdowns.
"The thing we've said about Tommy since he was at Boston College and we started evaluating him is he's a football player," Boras said. "He might not always be the flashiest or one that's going to maybe jump off the tape, but at the end of the day, he knows what he has to do and he puts himself in the best position to do his job. Whether you're a coach or player, that's what you're asked to do. ... I hate using the term that he's a throwback, but this is my 18th, 19th year in the league and he's probably more similar to guys I coached in 2004.
"He knows who he is and he's not going to try to be somebody else, which I think is a great thing."
That extends to off the field. Allen referred to Sweeney as an "old soul," and the tight end didn't push back against that description.
"It's 100% true," he said. "I like the modern times, there's a lot of good stuff going on, but I'm a big fan of music of the '60s and '70s."
Sweeney, who plays guitar in his free time, has a record collection that he's combined with his dad's. Together, they have about 200 albums – although some of his father's favorites got played too much. The entire Led Zeppelin catalog is a big highlight, as is an extensive collection of Grateful Dead albums.
"Their live catalog is pretty big, so it's tough to get all of them," Sweeney said. "I think we have all the Rolling Stones. To pick out one favorite, I'm sorry, I don't think I can do it."
Sweeney's positive Covid-19 test in 2020 came just as he was about to return from foot surgery that caused him to miss the first six weeks of the season. Before he could return to the field, Sweeney was required to undergo an echocardiogram. That turned up an abnormality that required further consultation. Sweeney traveled to Atlanta to meet with other cardiologists, and his parents expected to receive a call that he was all clear.
Instead, he called to say that he would not be permitted to play.
"It was obviously concerning," Bob Sweeney said. "The most important thing we were concerned about was his health and what was going to be happening going forward. We were just fact finding, trying to figure out exactly what was going on and what was going to happen going forward."
"Football's always been part of his life, since he was 7," Sweeney's mother, Annette, said, "but then when you hear that there could be a heart complication, we were more shocked than anything. He knew we would support him every step of the way. After the initial shock for all of us, we took it in stride and dealt with it."
The first weekend after Sweeney learned his 2020 season was over before it started, Sweeney returned home. He didn't stay long, though.
"He came home that first weekend and we just sort of regrouped," Annette Sweeney said. "He said right away he was going back because he wanted to be there with the team. He sat in on meetings. He watched practice. He did what little he could, as long as his heart rate didn't get above a certain rate. Of course, he liked our support, but he definitely did what he had to do. We didn't have to tell him much, we just needed to be here to listen if he needed to talk."
Boras made sure to include Sweeney during all his positional meetings last year, quizzing him the same way he would any other player on the active roster or practice squad.
"Even though we knew he wasn't going to play, he was still involved and expected to know what was going on," Boras said. "Mentally, he prepared himself."
Staying involved as much as he did made the 2020 season feel at least somewhat normal, or at least as normal as living through a global pandemic and dealing with a heart condition can feel.
"I can't say enough about coach," Sweeney said of Boras. "He's been around this league for a long time. He's a great man on and off the field. He would quiz me every day and make me feel like I was still a part of it. Hard to do, especially when the team is traveling and you're not traveling, so I can't say enough about him and staying with me through that whole thing."
Without any family in Buffalo, Sweeney has spent Christmas dinner with Boras and his family the past two seasons. As such, it was an emotional time when Boras learned Sweeney would miss all of last season.
"Those are hard discussions. I think any time as a coach, and I'm a father, you try to put yourself in his shoes, and it's hard. I couldn't imagine somebody taking away the thing that I loved the most," he said. "You try to be there like we are as parents. It's no different than any walk of life. You just want to be there and listen and offer an encouraging word and make sure that he knows that there is light at the end of the tunnel. He's got to believe in the science and believe in the doctors and focus on what he can control.
"I know those are clichés, but clichés exist because there is truth to them. So focus on what he could control, and once he did that, it kind of puts the other stuff behind you. Don't get angry about it, but how are we going to come out the other side better?"
In the spring, that wasn't easy. A year away from football was evident. Sweeney had trouble "getting his legs underneath him," as Boras put it, and it was clear his conditioning had suffered. He worked hard on that between the spring and the start of training camp, however, and was rounding into form by the time the preseason opener arrived against Detroit on Aug. 13. Sweeney had two catches for 34 yards in that game, but had to leave early when he suffered a foot injury.
"Especially because it was the same foot that I hurt, that I got surgery on right before I got Covid last year, that was a big, 'You've got to be kidding me' moment," Sweeney said. "I mean, it wasn't awful – it's fine now – but it was frustrating, yeah. … The last thing I learned from Covid is you can't really control it, you've just got to make it fuel for the fire and get back."
The injury was bad enough to keep Sweeney out of the last two preseason games. For a player coming off a missed 2020 season who was battling for a reserve role, there was at least some question as to whether his roster spot would be safe.
In the end, it was, as the Bills went with just two true tight ends – Knox and Sweeney – on the 53-man roster. Doing so made it clear they were fully confident that Sweeney could step in, just like he'll need to Sunday.
"He went through, I'd say his own set of adversities last year, and he's a pretty consistent player, consistent person in how he approaches his job," offensive coordinator Brian Daboll said. "He knows his role, and he goes out there in practice and he does his role, and when his number's called, we expect him to be able to do that. And that's a credit to him, that's a credit to Rob. I think it's the type of people we bring in here, that you're going to have injuries throughout the year – that's the NFL."
"I'd use the word trust maybe more than faith. Because he's earned that trust his rookie year and ever since he's been here," Boras said. "You know what you're going to get with him. It's never a guessing game. The trust that we have as coaches, and I would assume if you would ask Josh – I don't want to speak for Josh – but his teammates have trust in him, from what I see. That goes a long way."
"It really meant a lot from them – that trust in me," Sweeney said. "When the 53 came around and this season came around, they stuck with me. I really appreciate it."
Sweeney was fully cleared for football activities in February. While he's answered every question about what his experience last year was like, it's also clear he's more than ready to turn the page.
"Once it was over in February, I really just tried to leave it in the rearview mirror, not even think about it," he said. "It's been good to kind of get back to normal, being a football player again. It's good to have it behind and kind of keep it there."
Although it came in a loss, his first career touchdown was a moment the entire team celebrated.
"We all experienced Covid, but not Covid like Tommy did," Boras said. "So to miss an entire season, I know everybody is excited for him. They were excited for him just when he got back out in training camp and was able to practice again. And now to make it to the regular season and have the opportunity to step in and play more, we're all excited for him. I can't put into words what he went through, but he's handled everything the right way. He's always been such a good teammate since he's gotten here."