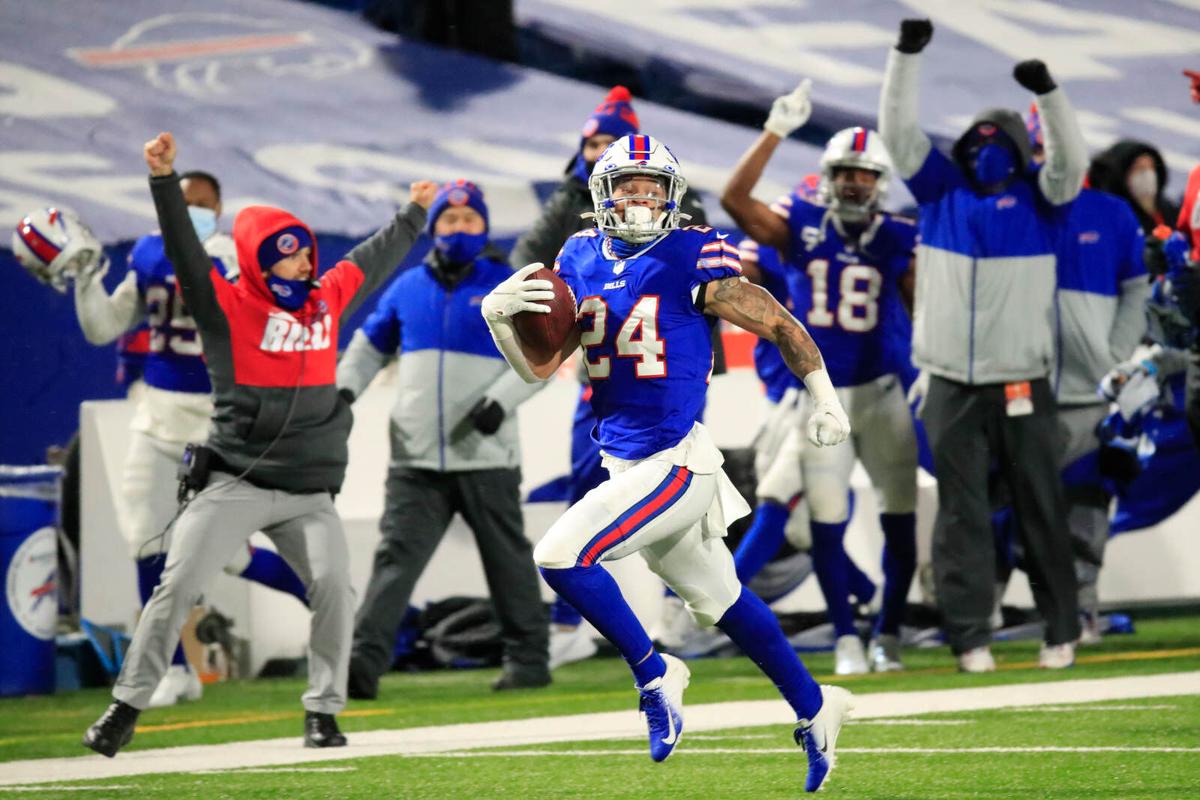 Taron Johnson won't have to buy a drink in this town for a long, long time.
That's what happens when you turn in one of the greatest plays in Buffalo Bills' history. Johnson, though, wants to be remembered for more than just his 101-yard interception return for a touchdown against the Baltimore Ravens in the AFC divisional round of the postseason – a play that helped the Bills advance to the AFC championship game.
Taron Johnson's return tied the longest in NFL postseason history.
"It's an honor. Just thankful for that opportunity that I had," he said in a recent interview with The Buffalo News. "I mean, I don't just want to be known for that play. I want to make a lot of noise throughout my time in the NFL, but that was such a huge play. Honestly, I'll never forget it, and I'll never forget the feeling, either. Hopefully, more plays to make just like that, where there's a bigger play in a bigger game.
"I'm always trying to be the best I can be, so whether that play happened or not, I'm always going to try and make a play like that."
Johnson is entering a crucial season. The 2018 fourth-round draft pick is heading into the final year of his rookie contract. He's not, however, showing any indication that's in his head as the season approaches.
"I'd say really just doing the same thing I did last year, giving everything I can in the offseason, and when the season comes, giving everything I can in the training room, on the field, and making sure my mental is right," he said. "Everything's going to happen the way it's supposed to happen."
Johnson describes his "mental," as being confident in what he's doing and knowing exactly what's asked of him on a given play. He acknowledges that he was shaken at times last season, which partially explains why he was benched before a Week 6 game against Kansas City. An injury to his replacement, Cam Lewis, in that game meant Johnson's exit from the lineup was brief. He would go on to play all 16 regular-season games – a noteworthy accomplishment after he missed nine games over his first two seasons.
"Honestly, it was a big deal. I knew I could stay healthy for a full season, I just wanted to prove it to everybody else," he said. "Really just my work in the training room and how much I've taken care of my body this last year and even coming into this year – that's been a huge help."
Johnson said it took him until midway through his second year in the league to fully appreciate just how much time is needed in the training room during the week. Between acupuncture appointments, trips to both the hot and cold tubs and everything else, it's imperative for the 5-foot-11, 192-pound Johnson to do what he can to withstand the physical rigors a player of his size faces in the NFL.
"Just trusting my work, because I've put in way too much work to second-guess anything about myself, to be honest," Johnson said. "Just sticking to the script and trusting myself and trusting all the work that I've done in the offseason and in the building with the Bills – that's definitely the biggest thing is staying with that same mindset throughout the whole season."
Johnson's unwavering approach has impressed his teammates.
"His mindset is just incredible," linebacker Matt Milano said. "Taron is a great guy all around, on and off the field. Making those plays does help your confidence and that's what it's all about, especially playing that position. If your confidence is shot, you're putting yourself in a bad position to make plays. He fortunately made some great plays and continued to make them throughout the playoffs. I think he's on that same track going into this year."
Johnson's pick-six against the Ravens wasn't his only one during the 2020 season. He also returned an interception for a touchdown against the Steelers in a big victory in the regular season. That was perhaps the first sign his early-season struggles were behind him.
"The separation is so small," he said. "It's really the details that separate people in this league. All I'm trying to do is work on my craft, my details, whether that be on the field, in the training room or watching film. Just make those as sharp as they can possibly be, and that will lead to more success."
Johnson finished the year with 432 snaps in slot coverage, which led the NFL, according to analytics website Pro Football Focus. Perhaps not surprisingly, Johnson also led the league by allowing 55 catches for 562 yards. That's the bad news. The good news is he didn't allow a touchdown in coverage and his passer rating against of 87.7 ranked No. 15 out of 49 qualified cornerbacks.
The Bills will have a big decision to make on Johnson after the year, so there's plenty at stake for both player and team entering 2021.
"I just want to make sure that I take advantage of the opportunity that I have being in this system for four years," Johnson said. I can move faster on the field and the game will slow down for me just based off of me knowing what I'm supposed to be doing and knowing what everybody else is supposed to be doing around me.
"We're taking it one day at a time right now. I feel like if we keep that mindset, then we're going to be where we're supposed to be. … Hopefully we're back to where we were and we're past that."