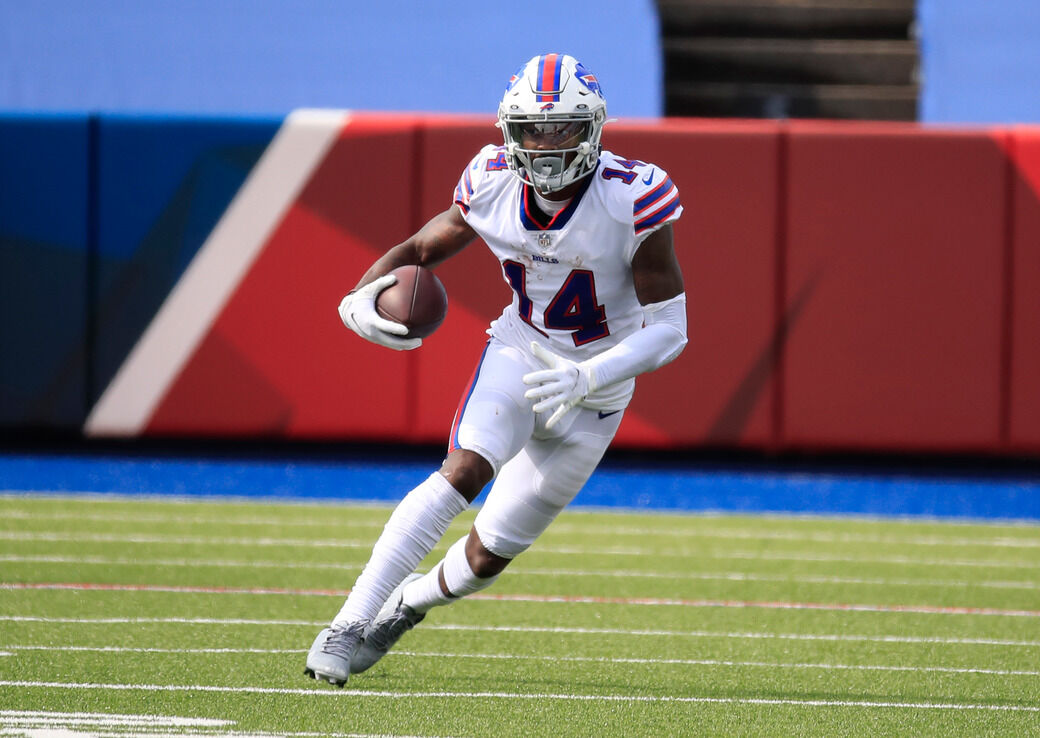 Stefon Diggs was given a couple of chances during a 20-minute interview last week to gush over the fact his name is all over the top of the NFL statistical columns.
"I don't really do like looking too far ahead," Diggs said. "As far as currently where I stand and all that, that don't really matter because we've got a long season ahead of us. For me, it's not really too much of a personal goal for me. My personal goal is winning, winning at a high level and doing everything I can for my team. So however everything else figures itself out, that's beyond me."
Yes, but this has to have exceeded your expectations when you first learned of your trade from Minnesota to Buffalo, right?
"I didn't go in with any preconceived notions on how this season was going to go or what I was going to do," Diggs said. "I put a lot of time in the offseason as far as learning the playbook so I can go in hitting the ground running and I'm not learning as much. I'm trying to play as fast as I can as soon as I can. It damn sure was a learning curve, still. I still had to adjust with everything that was going on. ... I just was trying to get better each and every day. I'm still grinding at it."
Fine. Maybe Diggs' first 10 games haven't exceeded his expectations. They certainly have exceeded the hopes of Bills fans everywhere. And the hopes of Bills fans were very high when Diggs was acquired in March for a slew of draft picks.
Diggs enters the team's bye week ranked No. 1 in the NFL in catches with 73 and No. 1 in yards with 906.
NFL RECEIVING LEADERS

Player, team
Gms
Rec (rnk)
Yds (rnk)
Tgts (rnk)
Stefon Diggs, Bills
10
73 (1)
906 (1)
102 (1)
DeAndre Hopkins, Cardinals
9
67 (2)
861 (2)
88 (4)
Alvin Kamara, Saints
9
67 (2)
648 (16)
80 (10)
Keenan Allen, Chargers
9
65 (4)
690 (11)
93 (3)
Robby Anderson, Panthers
10
65 (5)
772 (5)
86 (6)
If he were to keep up that pace – no certainty given there could be some foul-weather games ahead for Josh Allen and the passing attack the next six weeks – he would finish with 117 catches for 1,449 yards.
That far exceeds his totals of last season with the Vikings – 63 catches for a career-high 1,130 yards – and would exceed his 2018 season, when he caught a career-high 102 passes for 1,021 yards.
It also would smash Bills team records in both categories.
"He's just a dependable player who has really good instincts," said Bills offensive coordinator Brian Daboll. "He works extremely hard in practice. That's the timing and the execution that you need between a quarterback and receiver. You can go out there and talk and play video games all you want, but you do it on the practice field. And he goes. He works at it. He works in one on ones and individual. And if it's not exactly right with him and Josh, he does it again."
The addition of an elite receiving weapon has helped the Bills go from No. 26 in passing at 202 yards a game last year to No. 5 at 279 yards a game this year.
Daboll and Allen have made a big effort to maximize Diggs' impact.
Diggs ranks No. 1 in the NFL with 102 targets. That's already more than the 94 he had last season in Minnesota.
Diggs is on pace for 163 targets, which would surpass his career high of 149 in 2018. His target totals his first three seasons were 84, 111 and 95, rates well below this season.
No doubt, the benefit has gone both ways. Diggs has been aided by the fact the Bills have an elite slot receiver in Cole Beasley and a quality outside starter in John Brown. Beasley leads the NFL in catches from the slot with 53 (of his 55).
Diggs has been extremely effective on crossers and hitches, just as he was in Minnesota. But the Bills' many spread formations have allowed them to move him around in formations.
The Bills are using three wide-receiver sets on 75.5% of their plays and four-wideout sets on 17.3%, according to Buffalo News charting.
Diggs has played in a slot position 30% of the snaps this year, and 23 of his 73 catches (31.5%) have come from the slot.
That's a notable increase from last year, too. The Vikings used him in the slot 23% of the snaps last year, and he had only 12 catches from the slot all season.
"He's a very good leader for us," Daboll said. "He's smart. We try to use him in a lot of different roles, and move him to different spots."
The varied positions makes it harder for defenses to lock onto Diggs. Given the Bills' multitude of weapons, most teams have not tried to match up a corner on Diggs.
Miami played man coverage across the board in Week 2. Diggs beat rookie corner Noah Igbinoghene for six catches, 139 yards and a TD (he had 8 for 153 total in the game). New England is a man-coverage team. Diggs got five catches for 84 yards against Pats corner J.C. Jackson.
While Arizona mixed coverages last week, Diggs made four catches for 45 yards and a TD against Cards star Patrick Peterson. That included the 21-yard TD catch with 34 seconds left. (Diggs had 10 catches for 93 yards in total, five catches from a slot position, five out wide.)
The TD was a flag route to the left corner of the end zone from the inside position on a three-receiver set to the left.
"It was actually a play we put in just for that week," Daboll said. "We hadn't put it in all year. We practiced it, threw it over to the right side in practice on Thursday. We hit it in the right corner. Not the exact same coverage, a little bit of a different coverage."
"That's what it takes," Daboll said. "It's to go out there and practice it. If it feels good, it looks good, we're going to try to call it."
Diggs talked about the connection he feels with Allen.
"Everybody knows Josh to be a jokester," Diggs said. "He's definitely a jokester, so spending that time with him on the field, whether we're playing around or running routes or whatever, it's intentional. ... As far as spending that time with him and getting to know him, even in recent events, I've just got more love and more respect for him. He's becoming more of a brother than anything at this point. He's never used an excuse, not one time."
Diggs said his on-field relationship with the QB is ever-evolving.
"Through the first four or five games, it's kind of learning to play with Josh as he can extend a lot of plays," Diggs said. "And as far as like getting open and the timing of getting open is always crucial. But when you have a mobile quarterback and you've got a guy with a strong arm – which Josh Allen has an extremely strong arm – I tell him take a little bit off the ball sometimes. You might hurt my chest a little bit throwing it too hard.
"But it's working in tandem," Diggs said. "You get more comfortable with more time being spent. You might know you have more time to work on this route. He's going to hang on the back foot a little. He'll wait for me on certain occasions. So as far as finding that medium between you and the quarterback, I'm not really doing anything special. It's him. He's moving around. He's putting the ball in a great spot. I'm just trying to make a play for him."
That's the approach that has gotten Diggs to the top of NFL leaderboards this season.
"I'm still learning each and every day how to get better, ways to be better for my guys," Diggs said. "I'm going to continue to do that. Whatever the job calls for, I'm going to do it. I consider myself a leader on this team in a short span of time, and I'm going to continue to do my job."
[BN] Blitz Daily Updates
Feed your obsession. Start every morning with a guide to the latest news from One Bills Drive and stay informed about what is going on elsewhere in the NFL.