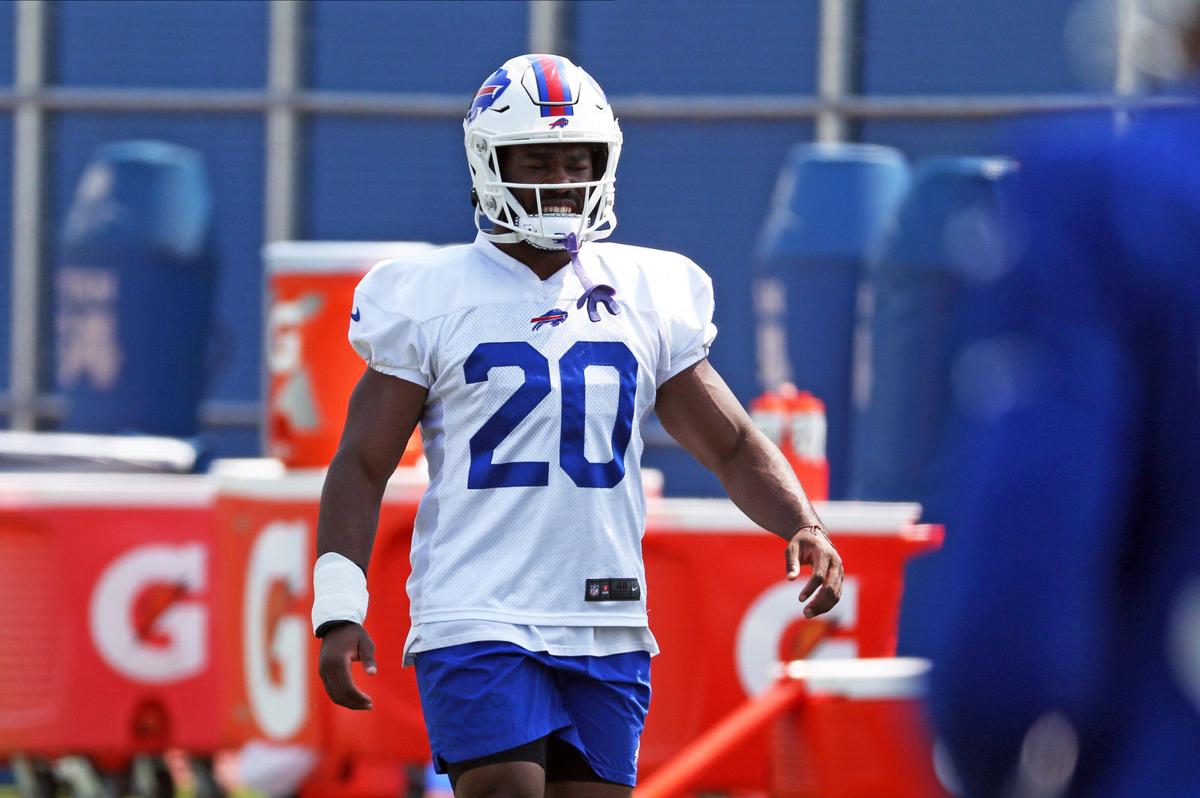 Zack Moss knew there was still one big thing he needed to do to move forward: get hit.
The Bills second-year running back was injured last year in the playoffs. Then, after surgery and a rehab process, he missed some time in training camp with a hamstring injury. He felt the last step to an extended return would be contact.
The team's No. 1 receiver participated in 11-on-11 work Wednesday under a scorching sun, another step in the right direction as he returns from a knee injury that kept him out of practice for two weeks.
"I definitely think I've gotten over that hurdle just playing in the last preseason game, just going out there and getting hit finally for the first time in a very long time," Moss said Wednesday. "I think I'm past that, so I just want to go out there Saturday and continue to build on that and do what I need to do."
Moss missed the first game of the preseason with that hamstring injury. He had just four carries for 21 yards against the Bears in the second game of the preseason. But as the Bills steamrolled Chicago, there wasn't any need for more from him. He may get a few more reps in Saturday's preseason finale against Green Bay, but either way, he knows what he needs to do to feel he's ready for Week 1.
"Just to continue to keep knocking off a lot of rust," he said. "I haven't played in five months, I didn't get a chance to train, I was here the entire time focusing on ankle rehab."
"Having a Hall of Famer, he's pretty much saying the same thing as the coaches are saying," Basham said. "But hearing it from him – him and the coaches coming together and giving physical tools of what they want us to do, it's just great hearing from more than just one person."
But in returning from first the ankle injury and then the hamstring injury, Moss has pushed through.
"He came back, was dinged up a little bit and then he went out there and ran the ball well," Bills offensive coordinator Brian Daboll said Wednesday. "He's a tough runner. He's a downhill guy. I thought the line did a good job on a few of those runs with him, and he did a nice job on that short yardage run."
It helped Moss to finally go against other teams, having no preseason his rookie year, and then working through the ankle injury this past offseason.
"Last year, obviously, we were going against each other for the entire time and you could run certain plays only so many times against the same people over a couple weeks," he said.
Part of what he's looking to do now is to keep building off a rookie season where he had 481 yards on 112 carries. He added another 95 receiving yards on 14 catches. He thinks most of his areas of growth come from the details of the game and from understanding how the offense functions as a whole.
Bills receivers Cole Beasley and Gabriel Davis and linebackers Matt Milano and A.J. Klein have been removed from the team's facility and will have to go through a five-day re-entry process.
"Small things, like my route if I have a flat route and I have to run this at full speed to help another guy get open and things like that. Things that I didn't always 100% understand last season," he said.
Moss emphasized that he doesn't feel particularly worried about the starting nod, and he doesn't think Devin Singletary cares, either. Moss said any of his goals are team-oriented. Plus the mix of the running back room gives Daboll more options.
"It's good to have him out there," Daboll said. "Between him and Dev and (Matt) Breida, those guys have done a nice job," Daboll said.
Getting hit was always part of the plan for Moss, and he embraced that. With the regular season looming, he has one more adjustment to make. 
"Yeah, I mean, playing the running back position, you can't be afraid to get hit, and I think you've got to do the hitting," he said. "So it always helps to do the hitting rather than getting hit."