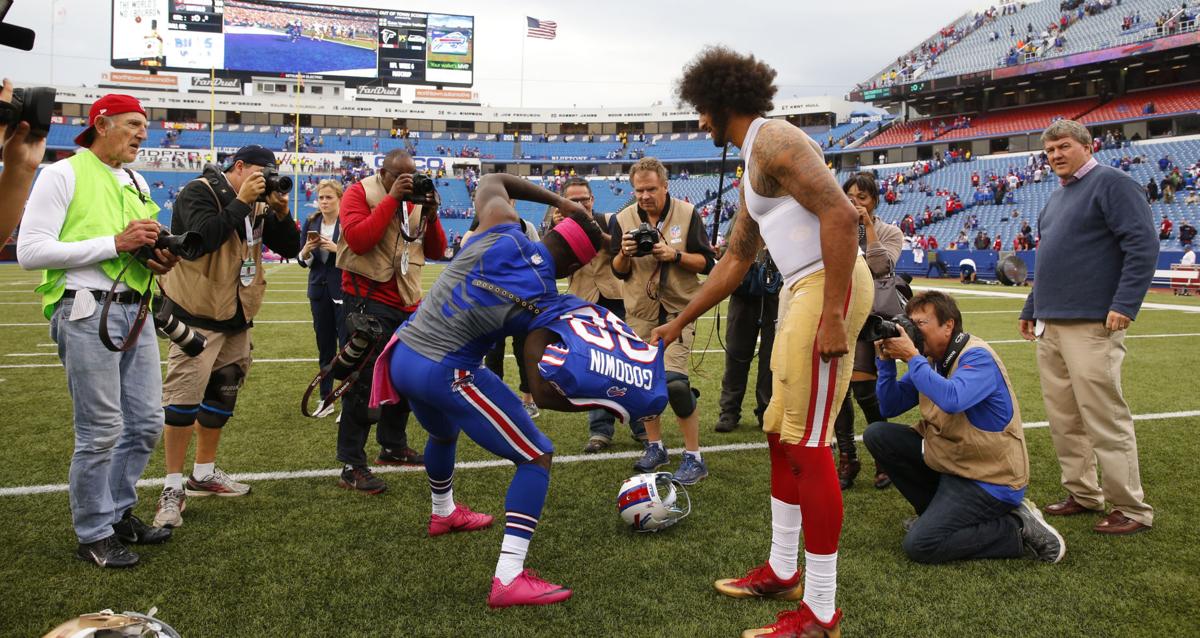 A light rain started to fall outside New Era Field, but on his way to the team bus Colin Kaepernick, in a Muhammad Ali T-shirt, stopped for a photo and an autograph and then more photos and another autograph or two and a couple introductions and some more photos.
He was in a giving mood, smiling for photos with Buffalo Bills fans in LeSean McCoy and J.P. Losman jerseys. A half hour earlier, Kaepernick had given his game jersey to Bills receiver Marquise Goodwin.
They belong to the Kappa Alpha Psi fraternity, Kaepernick at the University of Nevada chapter and Goodwin at the University of Texas, where he played with one of Kaepernick's advisers, Green Beret and Bronze Star recipient Nate Boyer.
Goodwin had to snag the jersey from Kaepernick's first 2016 start.
"It's cool to have it. This is part of history," Goodwin said as he emerged from the locker room and walked up the tunnel with Kaepernick's white No. 7 tucked under his left arm.
Kaepernick's jersey has become one of the NFL's hottest sellers, but the one Goodwin grabbed Sunday is one-of-a-kind.
"We'll look back in 20 years, 30 years from now and be, like, 'This dude stood for something,' " Goodwin said. "He didn't fall [despite] everything.
"He stood for something, stood his ground, and no matter how many times he got booed, no matter how much scrutiny that he faced, he still was resilient through that and had the heart and the courage to continue to do that."
Goodwin, a long jumper on the 2012 U.S. Olympic team, told The Buffalo News on Thursday he admired Kaepernick's message. The Super Bowl quarterback is raising awareness for what he considers systemic injustices for minorities.
"It means something to me because of everything he stands for, everything he's fighting for right now," Goodwin said. "In fights like these, a lot of times you don't win them if you do them alone."
Sunday was the 48th anniversary of American sprinters John Carlos and Tommie Smith raising their fists during the "Star Spangled Banner" while on the Olympic medal stand in Mexico City.
Goodwin didn't get the jersey signed. He said he won't autograph it. The jersey, stains and all, will be framed and mounted in Goodwin's man cave.
"I told him I support him 100 percent," Goodwin said. "Him being my frat brother makes me want to support him even more."